The National Portrait Gallery in London reopened its doors to the public on 22 June 2023, after a three-year closure for a major renovation. The 'Inspiring People' project has transformed the gallery's interior and exterior, and has introduced a new focus on diversity and inclusion. This was the most extensive transformation of its building since 1896.
The National Portrait Gallery has the world's greatest collection of portraits. Spanning six centuries, over 1,100 portraits are on display – an increase of over a third from before the closure. These are re-presented in beautifully renewed galleries and revitalised spaces.
New Entrance
Do you remember what the main entrance on Charing Cross Road looked like before? It was these relatively small doors for such a major national gallery. It was terrible for accessibility so the new main entrance is now around the corner on the north facade of the building.
The new Ross Place entrance comprises three large windows that have been converted into doors. It is more open and much more accessible with a wide gentle slope to reach the entrance.
You might like to consider arriving early to see the doors closed so you can admire the 45 Tracey Emin drawings on low-relief bronze panels. All are a celebration of women – not necessarily specific or recognisable women but women in general.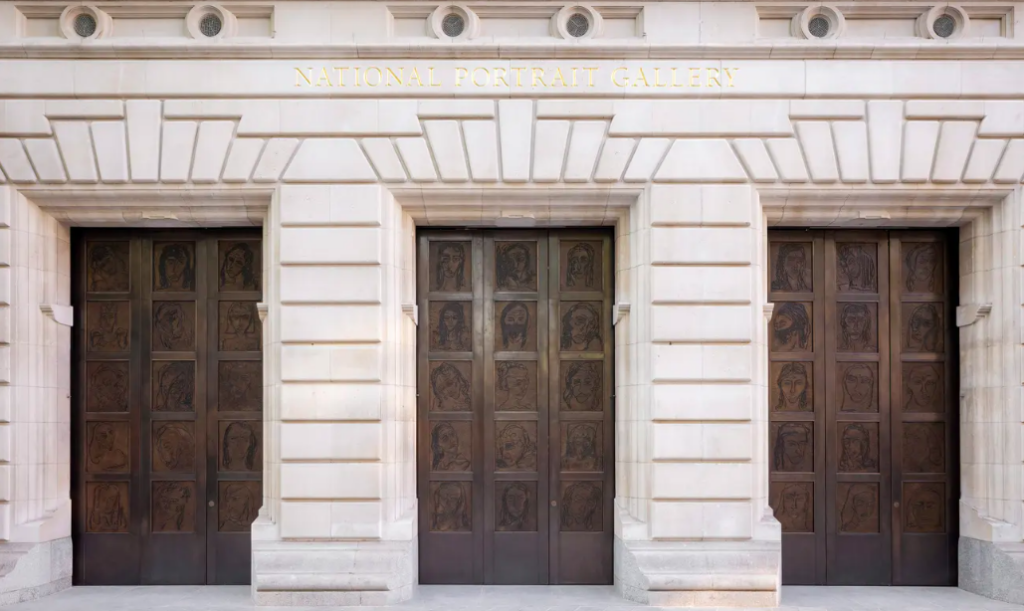 Ready to Enter
The first thing to note is that the Gallery opens at 10.30am daily (and not 10am like most places). As the new entrance is not on the main road, there is some "meet you outside" seating available. 
I arrived 10 minutes before opening and it was a bit of a scrum. But some queuing organisation happened before the doors opened.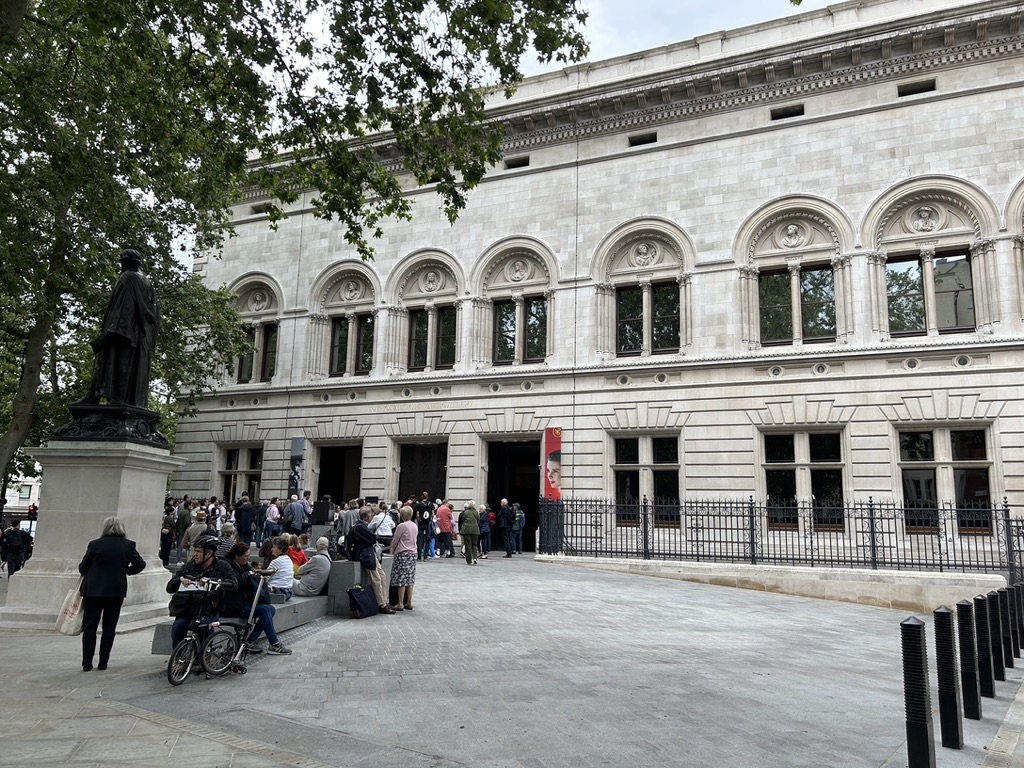 Inside
The chronological hang takes visitors on a journey through history. From the Middle Ages to the present day, the portraits tell the story of the United Kingdom.
To see it in order, you need to get a lift up to the 3rd floor to start your visit, and then work your way down.
Whereas previously, the artwork captions would be about the artist, they are now primarily about the sitter. This allows you to find out more about who you are looking at.
If you're short on time, the new History Makers Gallery on the ground floor has a range of people influencing society and culture today. This includes campaigner Baroness Doreen Lawrence, grime artist Stormzy and King Charles III.
Grab a Map
I strongly recommend taking one of the paper maps being handed out to visitors as it's not a simple layout.
The gallery has floors from -3 to 4 but displays are on 0 (ground) to level 3.
There's a restaurant on level 4 but you can only reach that from lift A. And there are toilets on level -2 but lifts do not go down to level -3 where there are additional toilets.
Not Enough Toilets
As I've mentioned the loos, I'll tell you now there are not enough. It's now gender-neutral individual cubicles with a sink in with each toilet. This means men suddenly had the joy of discovering they had to join the line and wait as women have always had to do. But it was a big disappointment to see this and other visitors were also unimpressed.
Cafés
There's the Audrey Green café at level -1 which you can also enter on Charing Cross Road. It opens at 8am so could be a good place to meet friends before seeing the portraits.
At level -3 there's a café bar that can also be reached by a 'hidden' entrance off St Martin's Place. 'Hidden' is their word choice. Why a café bar has to be a secret, I don't know.
The Portrait Restaurant by Richard Corrigan on floor 4 is all about the finest British produce with panoramic views of London's skyline.
First Thoughts
It was busy! I think we can safely say mornings are popular here so you may want to consider an afternoon visit or come on a Friday or Saturday evening when the Gallery stays open until 9pm.
It doesn't yet feel like an old friend returned. But I want to go back and try again when it's less crowded. I found the layout confusing although I like the themes that were in some rooms. And it was clear the Gallery has made a concerted effort to include more portraits of people from underrepresented groups.
There's a new shop but I wasn't amazed by it. If I'm remembering correctly, I think the previous shop was bigger.
So, overall, I'm glad the National Portrait Gallery is back open. It's a fascinating place to learn about British history and culture. It just might need a few visits to really get to grips with it.
Visitor Information
Address: St. Martin's Place, London WC2H 0HE
Admission: The main galleries are free to visit. Tickets are required for special exhibitions.
Opening Hours: Sunday to Thursday: 10.30am – 6pm / Friday and Saturday: 10.30am – 9pm
Official Website: www.npg.org.uk