St Ermin's Hotel has a new Summer Afternoon Tea and I couldn't resist going to try it with my 11 year old daughter. The hotel is close to the Houses of Parliament and Buckingham Palace so is a fantastic central London.
We've stayed at the four star St Ermin'sHotel before so it was a treat to return. (We tried the 'Budding Bonds' family package a few years ago so my daughter felt comfortable chatting with the staff here as they made her feel so welcome.)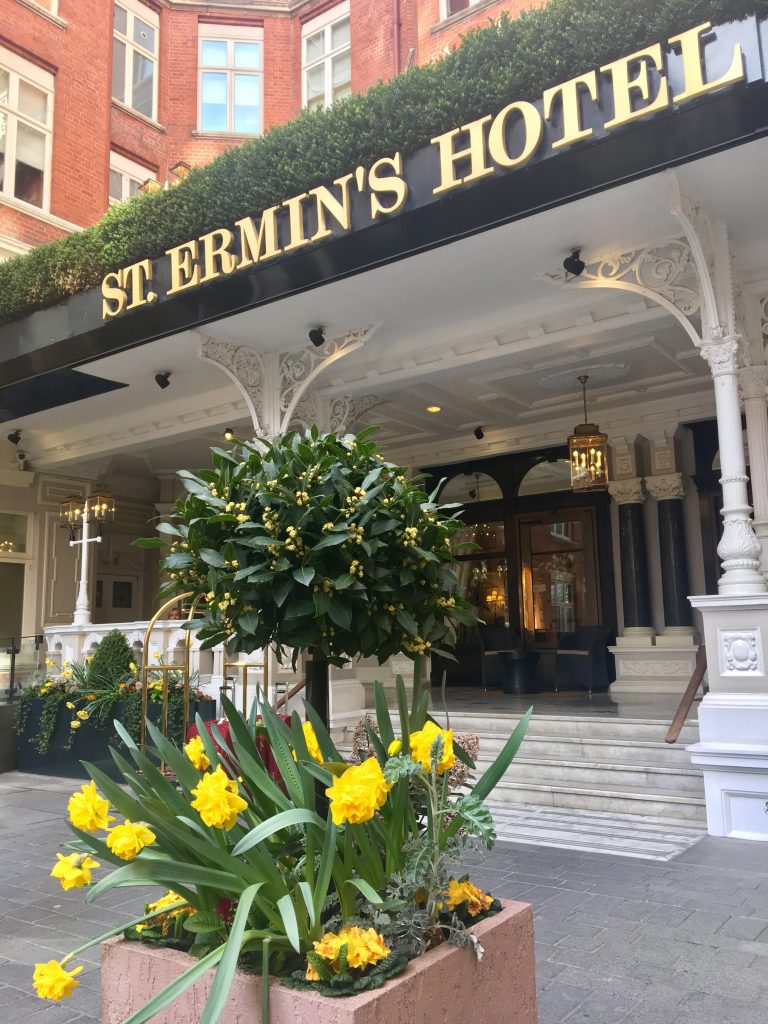 Summer Afternoon Tea
The Summer Afternoon Tea menu for 2018 has been created by Executive Head Chef, Alexander Boyd. It includes a variety of finger sandwiches and delicate savoury bites, as well as seasonal sweet treats such as white chocolate and carrot choux buns, lemon macarons, chocolate and salted caramel pots, mango jelly and coconut pannacotta, and an apple and cinnamon mousse.
Adults can add prosecco for an unlimited bubbles option or add a glass of Nyetimber English "Champagne" for a special occasion celebration.
Green-fingered little ones will love the fun garden adventure themed Summer Tea. The children's summer afternoon tea comes in a large (about a foot square) open box with a white picket 'fence'. Their menu includes finger sandwiches plus an Apple Mousse and a Chocolate and Caramel Pot. Kids also receive a  gardening pack from Mud & Bloom including organic seeds to take home to grow.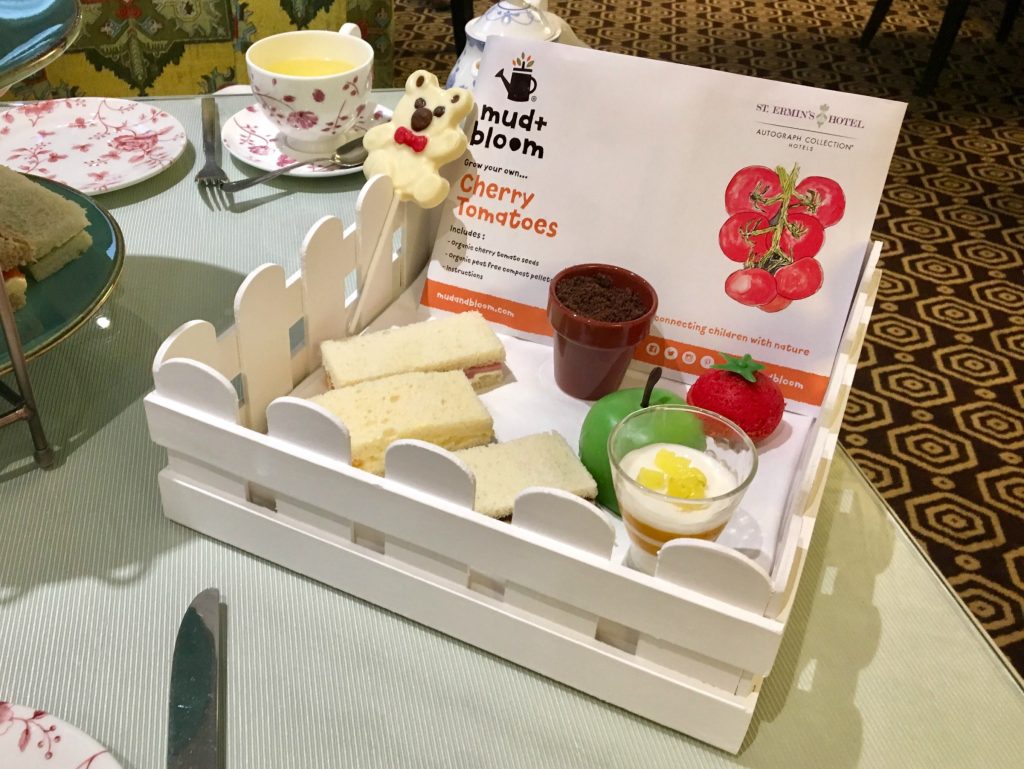 All teas are served with warm freshly-baked scones, clotted cream and jam. Gluten-free and vegetarian options are available.
Bees
You must make sure you also visit the hotel's third floor terrace beehives that are home to over 350,000 Buckfast Honey Bees. The hotel kitchen uses the honey and also has 'homegrown' produce from their rooftop kitchen garden.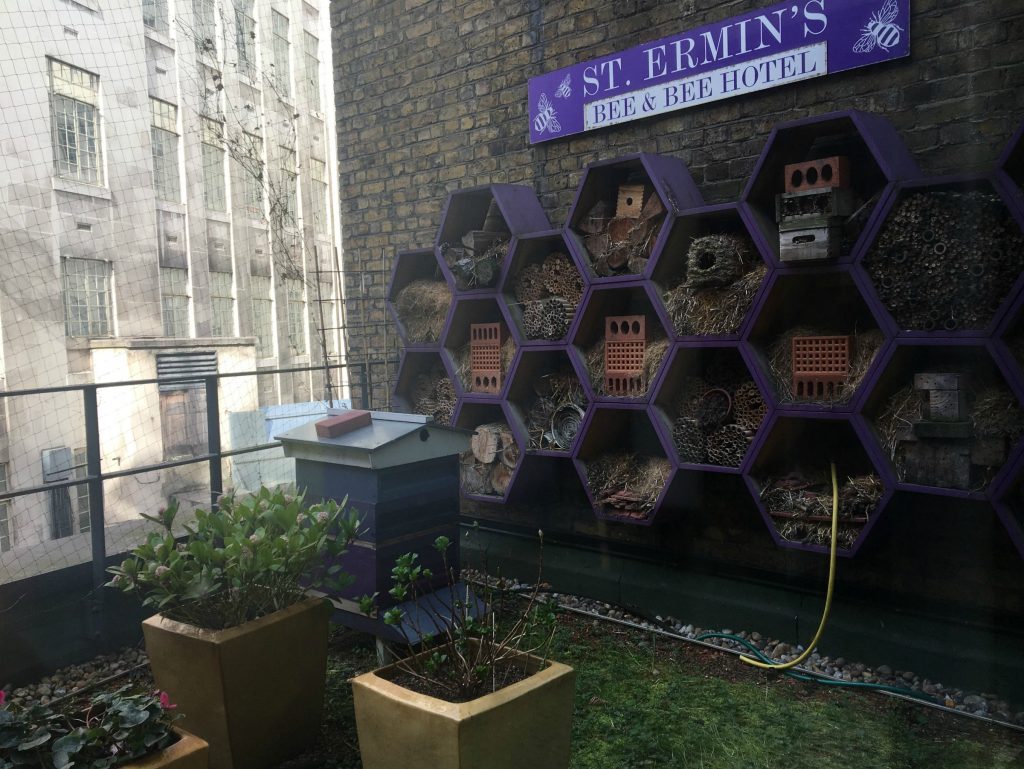 Venue
The Summer Afternoon Tea is served in the pretty and intimate Tea Lounge which is reached via the stunning sweeping central staircase you see as you arrive in the hotel lobby. There's jolly background music on so you don't feel intimidated in such grand surroundings and everyone I saw dining looked as if they were feeling relaxed.
When the Tea Lounge is busy you can also dine at the seating on the mezzanine balcony. And as this is a summer dining option you can also dine alfresco on the Caxton Terrace overlooking the courtyard.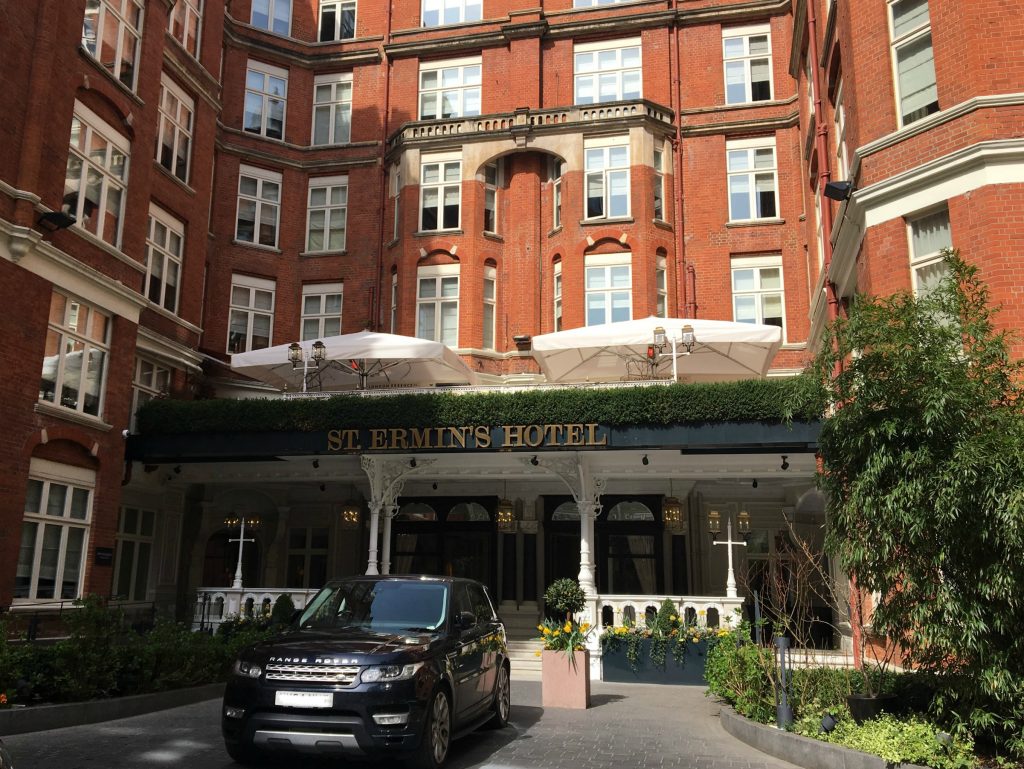 My Review
We were led to our table that was ready for us and laid with pretty crockery.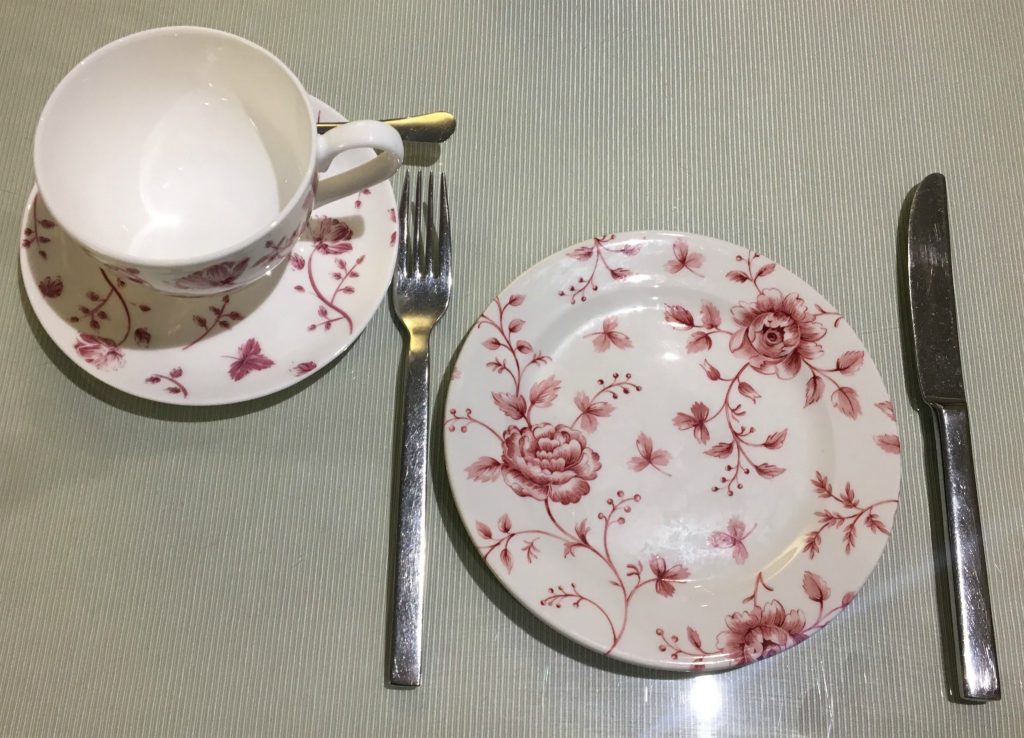 Once I explained I was vegetarian a separate vegetarian menu was brought over so there was no confusion about items on the menu, and my daughter was given the children's menu so she knew what to expect.
We ordered our teas and they arrived in small crockery teapots with loose leaf Newby Tea in a large 'tea bag' so there's no need for a tea strainer. A tea timer is also brought over so you know when your tea is ready to pour.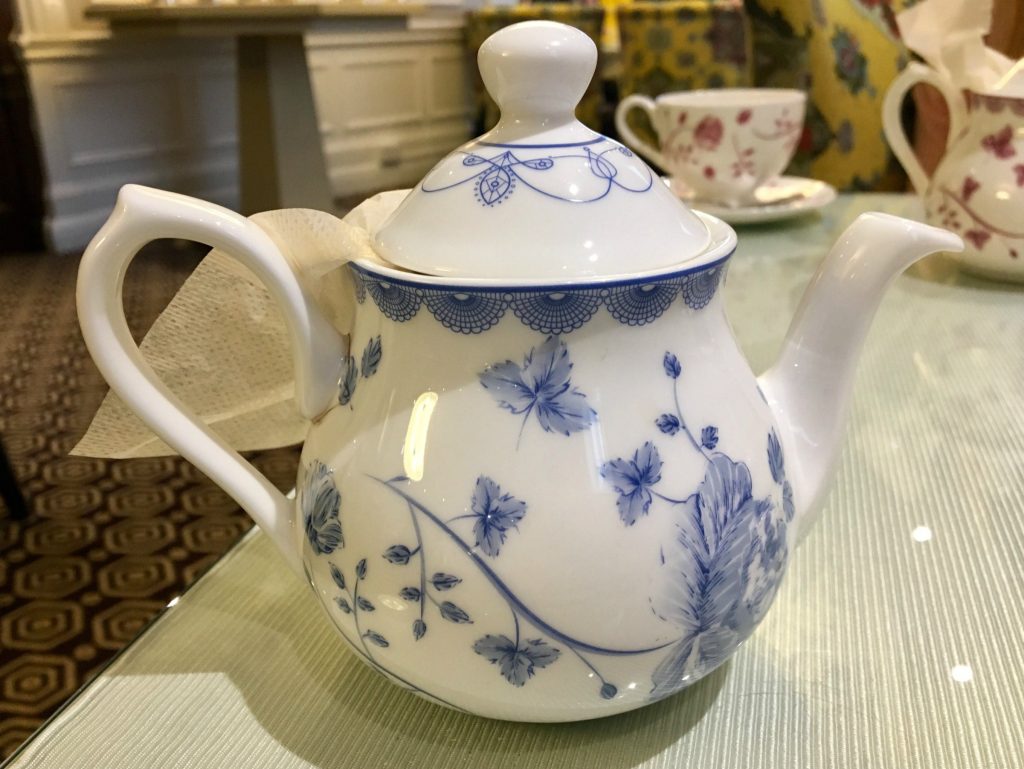 When the summer afternoon teas arrived at the table there was definitely a 'wow factor'. (Just as you would hope for when indulging in the best meal of the day.)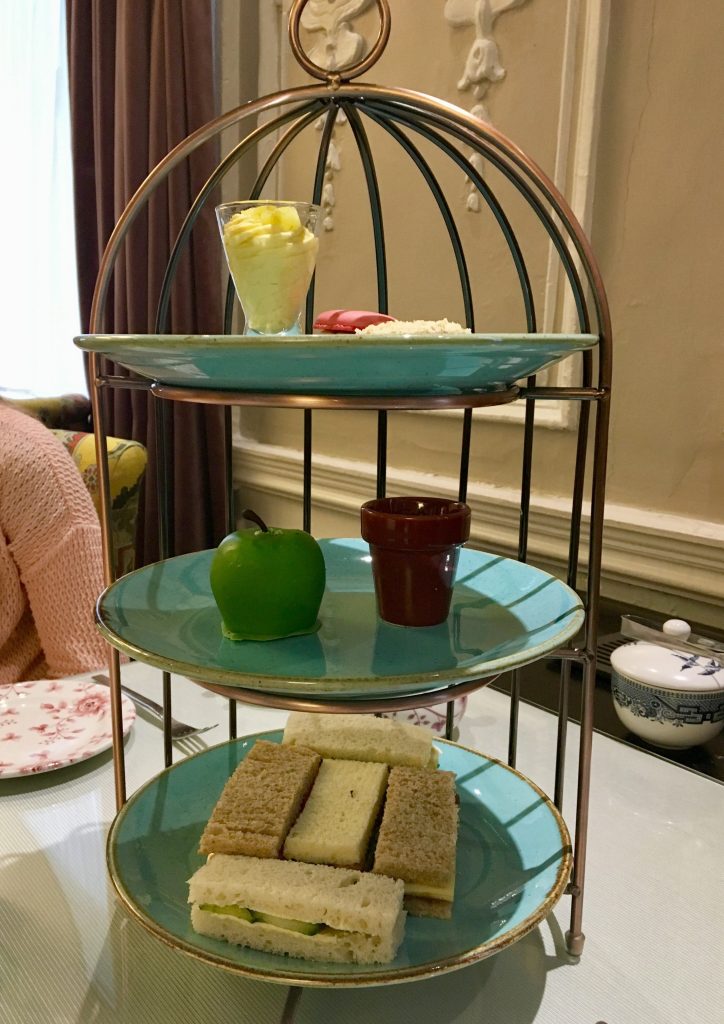 When the open 'birdcage' style three-tiered cake stand arrived I was so impressed. Isn't this pretty?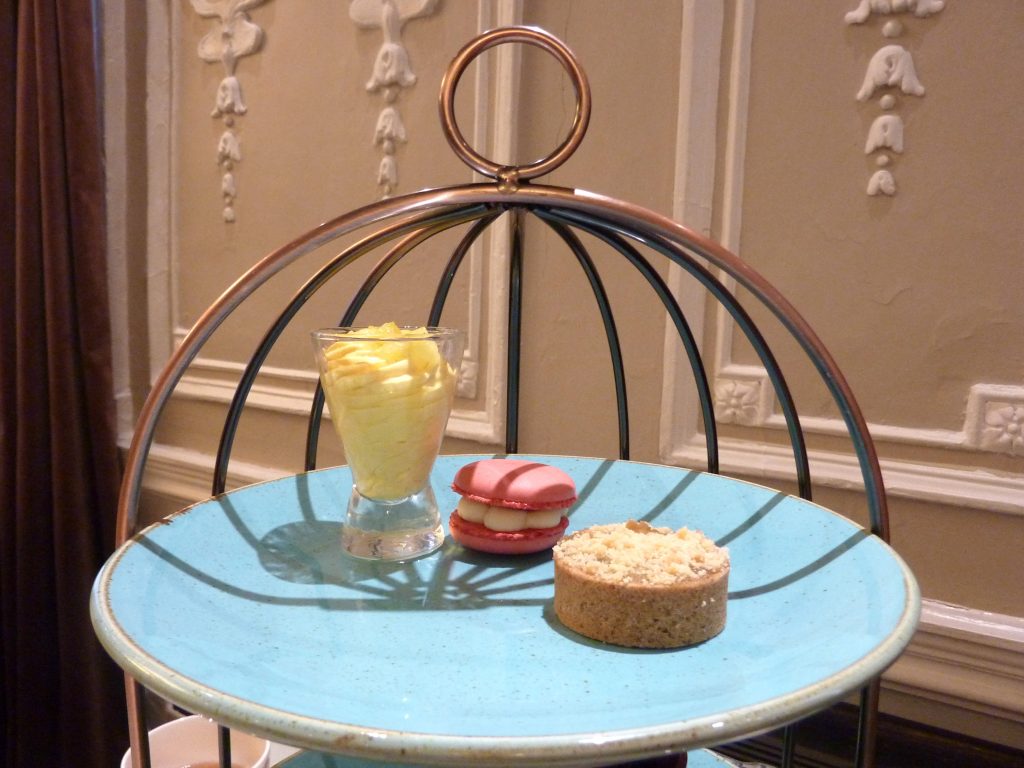 While I prepared to start on my finger sandwiches, prepared with different types of bread, my daughter was thrilled with her picket fence box of delights. St Ermin's Hotel is wonderfully family-friendly and I saw lots of families enjoying the new summer afternoon tea together.
I expect you'll be wondering where the scones are so let me explain. A basket of wrapped and still warm scones are brought to the table, when requested, along with cream and a dark berry jam. This was the way it was when I came for afternoon tea in 2016 too.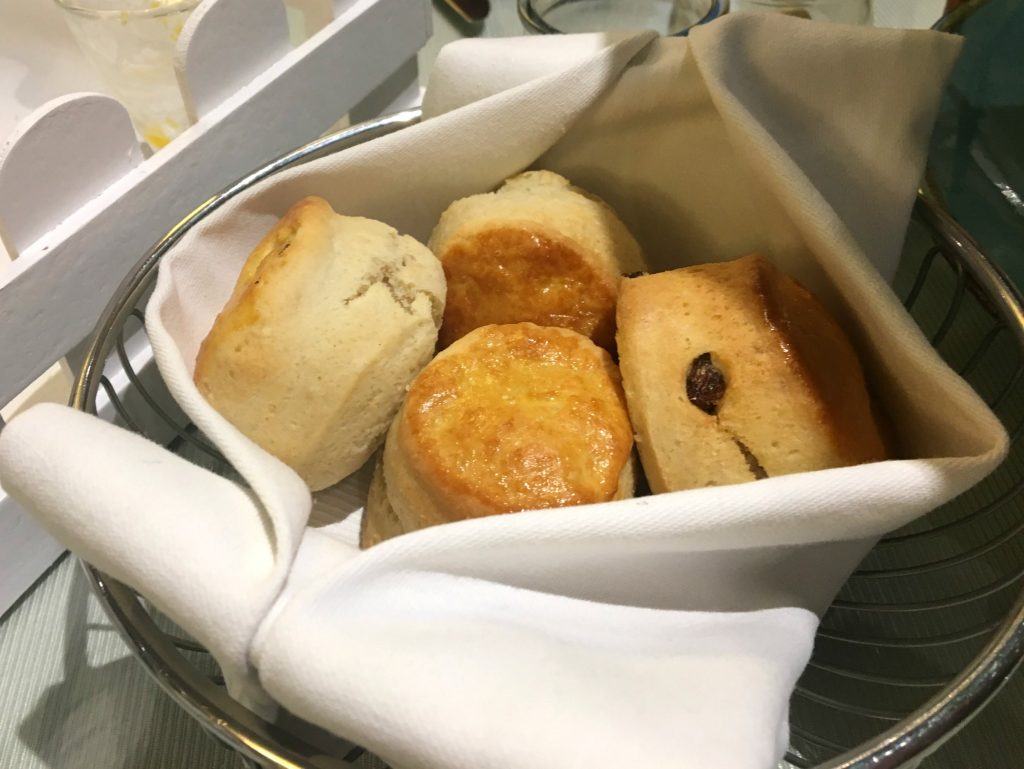 My test for scones is to see how well they cut in half. You shouldn't need to 'saw' at them as a really good quality scone will come apart in two sections with ease. I can report that these scones cut in half perfectly.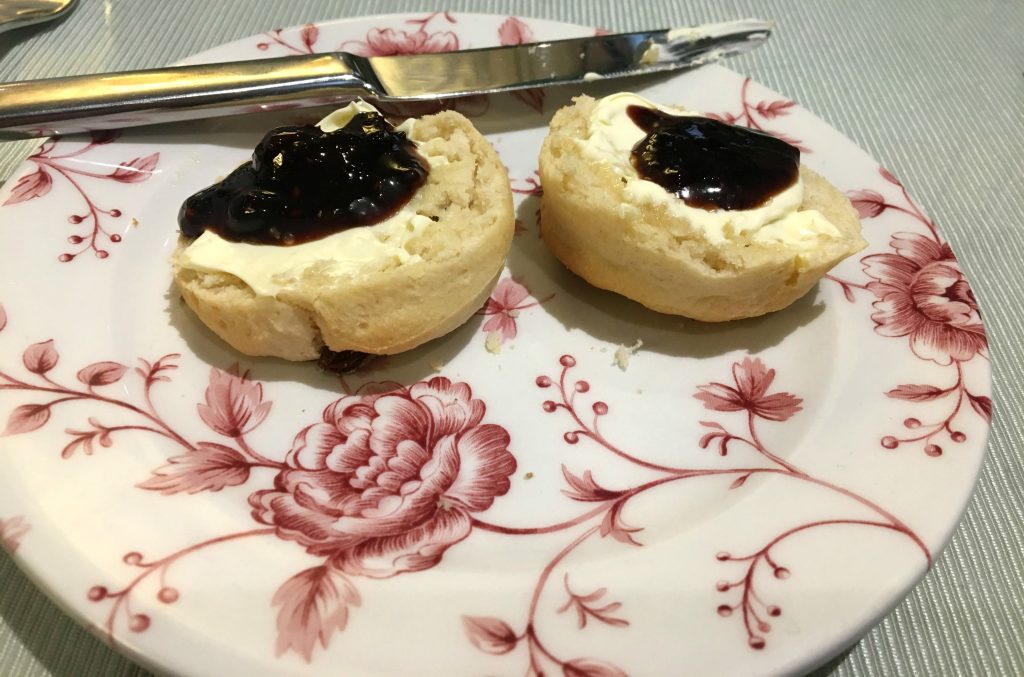 The sweet course of this Summer Afternoon Tea comes with some quirky treats.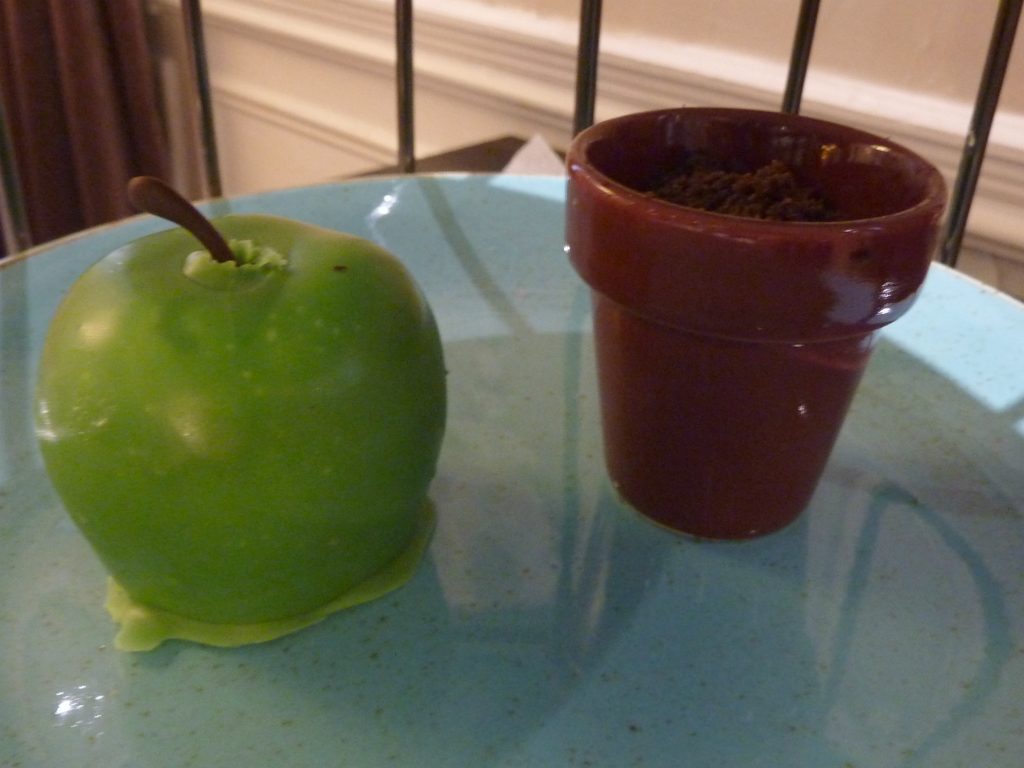 What looked like a shiny green apple was actually holding a delicious apple and cinnamon mousse inside. It could all be eaten too as the green 'shell' was actually made of chocolate.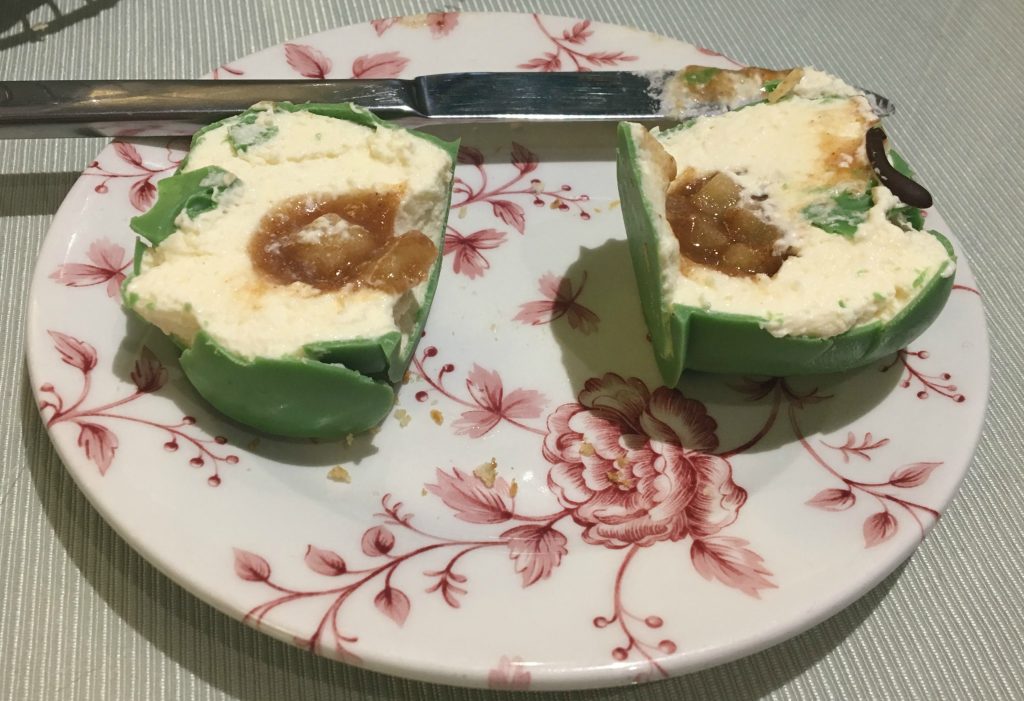 And there's a small crockery plant pot of a crumbly chocolate cake over salted caramel. My daughter thought it was best to each one layer at a time but I preferred to dip a spoon deeply to the bottom and combine the layers.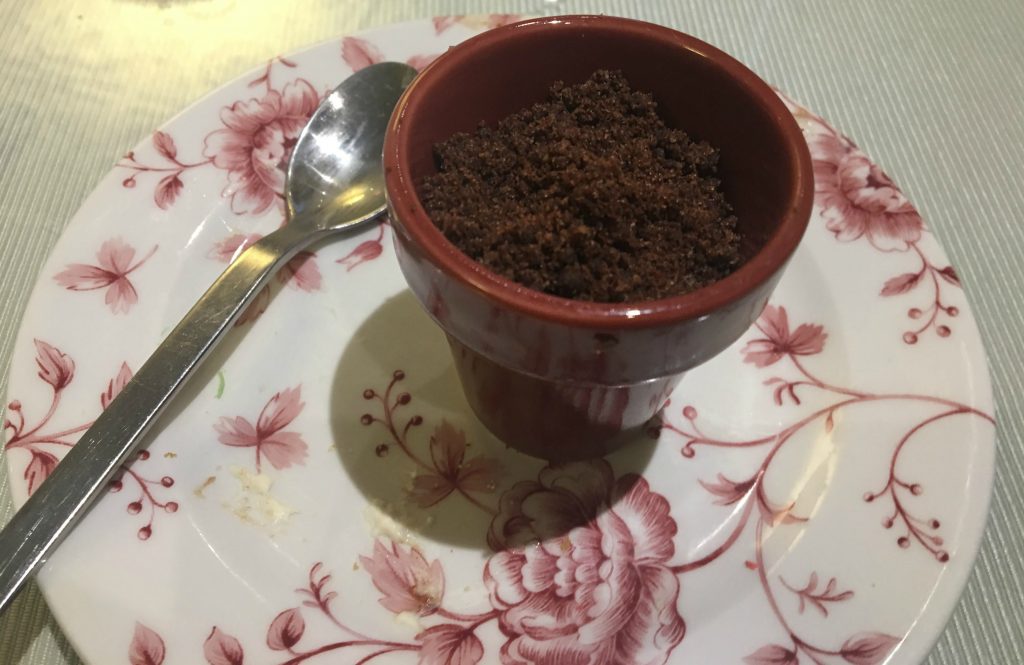 Conclusion
I can confirm this Summer Afternoon Tea is as delicious as it looks.
If I had to be critical I could say we needed extra teaspoons for the mousses, and for the cream and jam with the scones. And maybe a change of knife after the scones. But really, none of that was a problem as we simply had to ask.
My daughter was concerned that there wouldn't be enough for her to eat as she is getting near the top of the age range for children's afternoon teas but this children's menu was actually fine a hungry 11 year old.
We've now got the organic cherry tomato seeds from Mud & Bloom growing on the kitchen window sill which gives us a regular reminder of this special afternoon tea.
Times
Summer Afternoon Tea is served daily from 12pm midday to 6pm.
The summer children's afternoon tea is available during the school holidays and at weekends.
Cost
The St Ermin's Hotel Summer Afternoon Tea is £29 each.
You can upgrade to have unlimited prosecco as well at £35 each, or to include a glass of Nyetimber for £42 each.
The children's afternoon tea is £15 each.
Address: St. Ermin's Hotel, Caxton Street, London SW1H 0QW
Official Website: www.sterminshotel.co.uk
Disclaimer: As is common in the travel industry, the writer was provided with complimentary afternoon tea for review purposes. While it has not influenced this review, AboutLondonLaura.com believes in full disclosure of all potential conflicts of interest.