I first went on a City Cruises boat trip many years ago and wasn't that impressed. City Cruises tickets are often tagged on as a 'free river cruise' with other sightseeing passes. When I tried a 1-Day London Pass in 2011 I was clearly disappointed.
A 'tour guide' talked over the loud speakers telling us 'facts' and how he wasn't paid to be a guide but staff seemed happy to wave a bucket at us for tips as we disembarked.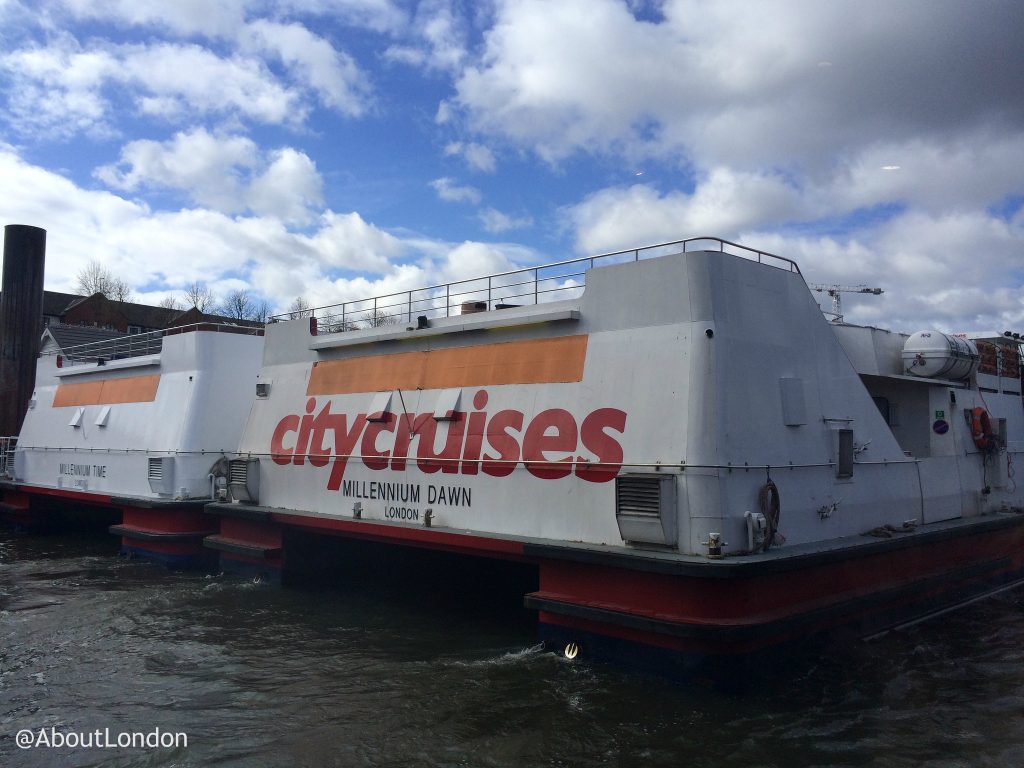 I tried another City Cruises trip in 2014 as part of a day out trying the Big Bus Tours for the day. Again, I wasn't impressed.
There was a live commentary read out but the voice was so boring it was impossible to follow. I was then appalled when this Guide then told us he wasn't paid to give the commentary and we could show our appreciation by putting a tip in the "traditional Captain's Champagne bucket" which is, of course, complete nonsense. I have complained to the company and I hope things will improve but as it was three years since my last visit and it was no better I do not hold out much hope.
I will say that City Cruises listened to my complaint. They had to as I recorded the City Cruises staff blatantly asking tourists to give them money. The company wanted me to go on a boat trip with a member of the management team but I declined as I felt sure the boat's crew would consider doing the right thing if they could be seen 'stealing' from tourists by their bosses.
Instead they offered me a 'River Red Rover' ticket so I could try a City Cruises boat trip again without giving them warning when I would travel. I took the opportunity to have a day trip to Greenwich and went on a Sunday.
No surprise but the same thing happened. See the bucket in his hand?

Maybe you're thinking it's one rogue member of staff. That's what City Cruises told me when I complained. No, this was the return journey.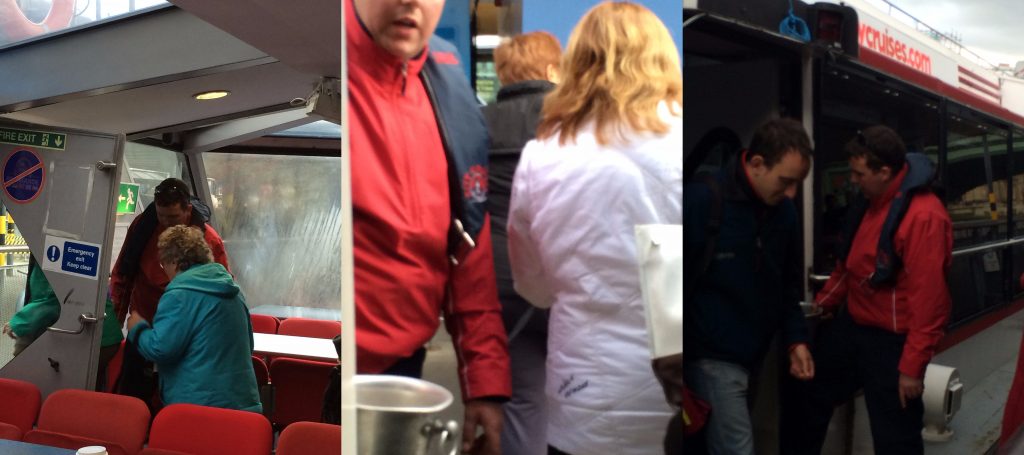 After this trip I compared City Cruises and Thames Clippers. As you can see, City Cruises hadn't endeared themselves to me.
The live commentary was read out with such a monotonous voice that it was hard not to be bored to sleep. The Guide only livened up as we approached Tower Pier so he could try to convince unsuspecting tourists that they should pay him for doing them a great service as he had gone beyond the realm of his job description. And, sadly, many people did put coins in the bucket he shook at them as they disembarked. I have reported this shameful behaviour to City Cruises management but it seems little will change as staff are so used to earning this extra cash from tourists.
Which brings us to my latest City Cruises trip. I tried the Original London Sightseeing Bus Tour for a day and it included a City Cruises ticket so how could I resist checking if they were still trying to get cash that their bosses, apparently, don't know about from visitors to London? Oh, I took a front row seat for this one.
So, meet Sid.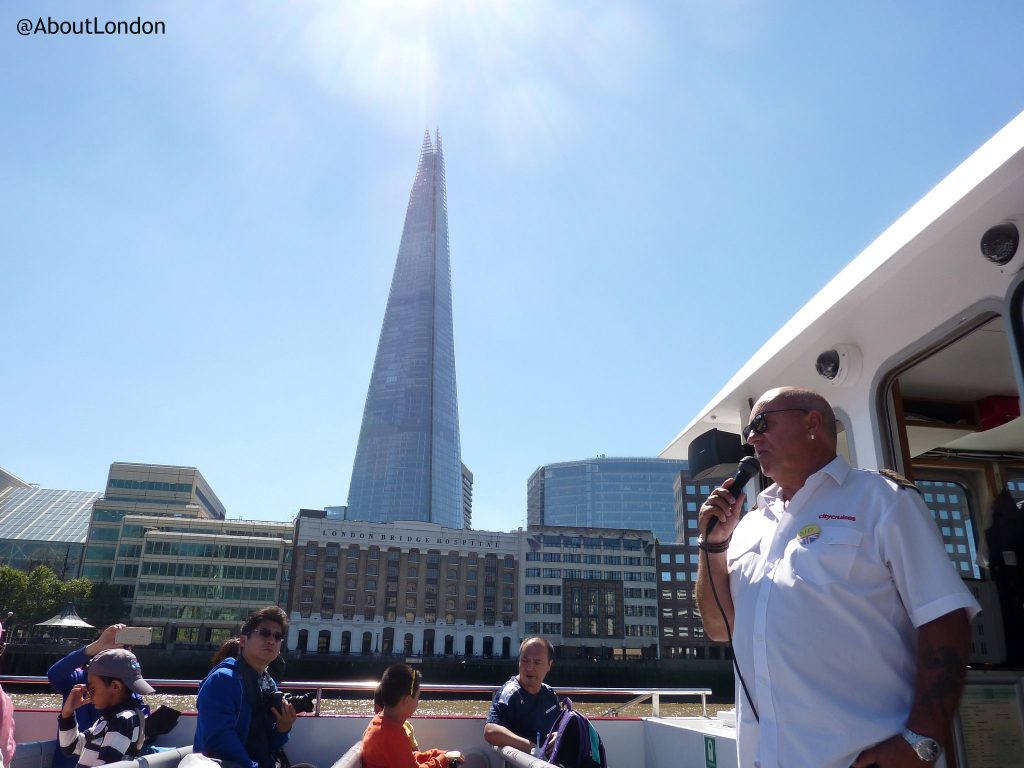 At the start of the journey (Tower Pier to Westminster Pier) he asked if passengers would like a recorded commentary or for him to point out the sights. There were a few mutterings for him to speak so he complained about no-one listening anyway and came to stand at the front of the upper deck.
He told us Cannon Street station is owned by 'British Rail' (note, British Rail changed its name in the late 1990s) and he was constantly moaning about the waste of money in London.
He told a wide selection of incorrect 'facts'. We were told Florence Nightingale is buried in St Paul's Cathedral which is untrue. (She's buried the churchyard at the Church of St. Margaret of Antioch in East Wellow, near Southampton, Hampshire.)
The highlights pointed out to us included the new sewage works. "The sewage system is falling apart. London is falling apart," said Sid in his happy-go-lucky attitude.
We were told a bottle of water costs £15 in the Harvey Nichols restaurant at the OXO Tower and, therefore, it's overpriced and no-one should go there. I called the restaurant and a bottle of water is actually £5.
He told us Somerset House is the home of the Inland Revenue which hasn't been true since 2009.
And then at the end – and, I'll admit, I knew it was coming – he started the line about 'we're not paid to give a commentary' and how he'll be waiting at the exit and adults can put money in his Champagne bucket. Just like they do on every City Cruises trip.
And as I was prepared for it I recorded Sid. On the recording, I've noted a few more of the inaccuracies he managed to get in during the last few minutes but forward to 5 mins 30 seconds and you can here Sid saying what the bosses of City Cruises say never happens on their cruises.
In case you're thinking this surely wouldn't have happened again, here's Sid with his Champagne bucket to get cash from the passengers as they disembarked.

And maybe you're thinking he might just be holding that Champagne bucket for some other reason, so here's a video of a passenger giving him money.
I am going to let City Cruises know about my latest boat trip with them. I am going to let them know that in all the years I have tried them (and we have five years of reviews consolidated here) nothing has changed. Staff make up a facts and say they are not employed to give a commentary when the company sells tickets on the fact they offer a commentary.
Do let your friends know what City Cruises is really like and remind them Thames Clippers do the same routes and will never ask for money.
City Cruises and staff like Sid, should be deeply ashamed of themselves for exploiting visitors to London.
UPDATE: I was alerted to this TripAdvisor review which continues to prove the attitude of City Cruises and their boat crew.
From the off we were subjected to blatant bullying begging for tips from the man doing the commentary through the mic
The author tells me they too have contacted City Cruises many times over the years to complain and were also told this type of thing shouldn't happen and must have been an isolated incident. But, of course, you now know different.