Afternoon tea is my favourite meal of the day! I've been reviewing London afternoon teas for over a decade so my love of fancy tea and cakes is rather well-known. When I heard about a luxury London hotel serving an Italian-influenced afternoon tea I just had to try it.
Baglioni London is a five star hotel opposite Kensington Gardens. It's close to the Royal Albert Hall, the South Kensington museums and shopping in Knightsbridge too. It is so well situated that the suites at the front of the building have a clear view of the royal apartments at Kensington Palace.
Part of the Baglioni Group, the hotel's heritage is thoroughly Italian. This collection of privately-owned boutique hotels include five in Italy, two in France and another in the Maldives.
Afternoon Tea with an Italian Twist
On a sunny afternoon in late spring, I visited to enjoy the 'Afternoon Tea with an Italian Twist'. What's not to love about spending a few hours in a luxury hotel savouring Italian sweet treats?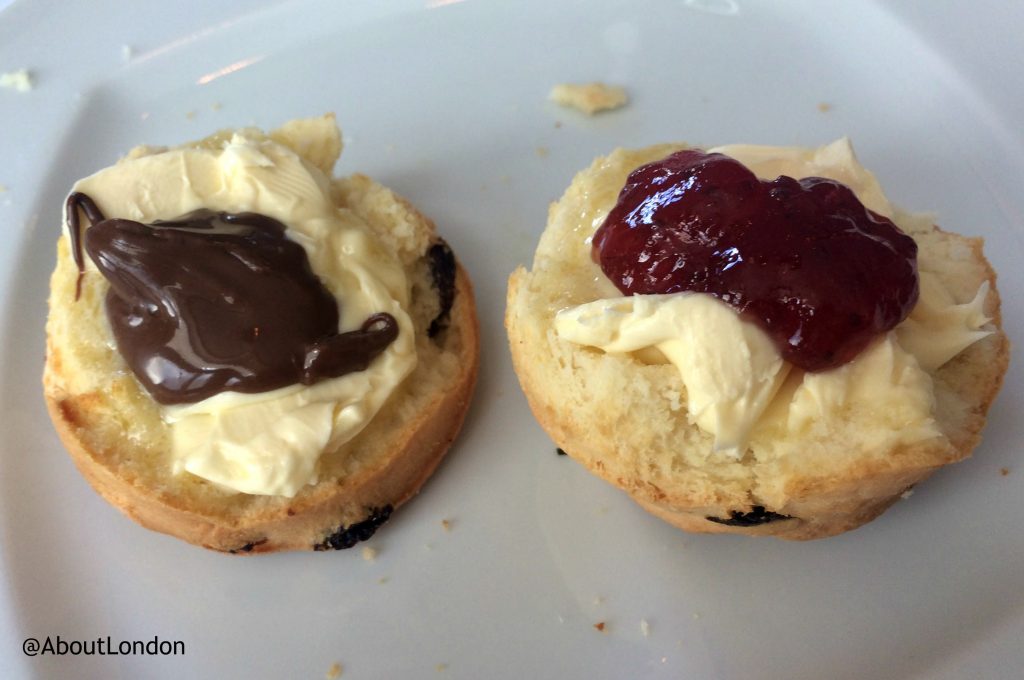 When standing outside it can be hard to imagine the glamour that awaits within. But as we approached the door was opened by a smiling doorman and a member of staff was ready to welcome us to the hotel.
I had mentioned when booking that it was a celebration for my daughter's birthday so it was really pleasing to see a birthday balloon and card were waiting for her at our reserved table. I hadn't asked them to do that. That's just what really nice places do when you let them know you've chosen their venue for a special occasion.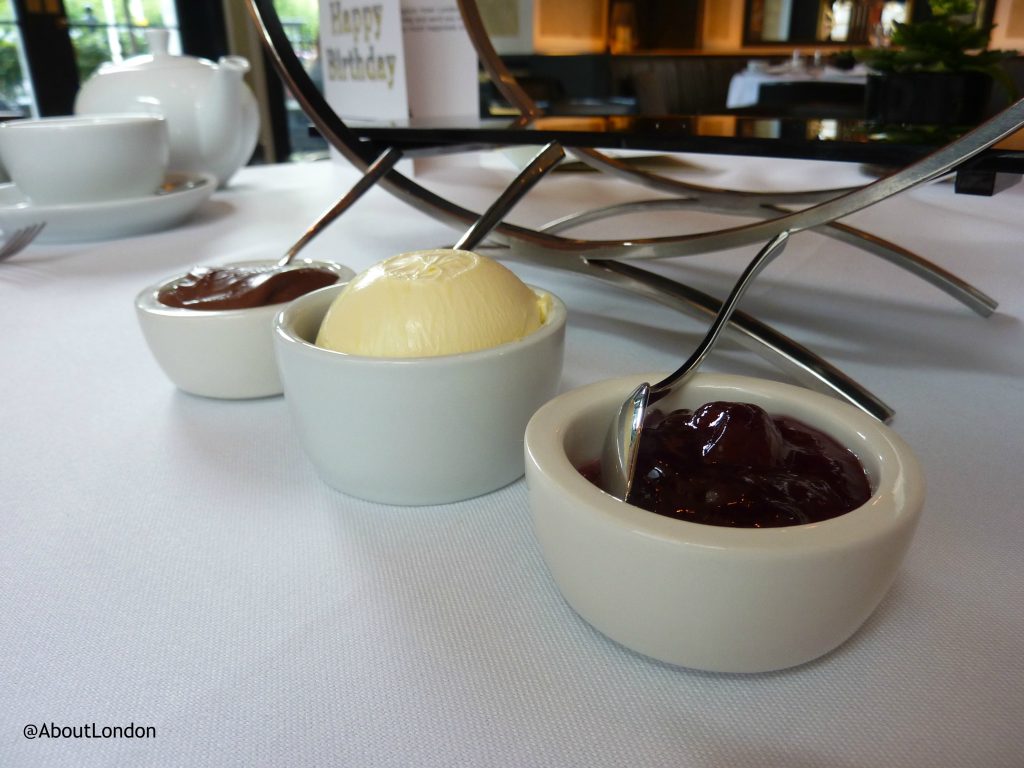 The Brunello Bar and Restaurant is the hotel's Italian restaurant. It's on the ground floor facing Kensington Gardens. There's an outdoor terrace too (but it is on a busy road and mostly used by smokers). The restaurant is used for afternoon tea from 1-5pm, and at other times for breakfast and dinner.
The glamorous dining room has black, gold and bronze-grey decor. There's a central bar, and lemon and lime trees inside too. The seating includes large booths, tables for two and plenty of room to accommodate larger groups as well. While I was visiting there was a family first birthday party so I can confirm the hotel is happily family-friendly.
Our booth table was dressed with a crisp, white tablecloth and plain, white crockery.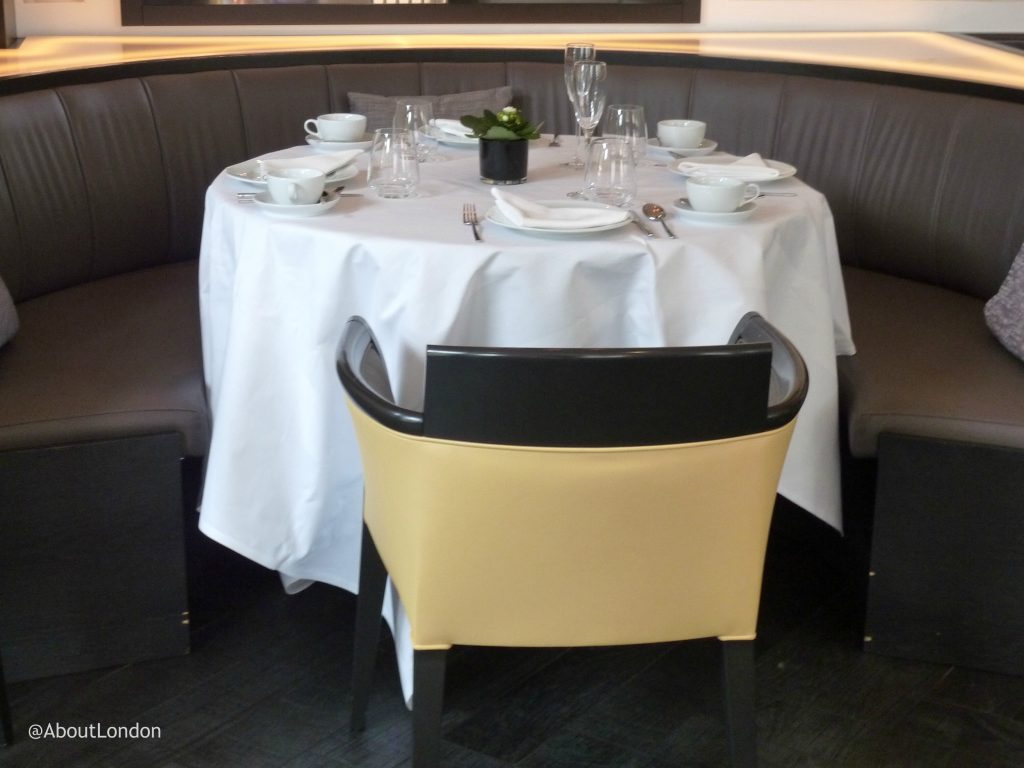 There's was gentle background lounge music playing when we arrived, and later a piano player took over the musical accompaniment.
Service
Getting the looks right is just one part of appreciating your time in a luxury hotel. Service has got to match your expectations and I'm pleased to say the smartly dressed international staff here were all polite, friendly and professional. Staff were attentive without being intrusive and are clearly experienced at serving afternoon tea.
Tea
As I was dining with my young daughter we didn't have the glass of Prosecco included on the menu.
The tea menu is relatively short (under ten options) but did include tisanes we could both enjoy. I wanted something caffeine-free as it was a sunny and warm day. I couldn't resist a tea called 'Granny's Garden' and it was a delicious blend of rhubarb and vanilla.
The teas are loose leaf and served in white crockery teapots with silver tea strainers.  Hot water is offered later as quality tea can be brewed many times.
Cake Stand
Rather than the standard three-tier affair, the silver cake stand is a contemporary oval with two layers. It was explained that the scones are brought to the table warm when we're ready.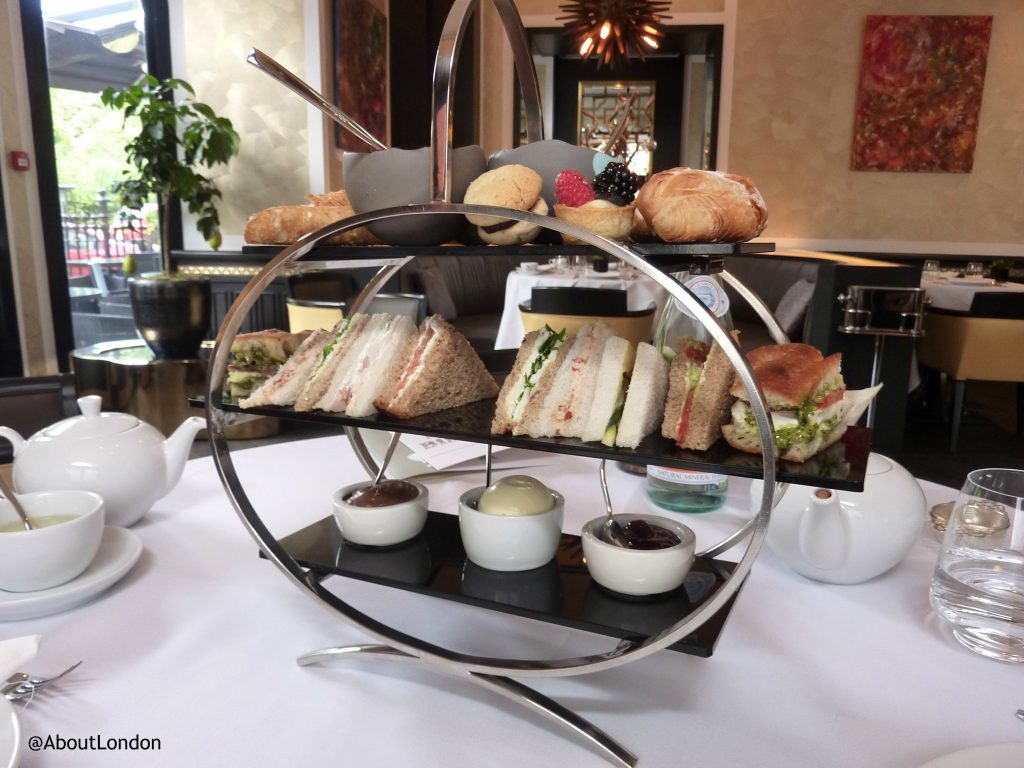 As afternoon tea is quintessentially English, you can still expect an egg mayonnaise sandwich, and smoked salmon too. But the Italian influence shines in other fillings such as the sun-dried tomatoes and ricotta, and Focaccia bread with bresaola and buffala mozzarella cheese.
My daughter had the sandwiches on the menu and I had vegetarian options. She said this was the first time she'd tried all of the sandwiches on an afternoon tea cake stand and liked them all. (She usually has the salmon sandwich first, skips the rest and asks for more salmon.)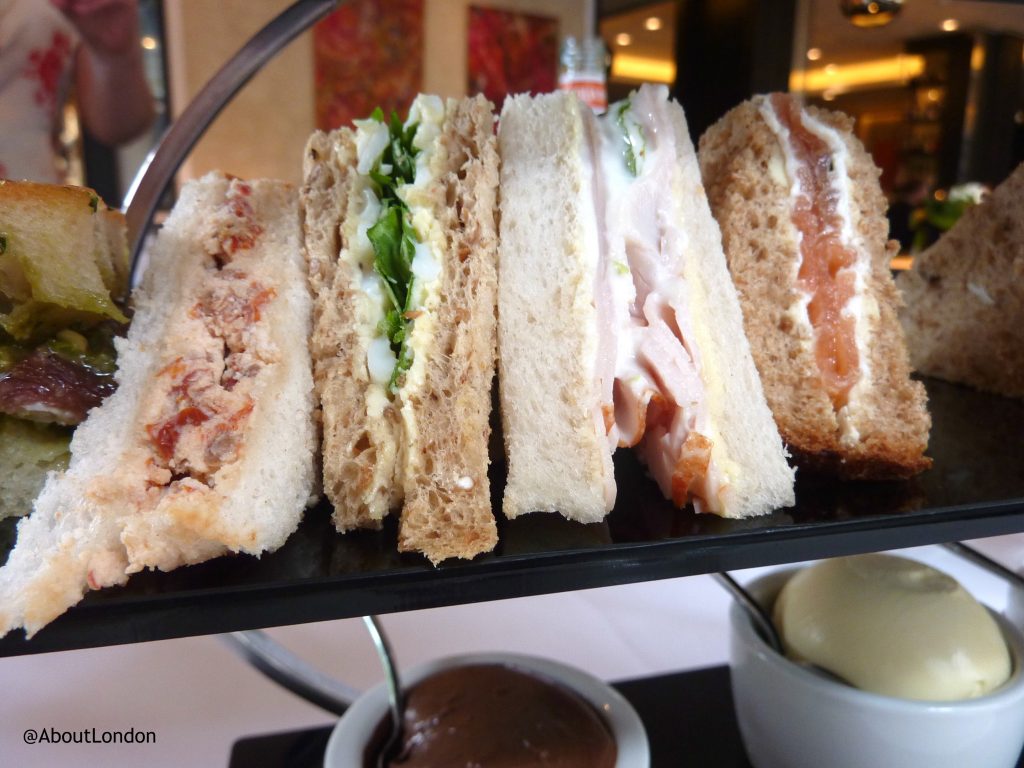 I thought there might be more Italian breads used but it was plain white and brown sliced bread and one foccacia sandwich.
Scones
Before we had time to ask, a member of staff noticed we were almost ready for the scones so checked it was OK to bring them to the table. Two scones for each diner – one plain and one fruit scone each – were presented wrapped in a white napkin.
The scones cut in half perfectly! To judge a scone it needs to have an obvious line where to cut and yet to hardly need a knife to separate the two halves. A neat split and lack of crumbs score highly with me too.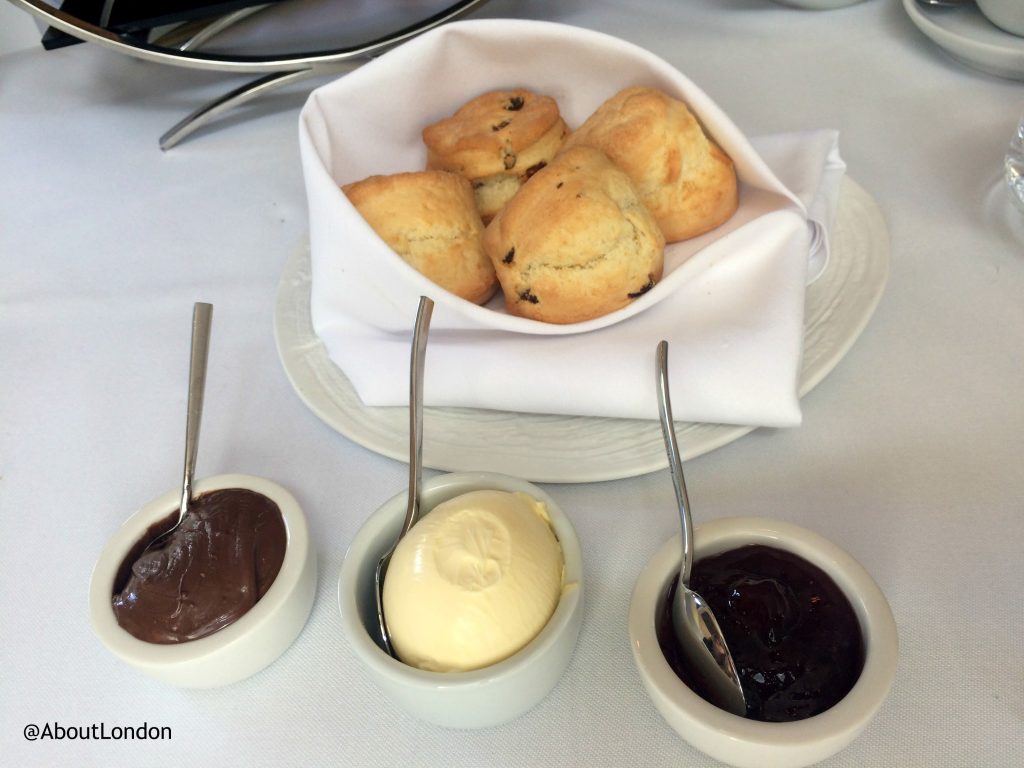 The Italian influence was more noticeable in this course as while we had the traditonal clotted cream and strawberry jam (preserve) we also had Nutella!
In the spirit of trying everything for a full review I did try Nutella on a scone but I'll be sticking to the traditional cream and jam in future. My daughter loved the Nutella addition though and thought it was a brilliant idea. Her lady-like manners slipped somewhat as she licked the spoon clean.
Sweet Treats
Five sweet treats each were where the Italian theme could really stand out. The sfogliatina napoletana was filled with chocolate instead of cream (another big hit with my daughter), and we both really liked the small lemon cream tarte with blackberry and raspberry. My absolute favourite part of the meal though was the Sicilian cannoli: a deep-fried shell with a smooth ricotta filling, topped with pistachio. What a treat!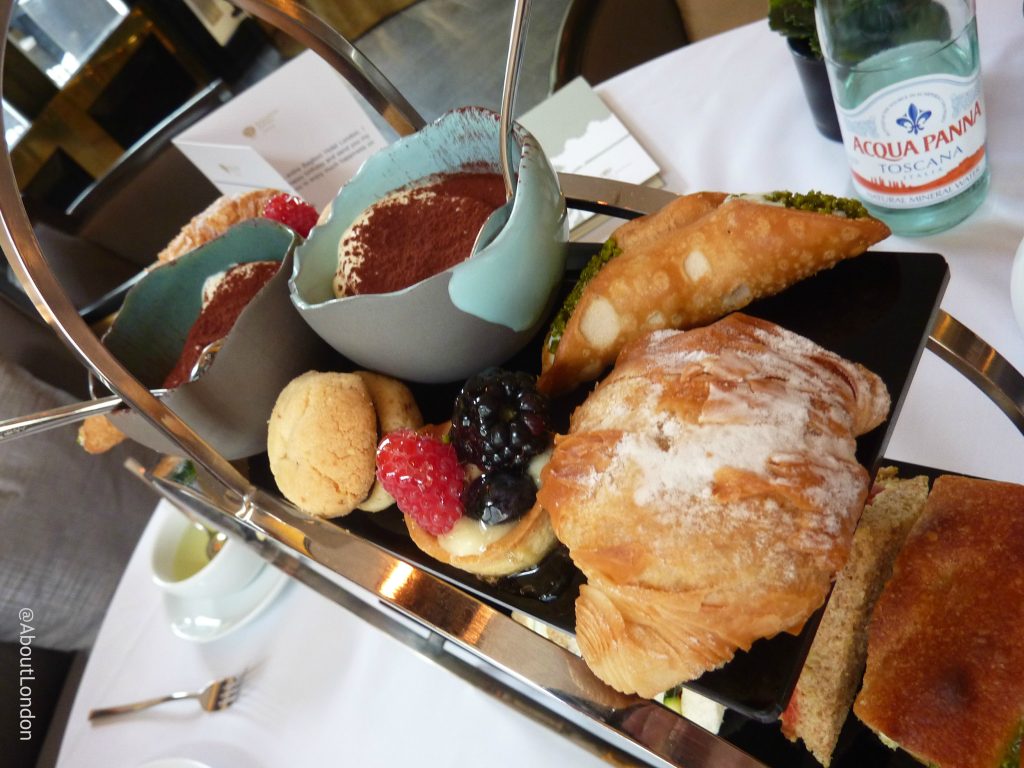 We slowed down after an hour as we were getting so full. While elegant and luxurious, Baglioni is still a comfortable environment and there was no rush for us to leave.
This is a quieter location than other afternoon tea venues but just as impressive. It's somewhere I'm happy to recommend and hope I can return in the near future.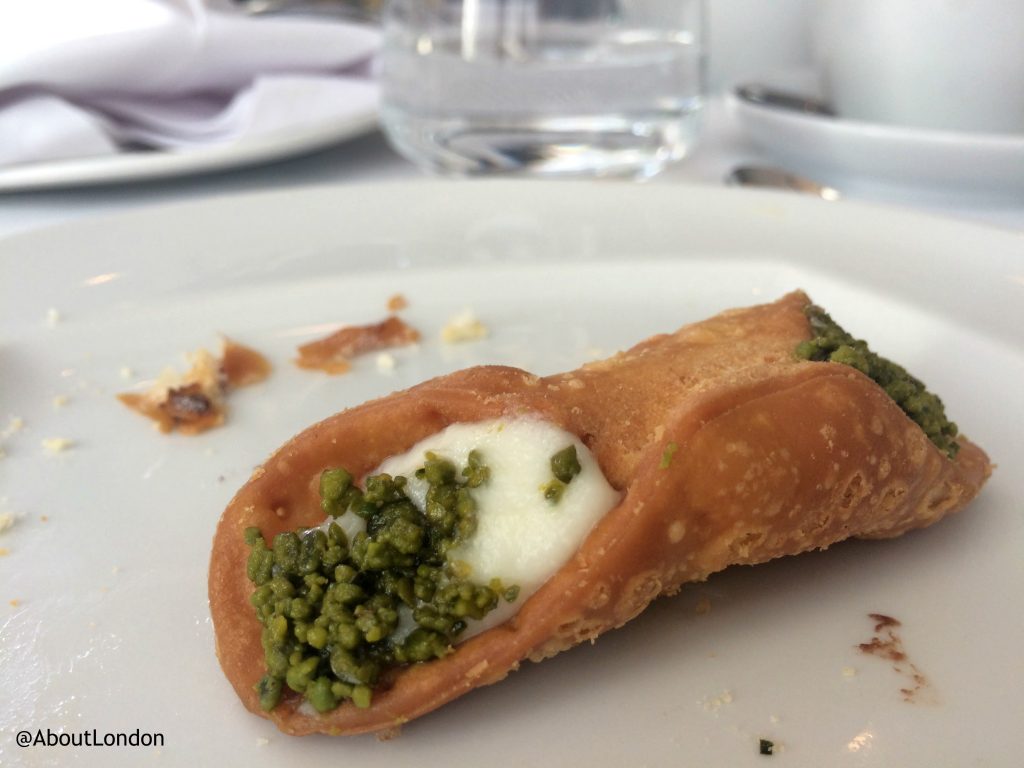 The Afternoon Tea with an Italian Twist is priced at £42 per person. Other afternoon tea options here include a Champagne Afternoon Tea, Traditional Afternoon Tea, a Romantic Afternoon Tea (includes Rosé and strawberries and cream), and an À la Carte Afternoon Tea option where you can choose the sections of the meal that you prefer.
Address: 60 Hyde Park Gate, Kensington London SW7 5BB
Official Website: www.baglionihotels.com/category/baglioni-hotel-london
You can read more reviews from 2016 here, here and here, and from 2015 here.
Disclaimer: As is common in the travel industry, the writer was provided with complimentary afternoon tea for review purposes. While it has not influenced this review, AboutLondonLaura.com believes in full disclosure of all potential conflicts of interest.