It's taken years to bring this together but The Pink Floyd Exhibition: Their Mortal Remains is at The V&A from 13 May to 1 October. 2017 marks the 50th anniversary of the band's first album and the exhibition covers the band's early days in Cambridge up to their final performance as a four piece at Live 8 in 2005.
Sound Experience
Visitors collect a headset with a 'sound experience' by Sennheiser. I tried one of these at the V&A's David Bowie retrospective in 2013 and it's a clever way of having the audio match what you're looking at. At least that's how I remembered it from the Bowie exhibition; this time there seemed to be a lot of silence or short sound bites so I wasn't sure if I'd moved or if it really was that short.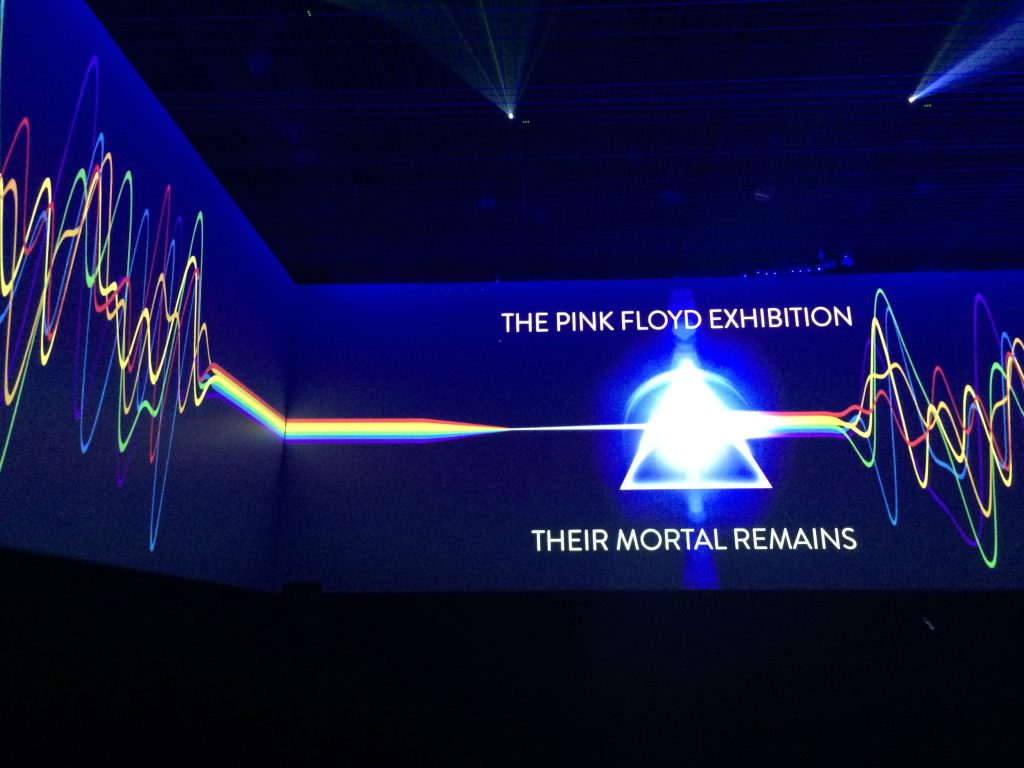 I always took some sort of obscure pleasure in the certainty that they could have joined the audience at one of their own gigs without being recognised. Quite an achievement that.

John Peel, Evening Standard, 4 August 1988
Front The Start
After you enter the exhibition space through plain black doors it all soon goes a bit 'trippy' as you go through a re-creation of the band's Bedford van and then through this 'tunnel' to the first room.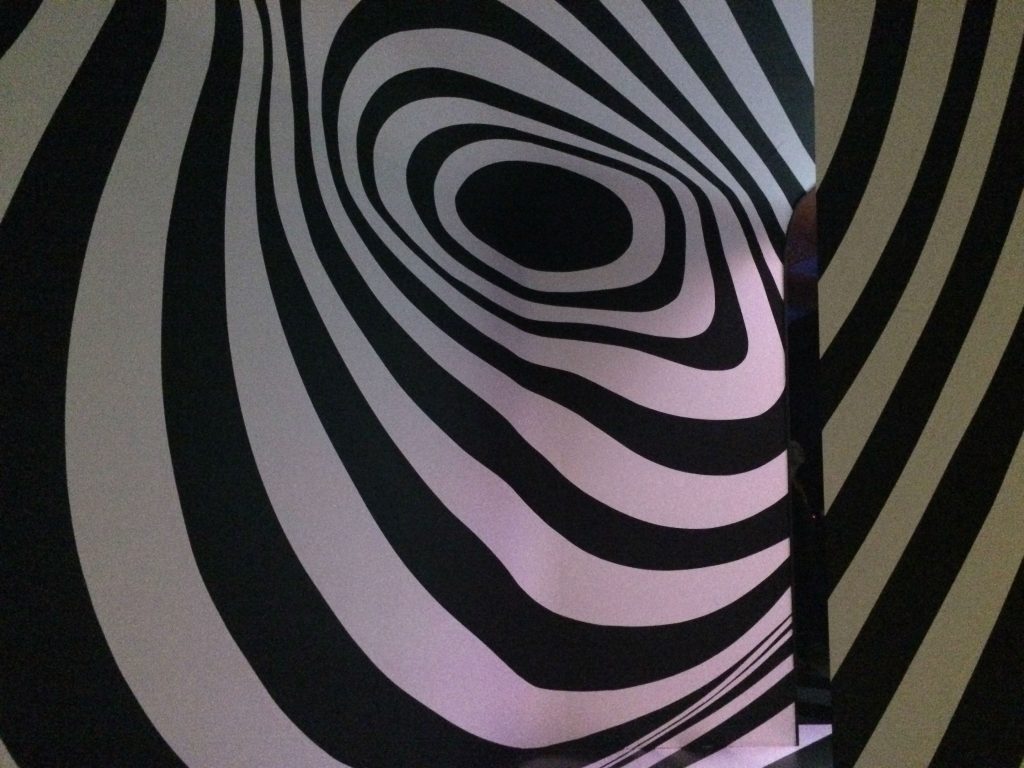 And this is the first room…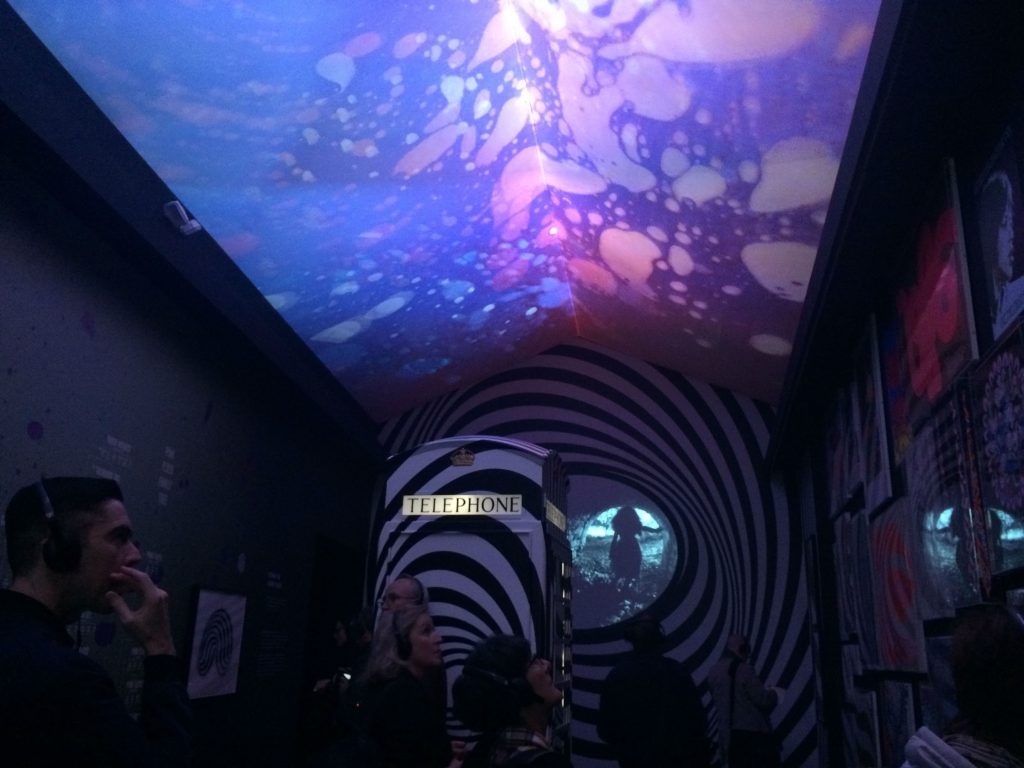 Last Friday, the Pink Floyd, a new London group, embarked upon their first 'happening' – a pop dance incorporating psychedelic effects and mixed media – whatever that is!

Nick Jones, Melody Maker, 20 October 1966
There are early records to see…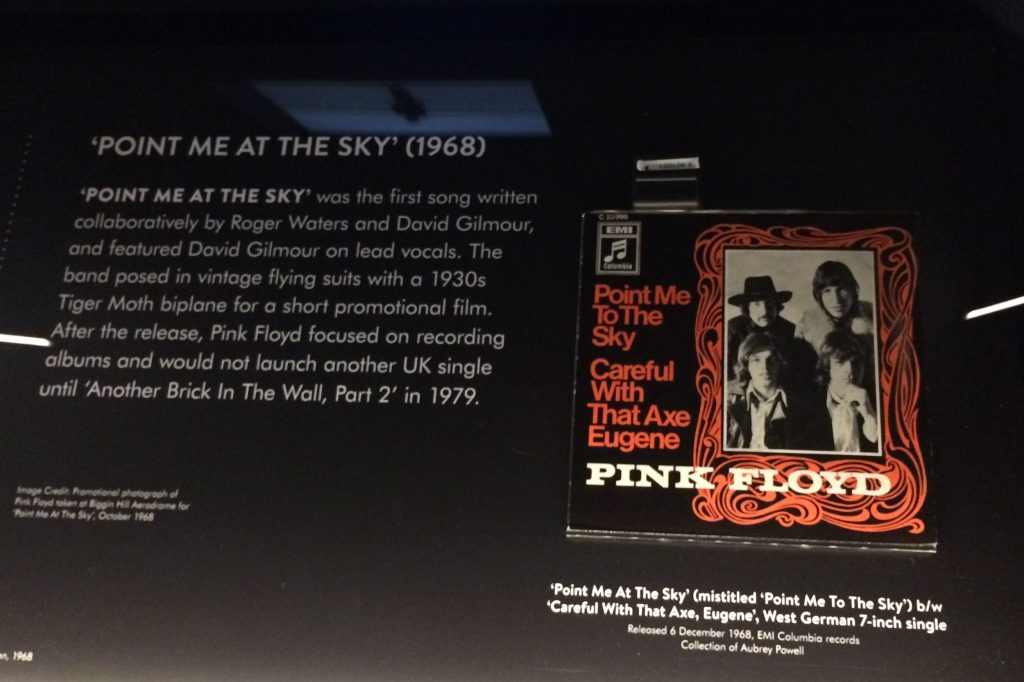 And large photos on the walls.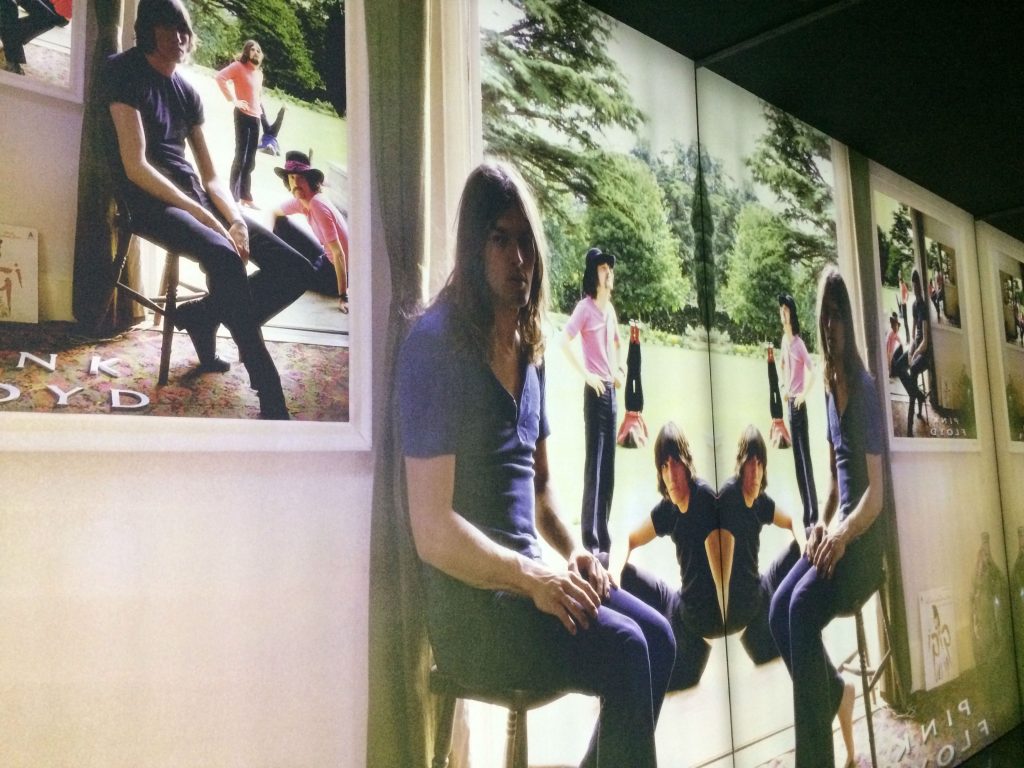 Remember to look up…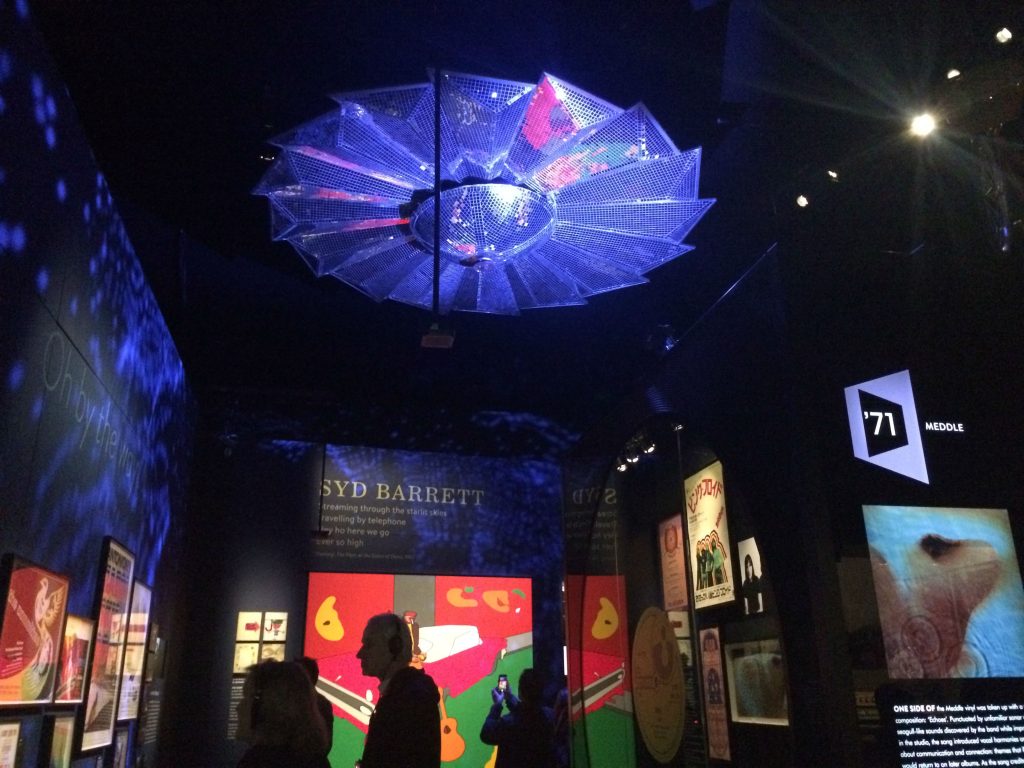 As this is The V&A, everything is beautifully presented.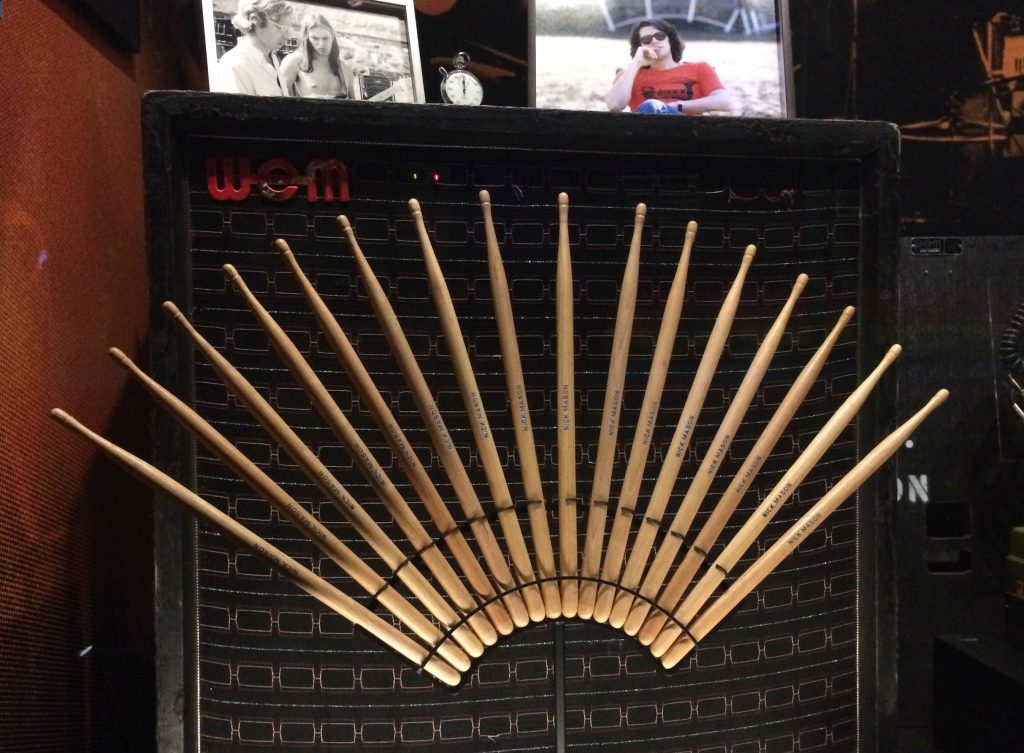 Even the items behind glass walls are 'framed' as if peeking into a record.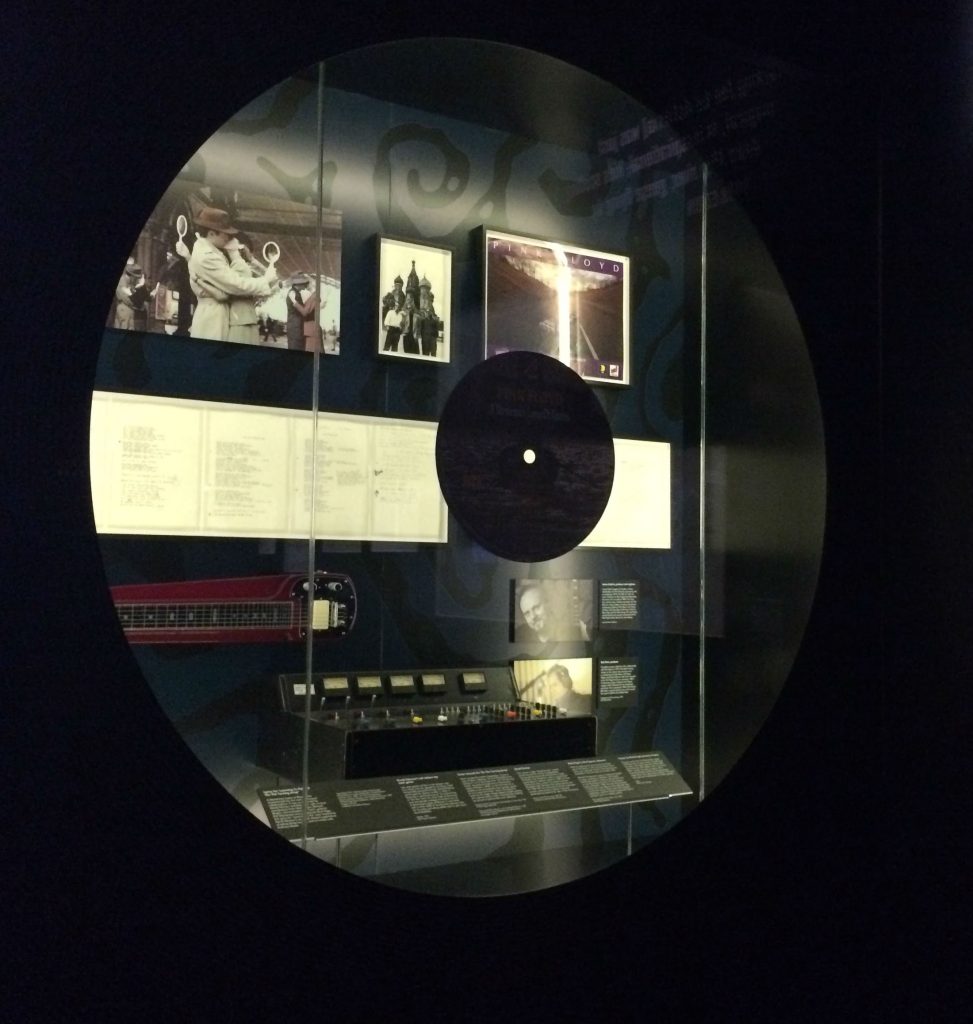 The instruments on display include beautifully painted drum heads used by Nick Mason.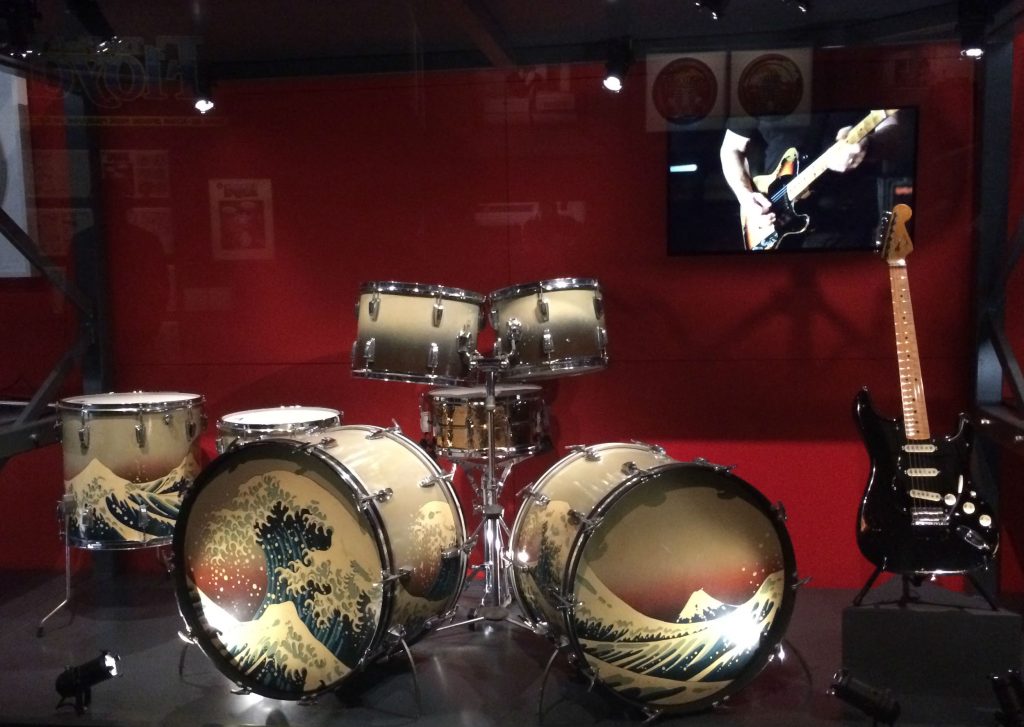 While Pink Floyd's conceptual and complex music was far removed from the gritty punk era they did have political idealisms in common so this was a nice surprise. Amongst it all there's Jamie Reid's original artwork for 'Never Mind The Bollocks Here's The Sex Pistols' from The V&A's collections.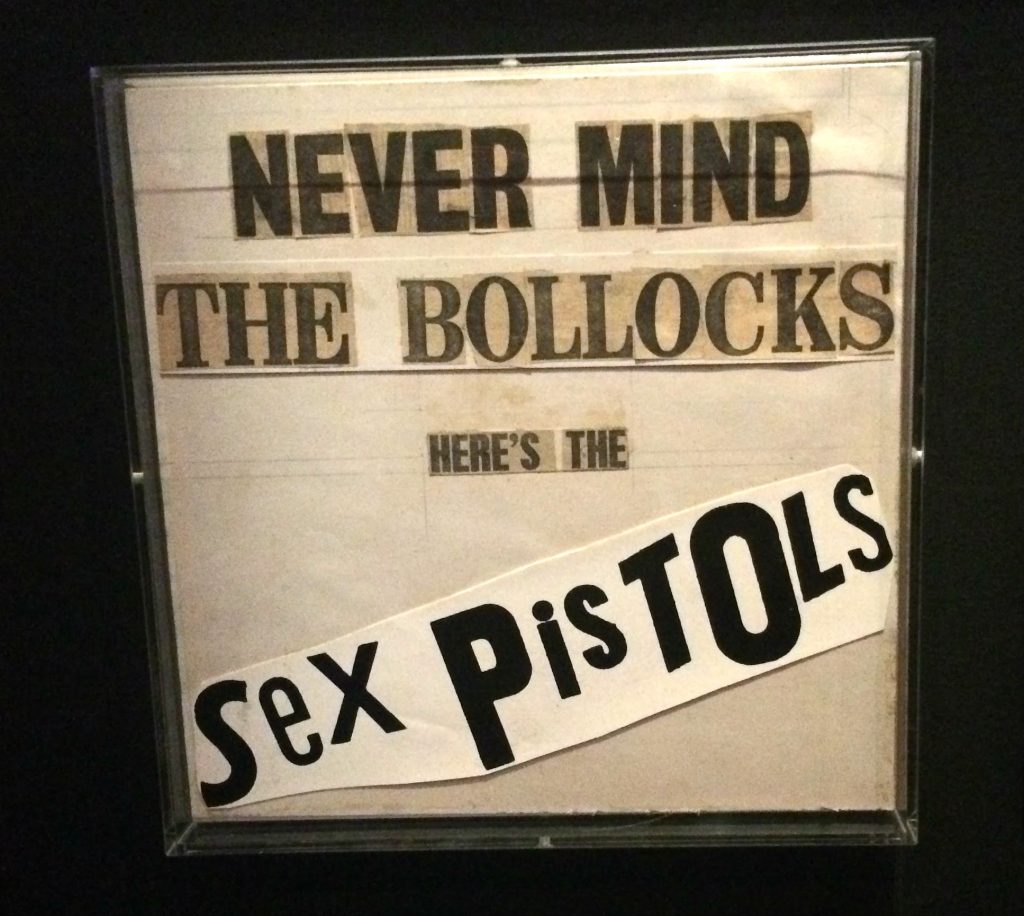 More Relatable
And then we reach the section where I could relate to things more. Another Brick in the Wall was a hit while I was at school – I was intimidated by those London schoolkids singing on the record though!
Look out for the handwritten sing lyrics…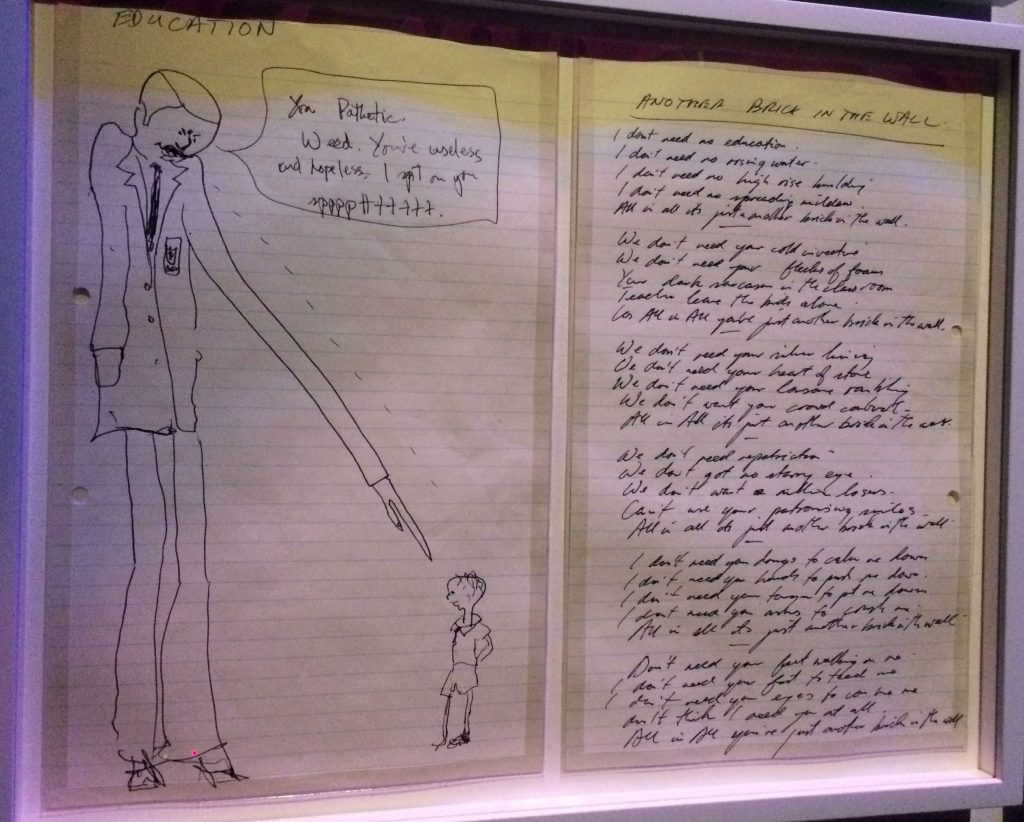 And this bamboo cane was used on Roger Waters and Roger 'Syd' Barrett at Cambridgeshire School for Boys.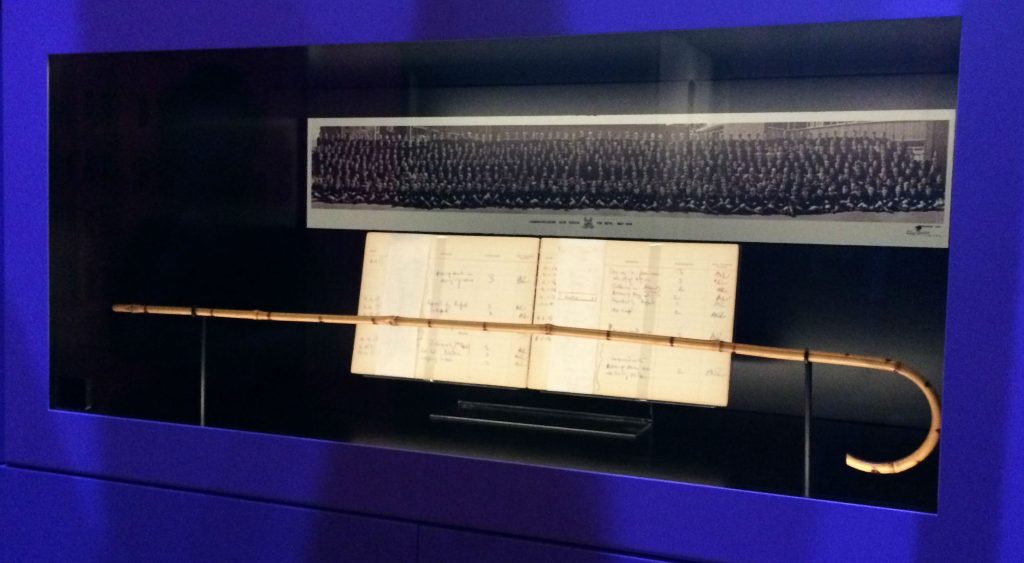 Thankfully this wasn't their teacher. This was the enormous teacher used in 'The Wall' stage shows.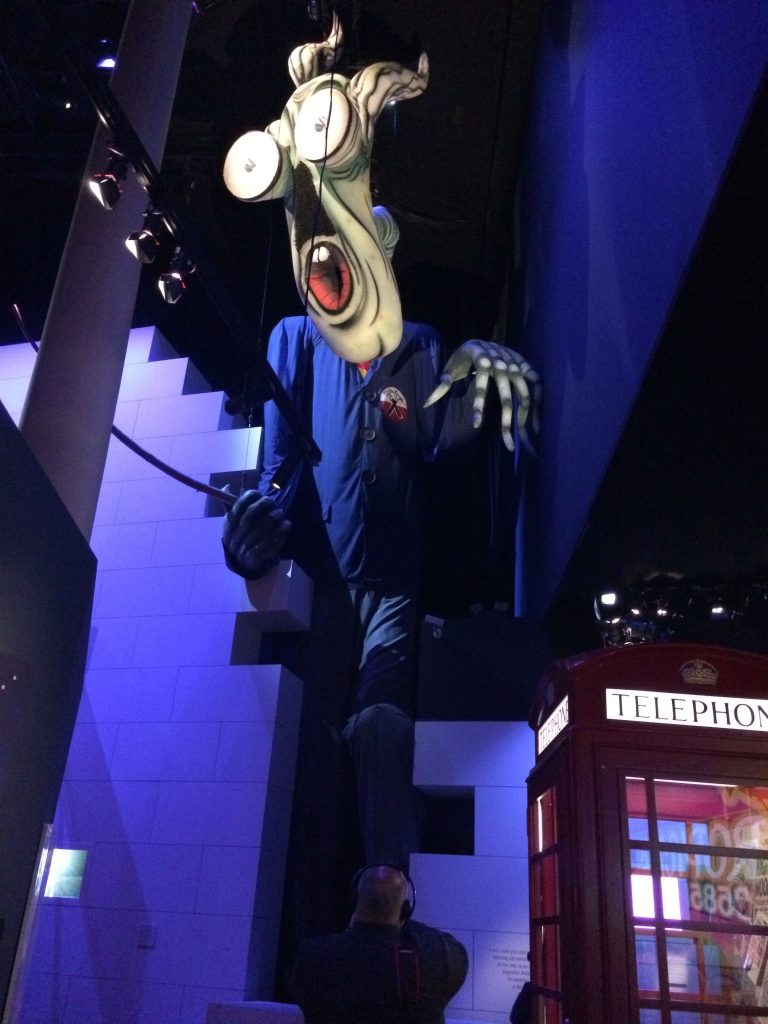 And you can't miss the 'Division Bell' heads as they are over six metres high!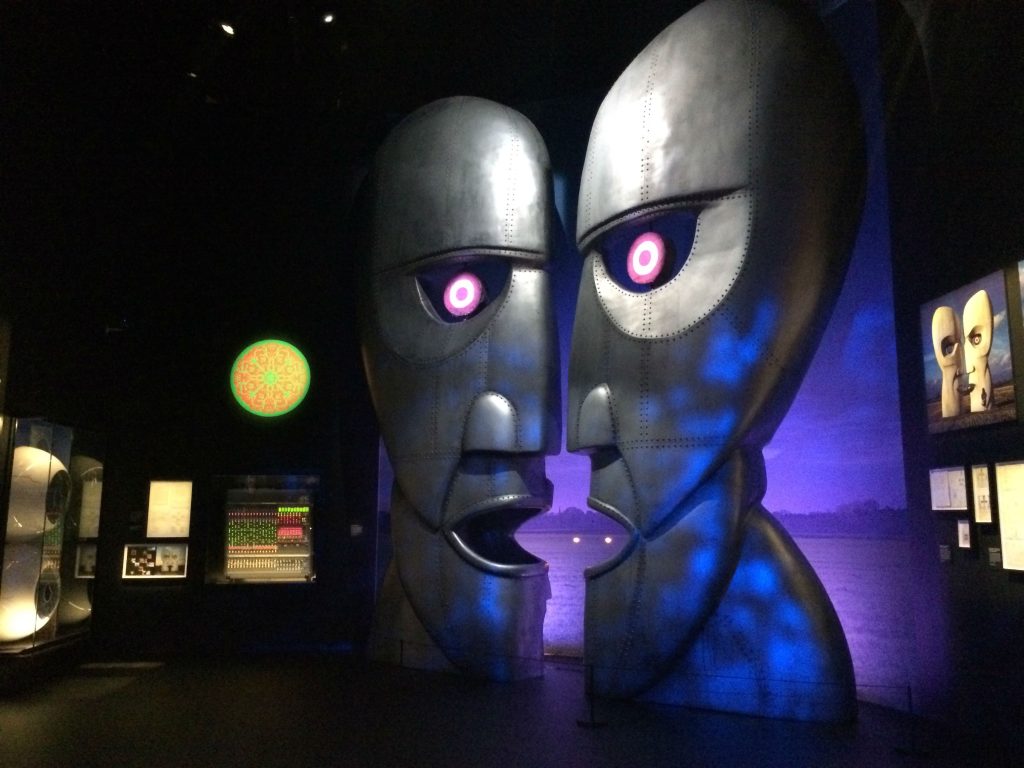 It all ends with a large open space for you to feel as if you're at a Pink Floyd concert. Take off the headphones as they're not needed. It's loud in here and there are projections on all the walls, and the floor too.
It's not actually clear how you leave this room so I'll break the mystique – the exit is next to the entrance to the room.
Conclusion
Do teenagers even know who Pink Floyd are? Does that matter? This is going to appeal to an older demographic of loyal fans. And if that brings them to The V&A for the first time then that's a good thing.
Inside the exhibition a woman came over to talk to me as she was so thrilled to be there. She's seen Pink Floyd "back in the day" at Earl's Court and she knew she's seen something special. Whether all fans will leave the exhibition feeling the same way I'm not sure. I was hoping the headset would help me get immersed but a lot of the time it was silent. It was fine if I was near to a screen of someone talking but in between it often left me in the dark. As did the low lighting of the exhibition – and not just in the pitch-black space for the holographic image bringing to life 'The Dark Side of The Moon's famous prism.
I think it doesn't really matter what I thought as loyal fans are just that, loyal. They will flock to this show and will spend £30 on a t-shirt when they leave. I'm still glad I saw the exhibition even I still know little about the band.
Official Website: www.vam.ac.uk/exhibitions/pink-floyd
Tickets are £20 Monday to Friday and £24 on the weekend. And while that seems like a lot just think how much is spent on concert tickets and you'll know tickets will sell without any problems.