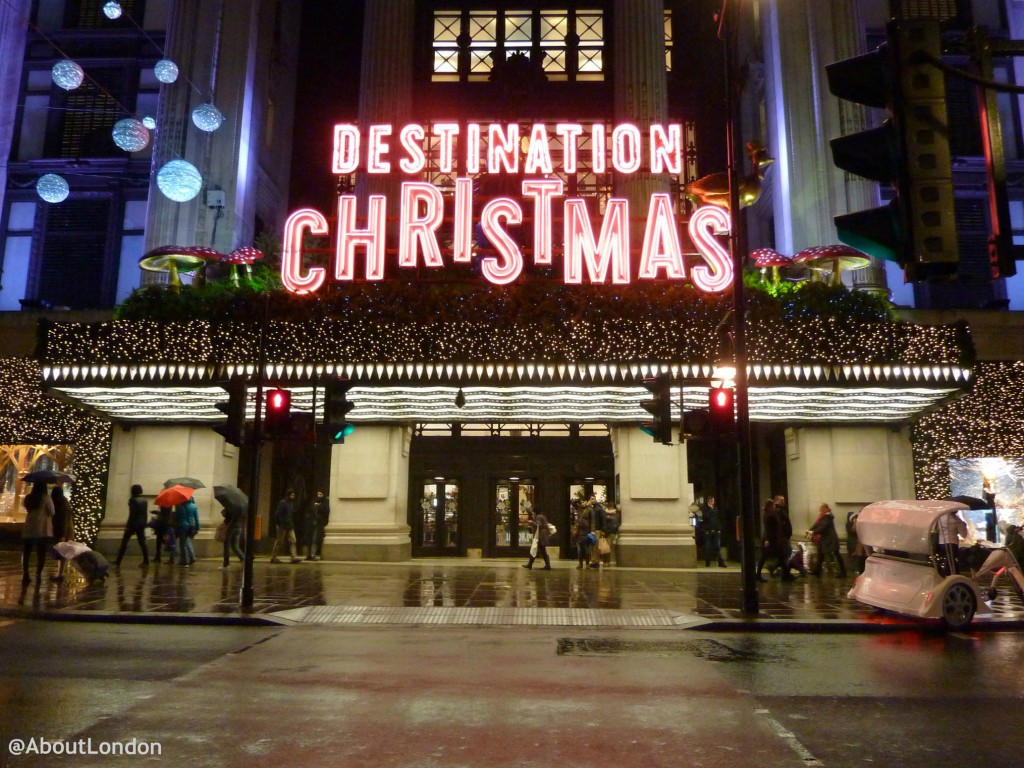 It's beginning to look a lot like Christmas… At least it will when the Christmas lights get switched on in central London.
This always happens in November and no, it's not too early. London looks amazing when all lit up and one of my favourite things is to take a wander around town, when the shops are shut in the evening, and see the fun festive window displays and to admire the lights.
Never easy to photograph, I've tried every year since 2006 so do have a look and compare my annual London Christmas Lights galleries.
Switch On Dates 2015
I'm always surprised how late these dates are announced each year but I've chased all the PR companies so have as much information here now as available.
The switch-on events are usually very popular as celebrities are often involved. Some venues make a party out of it and have music and fun for a few hours and not just for the minute when the lights go on.
Oxford Street: Sunday 1 November (more details below)
Westfield London: Friday 6 November (more details below)
Harrods: Saturday 7 November (more details below)
Duke of York Square: Saturday 7 November, 4pm
Covent Garden: Thursday 12 November
Carnaby Street: Thursday 12 November
Regent Street: Sunday 15 November
Greenwich Market: Wednesday 25 November (see more below)
Trafalgar Square Christmas Tree: Thursday 3 December (always the first Thursday in December)
Oxford Street
Oxford Street is having its special switch on event on a Sunday for the first time. And to make it even more appealing the street will be traffic free from 2pm to 6.30pm. This is the 56th annual Oxford Street Christmas lights and the event is being hosted by Pandora, one of the world's largest jewellery brands.
The show will start at 5.30pm and the lights will be switched on by Kylie Minogue.
Capital (Radio) will be providing the music and retailers will have lots of exclusive discounts for the day.
The stage is going to be outside Pandora Marble Arch flagship store and will face down West Oxford Street with a series of on-street screens live streaming all the action for spectators and shoppers.
These events always need a celeb and a big name will be announced soon.
Now, onto the lights. New for this year, the lights display includes 445 never-seen-before golden baubles shining between the silver lights "inspired by the beauty of falling snowflakes". Oxford Street Christmas lights include 1778 baubles and 750,000 LED bulbs, that uses 75% less energy than conventional bulbs.
Westfield London
Not exactly a switch on event, Westfield London (the one in Shepherd's Bush) has Music Cube on 6-8 November. It's a free live music festival happening in The Atrium event space. Friday 6 November has an A-lister live performance followed by the official launch of Christmas at Westfield London.
Harrods
The theme at Harrods for Christmas 2015 is Once Upon a Christmas Fair. There's a Festival of Christmas weekend on 7/8 November including Father Christmas arriving at the Harrods Grotto on the Saturday morning. Families are invited to join in the weekend fun on Hans Crescent which includes Peter Pumpernickel and his troupe of all-singing, all-dancing mice, plus more special guests.
The Christmas windows on Brompton Road will evoke a world of puppets and performers each with a spectacular stage complete with lights, scenery and red velvet curtains. Meanwhile, hidden beneath the floorboards is a magical world of Christmas mice.
Greenwich
Greenwich Christmas lights switch-on and Lantern Parade is on Wednesday 25 November. The Lantern parade starts in the Old Royal Naval College, walks around the town centre and ends up in Greenwich Market where the lights are switched on. There's no exact time yet for the lights, but the Lantern Parade start around 4pm.
And until then, here's a happy memory of Christmas in Covent Garden last year.