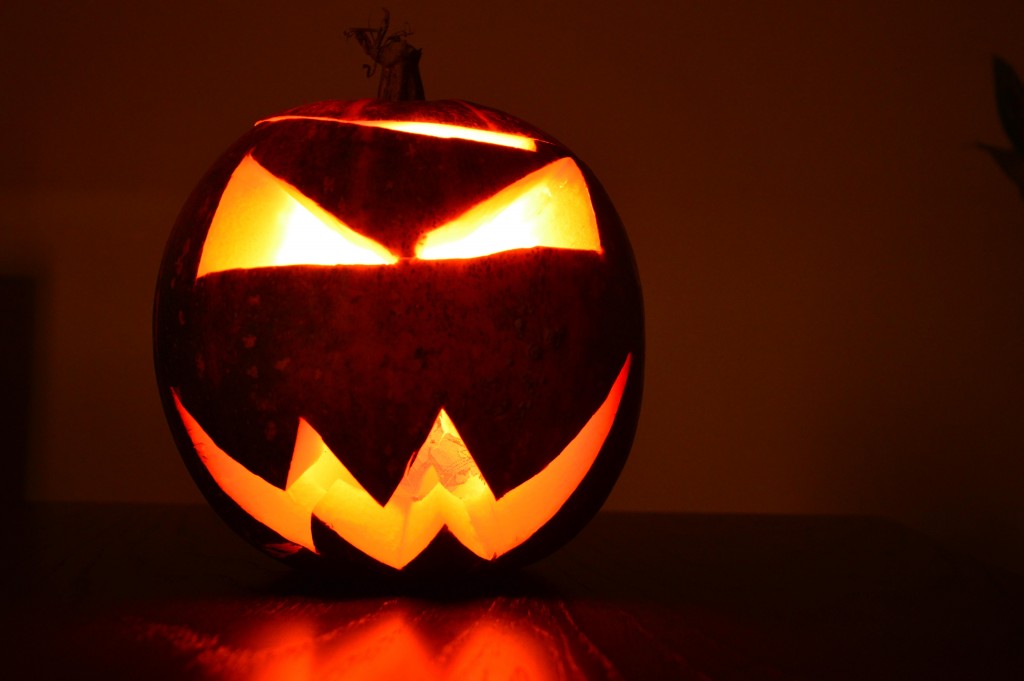 There are more and more Halloween events in London every year and this year has a good mix for kids and for grown-ups.
Ragged School Museum
The Ragged School Museum is one of my favourite places in the world. The team there are incredibly welcoming and there's always something fun going on in the holidays. The museum only opens on Wednesdays and Thursdays (and the first Sunday of the month) but they pack a lot of fun into those days. Oh, and the building is haunted. That's always good to know at this time of year.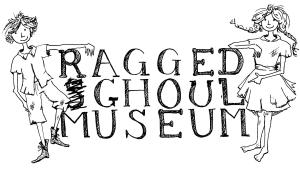 On Wednesday 28th and Thursday 29th October, 10am to 5pm, there's free Hallloween-themed face painting and the usual Victorian classroom and kitchen to visit. The activities are all about the famous fictional detective Sherlock Holmes and you could easily spend a good few hours here. I'll be there, probably drinking tea in the Towpath Cafe and catching up with the fantastic volunteers who keep this London gem running.
Indoor Ghost Tours
Over in the Docklands, the Museum of London Docklands has an after-hours ghost tour of the museum. This is one for the grown-ups (16+) and the tour lasts for 2 hours. You'll hear about the 200-year old building and eerie stories of those who lived and worked on the docks – and how some of them met their untimely end. Your ticket includes a refreshment. The tour is available three times on 31 October (including at midnight) and also on selected dates in November.
There are also Ghost Tours at Kensington Palace on 31 October but tickets have already sold out.
Halloween Fun Run
If you would rather be outside then get your fancy dress on and join the family fun run around the Queen Elizabeth Olympic Park on Saturday 31 October. You can choose from a 2k or a 5k run and you can walk, run, or fly (if your broomstick is working well).
Scary costumes are encouraged but superheroes, Disney Frozen princesses and any other costumes are welcome. All finishers will receive a medal and a goody bag. Registration starts at 9.30am at the Timber Lodge Cafe and the race begins at 10am. To register, call 0300 124 0123. Cost: £5 Adult, £3 Under 12s (two children run free with every adult).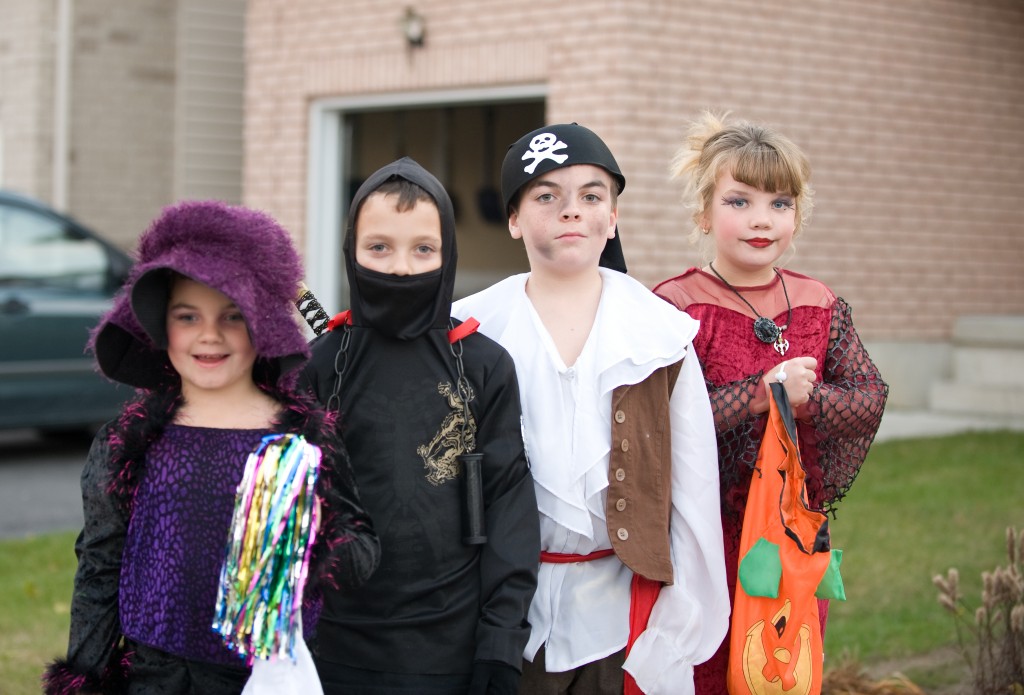 Dark Arts
If you're ready for some dark magic head to the Warner Bros Studio Tour from Friday 16 October to Sunday 1 November. You can try your duelling techniques against a Death Eater after learning wand combat with the world's only wand combat choreographer.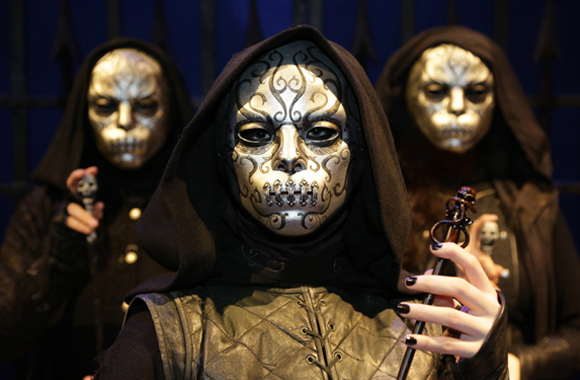 During production, the Death Eaters each wore a unique mask, handmade by the Prop Making Department, and were clothed in embroidered black robes. You can see their headquarters, Malfoy Manor, at the Studio Tour and the drawing room set comes complete with a 20-foot model of Voldemort's snake Nagini and floating mannequin of Muggle Studies teacher Charity Burbage (who was captured in Harry Potter and the Deathly Hallows – Part 1).
The Great Hall will have pumpkins and cauldrons of lollipops, spot Death Eaters in the shadows of Diagon Alley as the lights are dimmed and see a carriage of the Hogwarts Express dressed as it was in Harry Potter and the Prisoner of Azkaban, when Dementors boarded the school train.
Tales of the Plague
I've been on the Tales of the Plague walk and it's a lot of fun. For Halloween they have two 'special' walks on Saturday 31 October at 1.30pm and 6.30pm. Commemorating 350 years since the Great Plague of London, the walk includes frights and tales of terror from the time of the Black Death and the Great Plague.
On top of their regular walk – telling the capital's original gory story – another layer of delicious darkness will be added in a surprising addition… while each walker will receive a pestilential gift at the end of the tour. Tickets are £10 each and pre-booking is essential.
Voyage of the Damned
Another event for the grown-ups, the National Maritime Museum in Greenwich has Voyage of the Damned on Saturday 31 October, 7pm-9.45pm. Revelling in tales of death and destruction, Voyage of the Damned promises an evening of candlelit tours around the museum's exhibitions, and curators under pressure on the gang plank as they reflect on maritime madness, mutiny and murder.
Take a big swig of your free Nelson's Blood cocktail and contemplate the legend which speculates that Nelson's body was placed in a barrel of Admiralty-blended rum for preservation after the Battle of Trafalgar, most of which was subsequently drunk by sailors.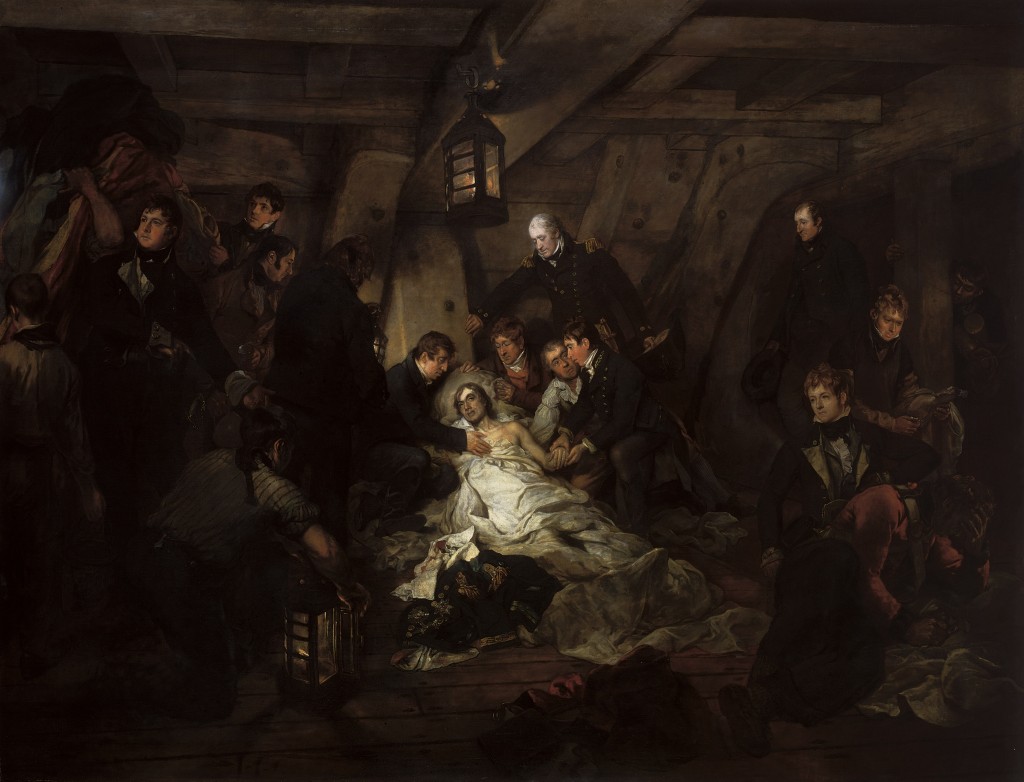 Halloween Sleepover
21 October update: The Cutty Sark Halloween Sleepover has had to be cancelled.
Swamp Adventure
From 24 October to 1 November join the special Halloween party at Shrek's Adventure! London. Shrek has decorated his home with pumpkins, cobwebs and all things Halloween to create a spooky swamp but this is all about giggles rather than ghouls.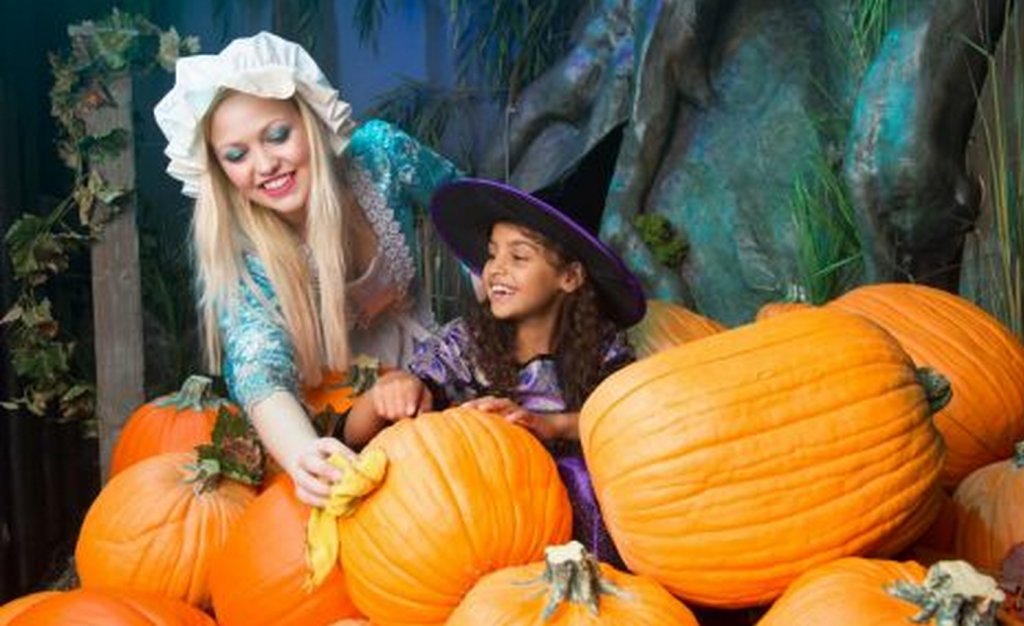 Witch Academy
From 24 to 31 October, the London Eye celebrates Halloween with unique experiences for children and adults. Children aged 4-9 can join the Witch Academy and get a free goody bag including witches hat and activity pack. And the adults can enjoy Trick or Treat Cocktails.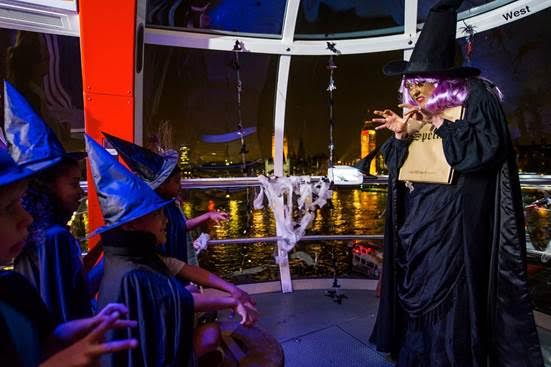 Boo at The Zoo
Visit ZSL London Zoo 24 October to 1 November for the annual Boo at The Zoo to enchant little monsters with a cauldron of animal activities and talks.
Go In with the Spiders to learn how they use their venom to snare their prey and unravel the mysteries of their web-spinning talents. Creative critters can carve a pumpkin for the bearded pigs to bob for (£3 each).
And there's spooky story time in the Grimm Curiosity Shop plus spellbinding talks in the Owl Emporium with silent soaring and impressive head swivelling.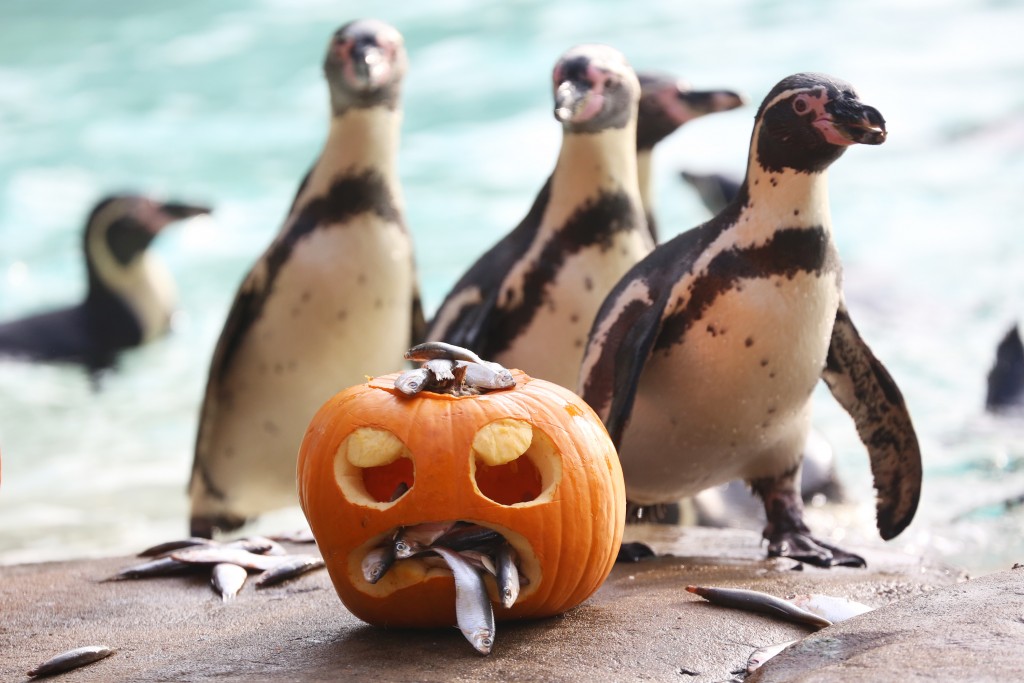 Zippos Circus
Kids go free at Zippos Circus for their Brent Cross shows if they dress up in Halloween costume. From 28 October to 1 November a child can see the circus for free when accompanied by a full paying adult.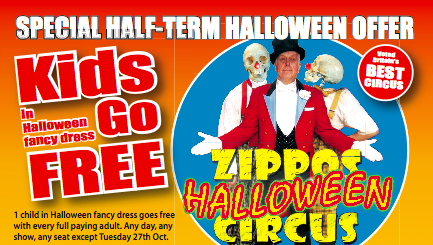 Halloween in The Sky
For adults only, The Sky Garden is taking Halloween to horrifying new heights by throwing a hell-raising celebration on the 35th floor. On Friday 30 October, from 9pm to 4am, you can dress up (fancy dress is recommended) and enjoy the views over The City.
Tickets are £35 and there will be live music from The Soul Jets and DJ Max from midnight.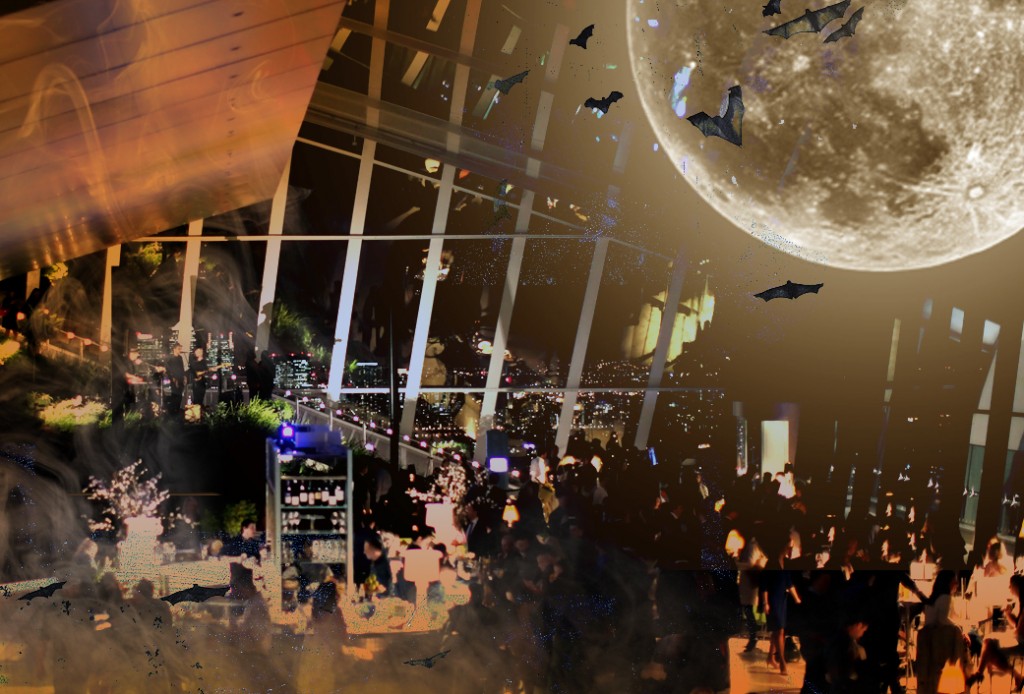 Séance at The London Dungeon
County Hall, the building housing The London Dungeon is reportedly haunted so they held a ghost investigation and séance and confirmed the frequent staff sightings of a young girl to be ghostly encounters with one of the buildings resident spirits… of which there appear to be many. Séance runs at the London Dungeon until 1 November.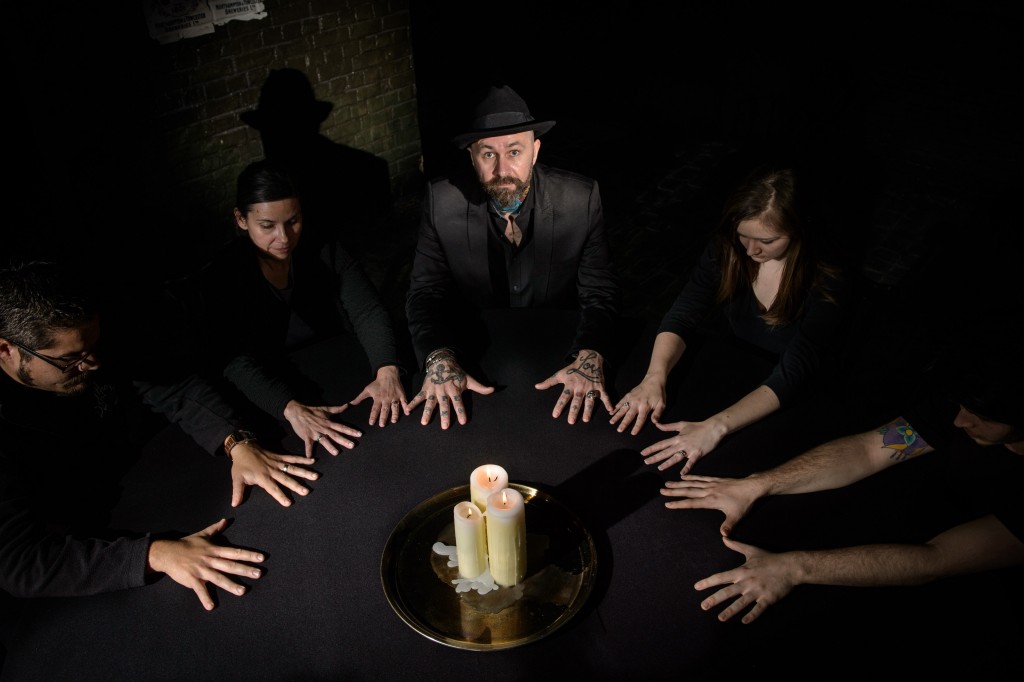 Snorkel with Sharks
Now here's one for the brave. How do you fancy snorkeling with sharks at London Aquarium? On the evenings of 29, 30 and 31 October would-be divers have the chance to go face to fin with over 15 magnificent sharks – in the dark.
A transparent perspex floor will give participants clear views right to the bottom of the 5m deep display, where the lower swimming Bow Mouth and Nurse Sharks dwell, whilst the other side of the mesh net the two impressive 2.7m long Sand tiger sharks, 8 sleek black tip reef sharks and two 2.2m Browns sharks circle just feet away.
The 1.5 hour experience is for up to four people at a time, with up to four spectators and costs £175 including all equipment and a donation to a shark conservation charity.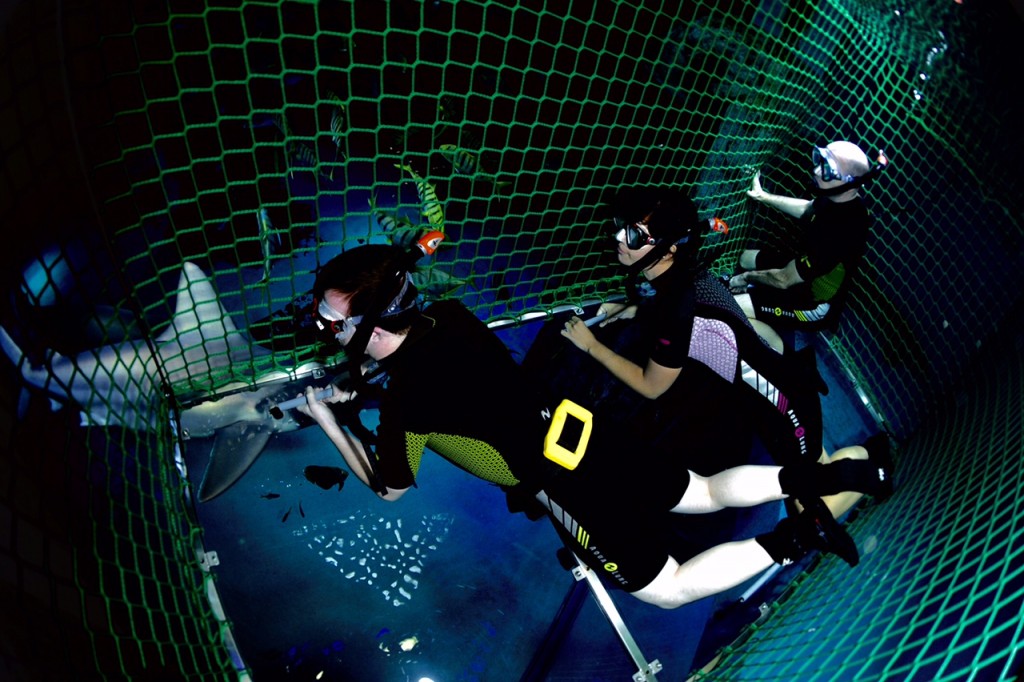 Further ideas for Halloween in London include a Jack the Ripper Tour, a Ghost Bus Tour, London Bridge Experience and London Tombs, or the Halloween Torture Garden Fetish Balls.