I visited Bath in 2012 as the England's Heritage Cities website had already inspired my to take a family trip to Oxford earlier in the year.
I was concerned that Bath might be a rather mature destination but, encouraged by friends and twitter followers with their great suggestions, I booked a few nights away with my then five year old daughter and her short attention span. Readers told me families want alternatives to zoos and theme parks so here's see what I found to do in Bath for families in our two days. Yes, we really did do all of this!
Family Friendly Things to Do in Bath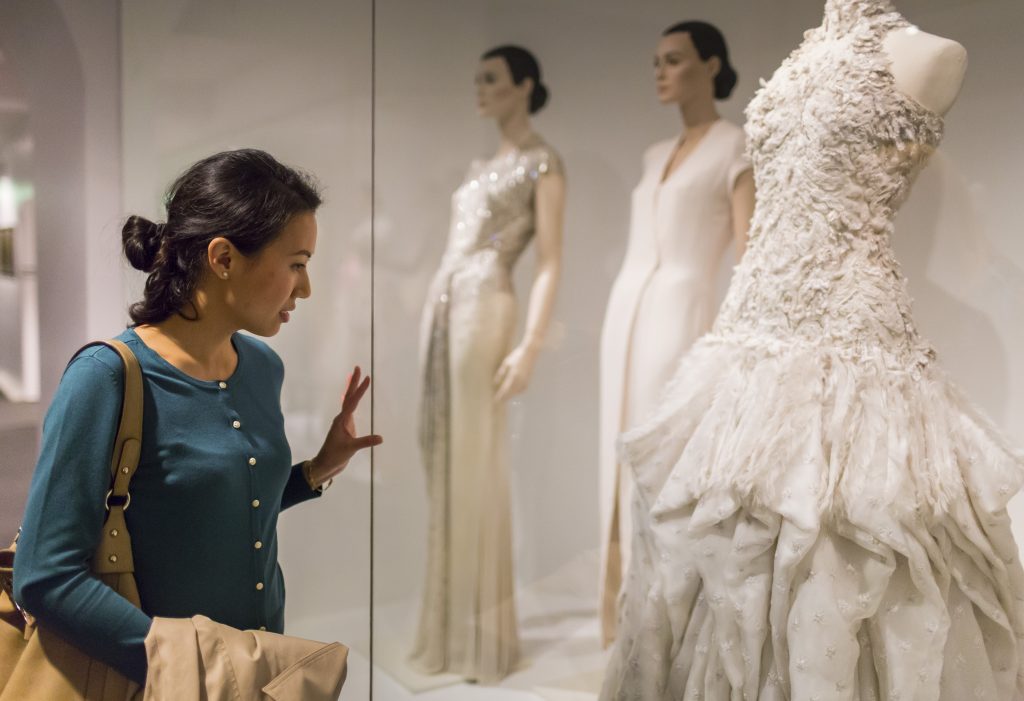 Fashion Museum: There's a historic collection and contemporary fashions but, most importantly, you can dress up! Yep, there are clothes for boys and girls and men and woman so everyone can join in. You can also see the historic Assembly Rooms – we danced in the ballroom before moving on.
1 Royal Crescent: Not overtly a family attraction but I wanted to see this restored Georgian house and the family trail (look for clues in each room) gave me the opportunity.
Jane Austen Centre: Again, not really one for the kids but once you've heard the obligatory introductory talk which gives a background to her life, you can then go down to the exhibition. We learned the language of fans, tried on bonnets and admired an 'I heart Darcy bag' in the shop.
Holburne Museum: This free art gallery is reached by crossing the famous Pulteney Bridge which has shops either side so looks like any other road when crossing. In the gallery you are encouraged to open drawers to see further exhibits and some have activities. We learned how to draw a silhouette and enjoyed using magnifying glasses to see the smaller objects.
Top Tip: When leaving the gallery, go out the back, over the railway bridge, then down to the steps to the canal path and turn right towards the city centre so you see another side of the city.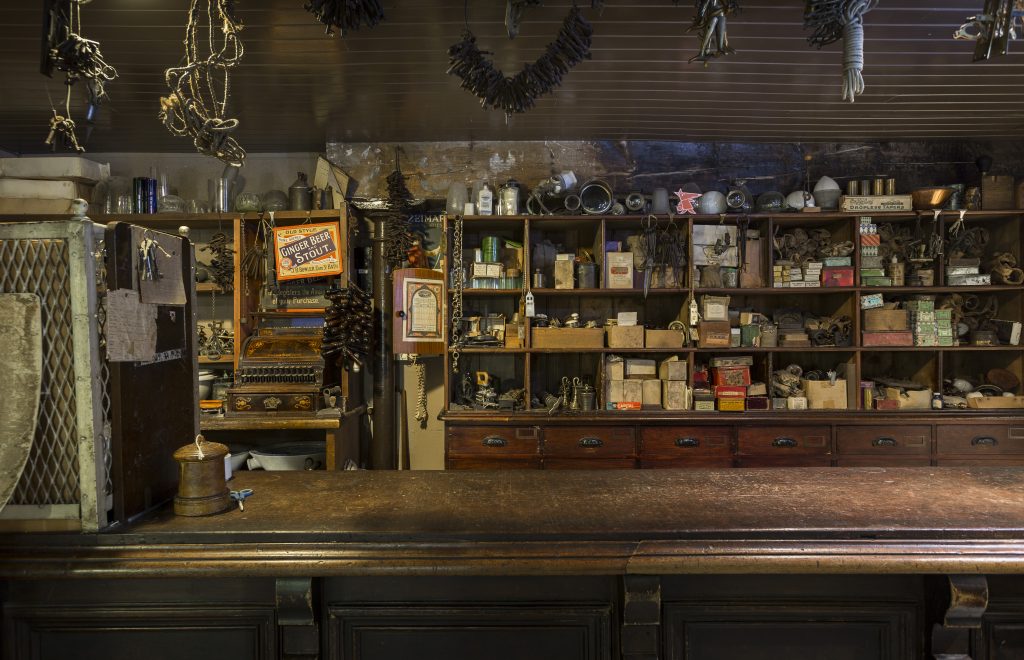 Museum of Bath at Work: This small museum on the edge of the city centre is less modern but a quirky place to visit. We found out about a local soft drinks factory and saw the machinery before heading downstairs to find out about the stone mines and try some children's activities. Look out for the Bath Chair that was exhibited at the 1851 Great Exhibition.
Bath Postal Museum: This small basement museum in the city centre was way more fun than I expected as there was a large dice board game, a well-stocked activity table, dressing up clothes and the chance to discover Bath's place in communications history: the first Penny Black stamp was sent from Bath and Ralph Allen (local hero) who reformed the postal service by creating a network of postal roads that did not pass through London in the early 1700s. (Before then all post had to go to London before being distributed!) This is a lovely, quirky museum and well worth a visit.
Victoria Art Gallery: This free art gallery has lots of drawing and colouring resources for children and even more art-based activities in the school holidays.
Roman Baths: It would be wrong not to see the Roman Baths as it is the no.1 attraction but I wondered if they could hold a young child's attention. The family audio trail by Michael Rosen helped a lot and the Roman stone masons (actors) we could talk to were a great extra.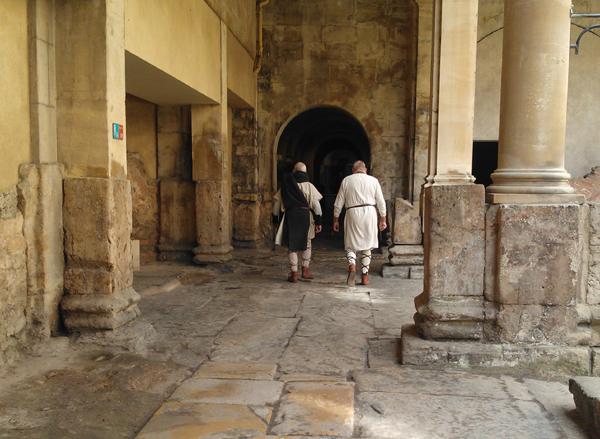 Family Friendly Dining in Bath
Bath has some amazing restaurants. I would love to have visited Circus which comes highly recommended or The Olive Tree for dinner. The Jamie's Italian was incredibly popular and the Regency Tea Rooms at the Jane Austen Centre would have been a magnet for me if I was visiting without children but I needed somewhere me and my daughter could relax so cafes were better than restaurants and these are the best in town:
Society Cafe had only been open for a few weeks but we visited twice as it's superb. High quality tea and coffee for the grown ups and a perfect children's nook downstairs with a chalkboard, paper activities including origami, plus lots of reading books leaving contented parents to use the free wifi. They've achieved a calm oasis that's family-friendly without being bright and loud.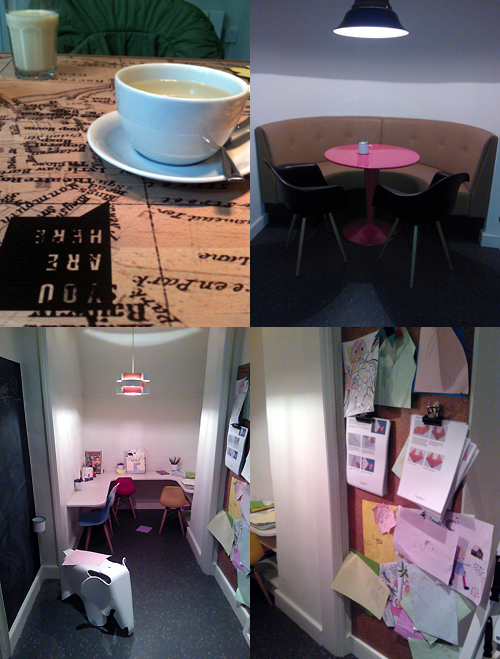 Sally Lunn's has dining rooms but we just went in to see the simple kitchen museum where you can view the Roman and Medieval foundations but where you can also buy a boxed Sally Lunn Bath bun for just £1.60. It tastes like French brioche and we nibbled it while walking around town.
Egg Cafe at the Theatre Royal came recommended but while it is a freakishly family-friendly cafe it was incredibly loud inside with barefoot toddlers running riot so be warned. It would be improved with loose leaf tea and free wifi but the kid's corner play area was appreciated. It was just a shame the other kids didn't play in there and chose to drag chairs around the cafe instead.
Family Friendly Shopping
Not the easiest pastime with children but we loved the ribbons at Sew 'N' Sew in the Guildhall Market and found some great bargains in the charity shops across the city.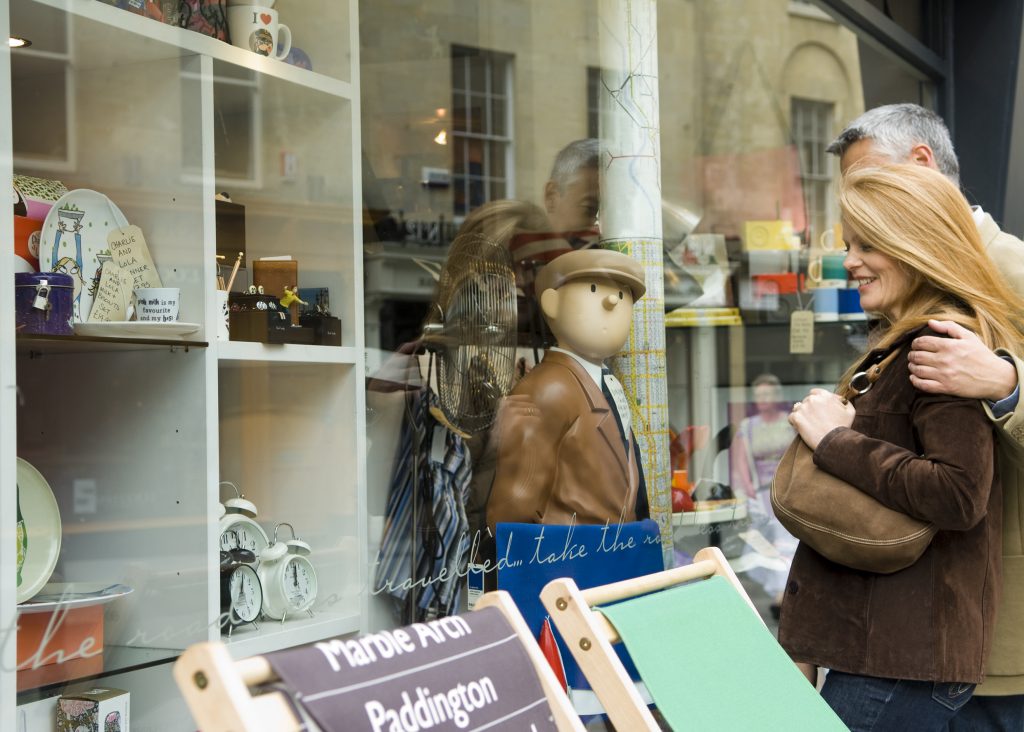 Our bookshop heaven was found at  Mr B's Reading Emporium with its bath as a display table in the window and a delightful children's reading area.  Topping & Co is fantastic too as it's a well-stocked traditional bookshop with staff who know how to help and can give advice, plus customers are offered tea or coffee while browsing.
Get Out and About
If I had been on my own I would definitely have tried the free walking tour but somewhere everyone can enjoy is Royal Victoria Park. Kids will love the huge playground or feeding the ducks at the nearby pond. For peace, head into the Botanical Gardens. We didn't even get to the Fun Fair that was visiting the park as we found so much else to do!
The Bath City Sightseeing Bus Tour in the city was OK but the city is so compact we could walk around most of it anyway. The Skyline tour was worthwhile as it takes you out of the city and offers you views of the Cotswolds and the surrounding countryside which also has UNESCO World Heritage status. We could see across to the Westbury white horse in Wiltshire and really enjoyed the live commentary from a tour guide rather than a recording.
All in all, I was pleasantly surprised how easy it was to have a family city break in Bath and how much we could fit in with such a short amount of time. Would I go back again? Most definitely! Bath is a beautiful city to admire throughout the seasons.
This article first appeared on the Visit Britain Super Blog in 2012.