For many of us a visit to Oxford means punting, traditional pubs, historic buildings, and a walking tour of the city but when visiting with children you'd do well to change those plans.
I wouldn't be comfortable punting with a young child, a trip to the pub isn't the same with kids, Bodleian is a working library so welcomes over 11 year olds only, and family walking tours are aimed at children aged 8 and over. So is Oxford a good destination for young families? Absolutely!
In 2012 took my 5 year old daughter to Oxford to see what she enjoyed as Oxford is included on Britain's Heritage Cities which I'm sure will encourage me to take even more UK trips.  (It inspired me to visit Bath too.) I'd also recommend checking the Experience Oxfordshire site or going to the Visitor Centre on Broad Street as staff are full of ideas to help you enjoy your time in the city.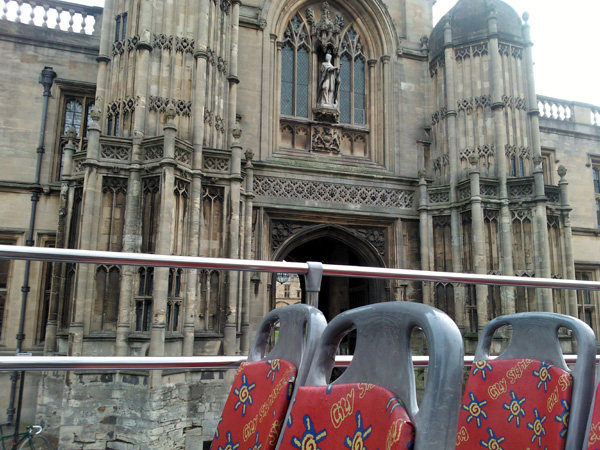 City Sightseeing Oxford is a 'hop on hop off' bus service and the full circular route takes about an hour, including stops at the train and bus stations. This allowed me to see all the key locations without lots of walking as the audio tour kept my daughter entertained while I enjoyed the views.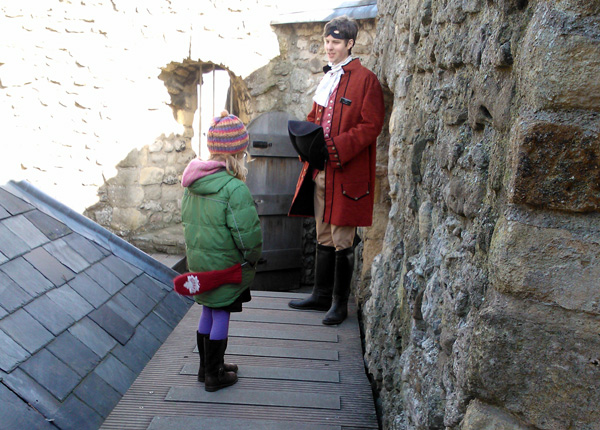 Incredibly, Oxford Castle was Oxford's Prison right up to 1996. The whole site has been redeveloped for public use and the visitor attraction Oxford Castle & Prison tells the tale of its long and gruesome history so is great for fans of Horrible Histories. Costumed guides take you on a tour of the Saxon St George's Tower and down to the 900 year old crypt before you explore the prison cells.
The climb up is for over 5 year olds and we found the 101 steep steps on the narrow staircase manageable as there's a break halfway in a prison room to see exhibits and hear more tales. Plus, the views from the top are fantastic and make the climb worthwhile. You'll need refreshments after your visit and Cafe 1071 is right next to the entrance and is a good choice for families. The chocolate fudge cake is recommended.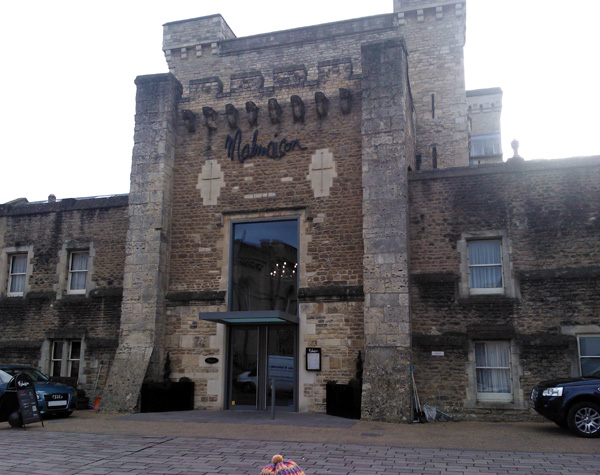 The redevelopment of the Oxford Castle complex includes the stunning Malmaison Oxford boutique hotel where some of the rooms are converted prison cells! Even if you don't stay in a cell do ask to see the preserved cell near Reception.
When the prison closed it was used as a film and TV location including for Inspector Morse, another big draw for the city. (There's a joke that there should be a plaque on the buildings in Oxford that haven't been used for Morse!) Brad Pitt and Glenn Close have also filmed here.
Heading for Pitt Rivers Museum, we went in the Oxford University Museum of Natural History and had been there for over an hour before we realised we were in the wrong place. Upon returning the next day we found out you enter Pitt Rivers through the Museum of Natural History so it's an easy mistake to make. Both museums are great for kids and have family activities every Sunday afternoon, as well as trails available every day. Plus, they're free to visit seven days a week.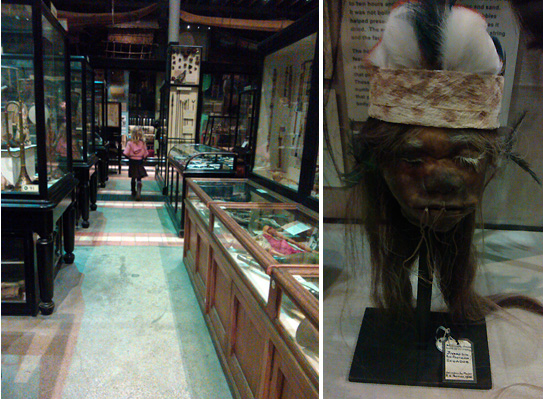 In Pitt Rivers, we found the infamous shrunken heads and borrowed a torch to do the Mouse Trail which is clever way of encouraging visitors to look more closely at the display cases. Gallery staff are fantastic with young children and helped us with the trail but also pointed out curiosities like the world's smallest doll and a warrior helmet made from a porcupine fish. There's an Egyptian mummy here too but you'll find a lot more in the Ashmolean.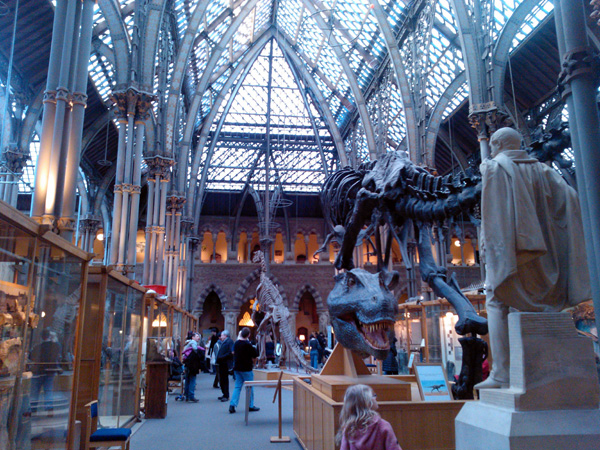 As a Londoner, I'll always draw comparisons to places we have. The Ashmolean is like the British Museum and I felt Pitt Rivers is like the Horniman Museum, although it has a lot more exhibits. The Natural History Museum is clearly like London's Natural History Museum with its dinosaur skeletons. We really liked the 'Please Touch' sign on the cheetah and the magnifying glasses that made tiny bugs seem enormous!
Oxford is great for fans of Harry Potter and Alice in Wonderland and a trip to Christ Church will appeal to young children as long as you 'sell' it to them the right way. Time your trip well as this is a popular attraction but also a working college so access to the Great Hall is not available at meal times as it is used every day. As you climb the steps to enter the Great Hall, act out the scene together from the first Harry Potter film where Professor McGonagall greets the new students to Hogwarts. Inside the Great Hall you'll feel like you've entered Hogwarts School of Witchcraft and Wizardry but see if you can work out why this couldn't be the film location. (Clue: count the dining tables and think of the number of houses at Hogwarts.)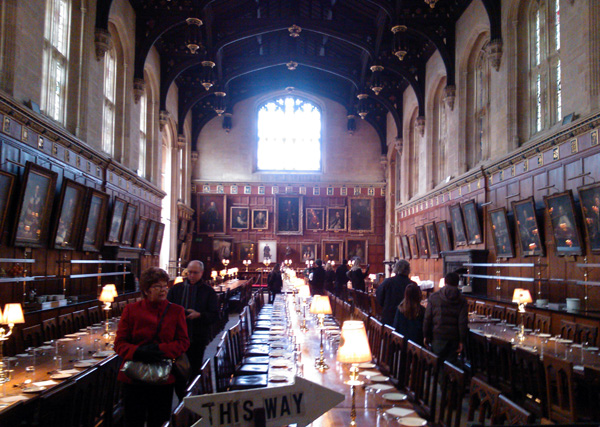 The real Alice was the College Dean's daughter and Charles Dodgson (aka Lewis Carroll) studied, taught and lived at Christ Church. There are clues to his inspiration in the room including the brass firedogs with their long necks. Also look for the Alice window (5th window on the left).
Christ Church Cathedral has a family 'Head Hunt' trail to encourage young visitors to look more closely at this beautiful church. While exploring do look at the stained glass windows near the St Frideswade memorial and in the bottom right window you'll see the only image of a toilet in stained glass in any church in the UK!
Next Time
I definitely want to go back to Oxford and next time I want to see the Museum of the History of Science as it has Charles Dodgson's camera and Einstein's blackboard, plus it's free to visit. I plan to dine at the Nosebag as so many people have recommended it, and we'll have lardy cake from the Covered Market where The Cake Shop has fantastic window displays.
I plan to visit Blackwell's Bookshop on Broad Street and get to at least one historic pub. The Mitre on the High Street looks like a good choice as it's Oxford's oldest inn and was once owned and managed by the real Alice in Wonderland's former governess. I'd also like to partake of afternoon tea at Macdonald Randolph Hotel.
And all this before I head out of town to Blenheim Palace which will entertain my daughter too with the Adventure Play Area, the miniature train, maze and butterfly house, and we'll continue our Great British Playground Tour. I wonder if she'll let me see inside the palace too?
This article first appeared on the Visit Britain Super Blog in March 2012.