Hyde Park Winter Wonderland is the biggest Christmas Fair in the UK. I took an American friend who felt it was equivalent of recreating a temporary Disneyland.
It's a funfair so expect rides for all ages and lots of games to try and win a prize. (Do they pay people to walk around with those over-sized cuddly toys?) It's a Christmas market with over 100 wooden chalets. And there are popular attractions that need tickets but it's completely free to enter the site. (The queues you see at the gates are for security checks.) Plus, this year, they've improved the food and drink offerings giving us much more choice.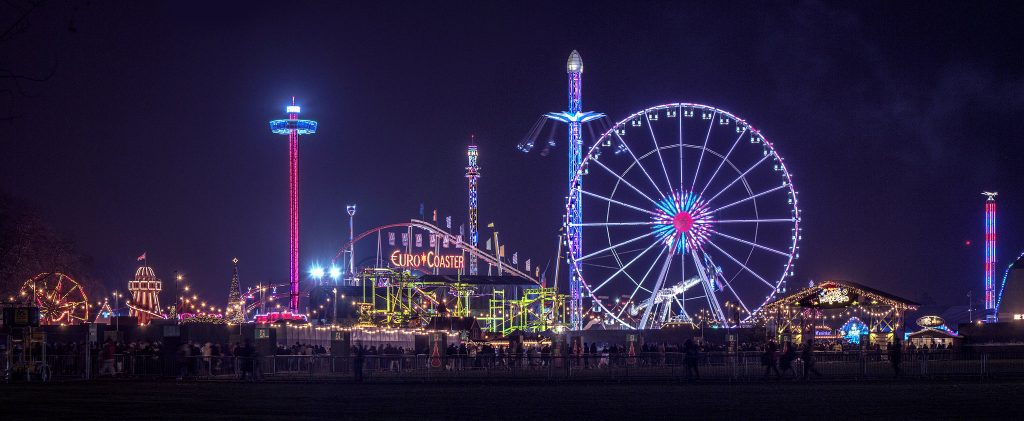 Free
I'll say it again, it is completely free to go to Hyde Park Winter Wonderland. No-one is making you spend money (except your inner guilt for denying for child's requests to go on rides, buy churros, etc). The biggest complaint about this place is the expense but, again, you set your budget. The number of people who complain about the high costs here clearly don't pay for days out across the UK very often. What you're getting here is the chance to go on the biggest and the best, in a royal park, at Christmas and only available for a limited amount of time.
At no cost, you can walk around the site and soak up the festive atmosphere. It gets busier later in the day but it looks particularly good when all of the lights are on. There are usually Christmas songs playing everywhere but there were just classic pop hits for my November visits. I may have to go back for my Mariah earworm another day.
Dates
Hyde Park Winter Wonderland is open for six weeks from 21 November 2019 to 5 January 2020.
There are some special days including The Elf on The Shelf Day on Sunday 1 December 2019 (free activities including a scavenger hunt, a Christmas crafts workshop and movie time) and Christmas Market Day on Monday 2 December (20% off goods at Angels Christmas Market). To celebrate the brand new Season Ride Pass they are offering 20% off rides and coasters on Monday 9 December when you're using a Season Ride Pass.
Family Fun Day
The final day, Sunday 5 January 2020, is the annual Family Fun Day. The whole site is alcohol-free for the day and extra family activities are laid on including free face painting, The Flying Seagull Project (an interactive magic show) plus circus skills workshops too. There's also balloon modelling throughout the day, children's comedy shows and Santa's Parade at 5pm so you can watch him as he leaves his grotto to head back to the North Pole at the Santa Parade. The procession has stilt walkers, drummers, an Ice King and Queen plus Santa himself with his helper elves.
All the attractions that have been here for the season are also available so I recommend booking Zippos Christmas Circus or Cirque Berserk and avoiding Paddington on Ice.
Attractions
Magical Ice Kingdom
You won't need long in here but it's well worth seeing. This year's ice sculptures theme is Dicken's A Christmas Carol. It's really impressive and there's an ice slide inside so don't pretend you don't want to whizz down with the kids.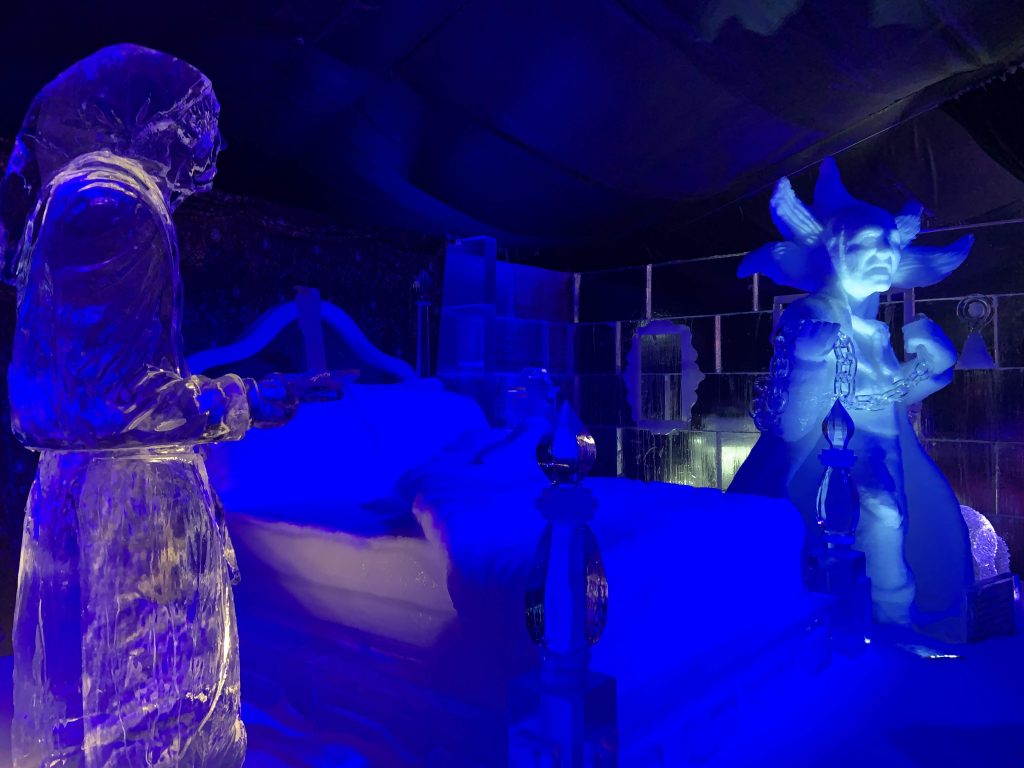 Paddington on Ice
I'm not sure where to start with describing this. Let's simply say it's surreal. The ice skating skills are fantastic but to call it a Paddington show is a bit far fetched. The storyline is about Paddington leaving Peru and coming to London. OK, that makes sense for a family show on in London. But throughout it just goes off on so many bizarre tangents you would be forgiven for forgetting it was supposed to be about the loveable bear. The neon fish scene is proper bonkers.
There is an excellent digital backdrop but I can't show it to you as they do not allow photos to be taken. Bah humbug.
Zippos Christmas Circus
If you want some photo memories of the day, head into the Megadome tent as there are two circus shows that always allows you to take pics. The Megadome is the huge heated circus tent where there are lots of showtimes throughout the day and evening.
Hands up, open declaration: I love Zippos Circus. How could I not as they put on amazing family entertainment with their touring show each year and their season at Hyde Park Winter Wonderland.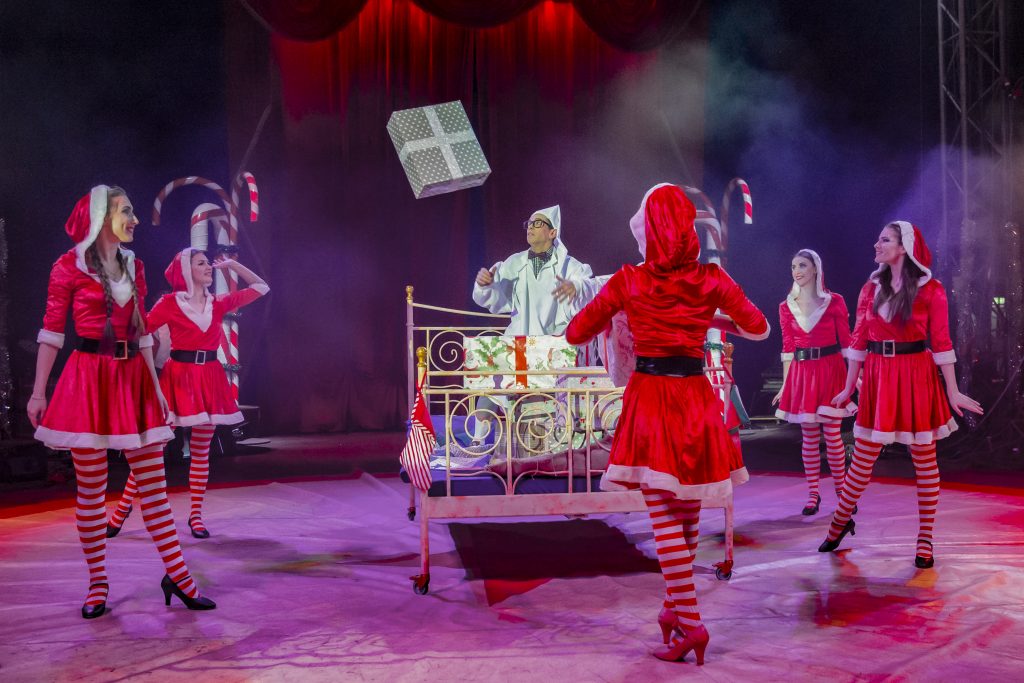 The Zippos Christmas Circus show is the most Christmassy thing I found at Winter Wonderland. Sure, some rides have giant candy canes and Nutcracker dolls around the edge but the Zippos Circus show properly tells you Christmas is coming. The storyline is about Emilion Delbosq's comic character opening Christmas presents (each act is another gift).
Last year I was really impressed by the Gemini Sisters aerial acrobatics in the Cirque Berserk show so it was great to see them return to perform in the daytime show.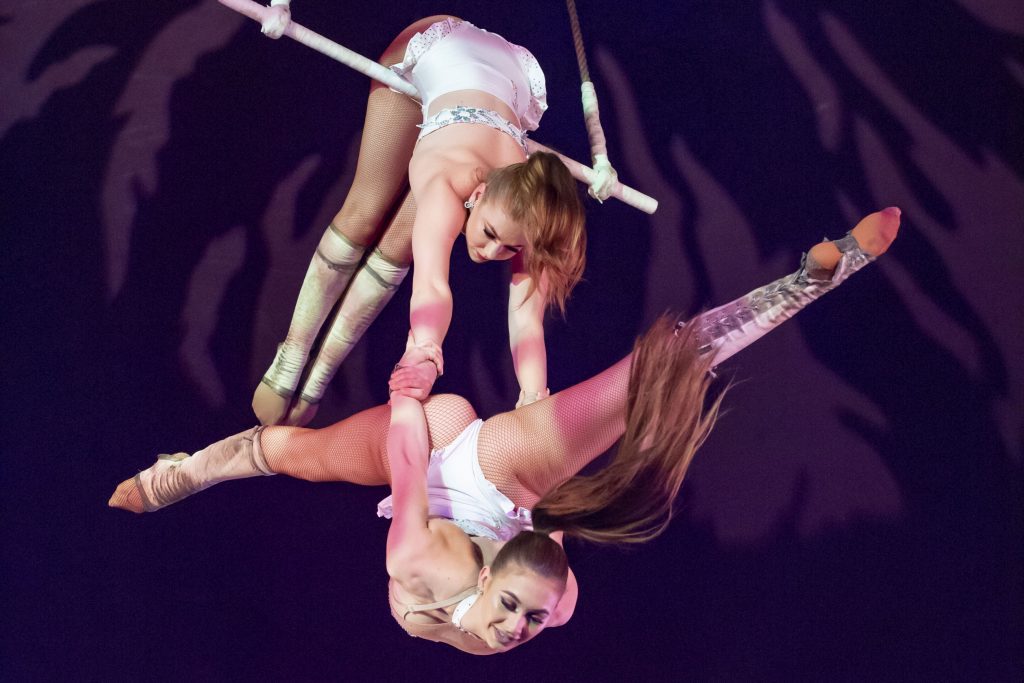 And I'd never seen anything like the breathtaking skill and artistry showcased by Khametov's High Wire troupe. These performers from Uzbekistan do crazy stuff on a high wire. Picture a woman doing the splits with her feet balancing on the heads of two men balancing on the high wire and moving across from one side to the other. Oh, and how about the moment she goes up on ballet points on her husband's head while he crosses the wire. Yeah, these guys have some serious skills.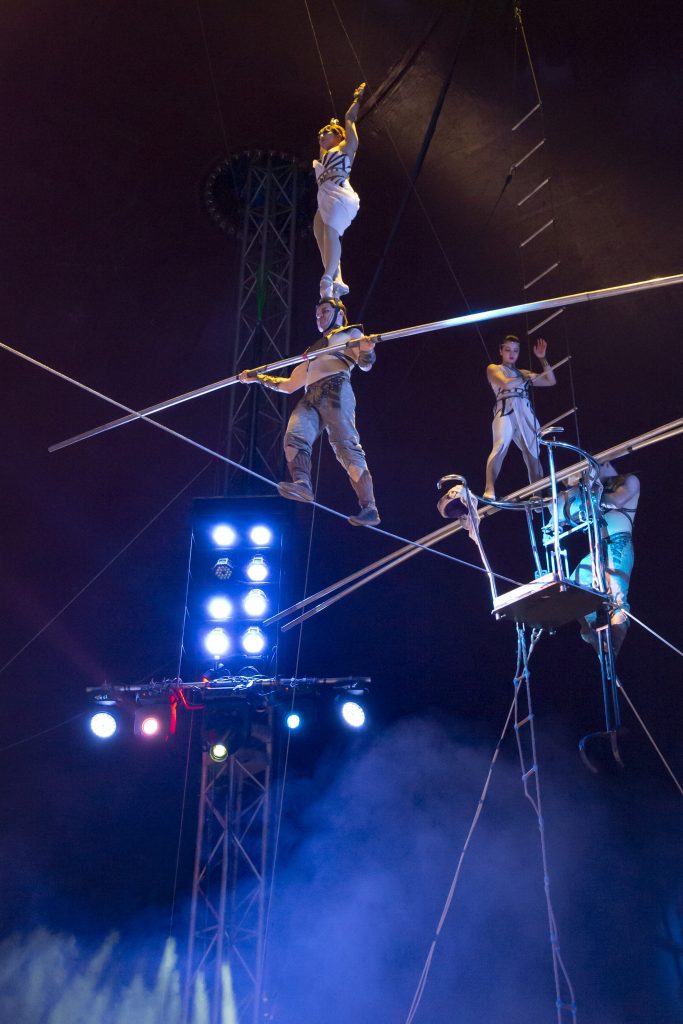 There's also a unicyclist, a fantastic juggler with a world record, an act on roller skates, more aerial skills and some audience participation. It ends with the enormous dancing polar bears and Father Christmas coming out with the whole cast to wish us all a Merry Christmas.
Cirque Berserk
This evening circus (6pm, 7pm and 8pm daily) is about showcasing talent. It's about the oohs and ahhs and the thrill factor and not the laughs you get in the daytime Zippos Christmas Circus so this one is better for older kids and grown-ups. It's a designed-for-theatre combination of traditional and contemporary circus.
I love seeing the audience reaction to the Globe of Death act (up to 5 motorbike riders spinning around inside a metal globe that splits open!) It really is death-defying stuff.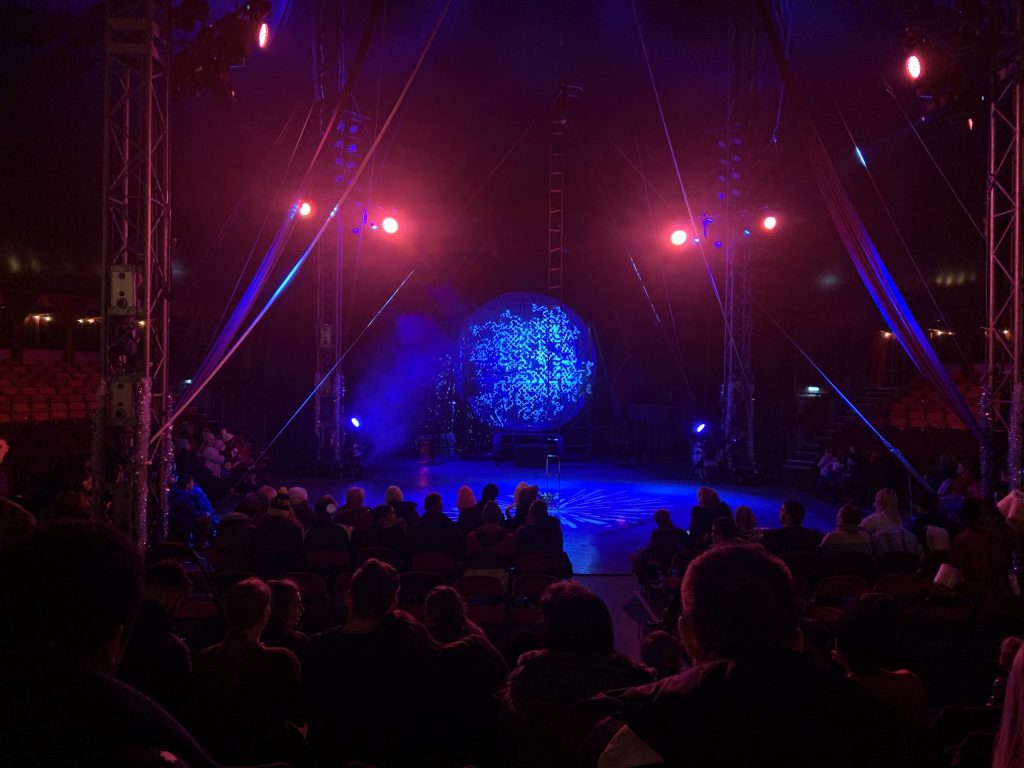 The show also features aerial artistes and amazing acrobatics at ground level too. There's a contortionist, a knife thrower, foot juggling and a hold-your-breath crossbow act.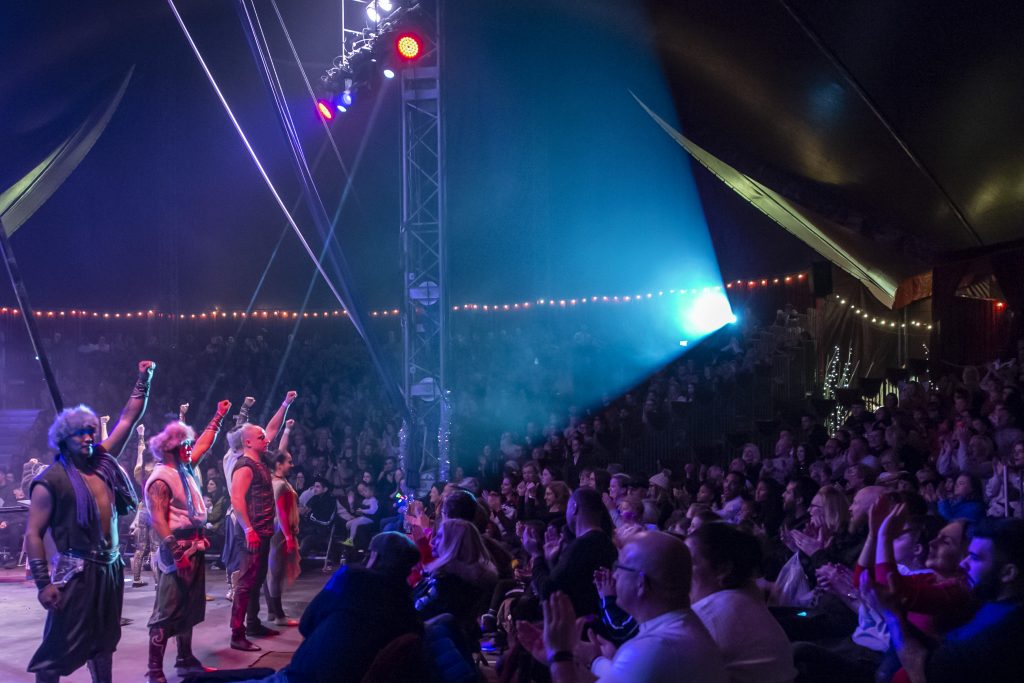 More Megadome
Also in the Megadome, there's the Mr Men and Little Miss show for the youngest members of the family every day at 11am. And the Winter Wonderland Comedy Club is at 9pm from Thursday to Saturday throughout the season. The shows are all under an hour so perfect for warming up in the Megadome with some excellent entertainment before heading back to the rides.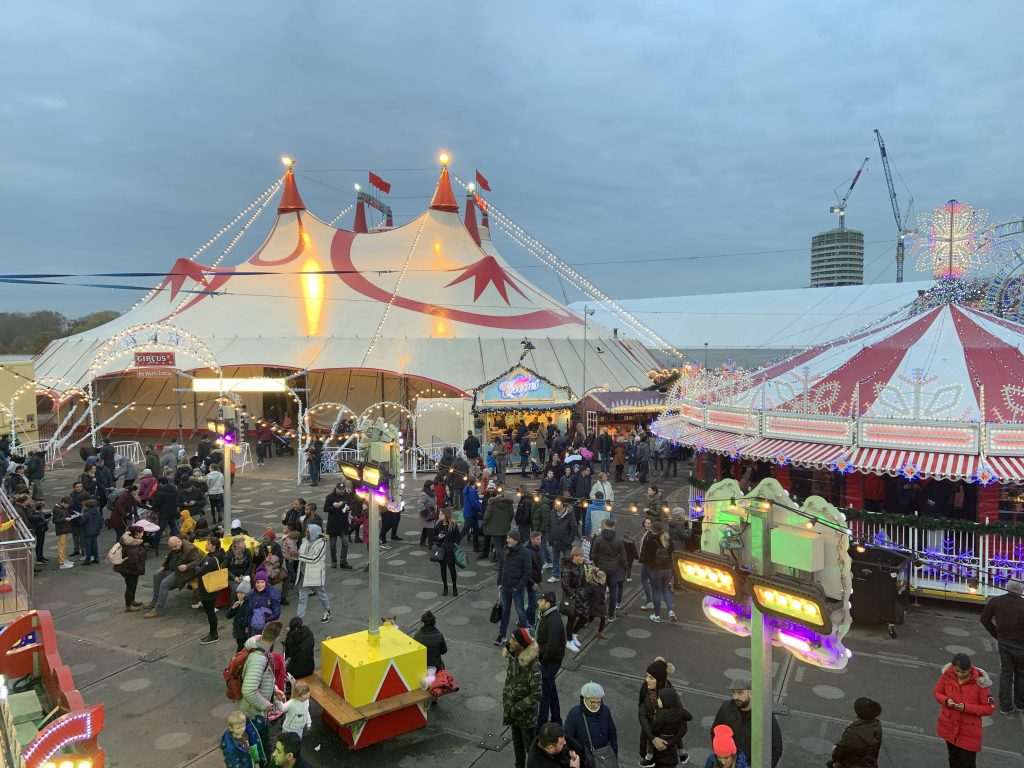 Rides
Santa Land has lots of rides for younger children and the big kids will love the roller coasters. Many of the rides come straight from Oktoberfest which would explain the Bavarian theme. The Munich Looping is the world's largest transportable roller coaster but I've never been brave enough to go on that. My 13 year old isn't super-brave about rides but she enjoyed a couple of roller coasters (Ice Mountain and Santa's Spinning Coaster).
I've found the fun houses are the best value. Sadly the Alpen House isn't here this year but there are others and we tried them all.
The prices for the rides are never advertised (honestly, it shouldn't be a secret) but I can tell you you pay in ride tokens and the tokens are £1 each. The rides cost from 2 to 9 tokens (Munich Looping being the only £9 ride). Fun houses are 5 tokens and rides for older kids are around 5-7 tokens each.
And let's get that whinge about the cost out of the way again. Yes, you have to pay for rides. You have to pay for fairground rides everywhere. No, they won't change to a charge to enter the site and free rides as this isn't Disneyland. Having the site free for everyone is a much better plan.
Anything else?
Some people have said they had to empty drink bottles before entering the Hyde Park Winter Wonderland but I wasn't stopped with a flask (full of hot tea) and a reusable water bottle. And again, I've heard some say they weren't allowed to bring food in but I've seen families enjoying a home-packed picnic. So it looks like these security rules are a bit hit and miss.
If you do bring a picnic, there's an indoor chill area in Santa Land which is perfect for stopping to feed the kids. There's a  microwave for warming baby milk too. And I was told after that there are water refill stations by the toilets but I didn't see them.
And talking of sitting down, there's a lot more seating this year. When you're waiting for friends to come back from the rides (and you've been left with all the bags) it's a welcome sight to see somewhere to sit for a while.
The food offering has got even better with a whole street food section with lots of tables and seats so you're not trying to hold your hot chocolate while eating your bratwurst. I can recommend the burrito stall (not noted on the map but it's opposite China Town (F10) where the noodles are also recommended).
The 'going inside and sitting down' theme must have been requested so many times they have listened and there's now the Cedar & Spruce Bar + Kitchen with table service and a few bars to enter too.
It would be great if the environmental awareness side of things were improved in future years as the food and drink stands produce a lot of single-use waste. There are plenty of recycling bins but how about a reusable cup scheme? Manchester Christmas Markets had a £3 deposit for the limited edition mug you can use for coffee and mulled wine across each of the markets then forfeit the small deposit and you can take it home. Hyde Park Winter Wonderland sell their own merchanding (hats, gloves, cups, etc) so this could work in the future. Or a discount for bringing your own reusable cup which is starting in some coffee shops.
Anyway, Hyde Park Winter Wonderland is brash, loud and in your face Christmassy and that's OK. In fact, it's a really good thing. Don't listen to the naysayers, put on your Christmas jumper and go and have some fun.
Official website: hydeparkwinterwonderland.com