If you peer through a metal grille on a traffic island in the middle of Charing Cross Road, you might be able to see a 'lost London street'. Look carefully and you'll see there are two signs for Little Compton Street: one is blue enamel and the other is painted onto brick. Let's look at why.
Radical Residents
Little Compton Street was lost in the late 19th century to make way for Charing Cross Road. It was once a vibrant and diverse street, home to a mix of businesses, artists and revolutionaries. In the 18th century, it was known as a notorious slum, but by the 19th century, it had become a centre of radical thought and activism.
Some of the most famous residents of Little Compton Street included:
William Blake, the poet and artist, who lived and worked on the street in the late 18th century.
William Godwin, the anarchist philosopher, who opened a bookshop on Little Compton Street in 1797.
Thomas Paine, the author of The Rights of Man, who stayed at the Hibernia Hotel on Little Compton Street in 1792.
French anarchist poets Arthur Rimbaud and Paul Verlaine, who were forced to flee their homeland in 1872 after their failed participation in the Marxist/Anarchist Paris Commune, were regulars at the Hibernia Hotel at 5 Little Compton Street.
Composer Richard Wagner was also believed to have stayed at the Hibernia Hotel in 1839.
Little Compton Street was also a centre for London's LGBTQ+ community. In the late 19th century, it was home to several gay bars and clubs, and it was one of the first places in London where queer people could openly socialise.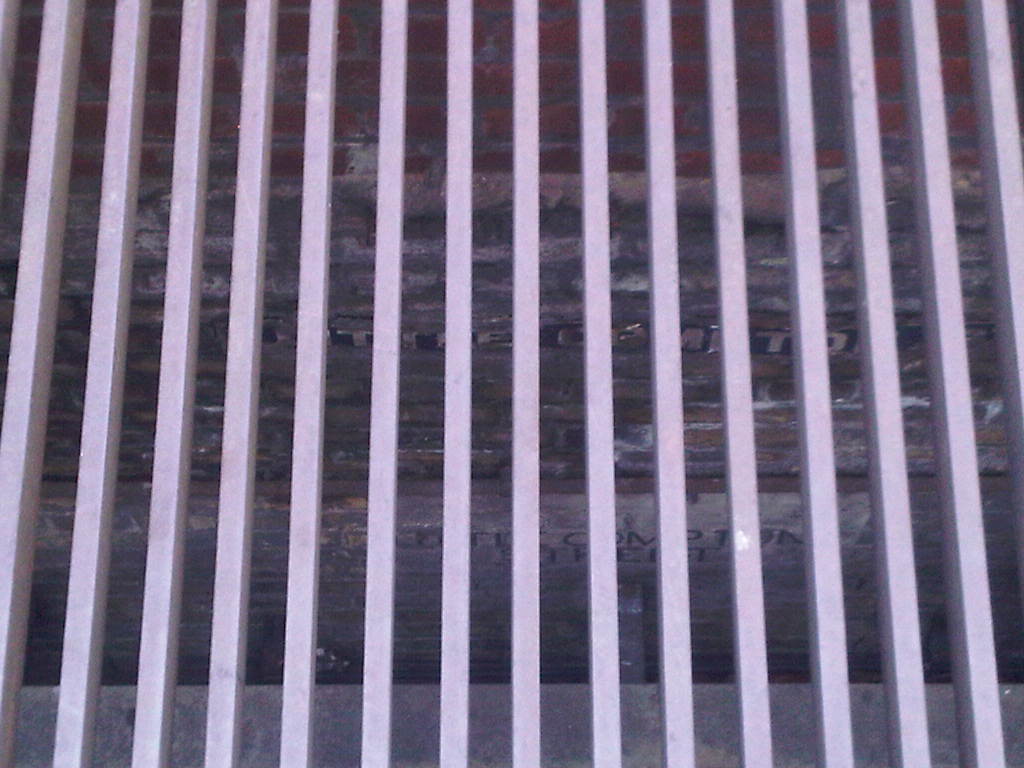 Demolition
In 1886, the Metropolitan Board of Works decided to demolish Little Compton Street and its surrounding area to make way for Charing Cross Road. The new road was intended to link Trafalgar Square with Oxford Street and Tottenham Court Road. This much-needed transport link was needed for the rapidly growing city.
There were protests against the demolition of Little Compton Street. However, the Board of Works was determined to press ahead, and the street was demolished in 1887.
Charing Cross Road
Charing Cross Road was opened on 26 February 1887 by Prince George (1819–1904). As he was the Duke of Cambridge, the new junction with Shaftesbury Avenue was named Cambridge Circus in his honour.
Underground
While you may read that the remains of Little Compton Street were buried underground that is complete nonsense. What we can actually see below the street is a utility tunnel for pipes and cables (gas, electricity, telecoms, etc). The Metropolitan Board of Works and later the LCC (London County Council) planned these tunnels under new roads to reduce the disruption of digging up roads and causing congestion at street level.
I once knew a telecoms engineer who used this passageway and others in central London during his working day. It can be confusing below ground with a labyrinth of tunnels so street signs were added to help with orientation. The street signs relate to what's at ground level. (You can see photos from the tunnel here with 'street' signs for Cranbourn Street (near Leicester Square) and Piccadilly Circus.)
Why Two Signs?
It's thought the blue and white enamel sign for Little Compton Street was probably saved when the street was demolished so was added to the wall below ground.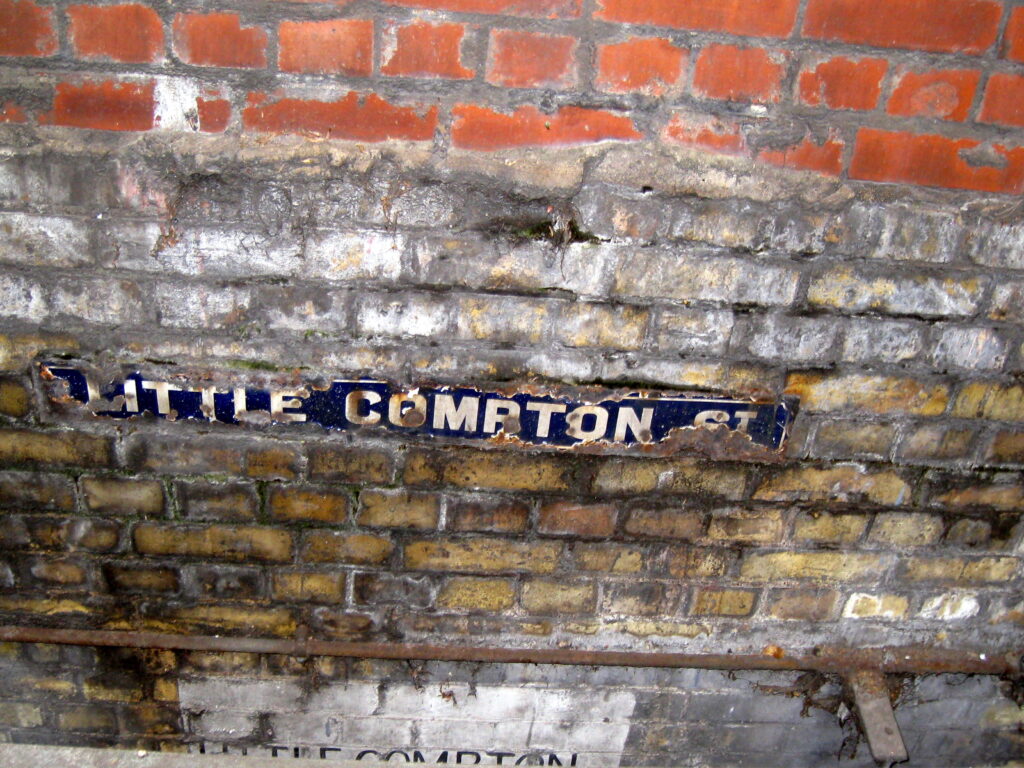 More Info
Oddly, Little Compton Street is still noted on this 1915 Theatreland map (which I happen to have on my dining room wall).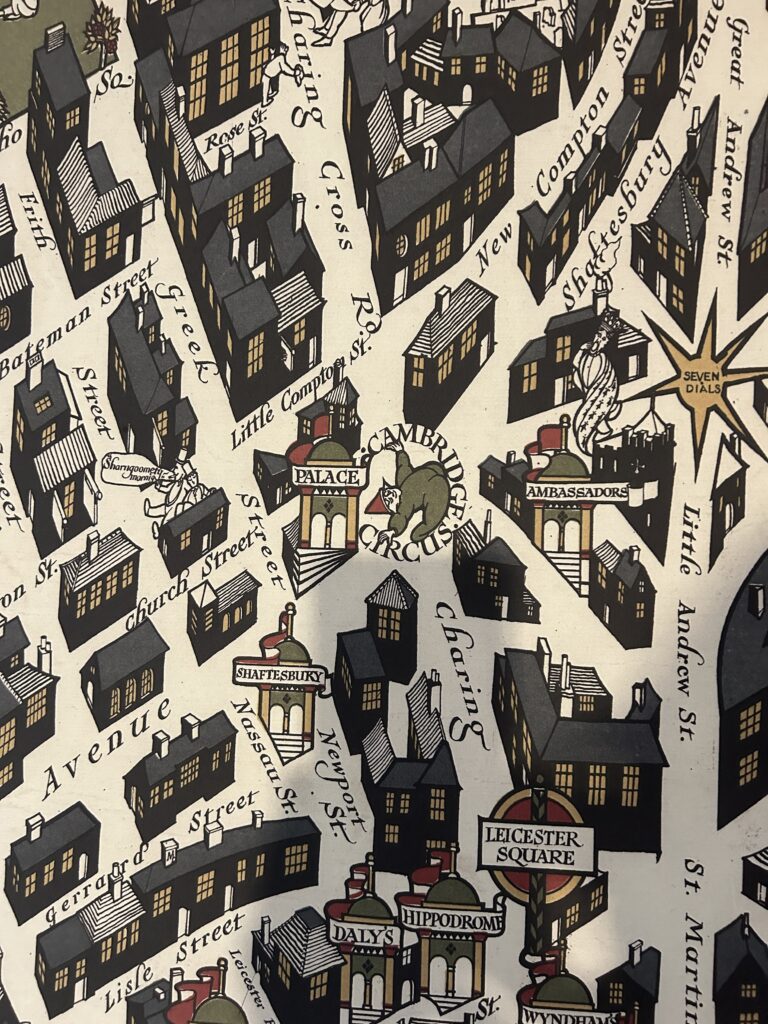 This 1940 Pathé footage of the aftermath of a bomb on Charing Cross Road shows the tunnel.
And this Flickr album has lots of photos of the changes around Charing Cross Road.
Location
Look for the traffic island on Charing Cross Road at the junction with Old Compton Street. The nearest tube stations are Tottenham Court Road and Leicester Square.
To get decent photos, you have to be willing to lie down on the grille which is on a traffic island so do be careful.