Have you been to Outernet London? It's a complex of arts and entertainment venues on Charing Cross Road. It's at the junction with Tottenham Court Road and opened in 2022.
HERE at Outernet is a 2000-capacity underground venue featuring cutting-edge audio and video, and hosts live music and DJ talent. The Lower Third is a more intimate dive bar venue that showcases emerging artists. Now Trending is a public gallery that showcases the latest trends in music, fashion, and technology.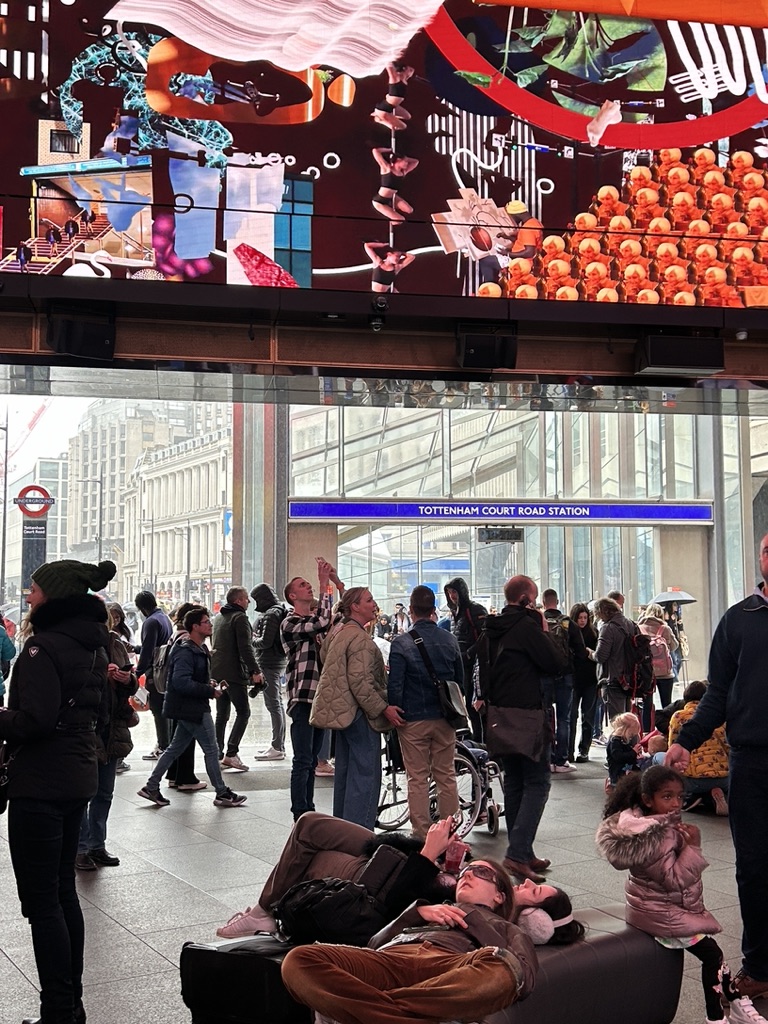 Free
But without any ticket, and completely free, you can enjoy the immersive video experience at the street level of the Now Building. The public atrium is open on three sides so you can wander in and see the immense digital canvas. It's 2,260 square metres, 4-storey high LED screens making you feel you are inside the video.
Times
To check the timing of the different 'shows', it's best to download the Outernet app and check the 'On Screen' section. That way I knew that by going a bit before midday I could see a few short shows before the 12-6pm Butterfly Trail started. It all starts at 10am and goes on until late every day.
By visiting from 11.45am to 12.15pm I saw Emoji Shower, The Spaces In-between, The Summer Palace and Butterfly Trail. Whatever time you go, you'll see something fun.
Butterfly Trail has a QR code to scan to get an AR (augmented reality) butterfly to land in your hand. It's not obvious how to use it but the gist is to pull the slingshot and try and hit a golden chrysalis to win the opportunity to see the AR butterfly.
Visitor Information
Outernet London is at Charing Cross Road, London WC2H 8LH. Next to Tottenham Court Road station.
These immersive light shows are on from 10am to late daily and are always free. Just walk in.
Official Website: www.outernetglobal.com
Nearby
If you like quirky things in London, this is very close to Little Compton Street.