Land's End in the far southwest and John O'Groats in the far northeast are considered the furthest points in Great Britain and travelling the whole route is a mighty challenge. Some walk or cycle for charity and some do it just for the sense of personal achievement but Mark Mason chose to do the whole journey by local bus – yes, public transport – so he could write this book about it.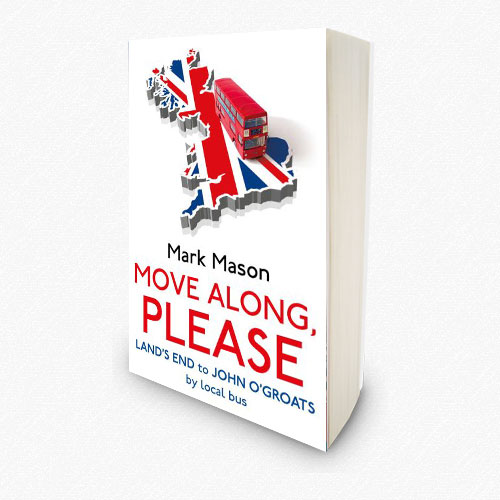 Great Writing Style
I'll admit now that I like Mark Mason's writing style as he makes you feel as if you are on the journey too and you can experience the highs and lows of spending too much time on your own through his observations. I loved his London book – Walk the Lines – where he walked at street level the routes of all of the London Underground lines. It's another one of those ideas that makes you question 'Why?' but also 'Why not?'
Slow Travel
Local buses are not the fastest way to get around as they stop so often. It can be frustrating when you have somewhere you want to be (back home, for example) and the bus stops to change drivers or a passenger gets on just to ask directions. But in time Mark Mason gave in to this slow form of travel and completed the 1100 mile odyssey.
Mark Mason
Mason has written many other books and his love of obscure and interesting facts has not been lost. For each place the bus passes through he seems to know something of note whether it's a historical fact or something to see.
Mason is an excellent writer but not a classic travel writer as he doesn't set out to travel epic distances across the globe. Instead he does something quite ordinary in an extraordinary way. Local buses are a common form of public transport but most of us just take the bus home from work or to visit a friend. We don't see it as a form of long distance travel in Great Britain.
The Journey
At 10.41am on a Tuesday morning in September, Mark Mason boarded the number 1A bus at Land's End in Cornwall. Forty-six buses and eleven days later he disembarked at John O'Groats in Scotland.
Along the way he visited everywhere from the village where the internet enters Britain to the urban sprawl of Birmingham (inspiration for the Two Towers in Lord of the Rings). He sampled staples of the British diet from curry to the deep-fried Mars Bar, and uncovered countless fascinating facts about his native land – did you know, for example, that Crewe Alexandra football club is named after the wife of Edward VII, that Loch Ness could hold the water from all the lakes in England and Wales, or that there is a village which rejoices in the name Tongue End?
Set against the backdrop of 2000 years of history and with a full supporting cast drawn from that most unusual of species, the Great British Public, this is a fabulous story of a man rediscovering his nation in all its idiosyncratic glory.
Move Along, Please is available at all good bookshops.
This review first appeared on the VisitBritain Super Blog.