In 1968 and 1969 Jimi Hendrix lived in a top floor flat in Mayfair, central London. It was a small flat but the building already had a musical heritage as it was where George Frideric Handel, the famous composer, had lived 240 years before.
Handel House Museum has been open to the public for many years but from 10 February 2016 the home of Jimi Hendrix will also be open permanently. A temporary opening a few years ago proved the value of the idea and the museum staff had to move out of their offices – as that's what the rooms had been used for – for the transformation to take place.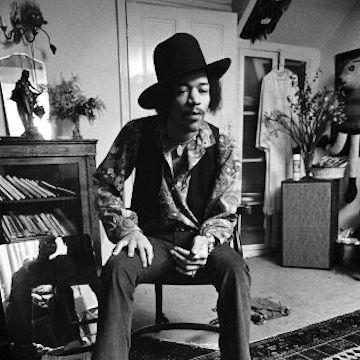 When the temporary opening happened there was still a lot of imagination needed as the rooms were simply bare. But this famous photo had been taken in the flat so I seem to remember a chair was provided for some posing for photos.
Coincidence
London's layered history often throws up wonderful coincidences but that musical legacies of two of the most important figures in musical history lived in neighbouring buildings is a good one.
For such a legend it's also surprising to learn this will be the only Hendrix home in the world open to the public. This has meant making a real effort to offer something to the fans who will flock to Handel & Hendrix in London next year.
Restoration
A two year project costing £2.4 million means Hendrix's bedroom has been carefully restored as it was when he lived there in 1969, and there's a new permanent Hendrix exhibition. The main living room has also been painstakingly restored to how it would have been when Hendrix was in residence, and offering an insight into the domestic life of an American superstar musician at the height of his creative powers.
The new exhibition includes the Epiphone FT79 acoustic guitar which Hendrix bought in New York at the end of his first US tour with the Experience and brought back to London. His girlfriend, Kathy Etchingham, recalled that "Jimi used it for everything he composed in this country…"
There will also be new interviews with some of the many visitors to the flat, as well as people who lived and worked in the boutiques and offices in the immediate area around 23 Brook Street. Among the exhibits are previously unseen or rarely-seen images of Hendrix taken at the flat and in the local area.
In creating Handel & Hendrix in London, the footprint of the building has been extended, a new learning and performing space – The Studio – built, a new lift introduced, giving full access to the whole building, and new visitor facilities and a mansard roof extension added to provide office space for Handel & Hendrix in London staff. Until now, staff have used Hendrix's bedroom as their office.
Hendrix's Home
When Jimi Hendrix moved in on 4 July 1968 it was shortly before the release of the Electric Ladyland LP. His musical life thrived inside the flat; it was the scene of many hours of writing, constant visits by fellow musicians, hours of playing records at high volume on his Bang & Olufsen turntable, countless jam sessions and was the place he returned to after his blistering Royal Albert Hall shows on 18 and 24 February 1969.
While Hendrix was dealing with the demands of fame, Brook Street gave him the opportunity of at least attempting to live a domestic life, with Kathy Etchingham. Jimi Hendrix referred to the little flat at Brook Street as "the first real home of my own". Found by Kathy in the classified ads of one of the London evening papers, the flat became theirs for rent of £30 a week. Jimi and Kathy chose curtains and carpets in John Lewis on Oxford Street, bought LPs at One-Stop Records in South Molton Street and picked up bits and pieces at second hand shops.
The ground floor of 23 Brook Street was a restaurant, Mr Love, where Jimi and Kathy would often start the evening, before heading off to the Speakeasy club for a jam session. Invariably these evenings would end up with everyone back at the flat, which would welcome a constant stream of friends, musicians, acquaintances, journalists and photographers.
Jimi Hendrix did know about his home's connection with Handel and it is said that among the most played records in Hendrix's collection was a copy of Handel's Messiah performed by the English Chamber Orchestra. Hendrix's interest in Handel clearly went well beyond the curiosity of living in the next door flat; in a gig at the Winterland Ballroom, San Francisco, in October 1968, he can be heard playing a loose version of the Hallelujah Chorus, evidence of the hours he spent listening to Messiah in the building where it was composed.
Handel's Home
25 Brook Street, also known as Handel House, is the elegant Georgian townhouse where George Frideric Handel lived and worked for 36 years. He wrote many of his greatest works there – including Messiah – held rehearsals and first performances of his music and died in his second-floor bedroom there in 1759.
A Visit
Instead of a sign directly you to the back of the building, visitors will enter via Brook Street, before making their way to the third floor flat and the new set of permanent exhibition spaces. The main room of the flat, the scene of almost everything that happened there, has been intended to give the impression that Jimi and Kathy have just stepped out.
Handel & Hendrix in London has been designed so that visitors can choose the rooms of the musician with whom they are most interested, or take in the whole building.
Address: Handel & Hendrix in London, 25 Brook Street, Mayfair, London W1K 4HB
Opening Hours (from 10 February 2016): Monday-Saturday 11am-6pm; Sunday 12noon-6pm;
Admission: Handel & Hendrix: Adult £10; Child £5. Handel House: Adult £7.50; Child £3.
Hendrix Flat: Adult £7.50; Child £3.
Tickets for the Hendrix flat on sale on 2 November at www.handelhendrix.org. Booking is from 3 February 2016.