I was thinking of taking a friend to see the places on the London Monopoly board but as Andy @501places has already done that I decided we should just explore one of the areas listed: Mayfair. Here's where I took a friend to show her another side to Mayfair than just posh shops. The whole walk takes 1-2 hours.
Start: Green Park Station
Exit the station onto Piccadilly, on the opposite side from Green Park itself and The Ritz Hotel. Turn left and walk towards Piccadilly Circus, and turn left onto Albemarle Street. On your left, you'll pass Brown's Hotel which is London's oldest hotel and where Alexander Graham Bell made the first successful UK telephone call. It's also the hotel used by Agatha Christie as the setting for At Bertram's Hotel. Brown's afternoon tea is rather lovely and the English Tea Room is where Rudyard Kipling wrote The Jungle Book.
Carry on up Albemarle Street and on your right at no.21 you'll reach the Royal Institution of Great Britain. There's a permanent free scientific exhibition but be sure not to miss the singing periodic table in the basement.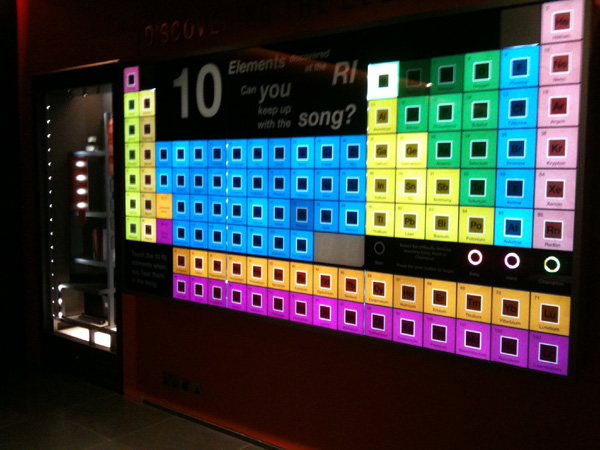 At the end of Albemarle Street, turn right and then left onto New Bond Street. At the paved section between Old and New Bond Street you'll find Allies – a bronze bench statue of Franklin D. Roosevelt and Winston Churchill with enough space between them for you to sit down and put your arms around these chaps. Notice how shiny Roosevelt's left knee is? It's because many like to give it a friendly rub.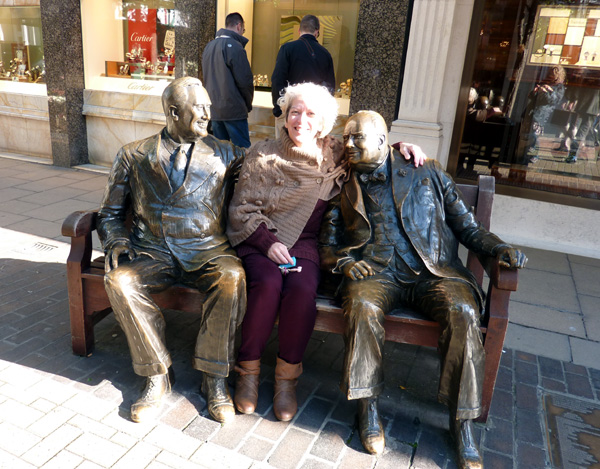 Walk along New Bond Street, towards Oxford Street, passing Louis Vuitton on the right. Do check out the window displays there as they like to collaborate with contemporary artists. When you reach the large Burberry store look opposite, above Loro Piana, and notice the Henry Moore Time Life Frieze.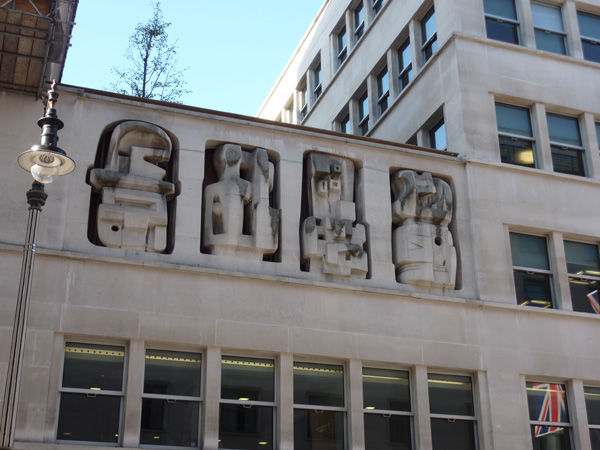 Continue on to Sotheby's on your right. Sotheby's is a world famous auction house but not everyone knows that before an auction the objects/artworks are put on display and everyone is free to come in and admire. When I did this walk recently we were immensely lucky to see a preview of a major contemporary art auction which included works by every big name contemporary artist I'd ever heard of. From Picasso to Banksy, to Andy Warhol and Miro. It was truly wonderful. That auction has been and gone so I can't promise you'll find something similar but it's always worth popping by when you're in the area. The staff at Sotheby's told me they encourage everyone to come and view items before an auction, and consider attending an auction too, as one day you may wish to buy something here.
Back out on New Bond Street, two doors to the right you'll find Smythson, a British  luxury stationers and leather goods retailer. The company is 125 years old and has a few historical items on display inside.
Turn right on Maddox Street, and left on Mill Street. The first left is Conduit Street and head to no.7-8 for The East India Company, a fine foods company founded in 1600 by Royal Charter granted by Queen Elizabeth I. I love visiting the store to try the preserves and chutneys, biscuits and crackers and, of course, the teas. And they have luxury chocolate. Seriously, why don't we all visit there more often?
Walk back to the junction with Mill Street and turn left onto Savile Row. This street is famous for men's tailoring but no.3 was The Beatles' Apple offices. Look up as it was on this rooftop that they played their last ever live performance on 30 January 1969.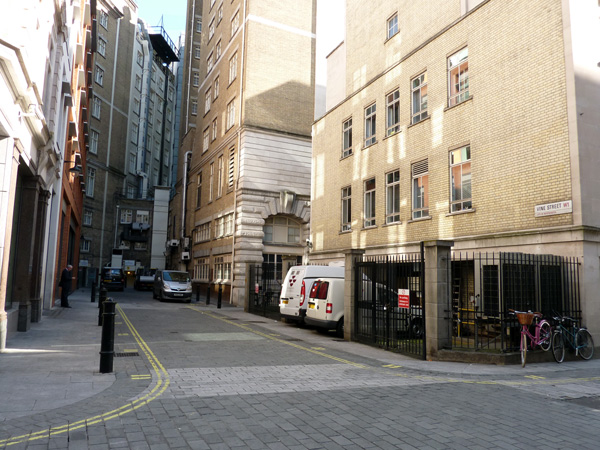 Turn left onto Vigo Street and right onto Regent Street. Turn right into Swallow Street and you'll find the most uninteresting London Monopoly Board location on your left: Vine Street. Nope, nothing to see there.
At the end of Swallow Street, cross over Piccadilly and enter Piccadilly Market at St James's Church. I'd compare this small crafts and antiques market to Greenwich Market. I particularly liked Fabrice Jouet's photography.
Along Piccadilly, away from Piccadilly Circus, you'll find Fortnum and Mason, the "Queen's Grocer". This 300 year old company is always worth visiting – and make sure you see more than just the ground floor. Did you know there are cooking demonstrations on the first floor? And have you seen the Perfume Bar on the second floor? Yep, always worth heading up here. Also, back out on Piccadilly, look up above the main entrance and see the Fortnum and Mason Clock which chimes every fifteen minutes and on the hour Mr Fortnum and Mr Mason come out and bow to each other.
Head down the side of the building, off Piccadilly, along Duke Street St James, and turn right onto Jermyn Street. This street is synonymous with gentlemen's clothing and particularly shirt-makers. You'll pass a statue of Beau Brummell on your right before reaching Turnbull and Asser on your left at no.71-72. Go downstairs in the store and you'll find one of Winston Churchill's Siren suits. These one piece zip up suits were ideal  to wear during air raids.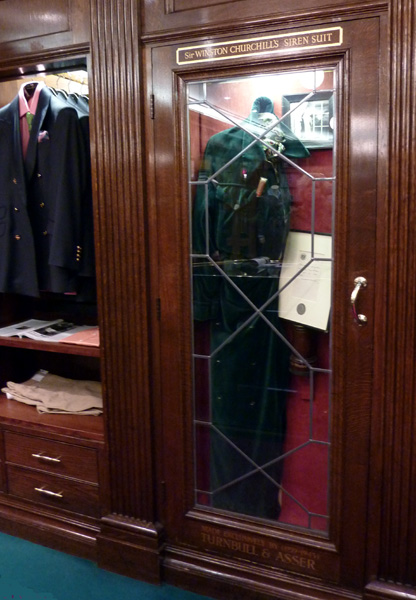 Continue to the end of Jermyn Street and turn left onto St James's Street. At no.19 you'll find JJ Fox and they have a Cigar Museum in their basement which includes the chair Winston Churchill would sit in when buying cigars.
Carry on down St James's Street and look out for Pickering Place, by Berry Bros and Rudd, wine merchants, at no. 3. On the wall at the entrance to this small alley you can see the Texas Legation plaque. Oh yeah, and that's St James's Palace at the end of the street.
Turn around and walk back up St James's Street and turn left onto Piccadilly. You'll pass The Wolseley at no.160, a stunning restaurant open from breakfast every day. Built as a car showroom, the building has been a bank, then a Chinese restaurant before becoming the beautifully restored restaurant is is today.
Next you'll see The Ritz Hotel which needs no introduction. As you walk along Piccadilly in front of the hotel you may remember Hugh Grant and Julia Roberts walking along there in the film Notting Hill.
And this brings you safely back to Green Park station where you can jump on the tube or have a rest in Green Park. Enjoy!
This article was first published on the VisitBritain Super Blog in 2012.