One of my favourite Easter traditions is seeing Zippos Circus on Blackheath. Every year there are new acts and every time I sit there with my mouth wide open in shock at what these performers can do. It's great that in a world now dominated by screen-based entertainment for kids that we can still watch a show that makes the whole family happy.
The 2015 show is called 'OMG!' and is a two hour spectacle with plenty of laughs from The Rastellis – a classic clown troupe from Italy who use music and comedy antics to entertain. The trumpet playing attached to oversized clown trousers had us crying with laughter.
My first 'OMG' moment was when Salvatore did tricks with a diabolo that look like it was going to reach the top of the new circus tent. That would have been spectacular enough but he then used a diabolo that was on fire!
There's acrobatics from The Zulu Warriors who throw each other around as if picking up feathers, and the Globe of Terror, with South American Lucius Troupe, riding motorbikes inside a sphere cage is scary but hard to look away.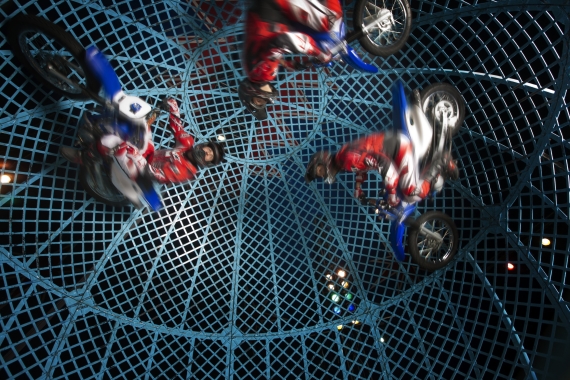 See a short video of the Globe of Terror on my Facebook Page.
Zippos Circus does have some animals but don't get concerned about lions and tigers as we're talking about horses and – my favourite – legendary Ringmaster Norman Barrett MBE and his talented budgies. Honestly, I love that act and look forward to it every year.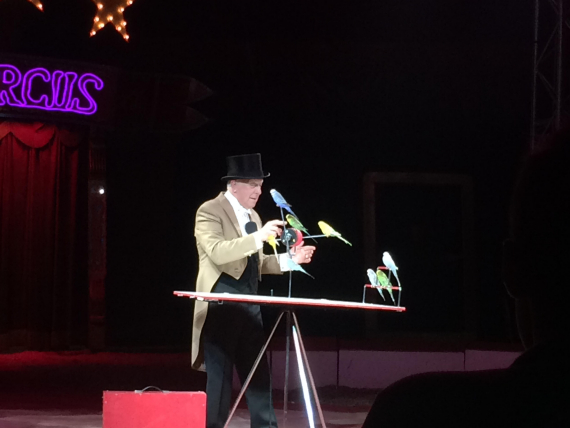 The equestrian acts were beautiful to watch and there was a part of the show was "prancing ponies" and the Frozen song "Let it Go!" which made the four year old with us very happy.
Odka is a woman who can fold and contort her body to fit inside a bottle – which is bonkers enough – but this year she can also fire a bow and arrow with her toes!
It's a truly international show with the pick of the best circus performers from around the world. Duo Galaxy are from Germany and have a 'Wheel of Death' act that made me scared to watch but also scared to look away. Seriously impressive stuff.
See a quick video of Duo Galaxy on my Facebook Page.
Zippos Circus tours the UK from March to October each year so check www.zippos.co.uk for dates near you. Ticket prices start from £7 child, £9 adult.