If you liked The Orbit Slide you are going to love this. Zip World have lots of locations across the UK and have added Zip World London for summer 2017.
If you want the best views of Big Ben this summer you need to try this. It's a zip wire in Archbishop's Park next to Lambeth Palace on the South Bank (between Westminster Bridge and Lambeth Bridge).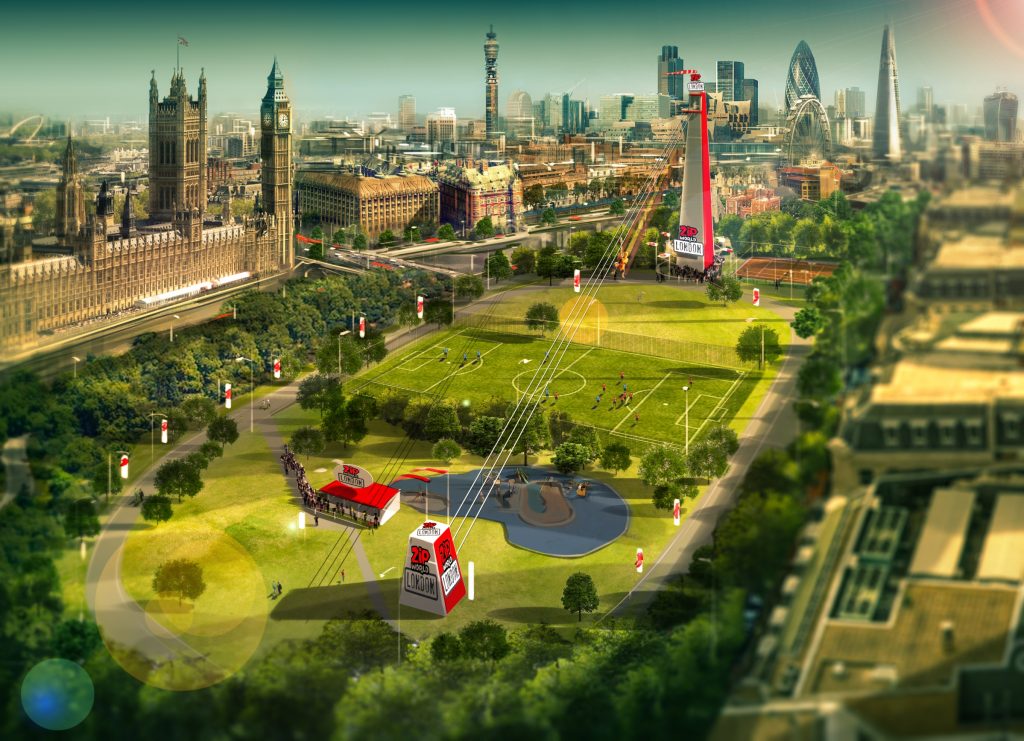 World's Biggest
This is 'extreme' so when you climb the launch tower you will be taking off from a height of 35 metres (100 feet) – that's more than 9 double decker buses high! And that's quite a climb (10 storeys) so you'll be ready for the views above the treetops when you reach the launch platform.
This is the world's biggest, fastest city-centre zip wire, and there are three zip wires so you could try and time it to go with friends.
Once clipped on safely, you hold onto the handles above your head and ride the wire! You'll be doing some speedy sightseeing as you zoom along 225 metres of zip wire taking in London skyline while travelling at speeds of up to 50mph. As you go over the park's tennis courts you'll see the Houses of Parliament, the London Eye and the Shard.
That part of the experience takes about 30 seconds but you'll be here for 40 minutes as there's a short safety video, equipment checks and that climb.
When?
From 18 July to 30 September 2017. Open 10am-7pm daily.
Notes
Zip World London is for those aged 8 years and over.
You definitely need to book ahead, and need to arrive 30 minutes before your scheduled time.
Keep long hair tied back and don't wear sandals or open-toed shoes. Trainers are best.
And avoid wearing a skirt (obviously!)
How to Book
Book online and get ready to #RideTheWire this summer.
Ticket prices are £22.50 for adults and £16.50 for children. If you love it so much for you want to go again you can buy a second go for £10.
PS I'm planning to try this so will update this information with a review soon. Wish me luck!