Wikipedia says a helter skelter is "an amusement ride with a slide built in a spiral around a high tower" so, I guess, we can now call The Orbit a helter skelter! This must be Belgian artist Carsten Höller's most extreme work yet as he has added the world's longest and tallest tunnel slide to Anish Kapoor's Orbit.
Five years after The Orbit was commissioned, this £3 million slide by Höller has been added and it's said it'll take another five years for it to pay for itself. The slide opened in June 2016 so while I've previously talked about the Orbit Slide construction I can now tell you what it's really like.
Book in Advance
Book in advance as there are limited tickets released for each time slot throughout the day. I saw many walk away from the Ticket Desk when they heard this news. A friend took her boys (booked in advance) and they brought a friend on the day but they weren't able to buy an extra slide ticket, just a viewing ticket.
Upon Arrival
At the base of The Orbit is the entrance hall with a member of staff outside explaining the attraction. We found this person was really welcoming and could answer lots of questions so if you are in the area and unsure if it's for you do have a quick chat with them.
Even if you decide not to go inside there are some fun photo opportunities outside (Olympic podium, etc).
When I visited (two months after opening) the only leaflets on offer were about the steel and mining company who built The Orbit. That leaflet has one line about visiting. If The Orbit wants to be a visitor attraction this really has to be rectified.
Inside the entrance hall there are two members of staff behind the Ticket Desk with queues for pre-booked tickets and ticket sales. OK, it was a sunny day, and these two were shut inside in the shade, but the general lack of enthusiasm was disappointing. If you choose to work at a London visitor attraction you should have that 'smile at everyone' attitude all day. Tickets aren't cheap and you need to make people feel they've spent their money wisely. Maybe I got them at a bad moment.
Safety Rules
There are a lot of safety rules so I took a photo of the notice to help you.
A member of staff will also explain the basics: No phones, cameras, bags, loose jewellery or sunglasses but standard glasses are fine.
Your safety gear (a soft helmet and arm pads) are provided at the top of the slide and must be worn.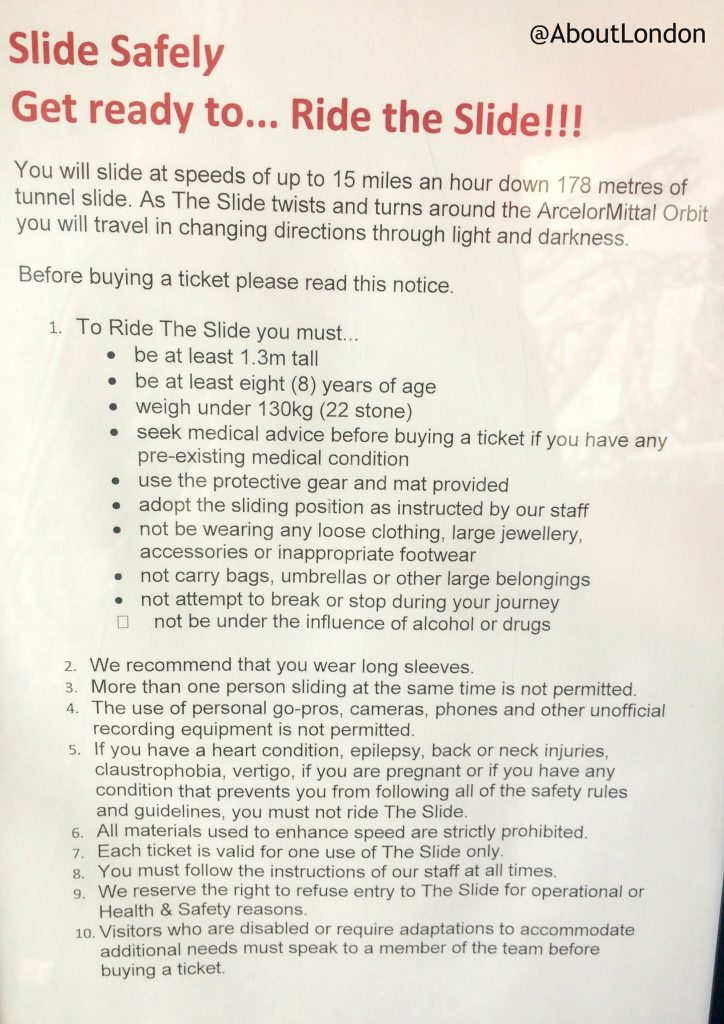 Lockers
Once you've got your ticket, and have arrived at the correct time slot (you're unlikely to get in early), the first stop is the lockers. These are outside at the base of the Orbit. You need a £1 coin to lock the locker and this coin is returned.
Leave everything – don't try and bring your phone as it'll get damaged and you don't want to be the one who damages the slide either. Do bring your ticket as you will need to show your time slot booking at the top of the slide.
The lockers aren't far from the end of the slide so you may well meet some people who have just come down so do ask them what it was like as they are usually very excited if they've just done it.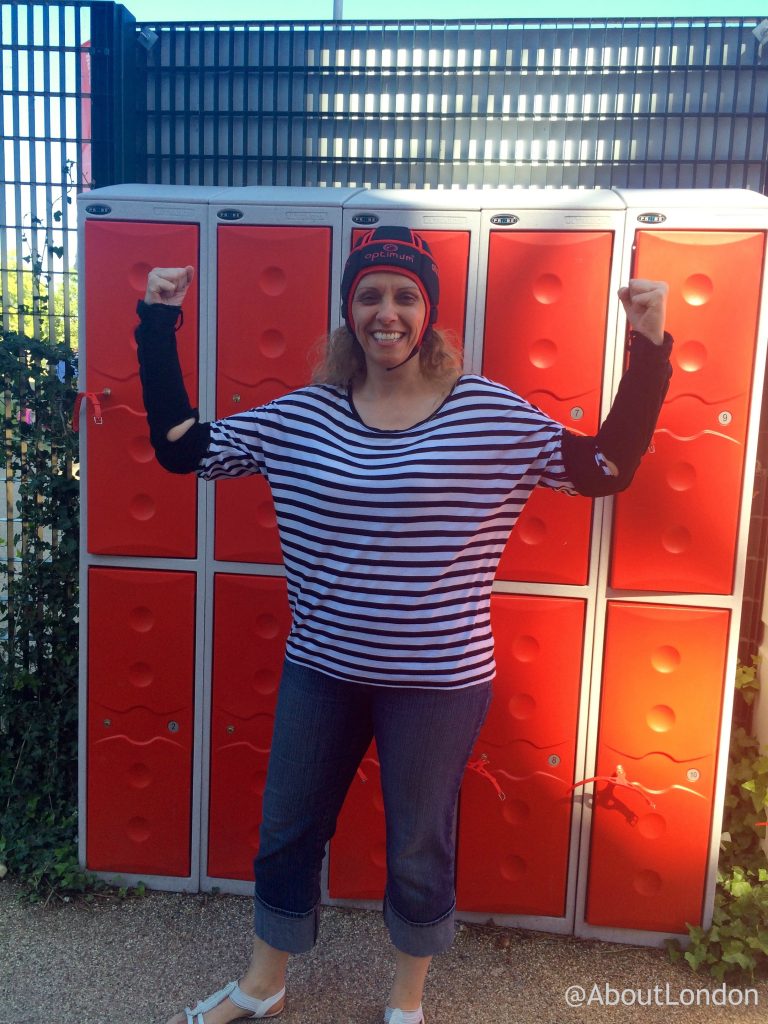 Heading Up
There are two lifts in the centre of The Orbit. There should be a member of staff here but not always.
Level 2 is for the viewing platform and mirrors. Level 1 is for the slide. You can go up to the viewing platform before or after your slide ride.
At the Top of The Slide
It's up to you whether you look down or just get in line. I will say the slide is 178 metres long and it takes only 34-40 seconds to reach the bottom. And there are toilets on this level so don't use that as your excuse.
First, you do need to show your ticket as you're booked for an allocated time.
Staff will give you the helmet and arm pads and check all is secure. Yes, you'd like to take photos of your friends looking silly but now you're grateful everyone has left their phones and camera in the lockers.
If you are wearing shorts they will give you knee covers too. And if you have a vest top on you'll be given shoulder protection covers.
Once you reach the front of the queue, you get let into the exclusion area at the top of the slide. It's one person in at a time so don't worry about your mates giving you a cheeky shove.
A member of staff puts out the slide mat. It's full body length and you put your feet in the pocket right to the end. You need to lie down and hold onto the strap on the mat pocket. Arms in, shoulders relaxed, elbows locked and in. Head up to look at your toes so your chin is on your chest.
There's a monitor at the top of the slide to show when the last person is down so there is only ever one person on the slide at a time.
When the green lights comes on staff help move you forward to the top so you can pull from the hand rail and you're off!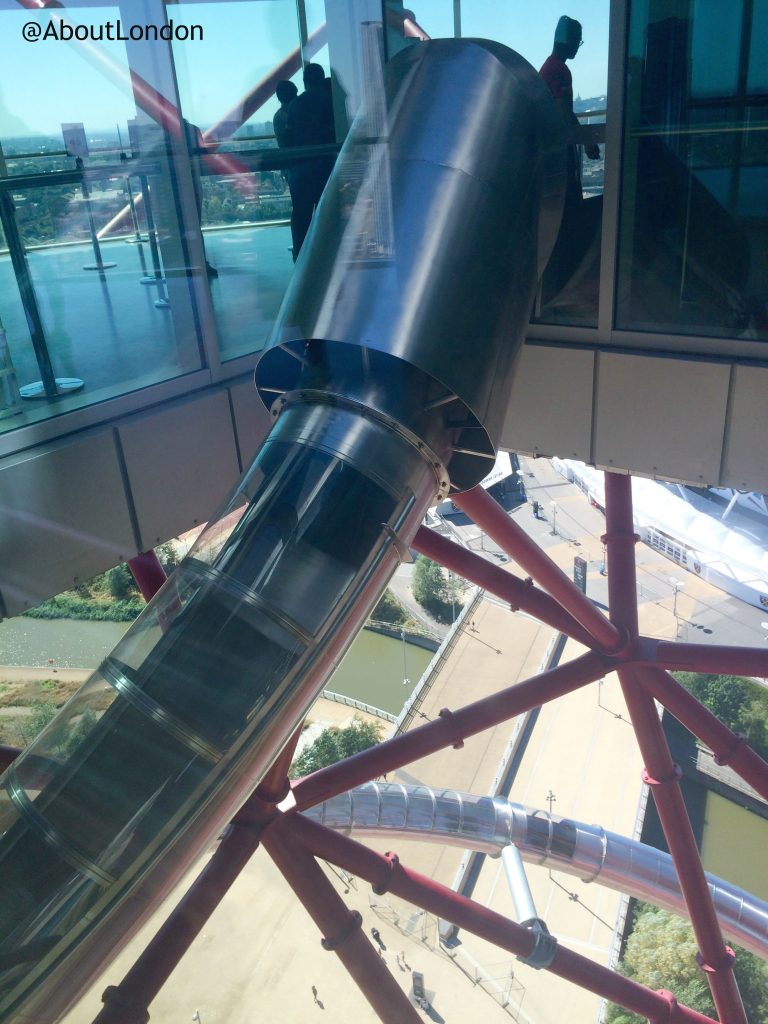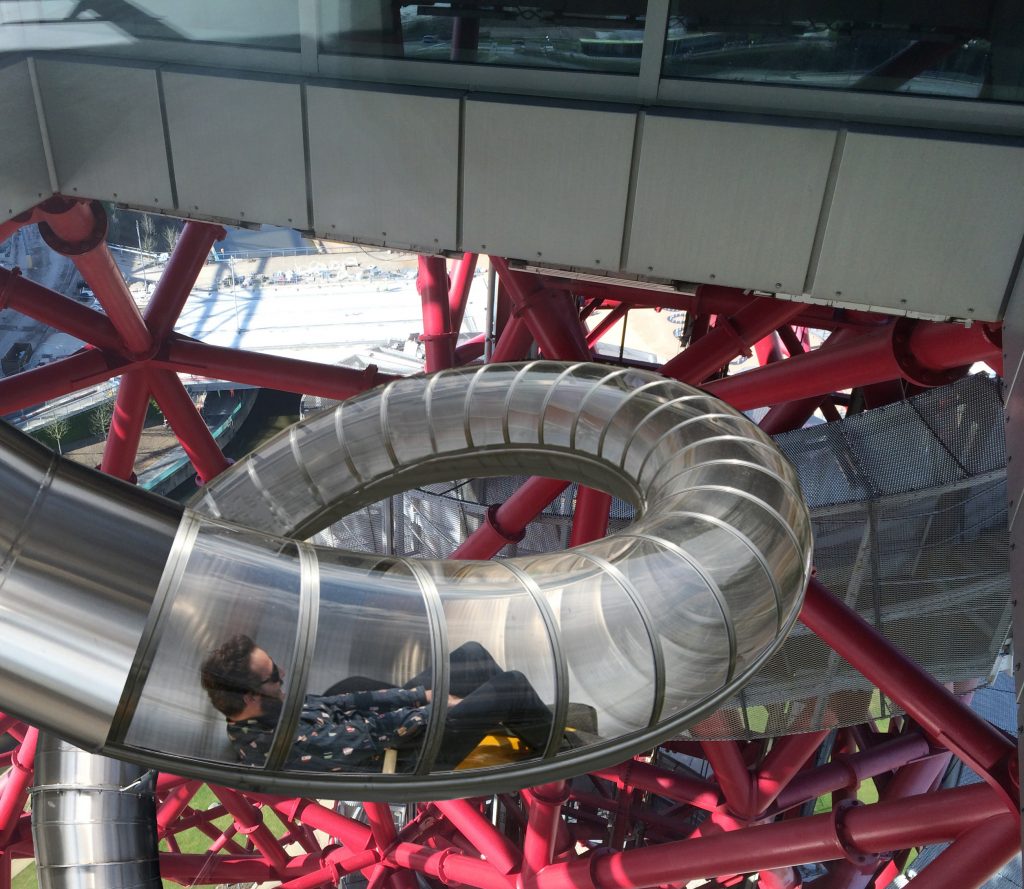 What's It Like?
This isn't a small kid's ride as it is super fast! There are sections with a clear cover but you're going too fast for sightseeing. Mostly it's dark and very, very fast.
Yes, you should scream (I did!) and laugh and giggle too as it's really good fun. And it's over before you know it.
The loops do confuse the brain but not so much to feel queasy (it's been tested for that type of thing). There are times when you feel like you're shooting straight down (standing up) but when you open your eyes you discover you're actually completely horizontal.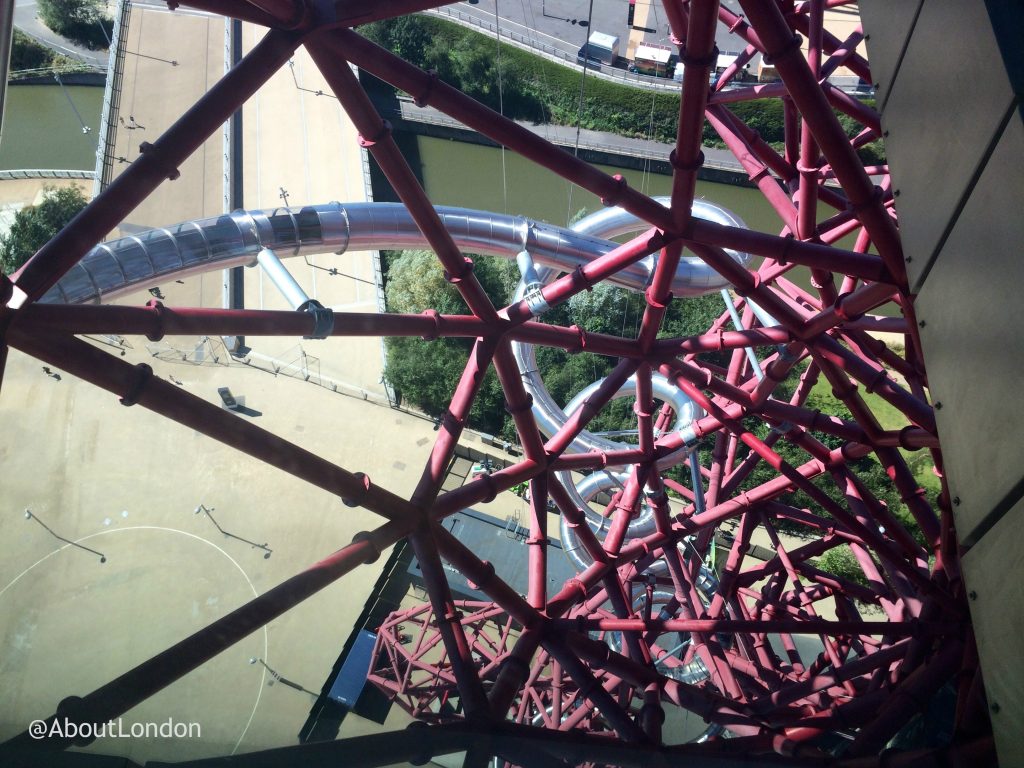 After Riding the Slide
When you reach the bottom, cry, scream, high five the member of staff and hug your friends and family. It is an achievement!
Then head over to your locker to get your camera so you can get the lift up to Level 2 for the viewing platform (inside and out) to slow down your racing heart and admire the views.
Do tell everyone you've just been on the slide and compare experiences as the pumping adrenaline will make it hard to not want to share at this moment.
Back Down
When you are ready to leave you can then choose to get the lift down to the ground again or you can walk down the spiralling stairs that hug the centre of the structure. It's 455 steps – long steps – and you can admire the views on the way down too (although there is a steel cage so it's not great for photos).
As the steps do seem to go on forever (I'm just throwing out that warning for you) there are 'soundscape' sounds to listen to such as construction sounds on the Olympic Park or the roar of the crowd in the Olympic Stadium in 2012.
You may well find the back of your calves will ache when you reach the ground so do stretch them out.
Stop at this 'Look Up' spot for a photo and then it's time to leave.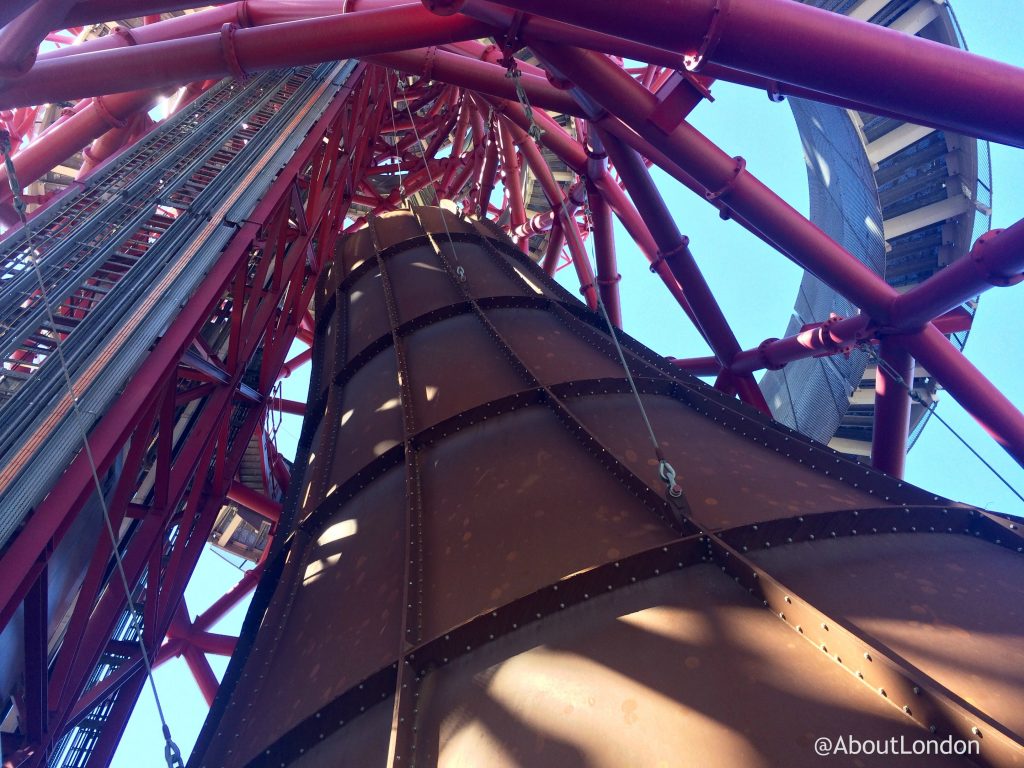 Do go and tell the nice member of staff outside the entrance that you managed both the slide and the steps and you'll get a high five or at least a 'well done!'
Then head to the fountains to cool off or to the ice-cream van and order the biggest ice-cream they sell as your reward.
Is it Scary?
If you stop and think about it, then yes.
If you just go up, get the safety gear, lay down on the mat and go, then no. Then it's more exciting. I didn't look at the slide before going down. I laughed the whole way as it's so much fun. My daughter watched, and thought about it, and thought about it some more. She thought about it for over half an hour. But then, with the bribery promise of that enormous ice-cream, she did it. And she loved it.
I met others who said they cried at the top but still did it and still loved it. I met others who had an annual pass who went down three times before my 10 year old agreed to try it.
Orbit Slide Booking Information
Phone: 0333 800 8099.
Official Website: arcelormittalorbit.com
Address: ArcelorMittal Orbit, 3 Thornton Street, Queen Elizabeth Olympic Park, Stratford, London E20 2AD
Disclaimer: As is common in the travel industry, the writer was provided with complimentary tickets for review purposes. While it has not influenced this review, AboutLondonLaura.com believes in full disclosure of all potential conflicts of interest.