I love the Moomins. I make no secret of it. I've been to Finland multiple times to go to Moominworld and would happily go back again. So, I had to go and see the first major UK exhibition devoted to the Moomins at Southbank Centre's Royal Festival Hall.
Adventures in Moominland is on from 16 December 2016 to 20 August 2017. It's an immersive, interactive exhibition which explores the internationally-recognised stories of the Moomin family through the life of its author Tove Jansson (1914‐2001).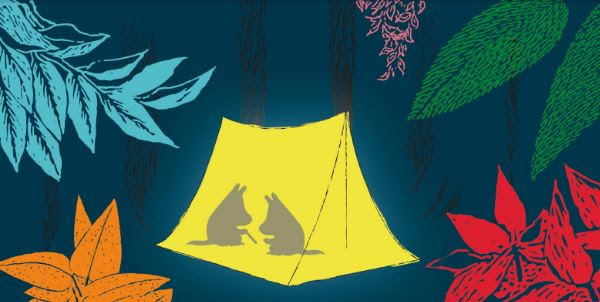 Background
Several of the Moomin stories, such as Comet in Moominland (1946) and Moomin Midwinter (1957) were written against the backdrop of political and socio-economic change in Finland. This landscape influenced the stories and Tove's relationships with family, friends and lovers which defined the narrative and character development.
Written during a time of hardship and war, the tolerant world of Moominvalley offered a refuge from the harshness of reality. Tove explored her art and own sexuality within the confines of this changing political landscape – and her friends, enemies, fears and hopes often found themselves manifested in the complex and emotional stories.
What to See
More than 40 items of archive material are on display, many being shown in the UK for the first time.
There are significant archive materials on loan from Moomin Characters Ltd, Helsinki and Tampere Art Museum including original illustrations, artworks and 3D models, plus letters and personal items from Tove's studio in Helsinki and her family island of Klovharu, where she lived for almost thirty years.
What to Expect
Southbank Centre enjoyed success with The Wondercrump World of Roald Dahl as an interactive experience so there is definitely an audience for this type of non-traditonal exhibition. (Another place that does this well is the Discover Children's Story Centre in Stratford.)
You know this is going to be something unusual as you don't enter through a door. There are no photos allowed inside so just give in to the mesmerising environment and forgot about social media for a while.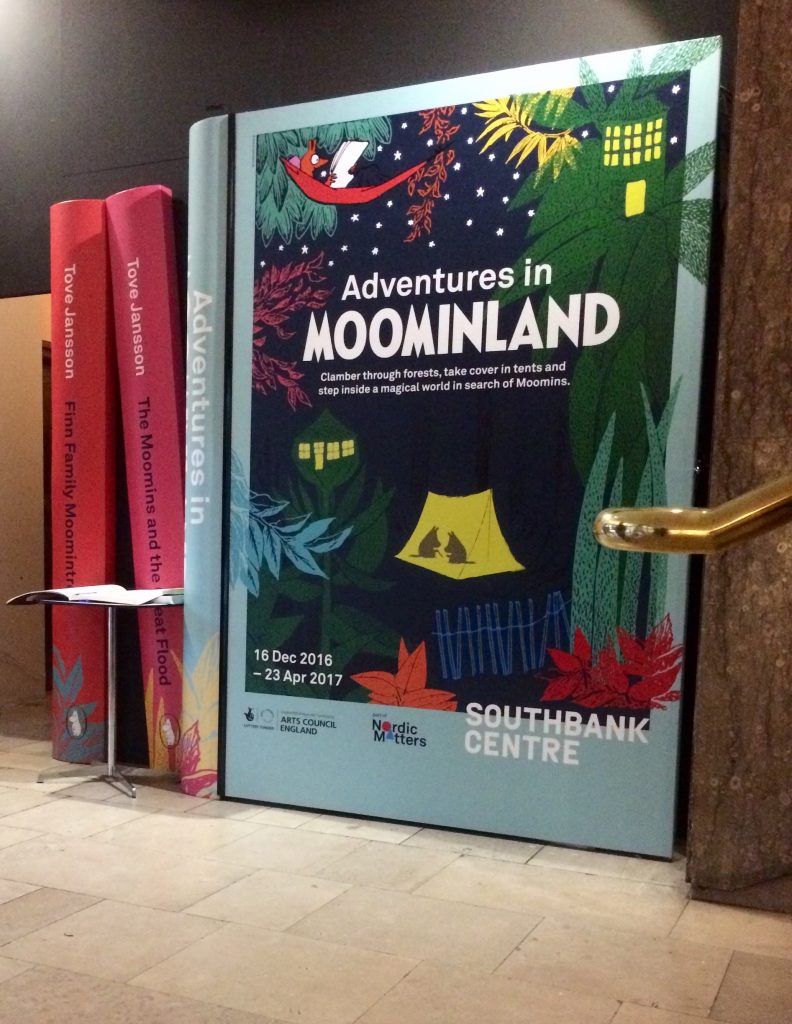 Visitors are led through in small groups with a Guide who sets the scene in each room-set. There's also an audio narrative voiced by Sandi Toksvig and written by children's author Laura Dockrill.
There are seven immersive and interactive worlds that explore the inspiration behind Tove's much-loved stories. These worlds explore the influence of the Nordic landscape within the Moomin books, from the dense forests of Moominvalley to a canvas tent on the water's edge in Finland, a recreation of Tove's art studio and her island of Klovharu.
There's sand on the floor in the tent and 'snow' in the winter room-set. Sometimes you get to sit (but not enough seats for all) and sometimes you need to crouch down low.
In each 'world' there are a few artworks to see. When you find them you do think they could have put them all in one room at eye-height but what would be the fun in that? The only drawback to this adventure was actually trying to see all of the artworks as if you got close to hear the Guide you were often led to the next room without having time to explore the last.
As it is such an immersive exhibition it could have been enhanced with sensory smells but, I guess, that would be hard to keep separated in such a small space.
I'll admit I wanted to touch some objects (in particular Momminmamma's handbag) but didn't think we could, so while we knew we weren't in a museum we were still cautious.
The fun ended all too soon and we were out in under an hour (again, you don't exit through a standard door). It was odd enough to realign yourself back to reality so quickly but we also didn't know where to go so a simple arrow sign would have helped.
My 10 year old daughter loved the exhibition and rushed up to the Moomins pop-up shop to buy some treats. I left wanting to read the books again to recapture the escapism of the stories that the exhibition reawakened for me.
Not for Toddlers
This isn't an exhibition for the toddlers who love the Moomins; this is aimed at the older children (7+) and adults. It's not about cuddly toys so leave little Johnny and darling Annabelle at home (with the nanny, of course) and enjoy this adventure without them. I doubt buggies are even allowed so seriously, don't bring the little geniuses to this exhibition. Just take them a gift from the Moomins pop-up shop.
And There's More
The exhibition also feeds into Southbank Centre's 2017 festival offering, with a range of Moomins themed events taking place across the site during WOW – Women of the World festival (March 2017) and Imagine Children's Festival (February 2017).
A selection of archive comic strips are displayed in Southbank Centre's Archive Studio in Royal Festival Hall until February 2017.
And there's a pop-up Moomins shop on Level 2 of the Royal Festival Hall throughout the exhibition's run.
Adventures in Moominland Visitor Information
Dates: 16 December 2016 – 23 April 2017 extended to 20 August 2017
Location: Spirit Level at Southbank Centre's Royal Festival Hall
Tickets: Peak £16.50 & £15  Off-peak £13.50 & £12
Recommended for ages 7+