The Christmas spirit returns to Dennis Severs' House with the Annual Christmas Installation from 25 November 2016 to 6 January 2017. This time capsule private home in Spitalfields is open to the public to whisk us back to east London in the 18th century.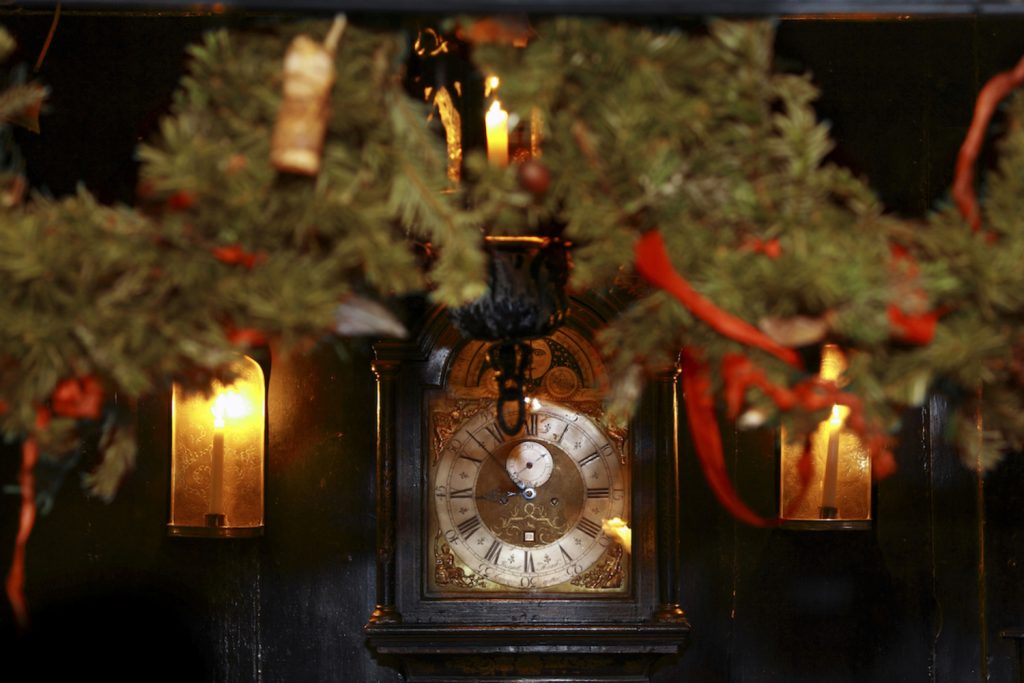 Folgate Street
Folgate Street is an atmospheric, narrow street in Spitalfields with tall 18th century townhouses and period lamp posts. Dennis Severs' House at 18 Folgate Street has a gas lamp flickering over the entrance, wooden shutters over the windows on the ground floor and silhouette cutouts in the first floor windows.
How It All Started
American artist Dennis Severs (1948-99) bought this unmodernised 18th century house in 1979 and decided not to restore it but to "bring it to life". He lived here without electricity and other home comforts, while he created a Huguenot silk weaver's home for the fictional Mr Isaac Jervis, his family, and their descendants. Yes, a fictional family but he dressed the house to make visitors believe they have just popped out of the room.
The attention to detail here is impressive although Severs was not so interested in historical accuracy as he didn't think of his home as a museum. This is his interpretation of 18th century domestic life and was put together on a very limited budget.
The Spitalfields Trust help the curators of the building keep it open to the public regularly. The Annual Christmas Installation is always very popular so do book ahead as spaces are limited.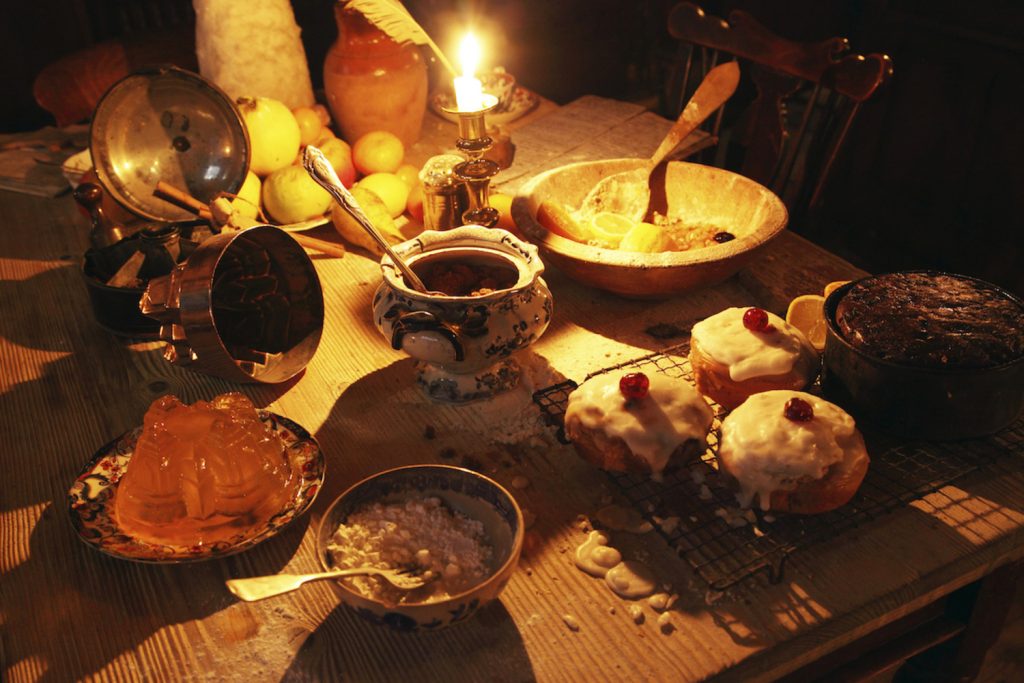 Dennis Severs' House was already an 'immersive attraction' long before that became a fashionable idea. Give in to what you see and you start to believe the Jervis family must be in another room. For this reason, phones must be switched off and there's a no photography rule. And remember you are not to touch anything (there are notes in each room as visitors much need reminding).
What's Inside?
Fresh food and drink are added each day before the building opens to the public. Fresh flowers are placed in some rooms too to add to the story and make you believe. The fires are lit in winter and the lighting is candlelight.
There are ten rooms to explore and each looks like it is part of a real home. You need to be willing to meet the idea halfway as a visit here is about using all of your senses and discovering for yourself. No-one tells you which room you are in but you need to look around and work out who lives there. There are some notes to read but the house motto is "you either see it, or you don't".
You enter in small groups and the creaking of floorboards from other visitors can make you think the Jervis family are nearby.
Down in the the basement stay quiet and you can hear voices in the storeroom. In the kitchen you can hear church bells sounding a happy occasion, the fire is blazing and toast has just been cooked.
It's dark inside – remember it is only lit by candlelight – but there are plenty of clues to help you find out more about the family. The curtains are drawn so you are not distracted by the outside world and start to feel like you have either been transported through time or on a film set.
In one room a Hogarth painting over the fireplace has been recreated within the room making a visit truly immersive art.
There are atmospheric sounds in each room so a silent visit is recommended as you are more likely to 'connect' with the house that way. Interestingly, the smells are stronger if you close your eyes too.
As you journey through the home you start to see how poor silk weavers would have lived. It's 1837 on the top floor and the the silk industry had declined in the area. William IV had just died and the family have gone to pay their respects. You hear the gun salutes at the Tower of London. The rooms are dusty, with peeling paint on the walls and holes in the ceiling. In winter, the fire is not lit in the attic and you instantly feel the drop in temperature.
The visit ends with a room celebrating Queen Victoria's coronation in 1837.
Annual Christmas Installation
For the festive season the house is dressed with decorations for the fictional inhabitants' Christmas celebration.
Evidence of them is to be found in every room. Discover the kitchen where food is being prepared and the pies and jellies are freshly baked and ready to be served. In the dining chamber the table is almost set, and drinks have already been poured. The smells and seasonal sounds so evocative of the age will capture your imagination, stimulate your
senses and guide you through the house.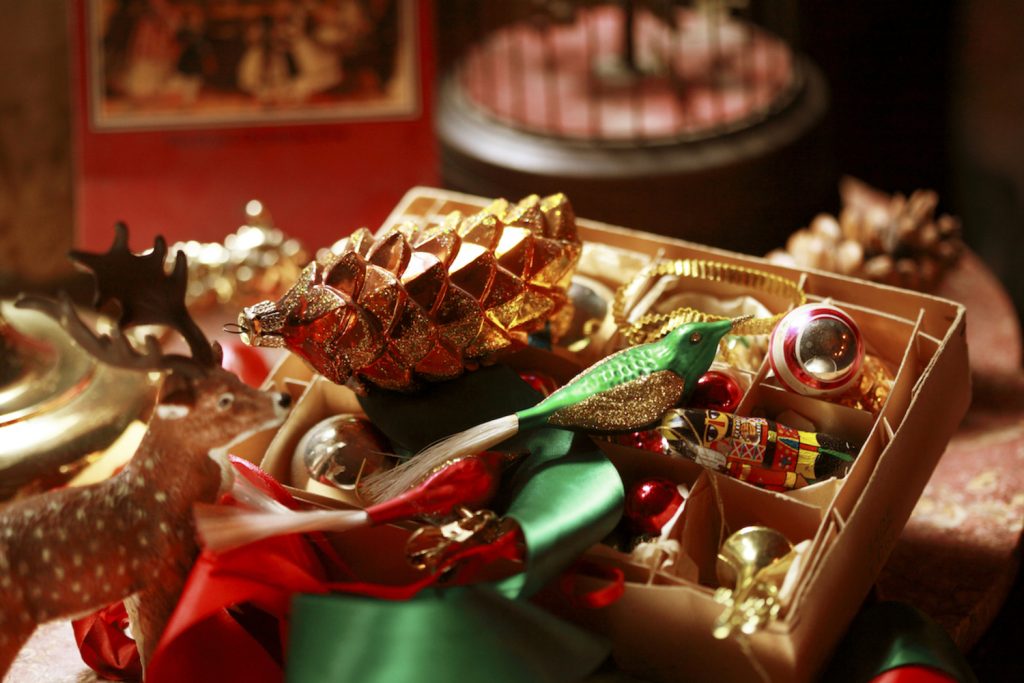 A visit to Dennis Severs' House usually lasts under an hour but it's worth giving in to the story and enjoying your time there. It's surreal but wonderful too.
Visitor Information
Address: 18 Folgate Street, Spitalfields London E1 6BX
Official Website: www.dennissevershouse.co.uk
Disclaimer: As is common in the travel industry, the writer was provided with complimentary tickets for review purposes. While it has not influenced this review, AboutLondonLaura.com believes in full disclosure of all potential conflicts of interest.