Bunhill Fields is a historic cemetery located in the City of London. It was established in 1665 as a burial ground for nonconformists, such as Dissenters, Quakers and Unitarians. The cemetery is home to the graves of many notable names, including literary figures John Bunyan, Daniel Defoe and William Blake, plus John Wesley – the founder of the Methodist movement.
There are close connections with two nearby Non-conformist landmarks: the Wesley Chapel on City Road and the Quaker Gardens (formally the burial ground) on Banner Street across Bunhill Row.
The Name
The name Bunhill is thought to have been derived from 'Bone Hill' as the area is reputed to have been a burial site since the Saxon period.
In the mid-16th century, the area was used as a dumping ground for bones from the charnel house at St. Paul's Cathedral. Dry bones from old graves were stored in charnel houses to free up space for more burials. After the Reformation, most were demolished and the bones were buried elsewhere.
Such large quantities formed a hill of bones here with just a thin layer of soil covering the mound. Apparently, this 'Bone Hill' was large enough to accommodate at least one windmill on top.
The Plague
After the Great Plague of 1665, Bunhill Fields became the main burial ground for nonconformists in London. Nonconformists were people who did not belong to the Church of England. They were often persecuted for their beliefs, and Bunhill Fields was a place where they could be buried without fear of discrimination.
Old Ground and New Ground
The cemetery is divided into two sections: the Old Ground and the New Ground. The Old Ground was used for burials from 1665 to 1780, and the New Ground was used for burials from 1780 to 1854. Visitors can walk along a path between. Most of the surviving marked burials are behind railings.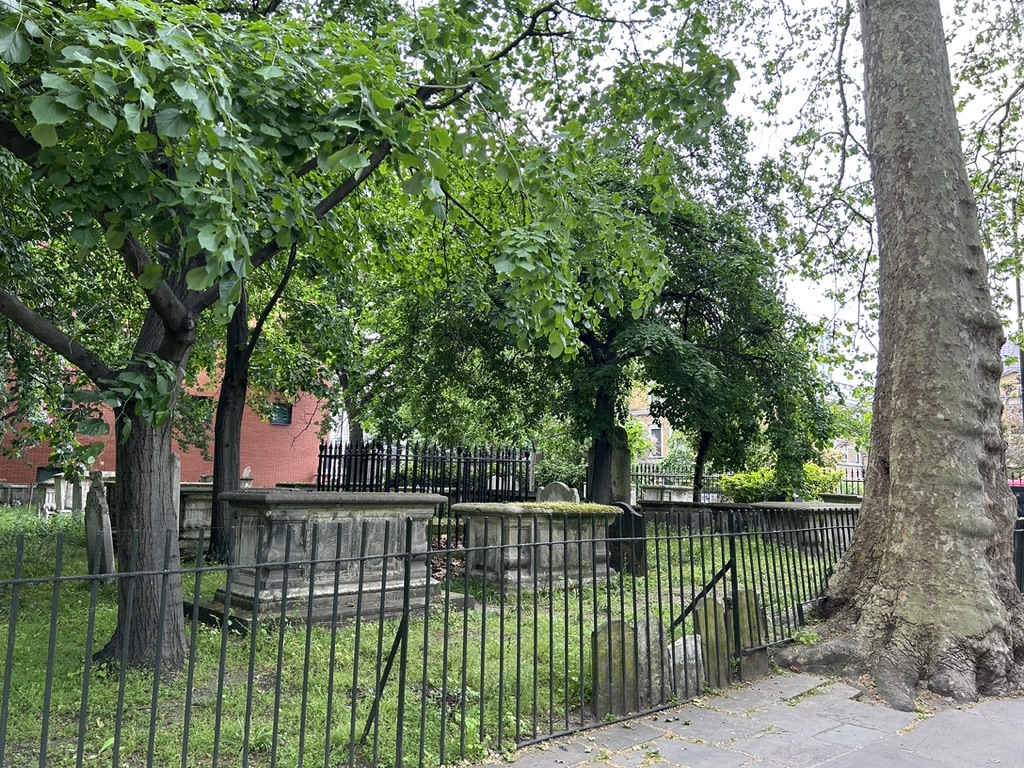 A Public Open Space
By the time it was closed for burials in 1854, around 123,000 people had been interred.
An Act of Parliament in 1867 preserved Bunhill Fields as an 'Open Space' and the City of London Corporation has maintained this place for the public to enjoy ever since. Improvements carried out in the 1860s included the planting of trees, and ornamental shrubs, and the erecting of the present ornate gates, granite piers and railings which still stand on City Road.
After the world wars, the burial ground was redesigned by Bridgewater and Shepheard landscape architects. Peter Shepheard was one of the leading landscape architects of his time. He designed the Garden of Rest; the layout of this can still be seen. Today the burial ground is maintained in line with the 2006 Conservation Management Plan to conserve the essential character of Bunhill Fields as a tranquil historic landscape.
In 2011, Bunhill Fields was designated as a Grade I listed cemetery, affording it special protection. In addition to this, 75 individual monuments are also Grade II listed, and Bunyan and Defoe's memorials are Grade II* listed.
Notable Burials
Bunhill Fields is home to the graves of many notable figures, including:
John Bunyan (1628–1688): Bunyan was a Puritan preacher and author who wrote the classic Christian allegory, Pilgrim's Progress. He spent 12 years in prison after the Restoration of King Charles II for refusing to give up his preaching. His impressive tomb includes an effigy of him by the sculptor Edgar George Papworth. It was created after a public appeal in 1862.
Daniel Defoe (1660–1731): Defoe was a writer and journalist who is best known for his novel Robinson Crusoe.

William Blake (1757–1827): Blake was a poet, painter, and printmaker who is considered one of the most important figures in English Romanticism. The graveyard suffered bomb damage during World War Two and headstones were moved around when the gardens were laid out in the 1960s. They therefore did not know where Blake was exactly buried and a headstone was erected 'near' the spot. Since then, the exact location has been found and a new gravestone was erected in 2018 but I couldn't see where.

John Wesley (1703–1791): Wesley was a Methodist preacher who founded the Methodist movement.
There are also numerous relatives of Oliver Cromwell.
One of the stranger memorials is to Dame Mary Page, wife of the director of the British East India Company and Member of Parliament, Sir Gregory Page. Inscribed on one side is:
Here lyes Dame Mary Page,
relict [widow] of Sir Gregory Page Bart.
She departed this life March 4 1728
in the 56th year of her age.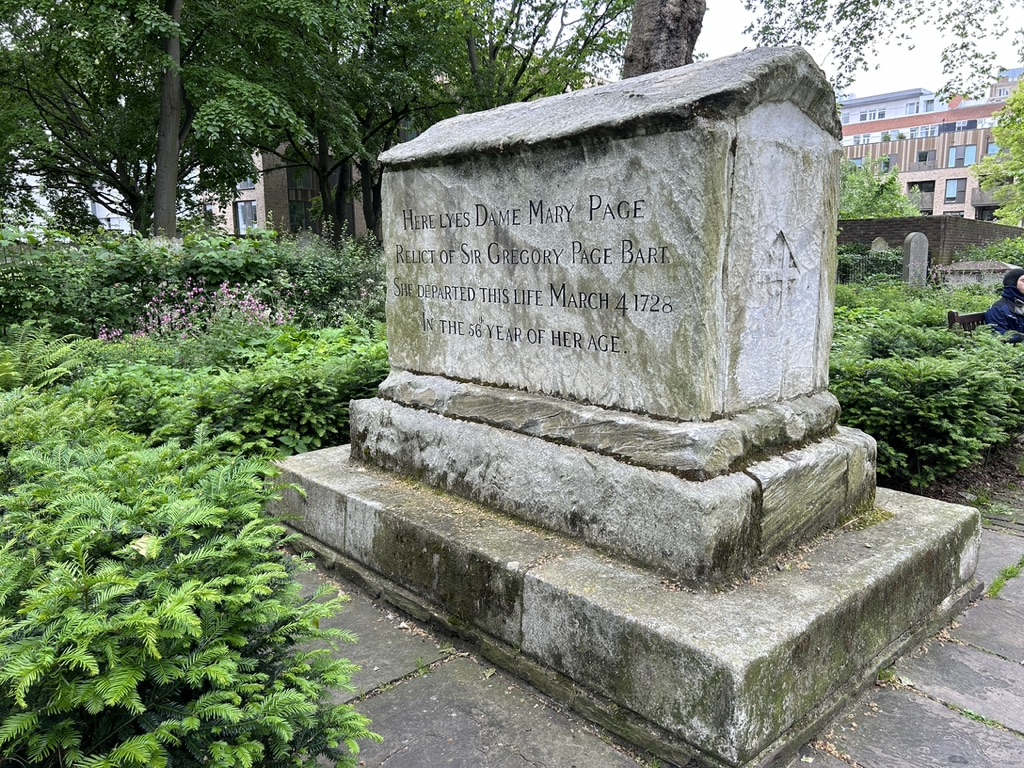 And on the other side:
In 67 months she was tap'd 66 times.
Had taken away 240 gallons of water
without ever repining at her case
or ever fearing the operation.
It is believed the poor lady suffered from dropsy (oedema), or Meigs' syndrome, both conditions causing an excess of fluid.
Visiting Bunhill Fields
A place of history, religion and culture, Bunhill Fields is a fascinating place to visit. It is open to the public from 8 am to 7 pm on weekdays and 9.30 am to 7 pm on weekends and bank holidays. It is open all year round.
There is no admission charge and the benches can be popular at lunchtime with local workers bringing their sandwiches.
Location
The cemetery is located in the City of London, on the corner of Bunhill Row and City Road, EC1. The nearest tube stations are Moorgate and Old Street.
Official Website
www.cityoflondon.gov.uk/things-to-do/city-gardens/find-a-garden/bunhill-fields-burial-ground