Have you seen this metal sculpture outside Pimlico station? It's Grade II listed and was designed by Eduardo Paolozzi in the 1980s. But what is it?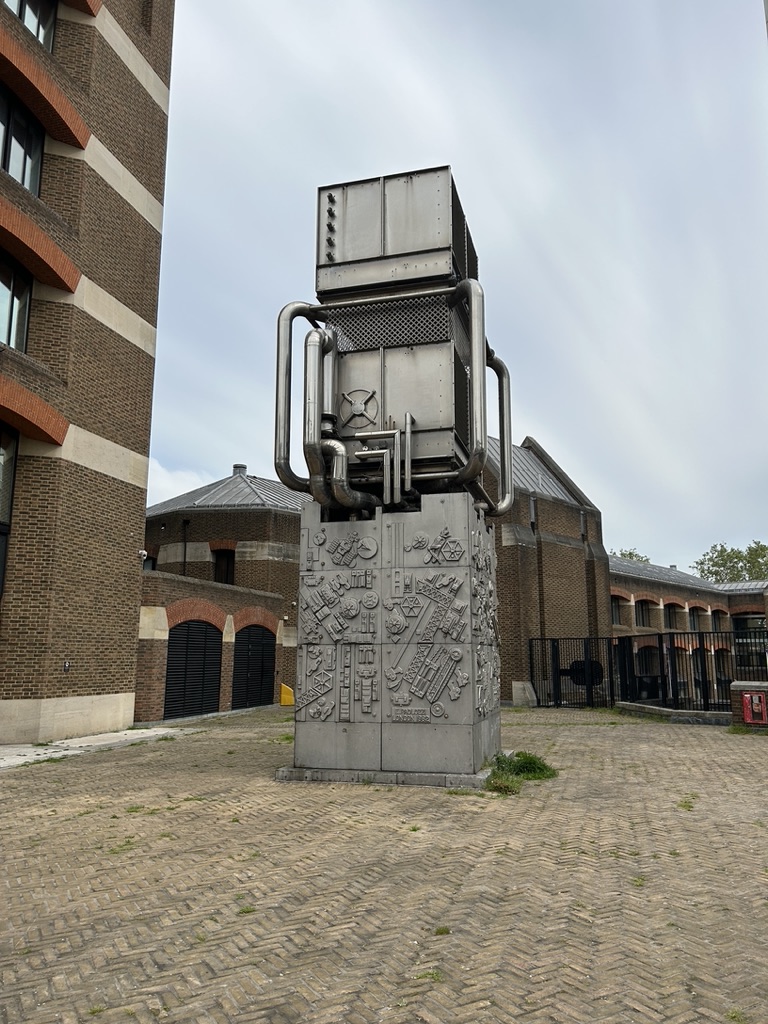 Many are mistaken in thinking it's a ventilation shaft for the London Underground. But they are close as it is a ventilation shaft cover but is for an underground car park.
Grade II Listed
This cast metal, functional structure is an impressive piece of industrial art. It has been listed because of its "high artistic and aesthetic quality, high tech in spirit with exposed and celebrated mechanical features and an anthropomorphic robotic quality." Grade II listed means that it is considered to be of special architectural or historic interest.
The Commission
Paolozzi was asked to create the ventilation shaft cover by the commercial developer who constructed the buildings on either side. Whitfield Partners worked on these buildings between 1976 and 1983 and the commission came through them for The Crown Estate.
The sculpture was designed and produced between 1978 to 1982 and was cast by the Robert Taylor Foundry in Larbert, Scotland. It is cast steel panels and stainless steel on a thin cast steel plinth.
The ventilation shaft cover was installed in 1982.
What Does It Look Like?
Paolozzi was fascinated by the relationship between man and machine, and the metamorphosis of what some consider junk into new aesthetic forms.
The square sculpture is 12 meters tall and is made up of 12 panels, each decorated with a different motif. The four sides of panels are about 4 metres high. The metallic relief designs include parts from machinery, aircraft, mechanical diggers, cogs, insects, fish, clocks and geometric shapes in a variety of sizes.
Above the panels are two tanks separated by latticed panels. Steel pipes are on the corners of the lower tank with more pipes of varying diameters too. If you think it looks like a robot, you wouldn't be the first to say it.
It is another reminder of the importance of public art in our cities.
Location
The sculpture is located in a public open space between nos. 1 and 2 Bessborough Street, Pimlico, SW1.
Paolozzi created numerous public sculptures in London as well as in Edinburgh and in Germany. In the piazza outside the British Library, you can see the 1995 'Newton (after Blake)' – Sir Eduardo Paolozzi's statue of Sir Isaac Newton (after William Blake). 'Head of Invention' (1989) is outside the Design Museum opposite the museum shop, and 'Piscator' (1980) is in front of Euston station. And there are the much-loved coloured mosaics at Tottenham Court Road Tube station.
About Eduardo Paolozzi
Sir Eduardo Paolozzi (1924-2005) was one of the foremost artists working in Britain during the second half of the twentieth century.
Born in 1924 in Leith near Edinburgh, his Italian parents owned an ice cream shop. Paolozzi's initial art inspiration came from cigarette cards handed to him by customers of the family shop. His love of machinery was inspired by the stainless steel blades that whipped the ice cream. As a child, he drew pictures of film stars and street scenes, and, aged nineteen, he used this portfolio to gain a place at the Edinburgh College of Art.
After the war, he went to St. Martin's School of Art in London and the Slade. In 1947, armed with £75 from his graduation show, he moved to Paris and produced enigmatic, bronze sculptures reminiscent of those by Giacometti. He also created a series of Dada and surrealist-inspired collages in which magazine advertisements, science books, cartoons and machine parts are combined, thus anticipating the concerns of Pop Art.
In 1950, Paolozzi returned to London and was a significant member of the Independent Group; an artist collective considered to be the conceptual precursor to the British and American Pop Art movements. Back in London, he taught textile design at the Central School. (He did a lot of teaching: he was Professor of Ceramics in Cologne, Professor of Sculpture in Munich, a visiting lecturer at the Edinburgh College of Art and was at the Royal College of Art for almost thirty years.)
One of Britain's most prolific artists and sculptors of the twentieth century, Paolozzi was appointed a CBE in 1968 and elected a Royal Academician in 1979. In 1986, he was made Her Majesty's Sculptor in Ordinary for Scotland and he was knighted in 1989. Paolozzi died at the age of 81 in April 2005. Over 350 pieces including sculptures and artworks are in the Tate gallery collection.