Cutty Sark is the world's only surviving tea clipper and 2019 is her 150th anniversary. There are lots of events throughout the year so it seemed like the perfect time for a return visit.
About Cutty Sark
Cutty Sark reopened to the public in April 2012 after a 6-year renovation and conservation project. A tea clipper was a 19th-century sailing ship that was incredibly fast. She brought tea, opium, spices and other goods from the Far East to Europe.
Built in Scotland in 1869, Cutty Sark is a wooden ship with an iron frame. The hull is clad in Muntz metal as it was good at stopping barnacles.
Visitors to Cutty Sark can explore inside where the cargo was stored, on the main deck to admire the masts and rigging then underneath for a view of the elegant lines of her gleaming hull. How can we get underneath a ship? Well, she's been raised 3 metres as having her out of the water means there isn't pressure on the structure so she holds her shape plus we also get to see – and walk under – the impressive hull. And from the outside, the glass 'roof' over this area gives the impression of the ship being on water.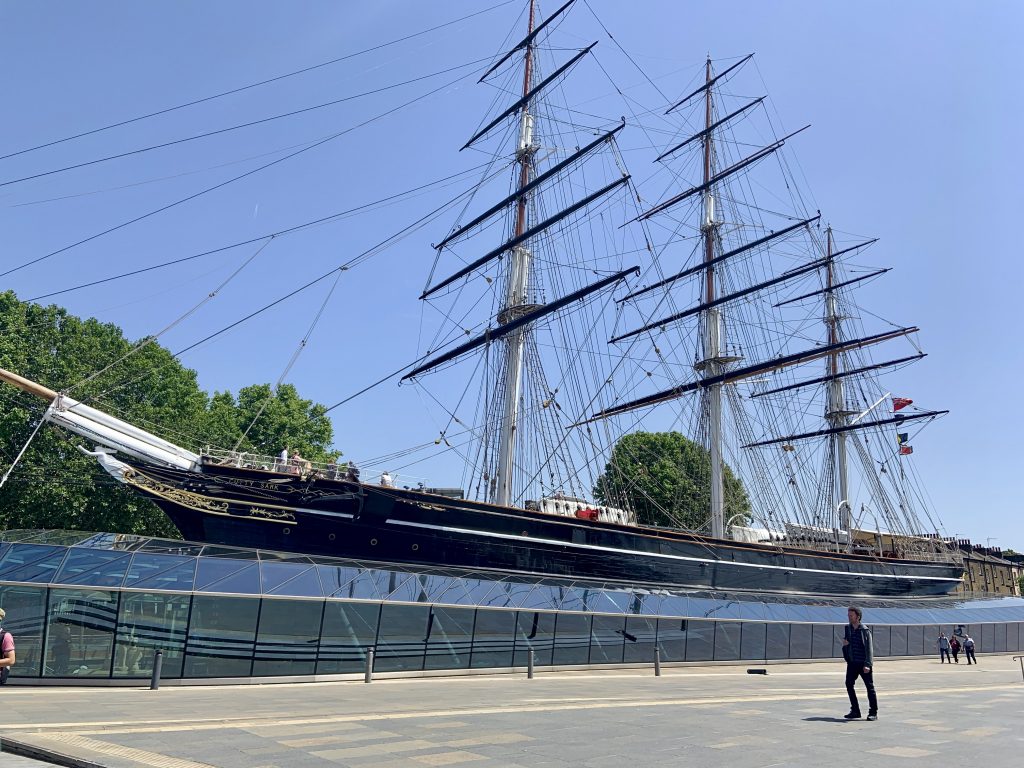 Lower Hold
Visitors start their exploring route at the Lower Hold with its amazing tea chest flooring. (The space in the Lower Hold and the Tween Deck above was used for cargo.)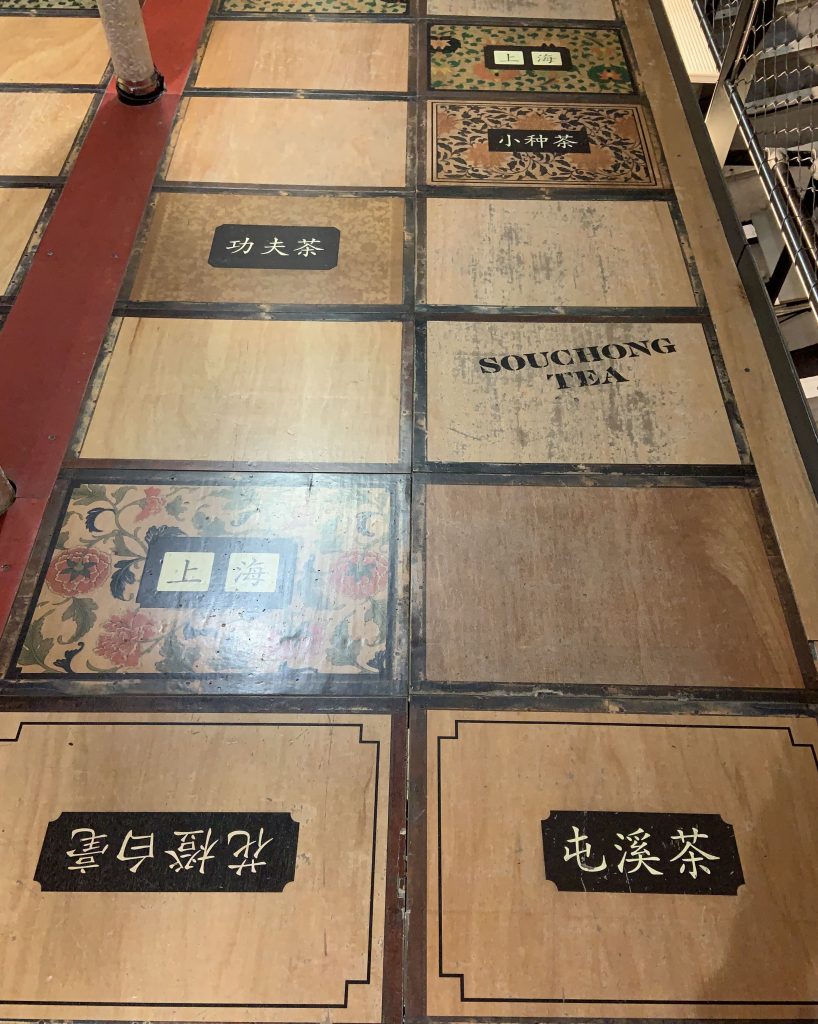 There's a plaque marking the spot where the 2007 fire started during conservation work. Thankfully, most of the wood had already been removed so what we can see today is 90% of the original wood and 100% of the original iron frame.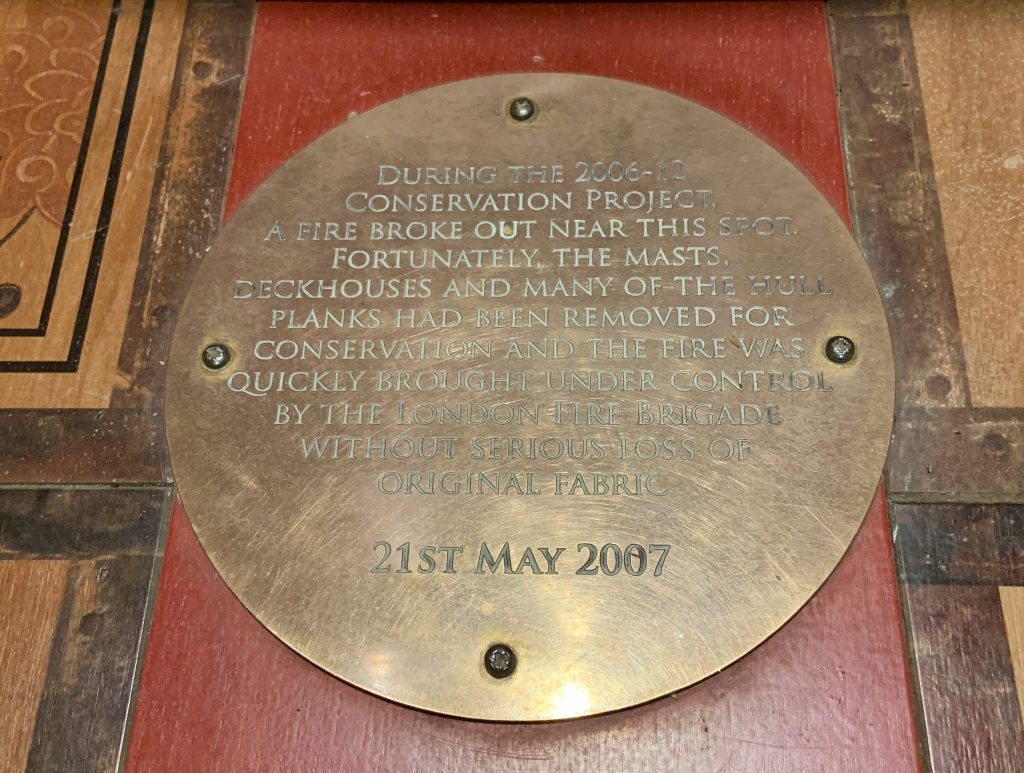 Cutty Sark was built for speed as ships were paid a premium if they were the first back. She travelled between London and China from 1870 to 1877.
While Cutty Sark was fast, she couldn't compete with the opening of the Suez Canal in 1869 which meant larger steamships could take a 'short cut' from the route sailing ships took to Asia around the southern edge of Africa. (It shortened the route by 3,000 miles!)
In 1877, Cutty Sark was the first ship to reach London with a tea cargo. But she was one of only nine ships that returned that year – in 1870 there had been 59. Steamships were now dominating the trade.
Tween Deck
If you are 6ft and above you may well bump your head in here. This was the deck where the cargo was stacked from floor to ceiling. Three tea chests high could fit in the gaps between the iron 'ribs'.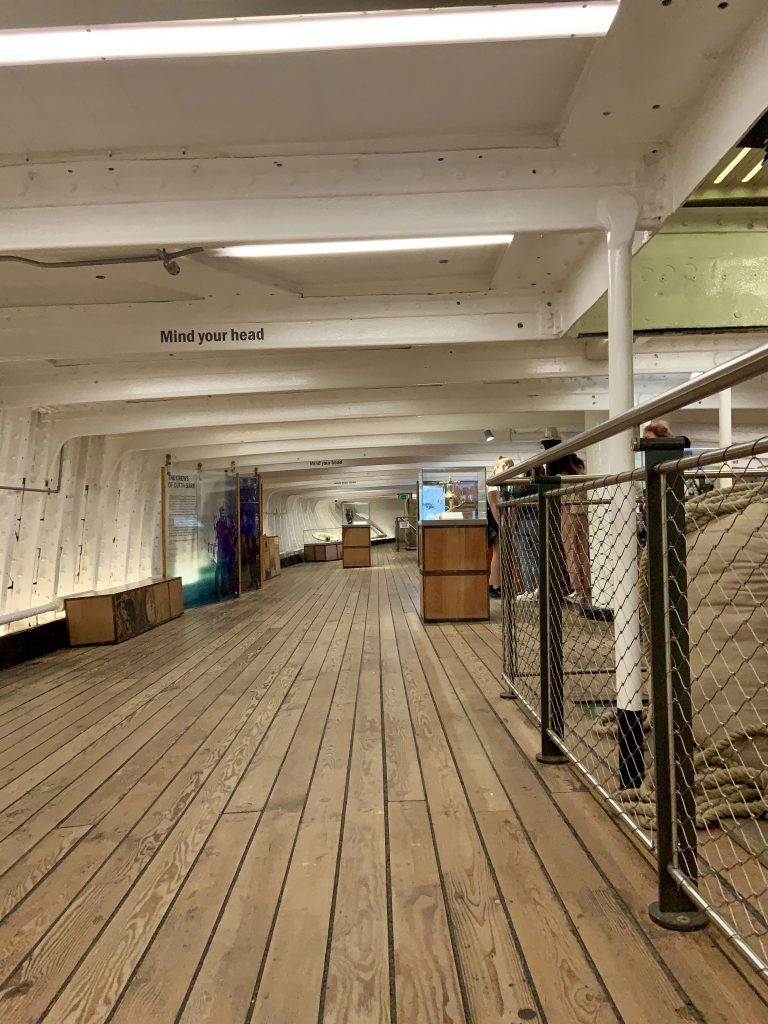 Do sit on the wobbly seats to imagine being at sea, and there are lots of interactives.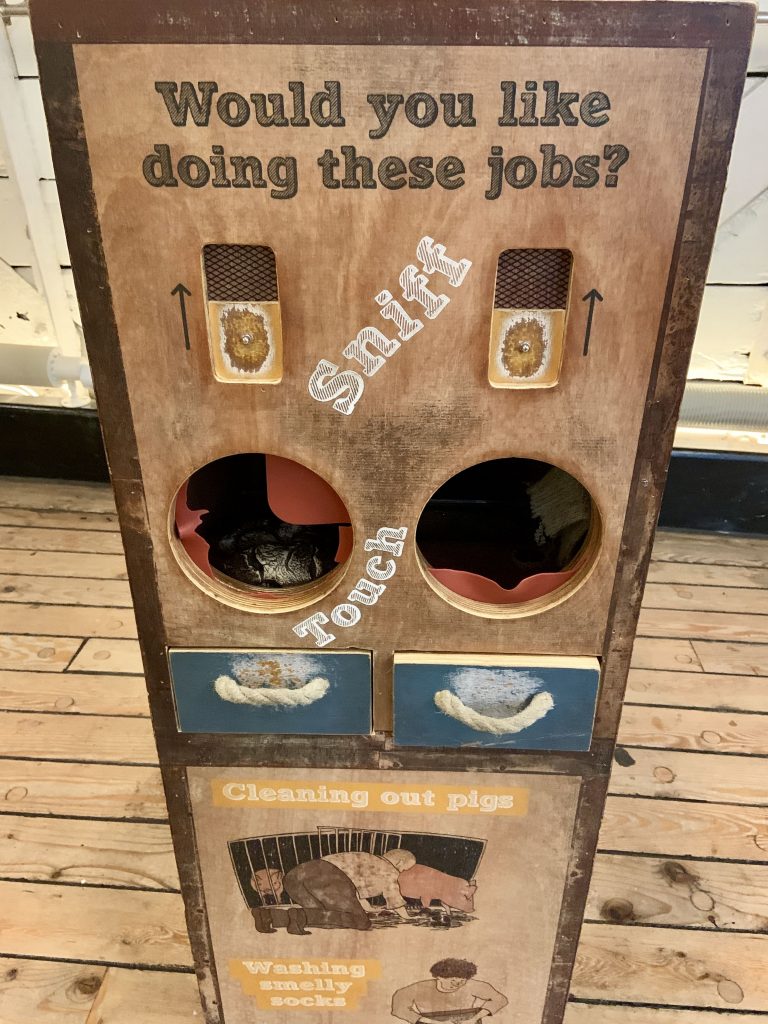 In 1895, Cutty Sark was sold to a Portuguese company and renamed Ferreira. A crew member, who apparently wasn't happy about this, stole the ship's bell around 1903. The Captain at the time did what any other would do and stole a bell from another ship, the Shakespeare. The stolen bell was used until 1922.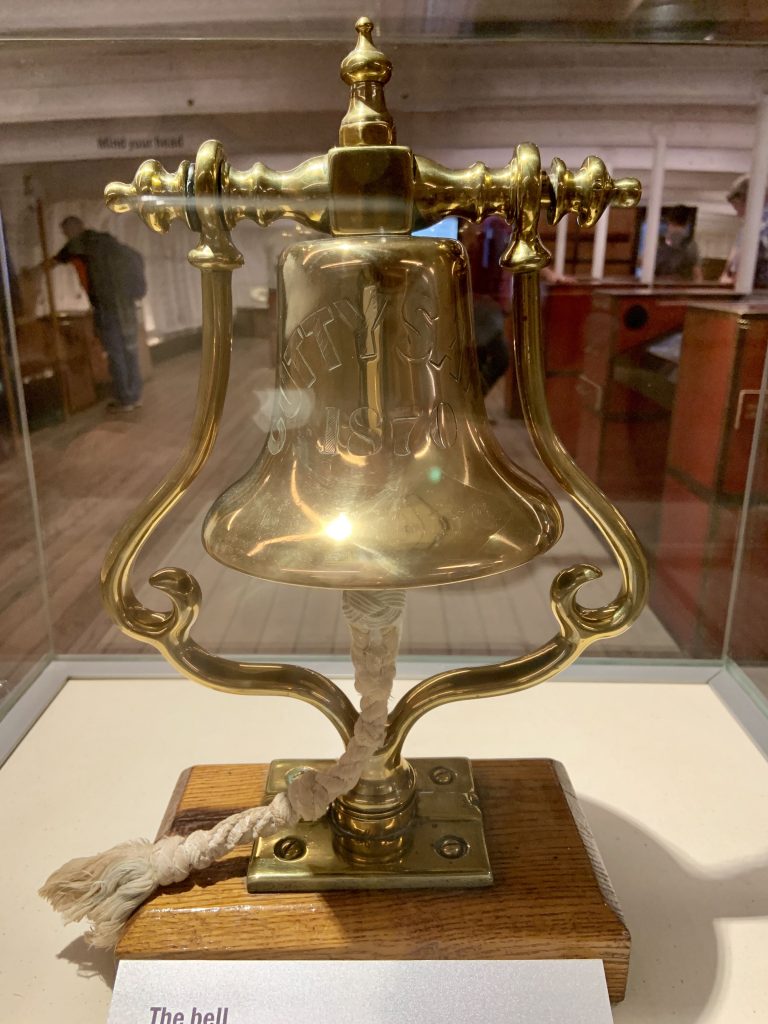 Main Deck
Do go to the front for photo opportunities with the steering wheel. As it is so huge, we were told there were often two sailors steering together, standing on each side rather than behind.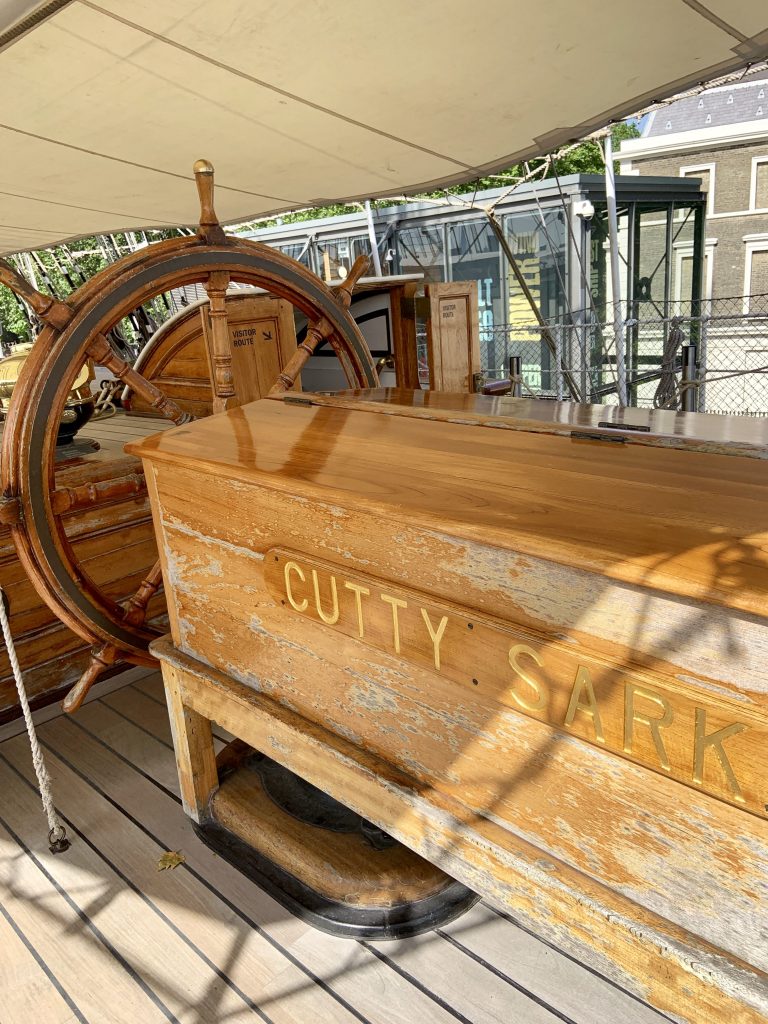 You can look into cabins…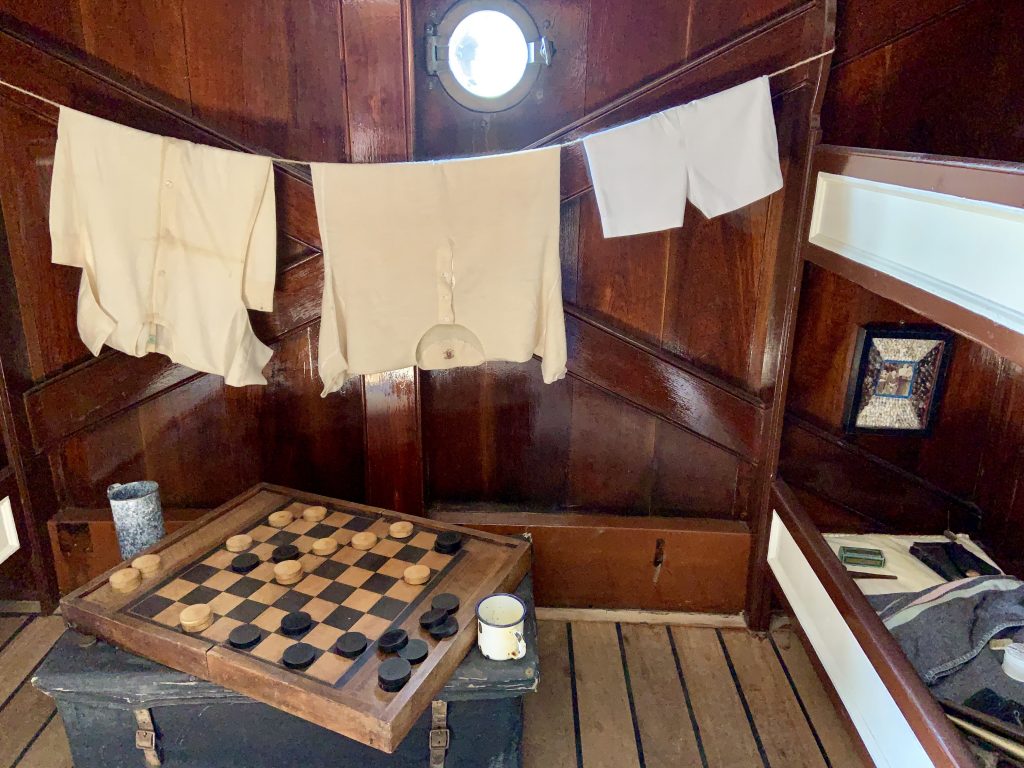 …and, generally, stroll around to explore. I noticed the bilge pump is huge and discovered that all wooden ships leak and it could take 12 hours to get all the water out. I also found out live chickens and live pigs were taken on journeys and kept at opposite ends of this deck.
To exit, you cross a bridge and go down the stairs, or use the lift to reach the lower level.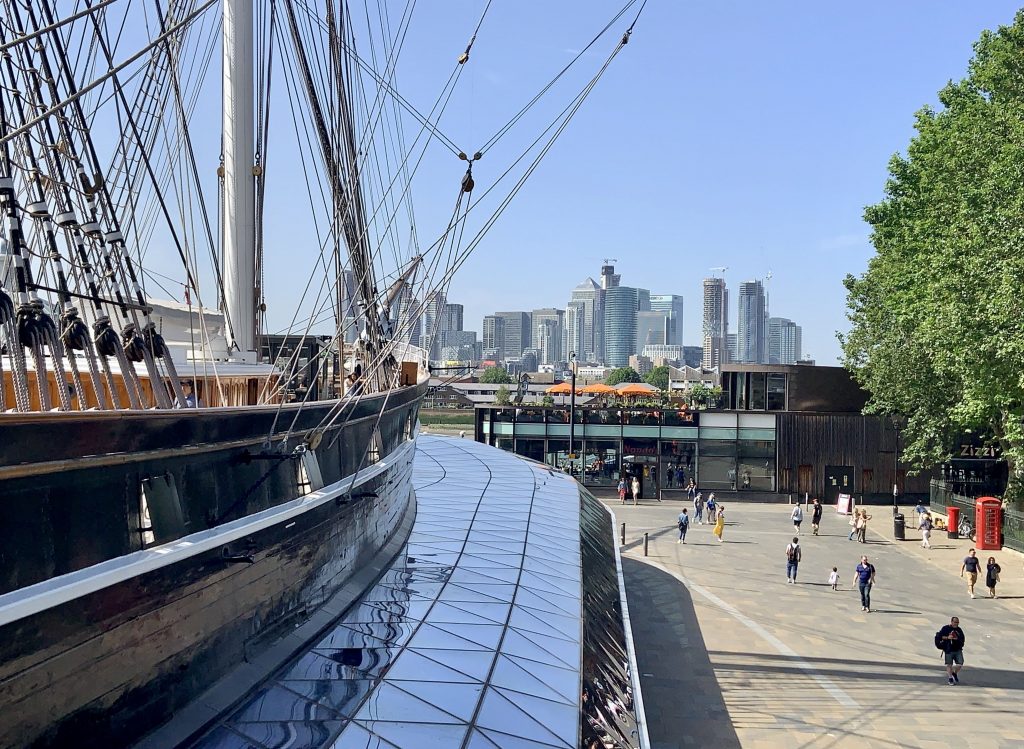 Sammy Ofer Gallery
This is underneath the ship and there's a huge wow factor as you can look up from under the shining metal-clad hull.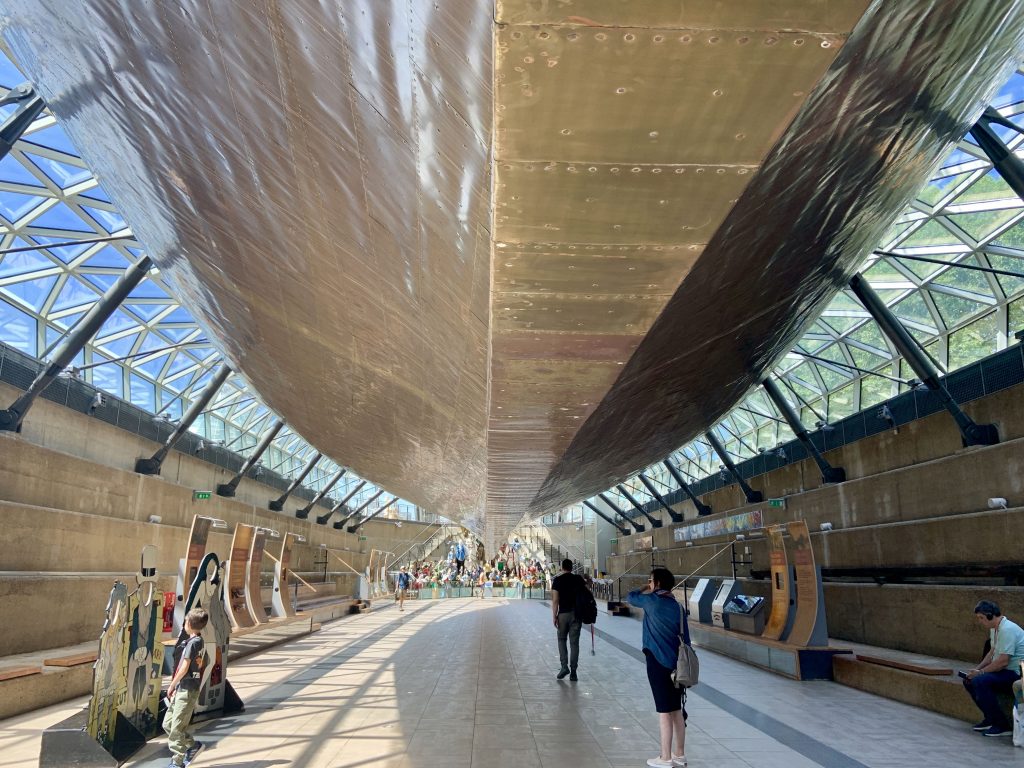 In 1922, Ferreira was the last clipper operating anywhere in the world. Caught in a storm in the English Channel she put into Falmouth harbour where she was spotted by retired merchant navy captain Wilfred Dowman. He recognised her as Cutty Sark and paid ten times her worth to get her.
She was then used as a training ship for naval ships and there is a large commemorative plaque here to remember all of the seamen who lost their lives in the world wars.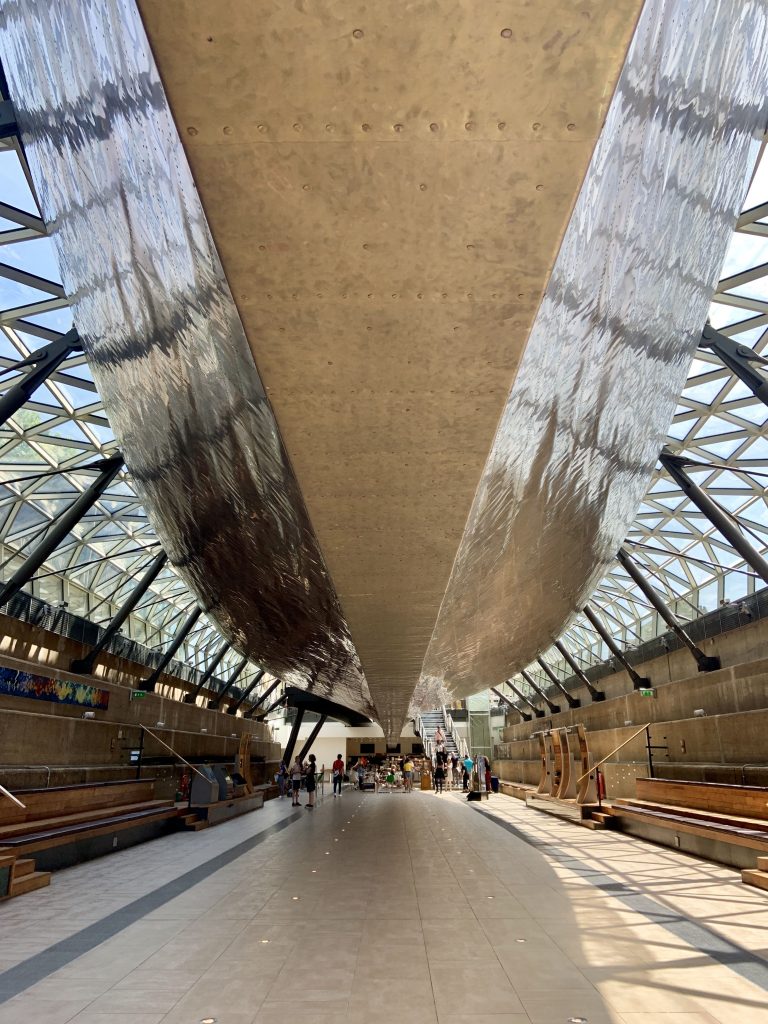 At the far end of the gallery there is a wonderful collection of ship's figureheads including Nanny Dee*. She is holding a long great horsehair tail. Sailors were superstitious so they liked having a beautiful female figurehead.
* Tam O'Shanter is a poem by Robert Burns that depicts Ayr in Scotland in the late 18th century. Tam meets a group of witches as he rides drunkenly home. One stands out – Nannie – as she is young and beautiful. Nannie is wearing only a "cutty sark" – a short linen shift or shirt. The ship's figurehead is a representation of the witch Nannie Dee and is on display with a collection of over 80 others, all from merchant ships that were lost at sea. Nannie is holding a long, grey horsehair tail.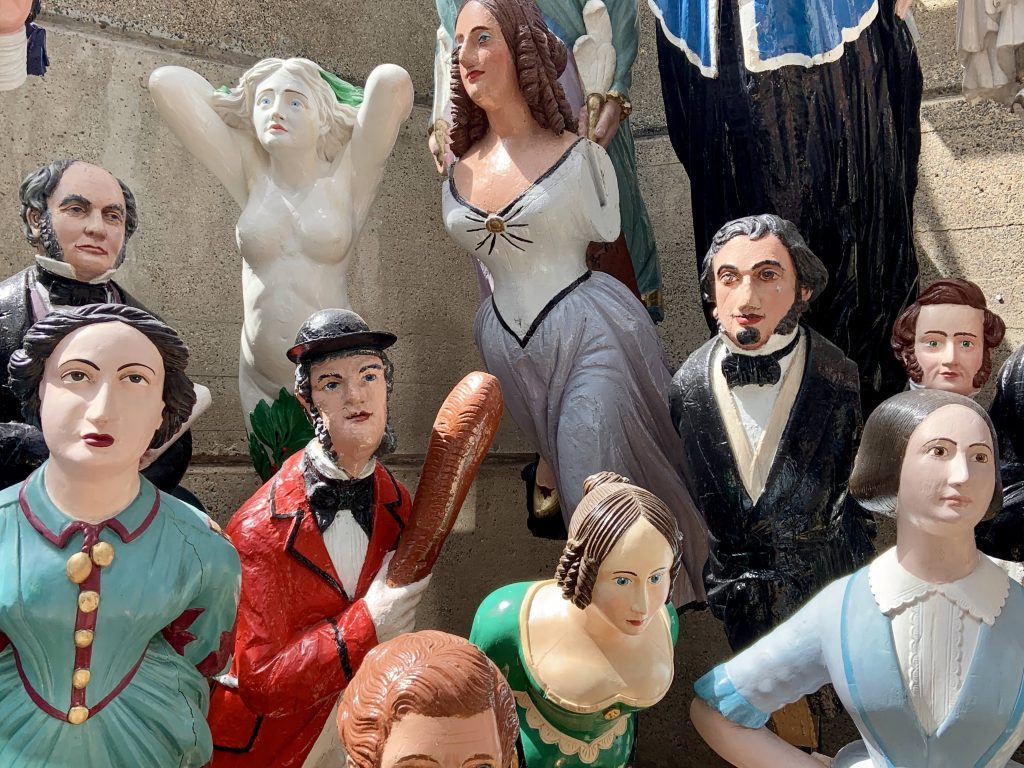 Afternoon Tea
You know my favourite meal of the day is afternoon tea so I couldn't resist partaking here in the lower level cafe. (Afternoon tea booking info.)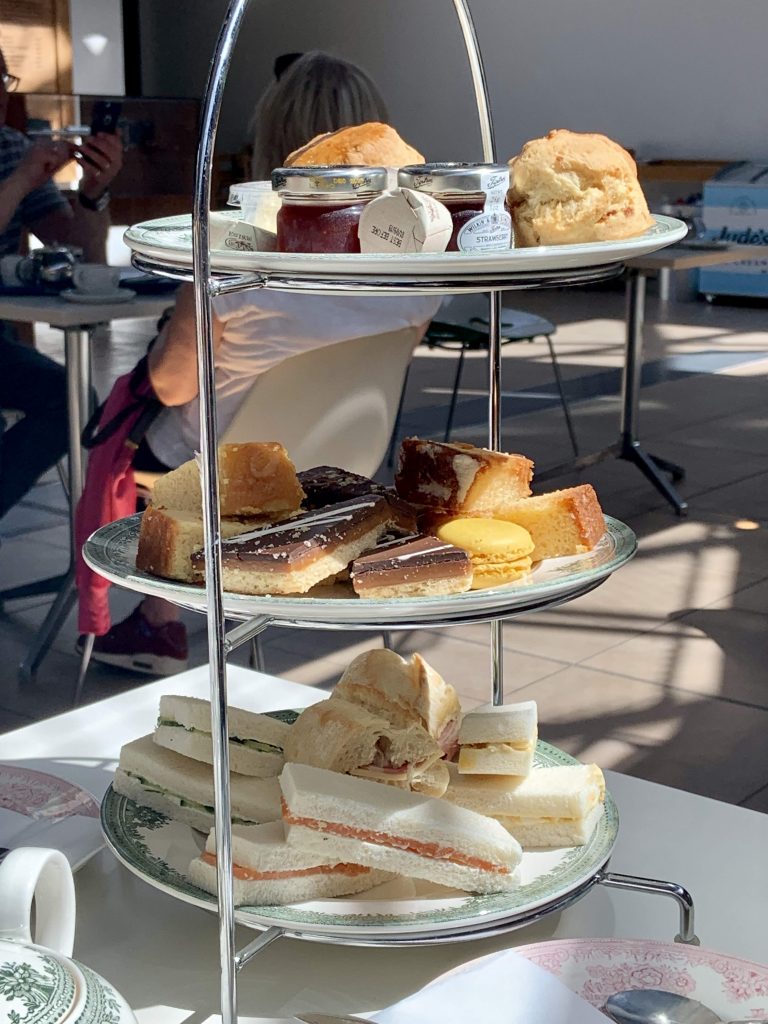 The crockery was very pretty.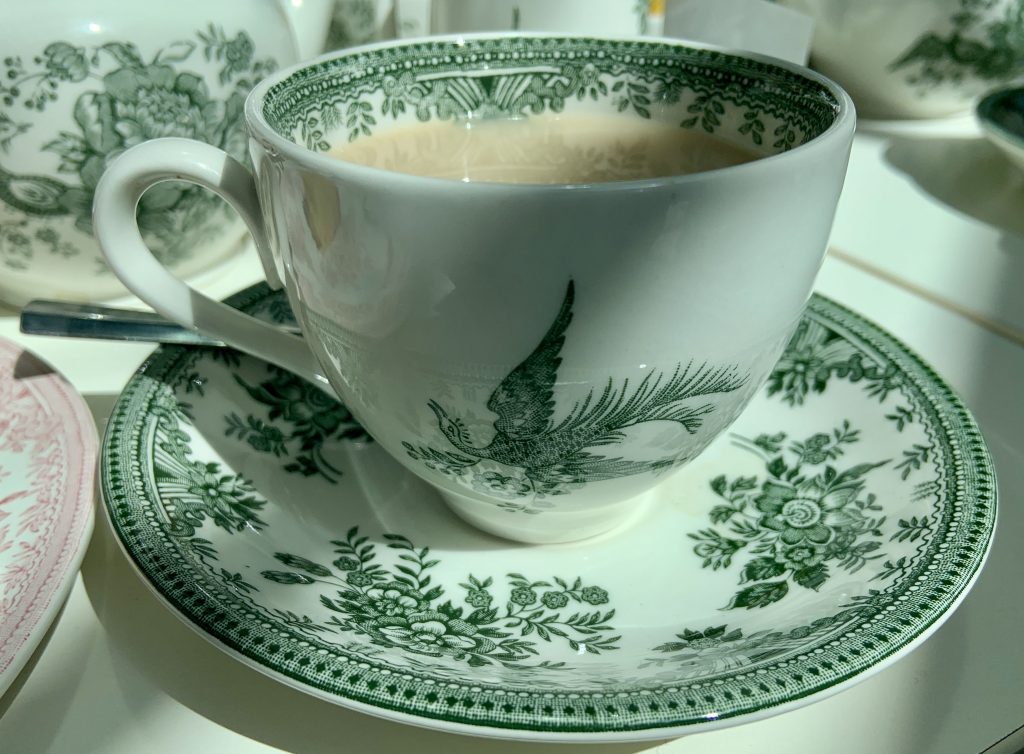 I didn't get to use this teapot but it is lovely and I spotted it in the Sammy Ofer Gallery.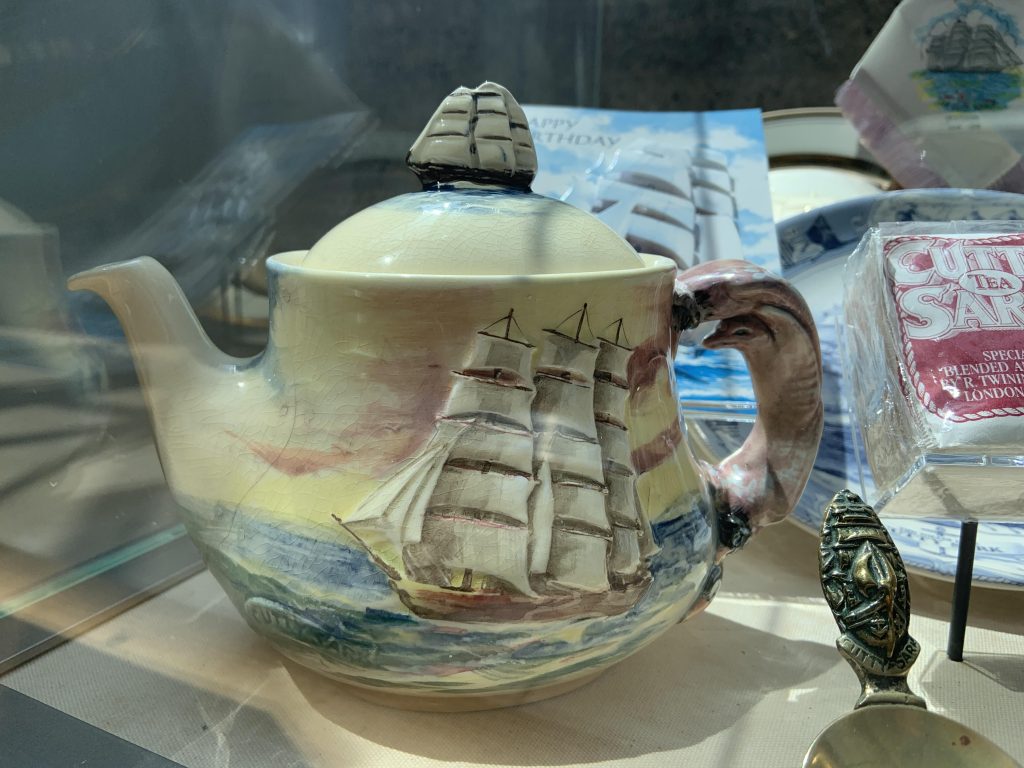 Cutty Sark 150
This award-winning visitor attraction started its 150th anniversary celebrations on 1 February 2019 as that date marks the anniversary of the signing of the contract to commence the build. She was launched on 22 November 1869 so there is a 'Cutty Sark Birthday Weekend' on 23-24 November 2019.
The ship's first official voyage was on 16 February 1870 so we can expect more celebrations into 2020. On its first voyage, Cutty Sark carried 'large amounts of wine, spirits and beer', and came back from Shanghai loaded with 1.3 million pounds of tea.
Throughout the year there are a number of special events including concerts, theatre and poetry performances relating to her impressive career, her Victorian maritime heritage and historic connections to the rest of the world.
Visitor Information
Address: King William Walk, Greenwich, London SE10 9HT
Nearest DLR Station: Cutty Sark (Yes, they named the station after her!)
Opening Hours: 10am to 5pm, seven days a week
Official Website: www.rmg.co.uk/cutty-sark
I enjoyed a free guided tour and you too can 'meet the characters' and find out more.
Disclaimer: As is common in the travel industry, the writer was provided with a complimentary ticket for review purposes. While it has not influenced this review, AboutLondonLaura.com believes in full disclosure of all potential conflicts of interest.