If you like your quality dining to come with entertainment you'll love The Murdér Express Jewel of The Empire. Journey back to 1937 and visit Pedley Street Station to board The Murdér Express train for a four course meal designed by Laurence Henry, MasterChef Professionals Winner 2018.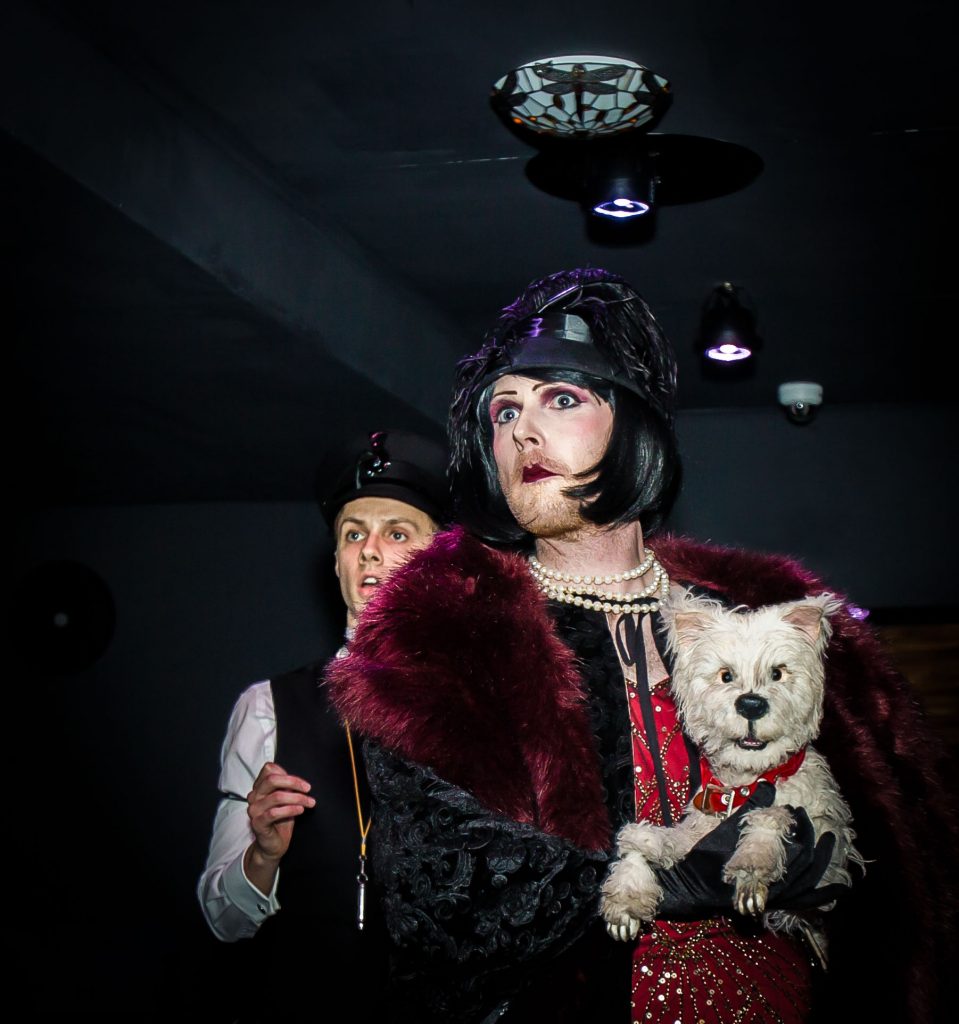 Pedley Street Station
This is an immersive theatre dining experience so I hope I won't be spoiling things for you by saying Pedley Street is not a real train station.
But when you step inside, you enter a quickly believable set so check your concerns with your coat and admire the Jewel of the Empire on display in the entrance hall.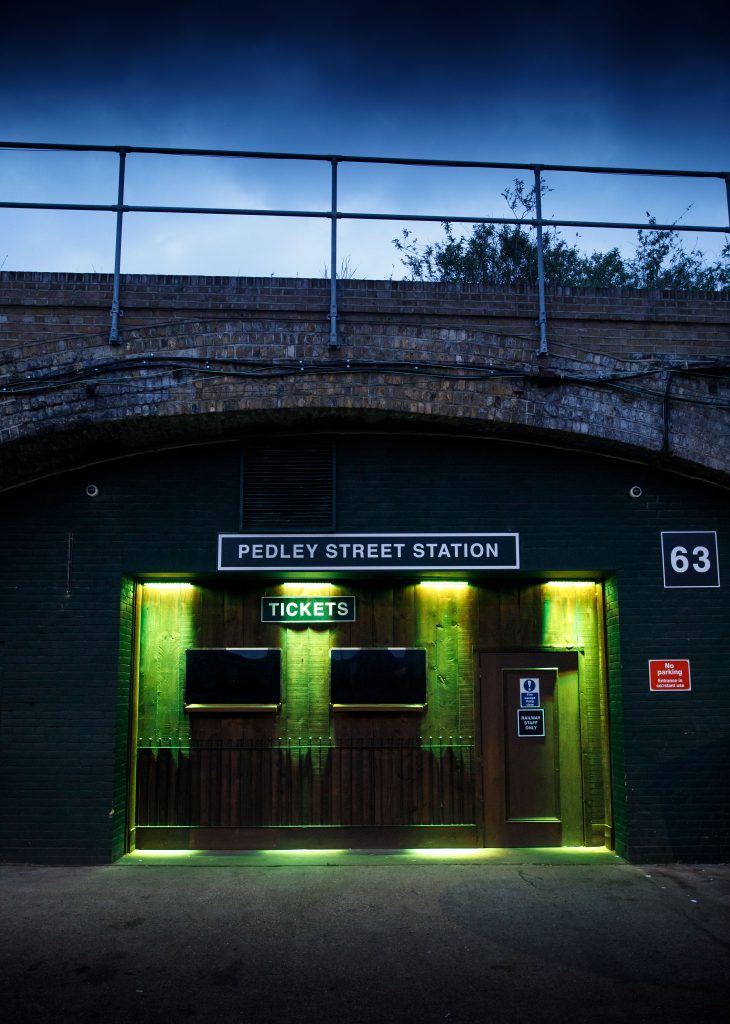 Jewel of the Empire
You'll soon discover this huge 'diamond' is the most valuable archaeological discovery since the Kohinoor in 1809. (The Kohinoor diamond is actually part of the British Crown Jewels and can be seen on Queen Victoria's crown at the Tower of London.)
The back story is that it is 1937 and the Jewel of the Empire has recently been found by Dr Errol Earhart on an excavation funded by one of Britain's wealthiest families, the Von Cleethorpes. The train journey is to take this priceless jewel from London to the family's French home. And on the journey, the jewel goes missing.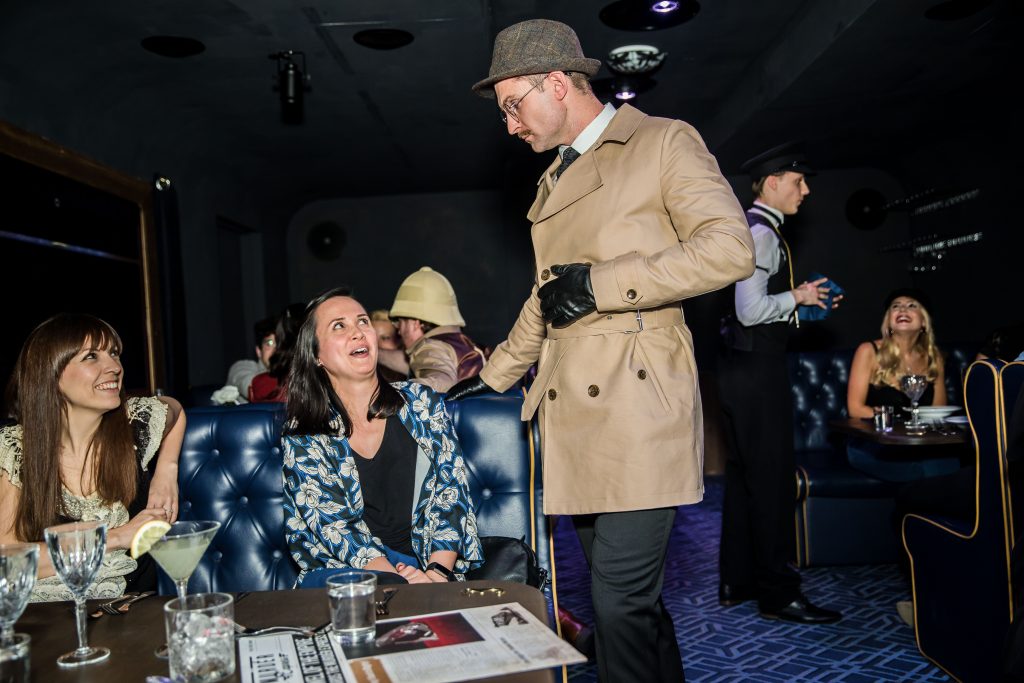 The Murdér Express
You'll note the accent over the 'e' and that's because the train is going to Murdér in France. Although it's definitely worth be aware of your first thought when you saw the name as a murder mystery may happen too.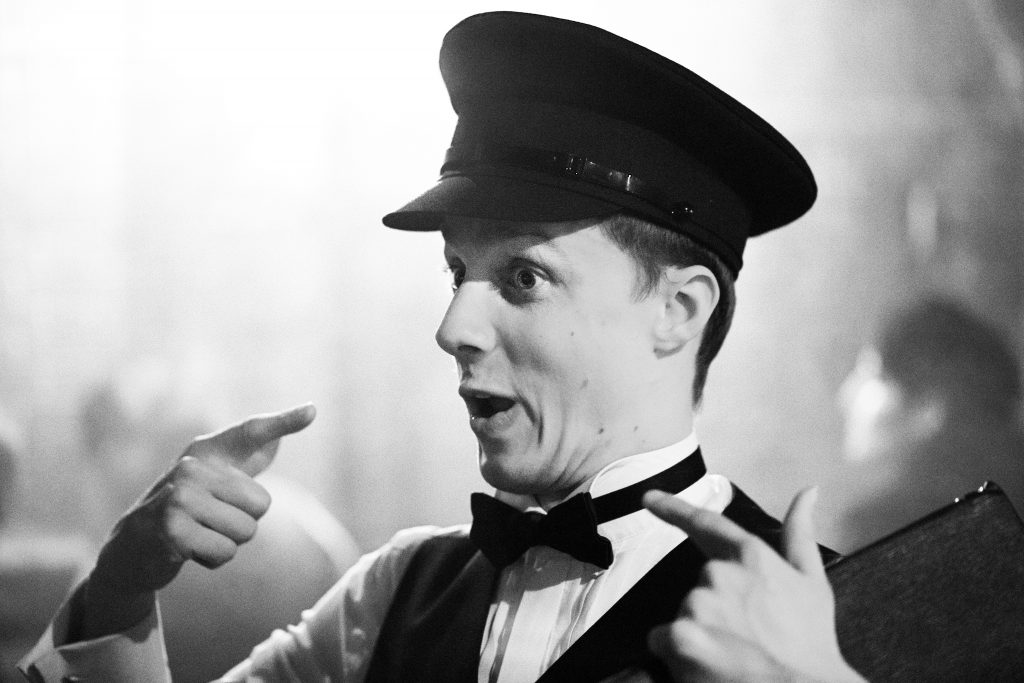 Funicular Productions
The production company behind this dining experience opened Pedley Street Station in May 2018. They create unique stories with delicious food.
After having London train delays and cancellations on our way to the meal, I'm grateful to say this train always runs on time as it is one I would not want to miss.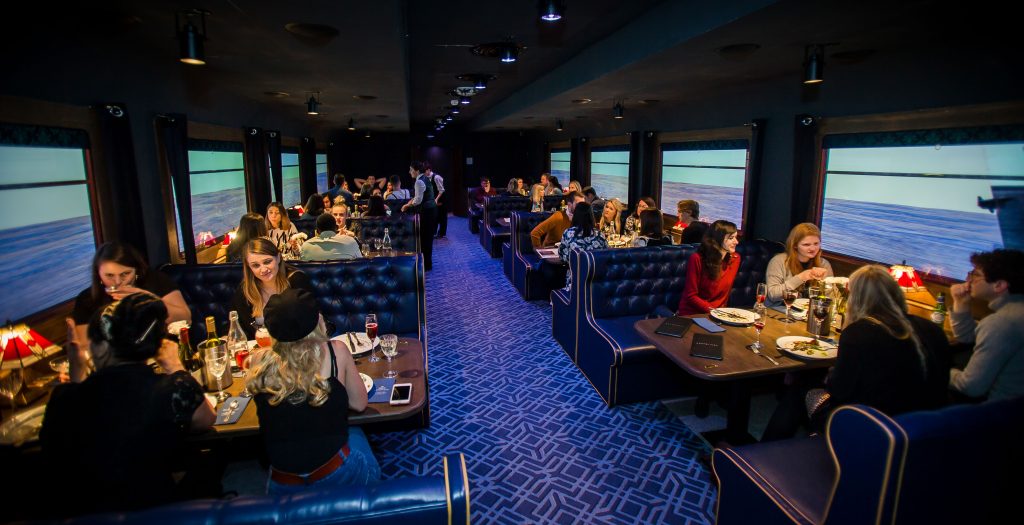 Upon Arrival
After checking in, you go to the station bar and mingle with others waiting to board. There are only a few seats which encouraged us to talk to new people.
While you order a drink at the bar you may be standing next to one of the actors – I did say this was immersive! The Train Conductor is also a Porter so is moving luggage around and then selling The Murdér Express newspaper. (You're pre-paid booking covers the meal but you pay for drinks and the newspaper, if wanted, on the day. Contactless payments were available for drinks. Drinks cost the same as in London bars.)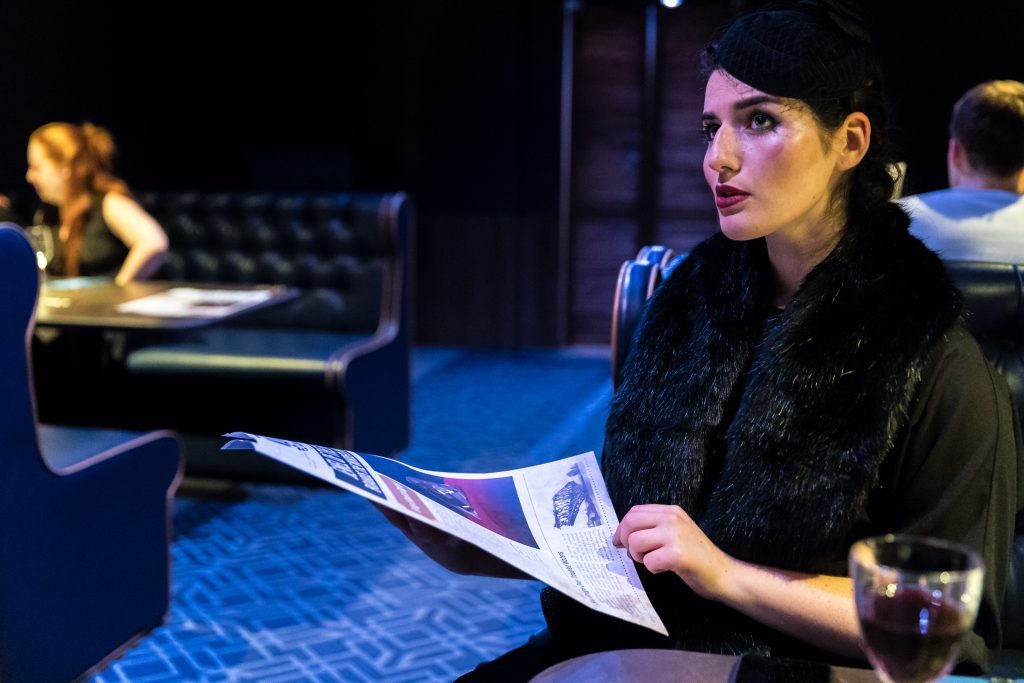 To Dress Up Or Not
I went to a weekend matinée so only a few dressed up but I understand more do in the evening. It's fine either way so if you want to go in period costume you can. Or if you prefer your jeans, that's OK too.
Two Hours
The dining experience is two hours long and that includes the time in the station bar. Enjoy your drink, talk to other guests, meet the story's characters, read the newspaper and take photos. There is no need to rush this time away as it's a helpful bridge between the outside world of Bethnal Green, east London, and the train carriage.
Once you board the train you can no longer take photos so do get some snaps in the bar beforehand.
Do note, you shouldn't arrive too early as there is nowhere to wait outside so aim for about 10 minutes before your start time. There is a local pub, The Carpenters Arms, under 10 minutes walk away and Brick Lane is close too.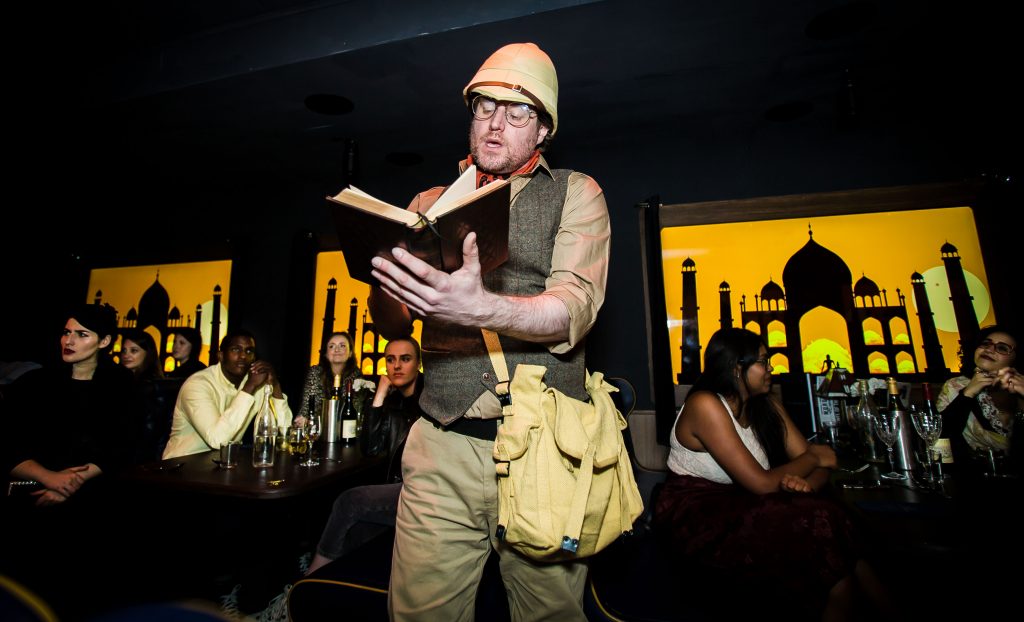 The Train
There are eight booths and it is suggested that these could each seat eight diners although I'd say you'd have to be good friends to dine like that. As I was there for a matinée we had more space so there were four in each booth. This extra space did leave room for the story's characters to join some tables so be prepared to get close to the theatrical action.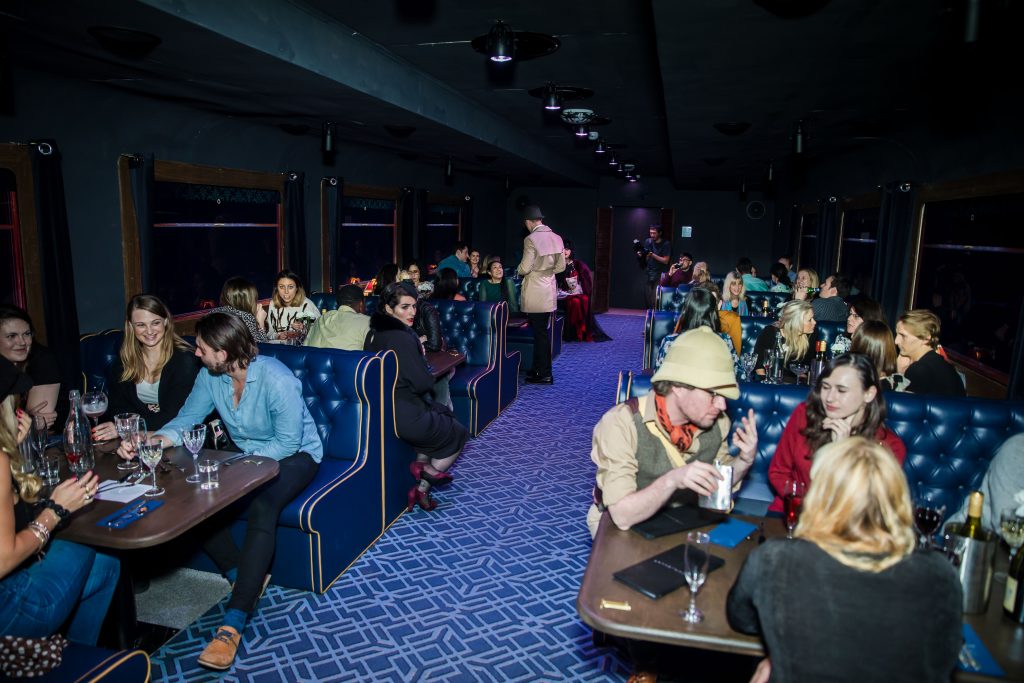 If you go as a couple you will sit with other guests but it's no concern as we met some really nice people on the day in the bar and on the train.
The booth seating is comfortable and there are large screens for windows. Everyone was impressed when the journey started and the countryside images scrolled past us.
The lighting is low and used well for dramatic effect.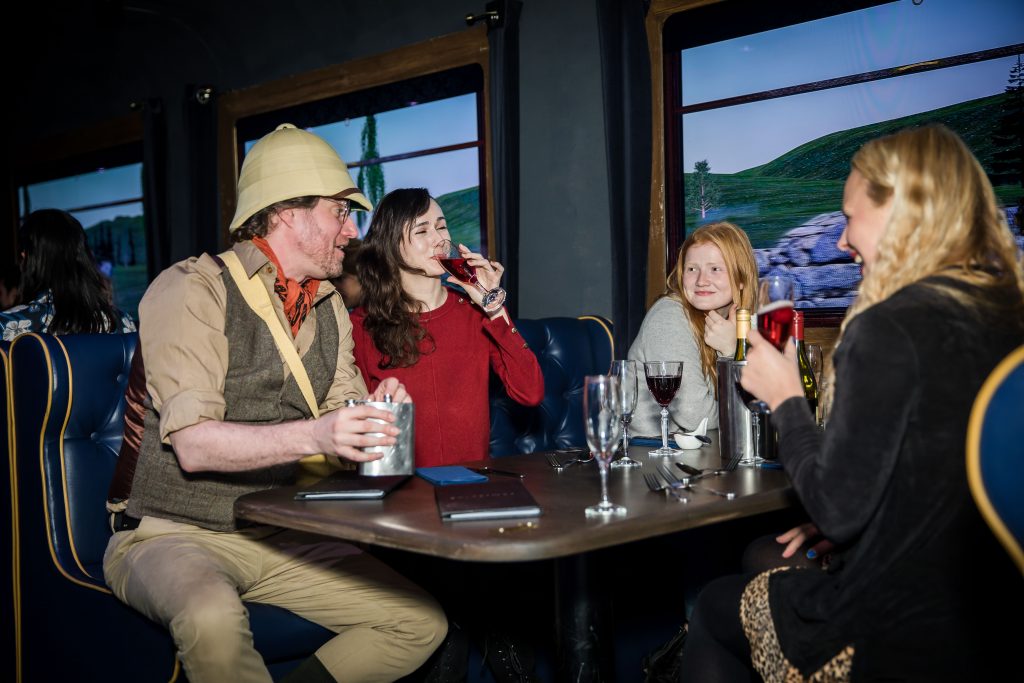 The Entertainment
The actors are wonderfully over the top and the story is funny and entertaining. "Her skin was as smooth as lard" made me giggle as an unusual comparison.
I took my 13 year old daughter so had a discussion before booking about the suitability for a young teen audience. I was advised there would be quite a few tongue-in-cheek sexual references and some mild swearing. As I expected, a lot of the sexual references had the grown-ups chuckling while my daughter wasn't sure what we were sniggering at ('family jewels' for example). And the mild swearing was better than a trip on a bus during school run time so it's nothing to worry about. I was advised the experience would be best suited to over 15 year olds as it is, essentially, an adult event.
Between the courses, the story unfolds but, as you would hope, we were all sworn to secrecy so I can't give you details. I can say the actors were superb – the French detective reminded me of Peter Sellers in The Pink Panther although he didn't have as many mishaps.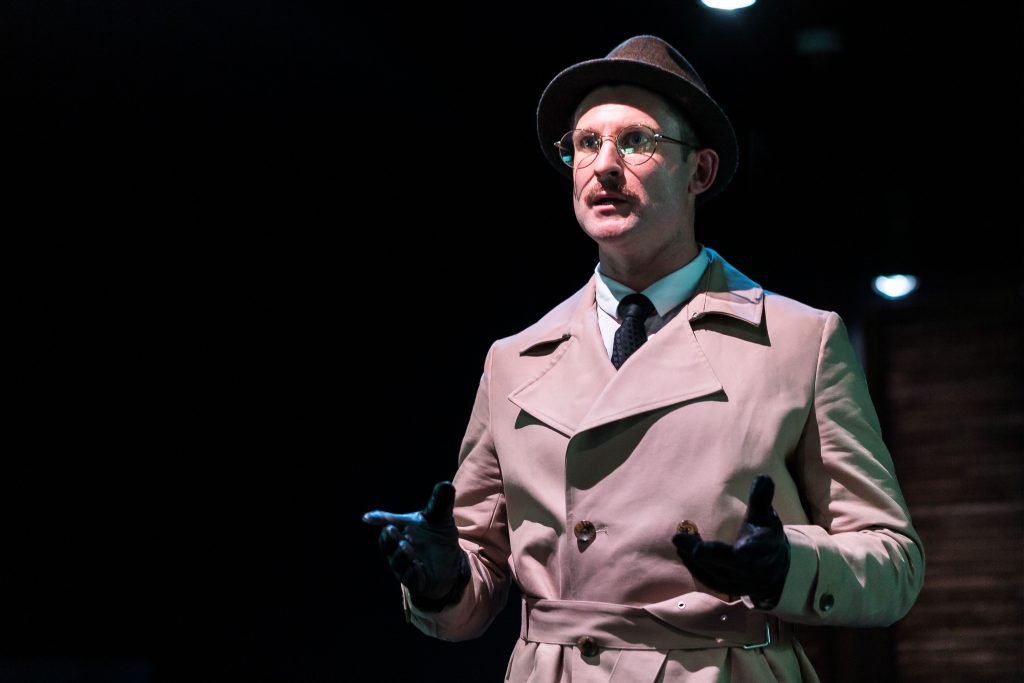 The Food
Considering we weren't sitting in a restaurant, what they created in the kitchen was incredibly impressive. The menu has been designed by BBC MasterChef Professionals Winner 2018 Laurence Henry and the food is both beautiful and delicious. It's a set menu but you can pre-order a vegan, vegetarian or gluten-free meal.
It was also substantial enough that we didn't need dinner afterwards so don't worry that you'll leave hungry.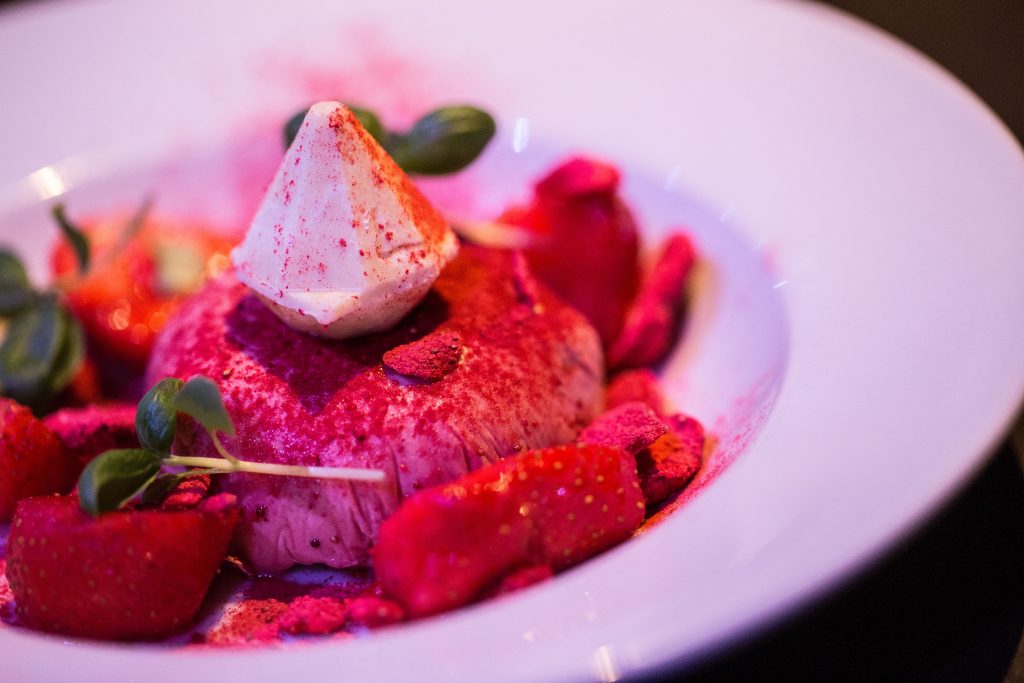 Special Occasions
This would be an excellent choice for a birthday or anniversary celebration. Some had clearly planned ahead as there were birthday announcements in the newspaper.
Time to Talk
The story came to a conclusion and we finished our meal with time to chat with others so nothing feels rushed.
As there's not a lot of time for talking during the meal, my daughter wanted to discuss every theory she had come up with during the event on who may have stolen the jewel. We all felt the food had been excellent and there was a lot of talk about coming back again. I'd definitely return as it was fun, entertaining and the food was amazing.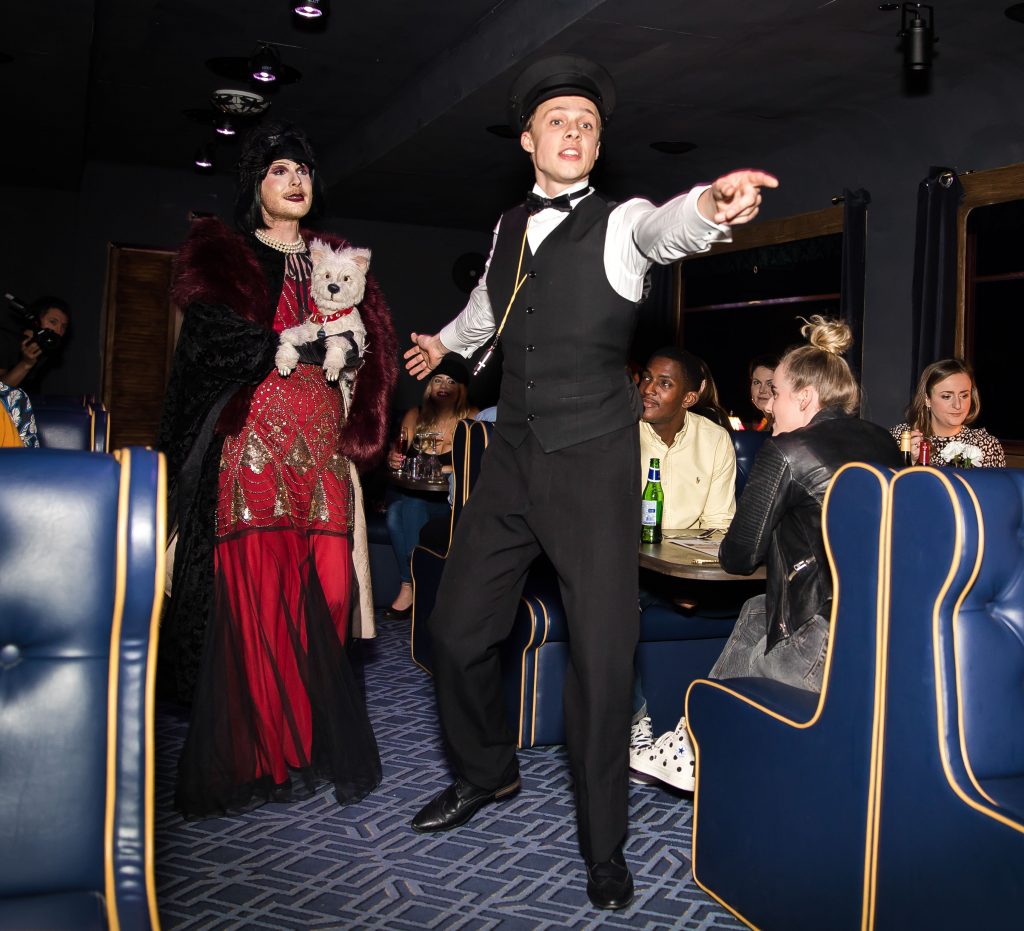 How to Book
The Murdér Express Jewel of The Empire is available from May to August 2019. Why only a few months? As there will be another dining experience from September so you have every reason to return.
Official Website: www.funicularproductions.com/jewel
Disclaimer: As is common in the travel industry, the writer was provided with complimentary tickets for review purposes. While it has not influenced this review, AboutLondonLaura.com believes in full disclosure of all potential conflicts of interest.