When I heard about this vegan afternoon tea being served in a five star Knightsbridge hotel I wondered how the quintessentially Engish tradition of afternoon tea could be suitable for vegans? Surely the creamy tastes can't be replicated? There was only one way to find out.
About Egerton House Hotel
Situated close to Harrods, The Egerton House Hotel is a five star family run boutique hotel that feels more like a homely private residence.
It's not a sprawling complex as there are just 28 guest rooms but the hotel offers impeccable service. The Drawing Room is perfect for indulging in afternoon tea.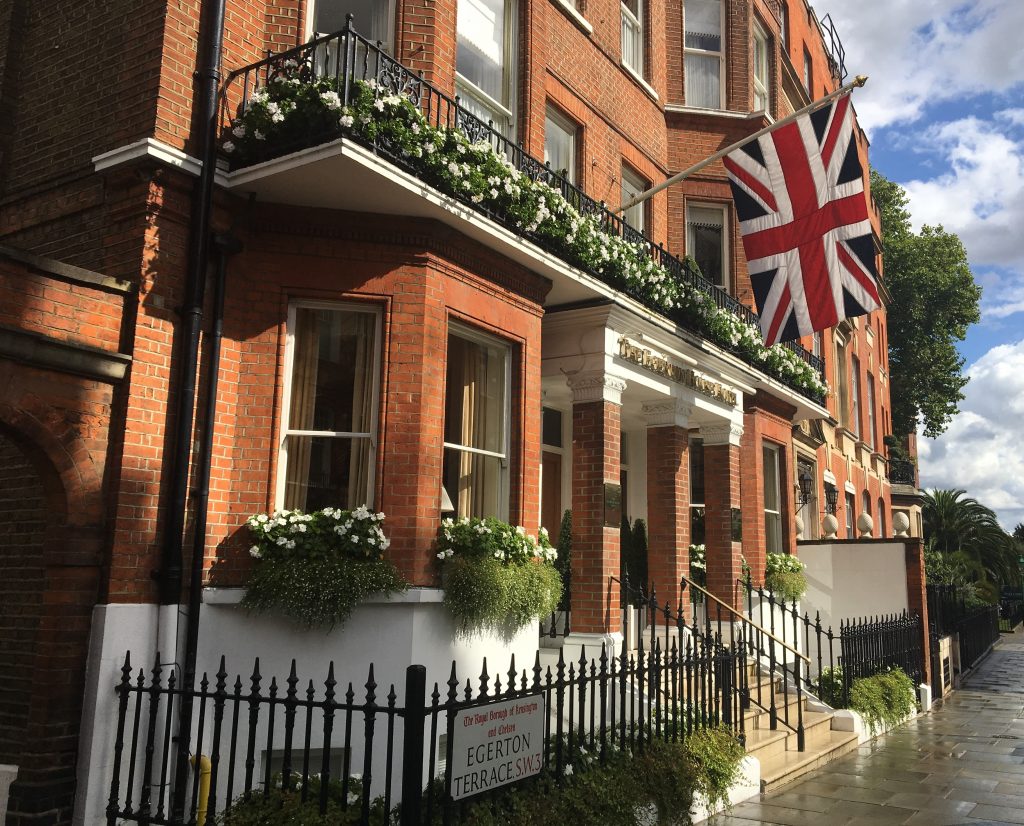 Vegan Afternoon Tea
Vegan means no meat, fish, eggs or dairy which could be a challenge for a vegan afternoon tea. While I know it can be quite easy to keep things vegetarian by removing the meat and fish from the sandwich options, the scones and cakes clearly present more of a quandary.
Impressively, the Egerton House Hotel has a full vegetarian afternoon tea and a gluten-free option, as well as this vegan afternoon tea – each featuring all the traditional sweet and savoury treats.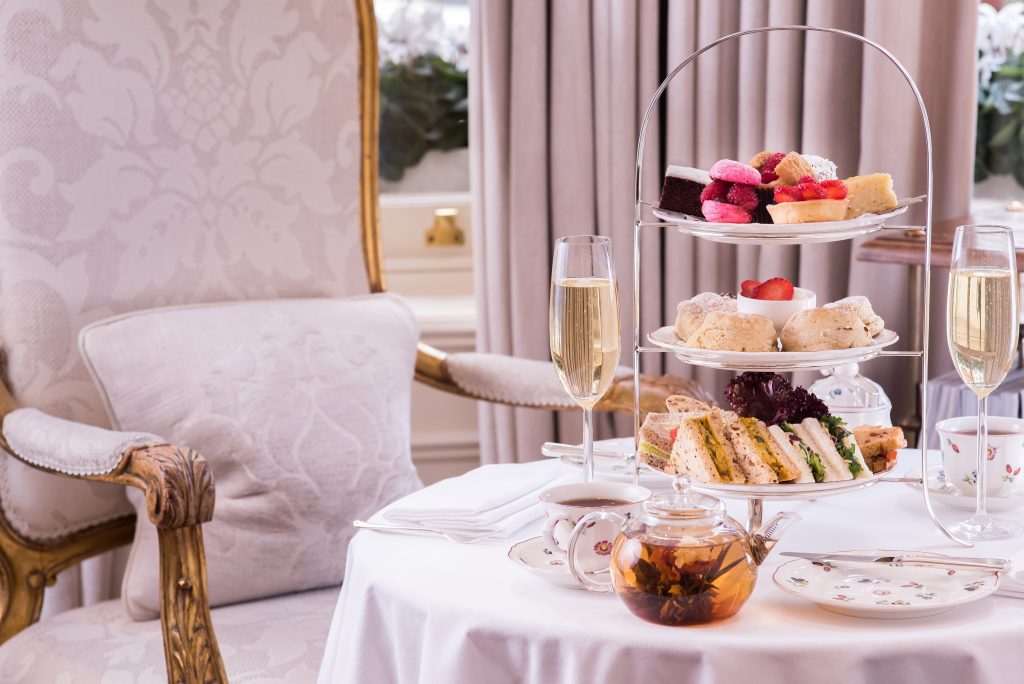 My Review
I've been enjoying afternoon tea in London, and writing about it too, for over ten years. I invited a friend to join me who had never had afternoon tea before and I wanted her to try it first at a recommended venue so she knew what others have to live up to. She was also a good choice to join me as she has been vegan and is a professional cake baker.
I had made a reservation so when we arrived our table was laid and ready for us. We were taken to our seats and shown the tea selection in the menu folder. I think there were six black teas, one white tea, two flowering teas and three herbal infusions.
From the start, it was clear that the staff here are chosen for their ability to be professionally friendly and welcoming. We were served by Tunde who was experienced at serving afternoon tea and was, therefore, able to make tea recommendations and answer our questions.
We took the recommendation for a black tea with the savoury course and then a flowering tea with the sweet treats. I'm not actually vegan (although I am vegetarian) but I decided to not have milk with my tea. Tunde recommended a slice of lemon with Earl Grey so I tried that and agree it works very well.
Tea is Jing loose leaf tea and is served in antique silver teapots. Tunde knew the brewing time, brought it to the table when ready and offered to pour for us. She did this on her serving tray and it was impressive to watch the tea ritual being performed. She had to take the teacup from the table, rest the silver tea strainer on the teacup then lift and pour the tea from the heavy (and hot) teapot all while on the tray. Yeah, that's not as easy as it looks.
A silver pot of hot water was also brought to the table to add to the teapot when needed.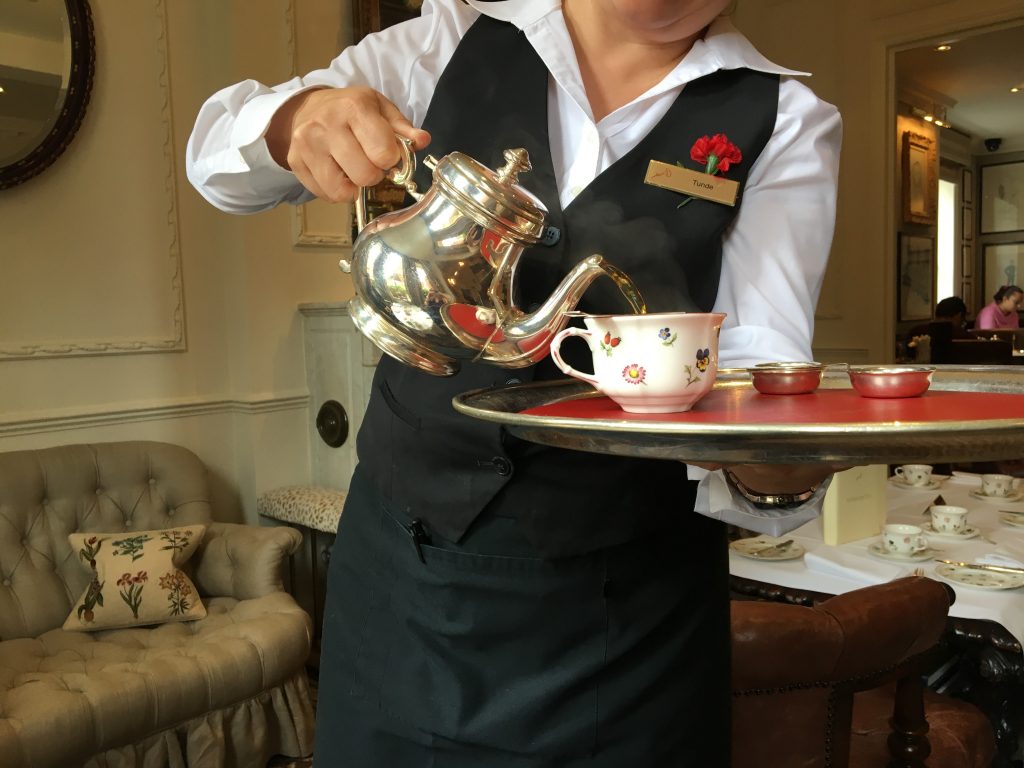 It was not long after that the wonder that is a fully-laden silver three-tier cake stand was brought over. Before placing it on the table, each layer and its delights were explained to us.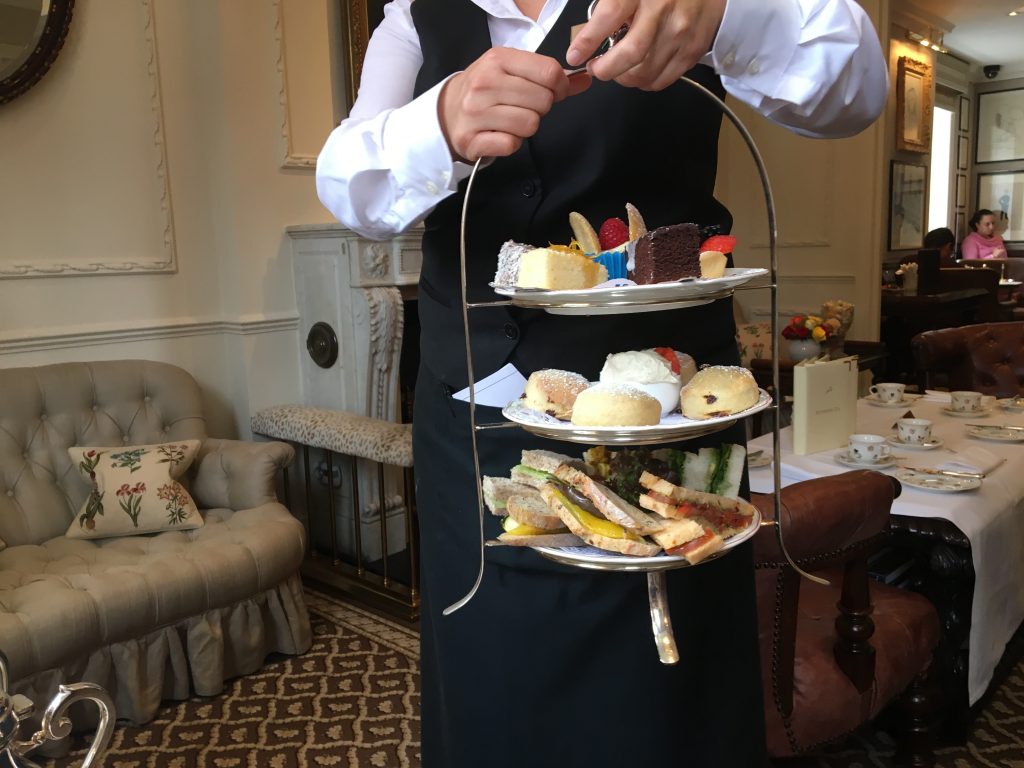 There were five sandwiches each with five different breads and five different fillings: grilled vegetables on granary baguette, guacamole and rocket on white bread, Chickpea Coronation on granary bread, cucumber on brown bread and tomato and olive tapenade on sun-dried tomato bread.
All were good but, surprising the Chickpea Coronation (a variation on the traditional Coronation Chicken sandwich at afternoon tea) was our favourite and we both asked for more.
And that's one of the little known secrets of quality afternoon tea venues. When 'refills' are mentioned it means you can request more from each layer of the cake stand. So if you really like one of the sandwiches it's OK to ask for more.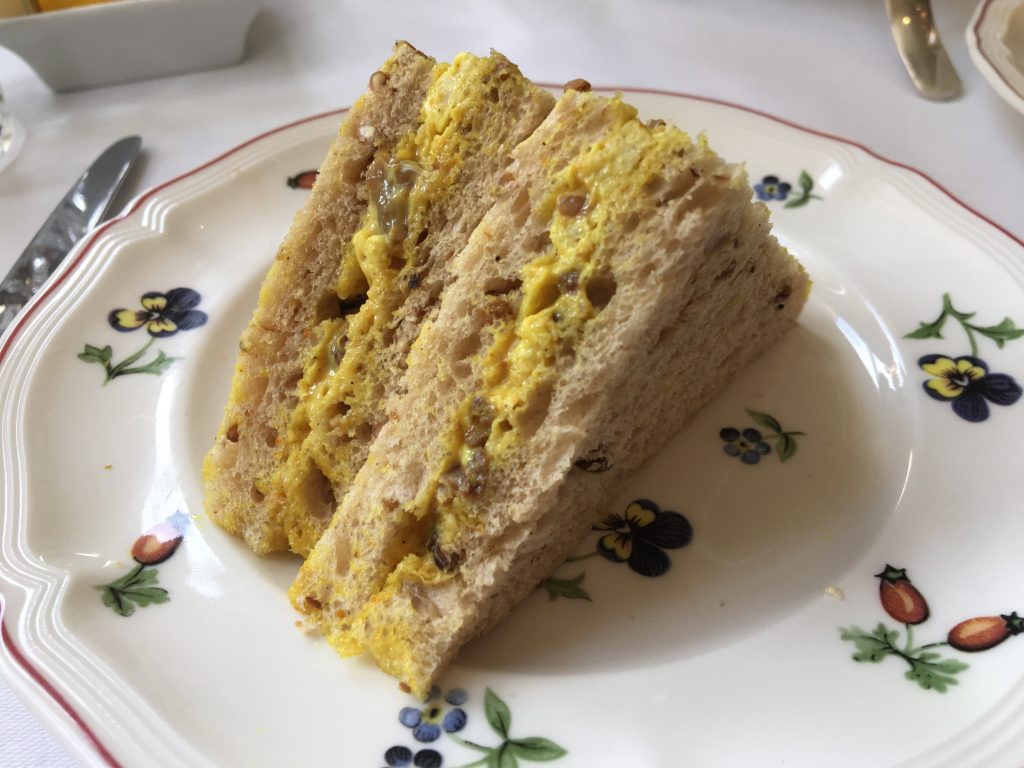 It was then time to change teas so we both chose a flowering tea as they bring real theatre to the table. The tea is served in a glass teapot which comes to the table filled with hot water. The balled tea is then dropped inside and you get to watch it unfurl slowly.
As well as looking wonderful the teas both tasted wonderful too.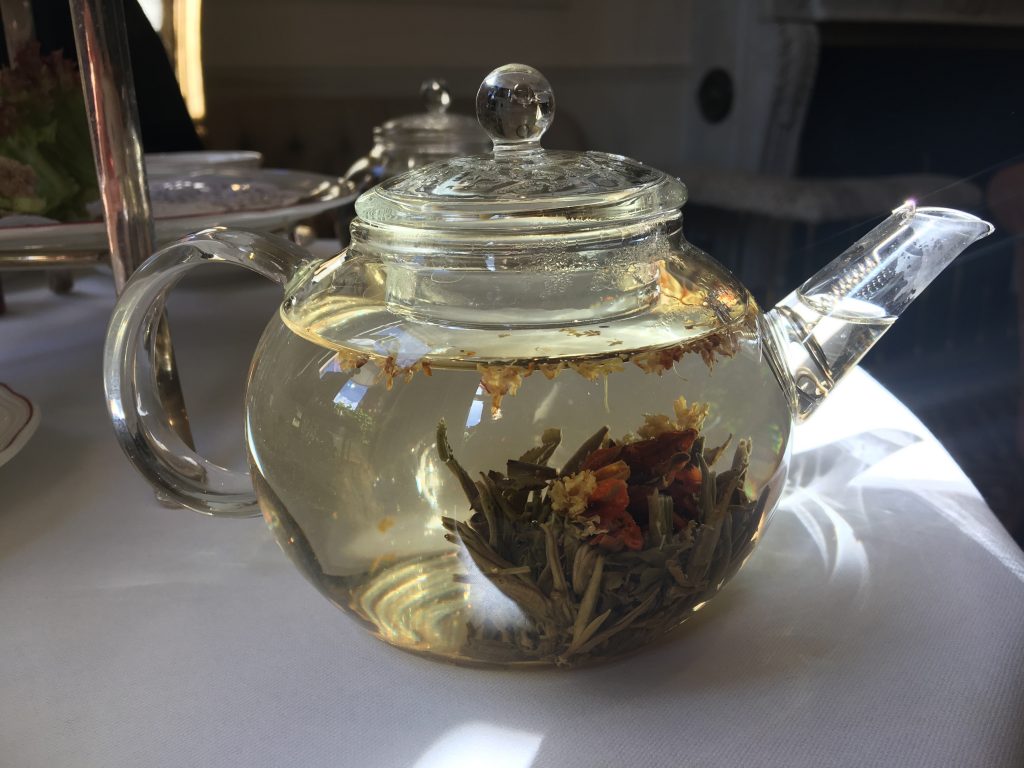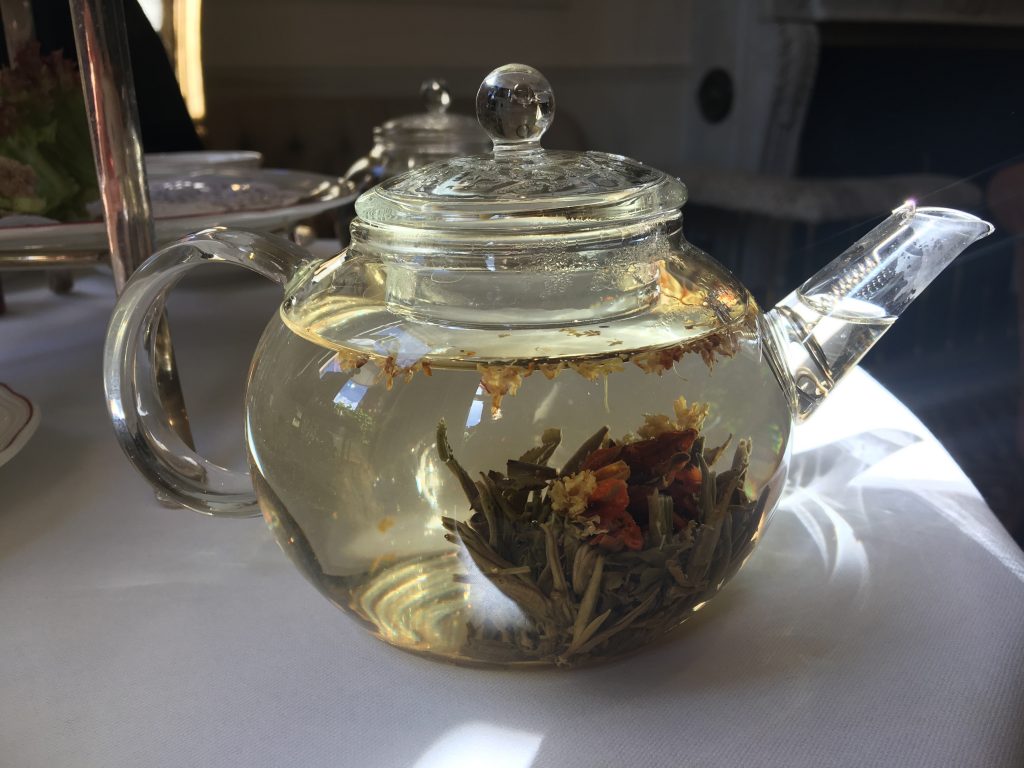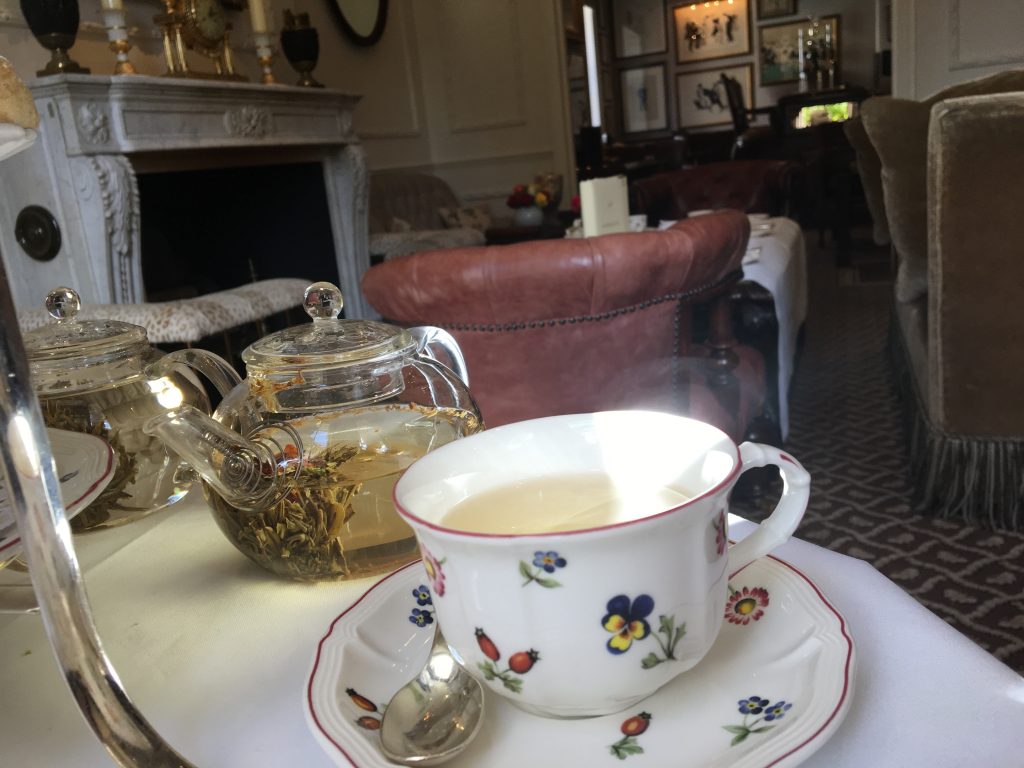 Eventually – remember, this is not a meal to be rushed – we moved to the middle tier of the cake stand which meant it was time for scones. Tunde changed our plates without us needing to ask.
Traditionally, this would mean strawberry preserve (jam) with clotted cream. But as this is a vegan afternoon tea there's no clotted cream but there is a coconut-based alternative which worked surprisingly well.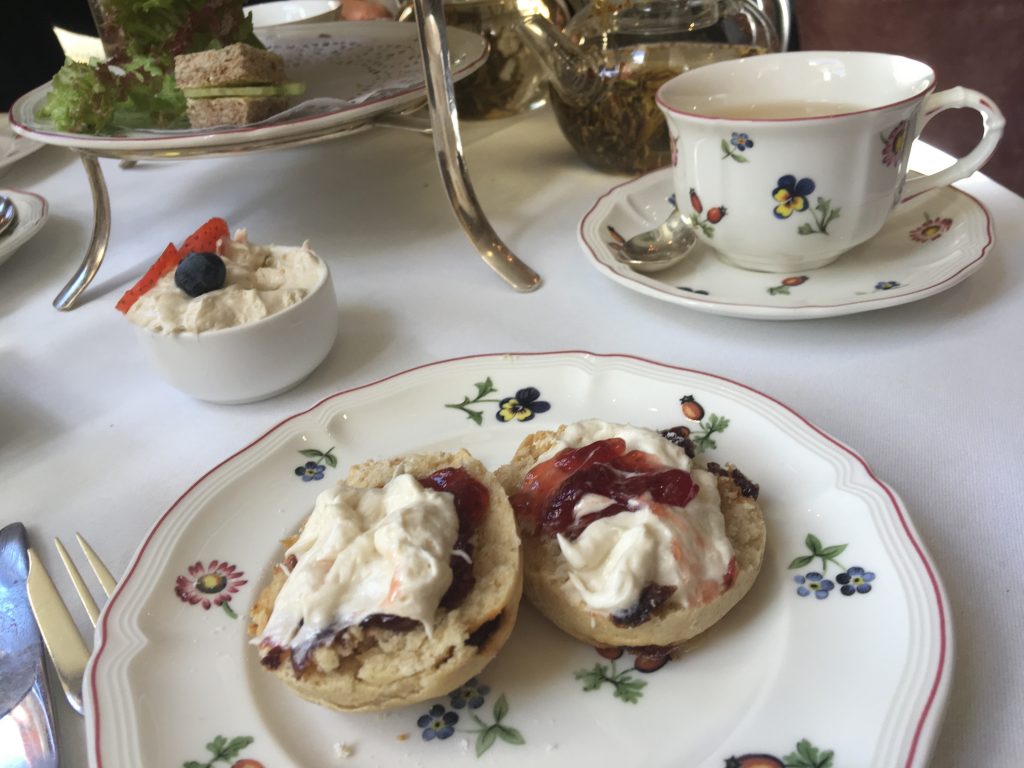 There were two scones each: one plain and one fruit. The scones were more dense than non-vegan ones but still tasted good. We had individual jars of Tiptree jam on the table and were advised that the apricot jam went well with the fruit scone as it had raisins and dried apricots pieces.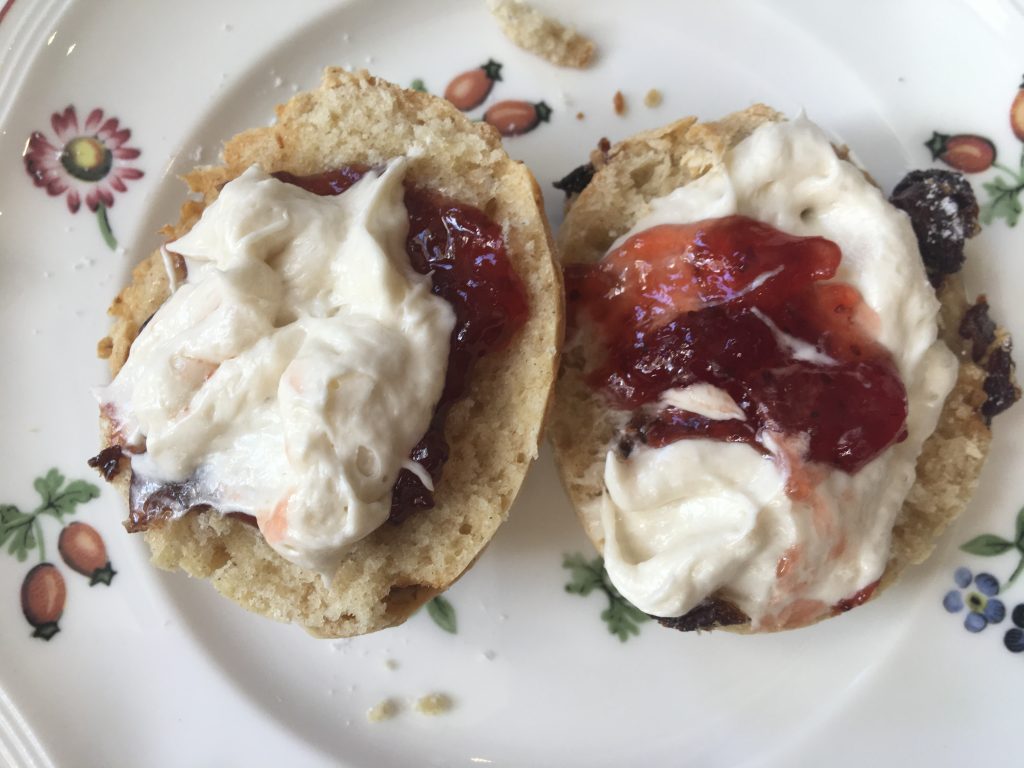 And finally, we did reach the top layer of the cake stand. And it was worth waiting for.
Two iced chocolate brownies, a vanilla and coconut sponge, a lemon drizzle cake, a fruit and custard tartlet and a centrally-positioned vanilla cupcake were our treats.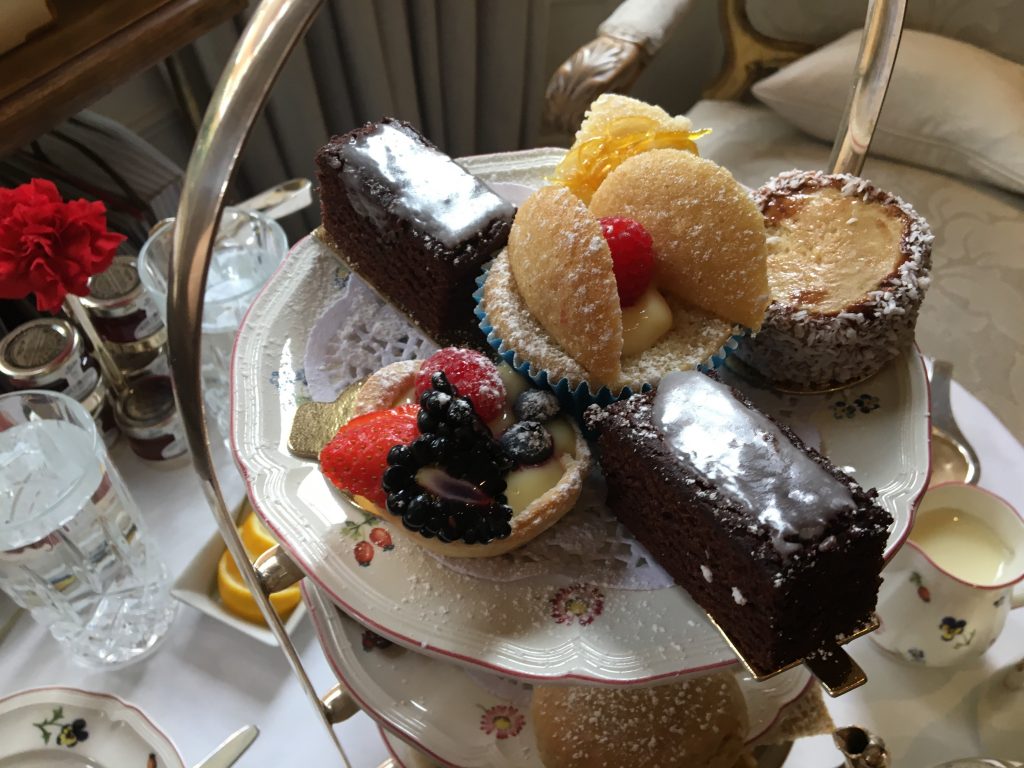 As throughout, the attention to detail was very good and my friend was impressed by the individual cake boards, which even had a small 'handle' to make it easy to lift them off the stand.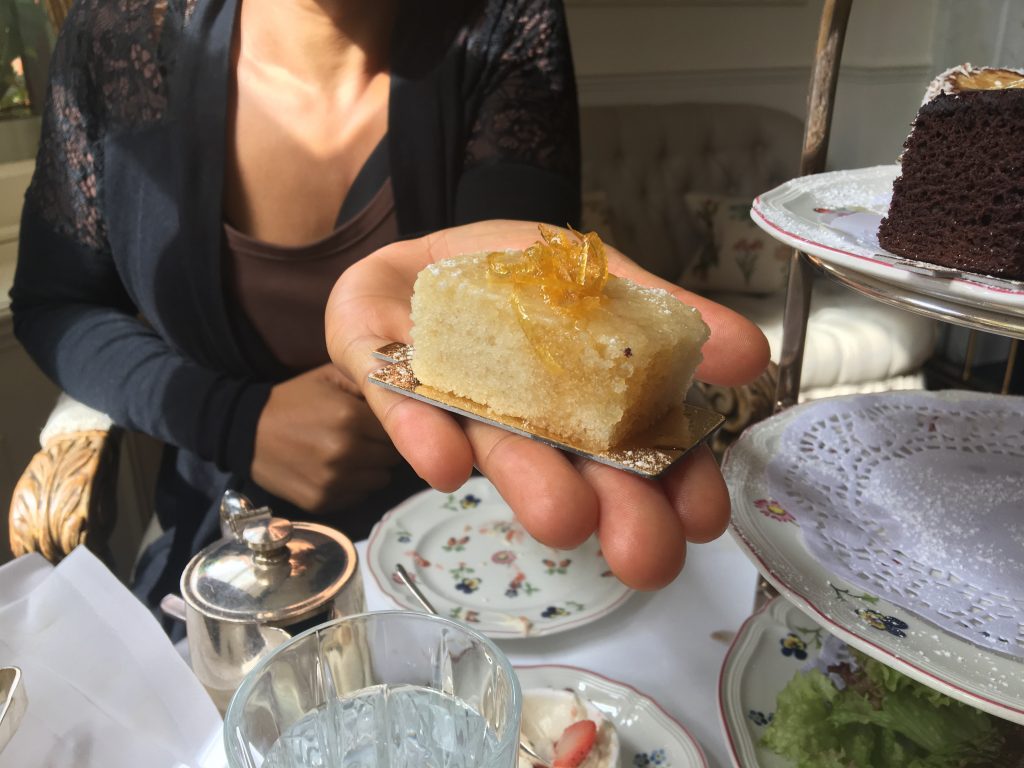 My favourite here was the iced chocolate brownie which was superb. I'm confident no-one would be able to tell it was vegan.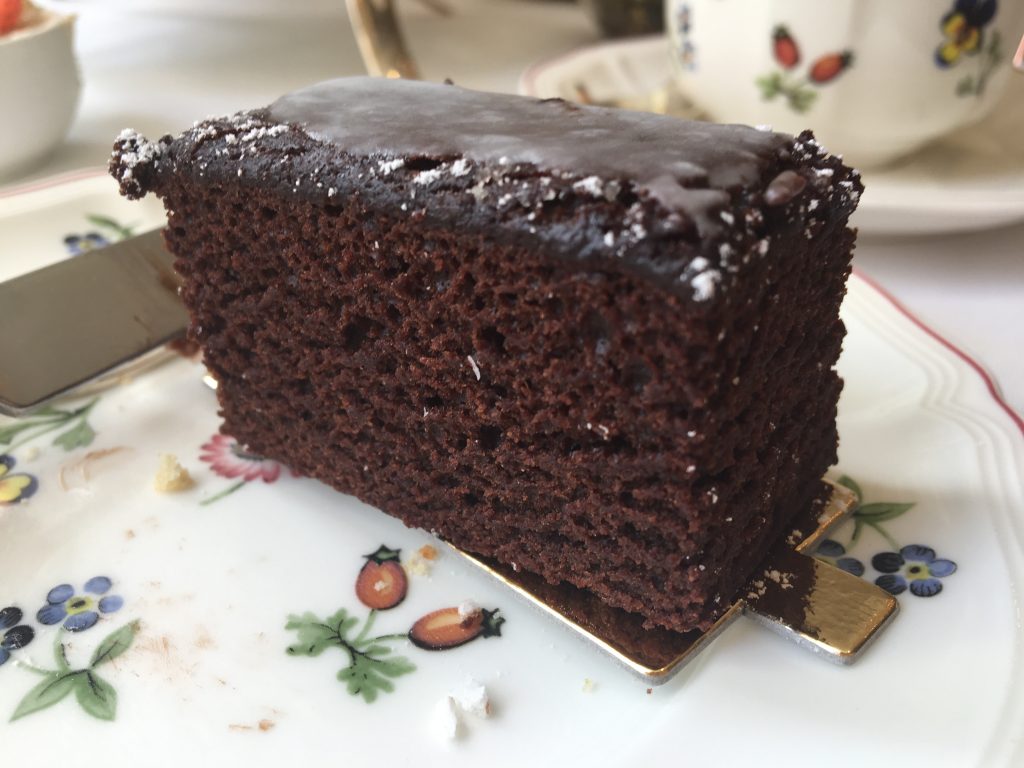 Conclusion
This is not just a great vegan afternoon tea, this is a great afternoon tea full stop. Totally recommended.
How to Book
The Egerton House Hotel Vegan Afternoon Tea is priced at £40 per person. I say think of it like a three course meal with drinks included. And you can ask for more. And you can take home what you don't finish. Plus, you don't need lunch before or dinner afterwards. Yes, now you are realising what good value this is!
To make an afternoon tea booking, please call the hotel on 020 7589 2412.
More information: www.egertonhousehotel.com/food-and-drink/afternoon-tea
Disclaimer: As is common in the travel industry, the writer was provided with a complimentary visit for review purposes. While it has not influenced this review, AboutLondonLaura.com believes in full disclosure of all potential conflicts of interest.