I love looking at old maps of London so was pleased to come across this London A-Z Street Atlas – Historical Edition.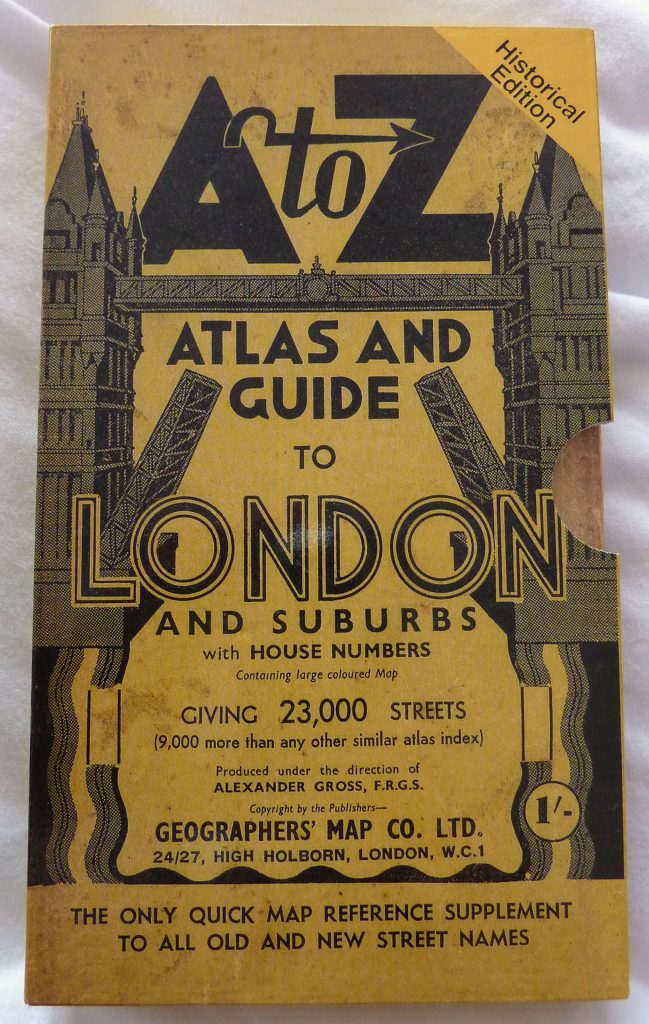 This facsimile A to Z London Street Atlas, first printed c. 1938/39, allows a nostalgic look back to a time now rapidly becoming beyond living memory. This was a city still cloaked in the black sooty grime of Victorian industry and beleaguered by winter smogs. And all before the World War II bombing and the massive redevelopments that followed.
Phyllis Pearsall
Geographers' Map Company was founded in 1936 by Phyllis Pearsall MBE (1906-1996) who, encouraged by her father Alexander Gross, took on the ambitious task of publishing up-to-date street mapping of London.
She was considered quite a character as was noted in this 1994 article about Phyllis Pearson:
Though the London A-Z itself is a triumph of detail and practicality, its inventor's reputation as an artist and an eccentric has persisted. Might that be because her personality chimes so well with London's own winding and unpredictable streets?
Pearson was fed up with street maps that unfolded into an unmanageably large sheet of paper. She wanted a street map that was easily portable and readable in book form, with an index of streets at the back.
At around the age of 29, Pearsall directed some draughtsmen to begin drawing up this new type of street map while she compiled much of the information necessary to update the maps. It's sais she walked the streets of London for up to 18 hours a day hand plotting the street alignment and compiling ancillary information including house numbers along principal thoroughfares.
She also took on the laborious task of card indexing the street names alphabetically in preparation for typesetting.
But, when finished, no-one wanted it. The map trade was unwilling to be disturbed and publishers rejected the maps. So Pearsall founded the Geographers' Map Company to print them herself, and began selling them in 1936.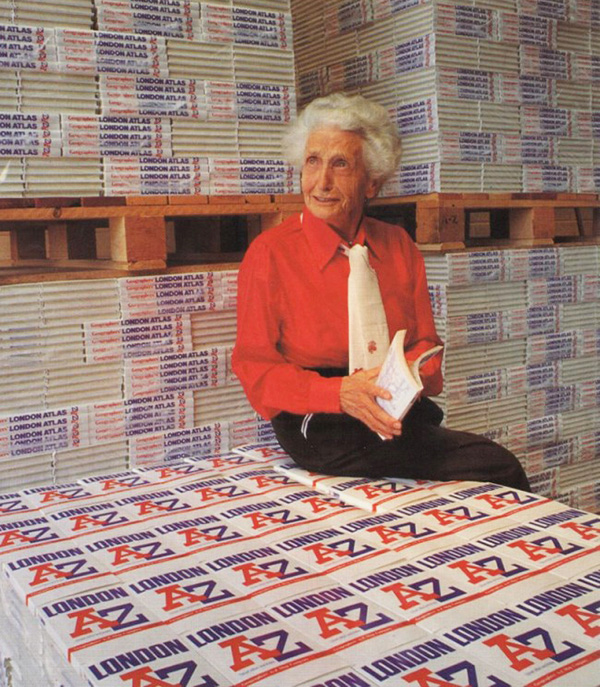 1939 A-Z
So the book I have in my hand is a replica of the first London A-Z. It contains the maps which Mrs Pearsall first published including bus, trolleybus and tram routes, plus the streets of London as they were just before the World War II.
This simple book is where the A-Z story all began.
Book Review
So, how do you review a historical street atlas? It's not a book you can read from cover to cover and critique the words so I started by looking at the pull-out sheet map stuck in the back: Pictorial Map of London. The colour map (hint of yellow and blue) covers central London centred on Hyde Park. There's an Index to Places of Interest, plus a Theatreland and Cinemaland focus too. (Who knew 'going to the pictures' was as popular as going to the theatre?)
Straight away I was comparing with now and found plenty of differences as well as plenty that has remained.
White City Stadium, where the 1948 Olympics took place, is now gone and is close to the site of the Westfield London shopping mall.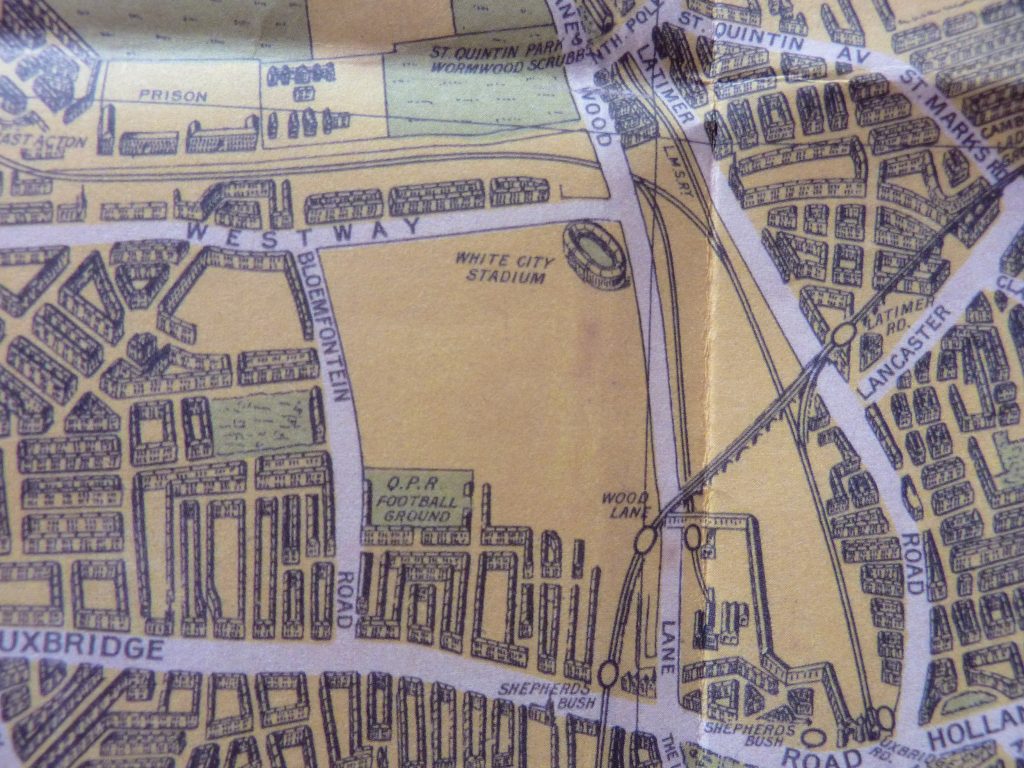 In South Kensington, while the Natural History Museum and the Victoria and Albert Museum are noted the Science Museum is not. It was there at the time but was clearly not considered as important.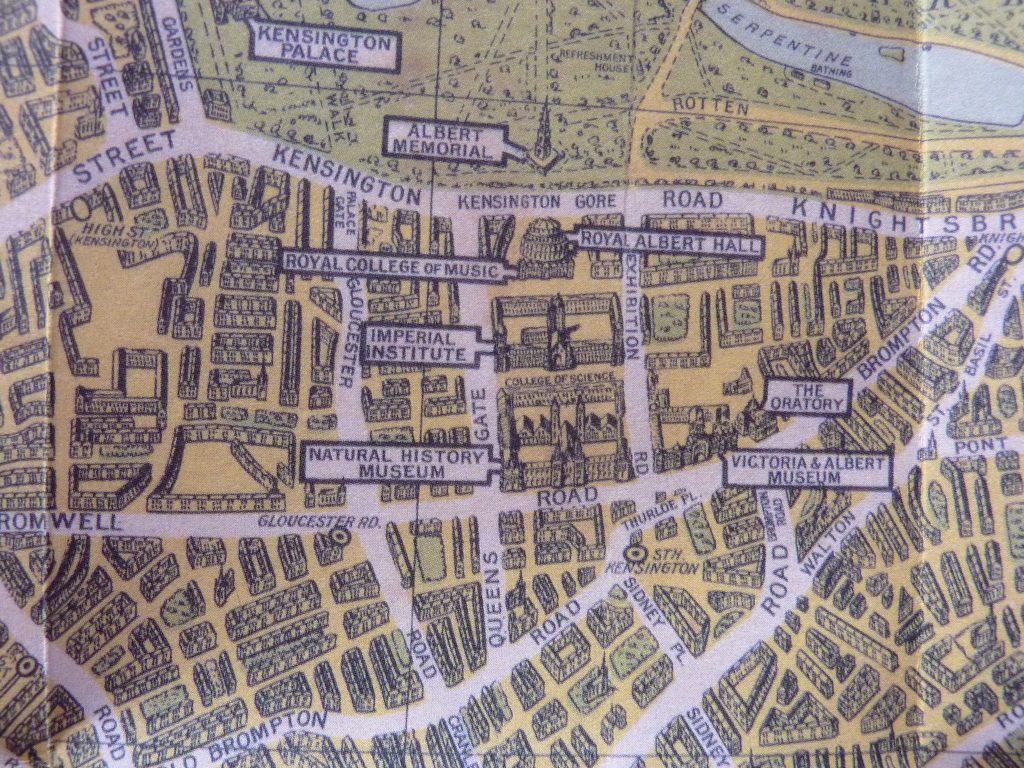 Near Buckingham Palace there's the London Museum as the Museum of London was at Clarence House back then.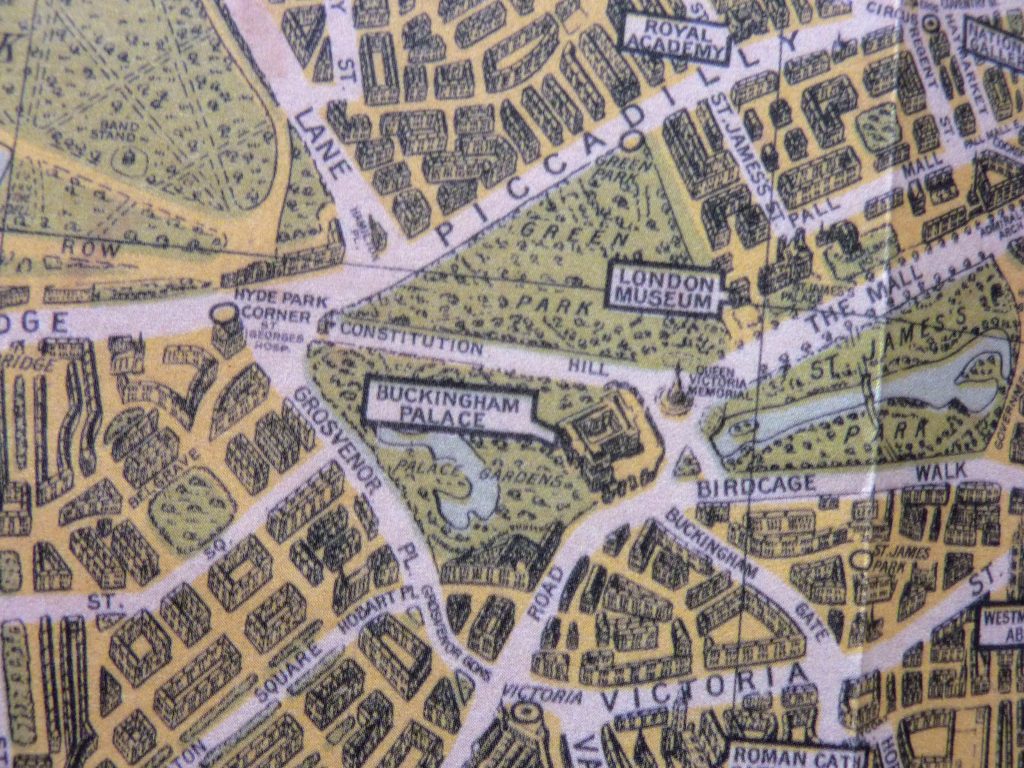 Holborn Viaduct station seems to be just as noteworthy as St Paul's Cathedral. And there are a lot of changes coming to the South Bank that this map doesn't know about yet.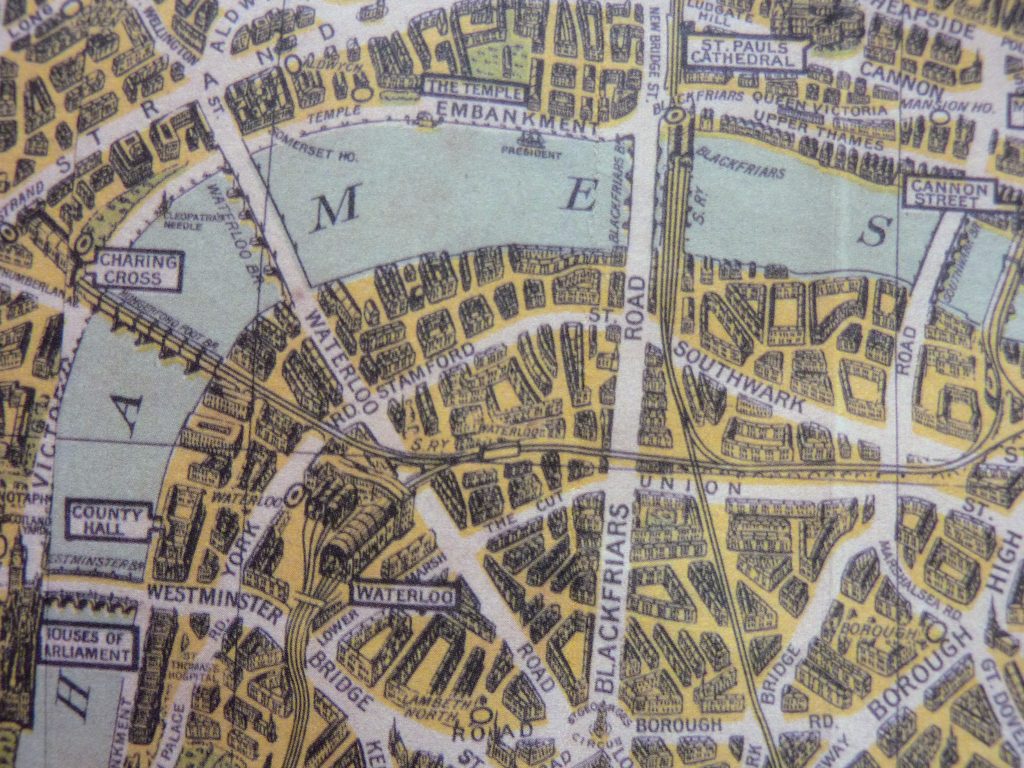 Onto the book. It was billed as the 'A to Z Atlas and Guide to London and Suburbs'. The cover was proud to announce the maps included house numbers along main streets and 23,000 streets (9,000 more than any other similar atlas index).
The book starts with some themed maps such as Theatreland and even Shopping Centres and Parking Places.
Clubland is not a map of nightclubs but instead of the gentlemen's clubs, many of which are still functioning today.
The Underground Railways map is not the standard Harry Beck-designed London Underground map we all know. He created it in 1931 and it was used by London Transport from 1933 but Phyllis Pearson clearly preferred a more geographical map.
The lines on the black and white map are the Northern Line, Central Line, Piccadilly Line and Bakerloo Line. Plus the District and Metropolitan Lines which are, oddly, grouped together.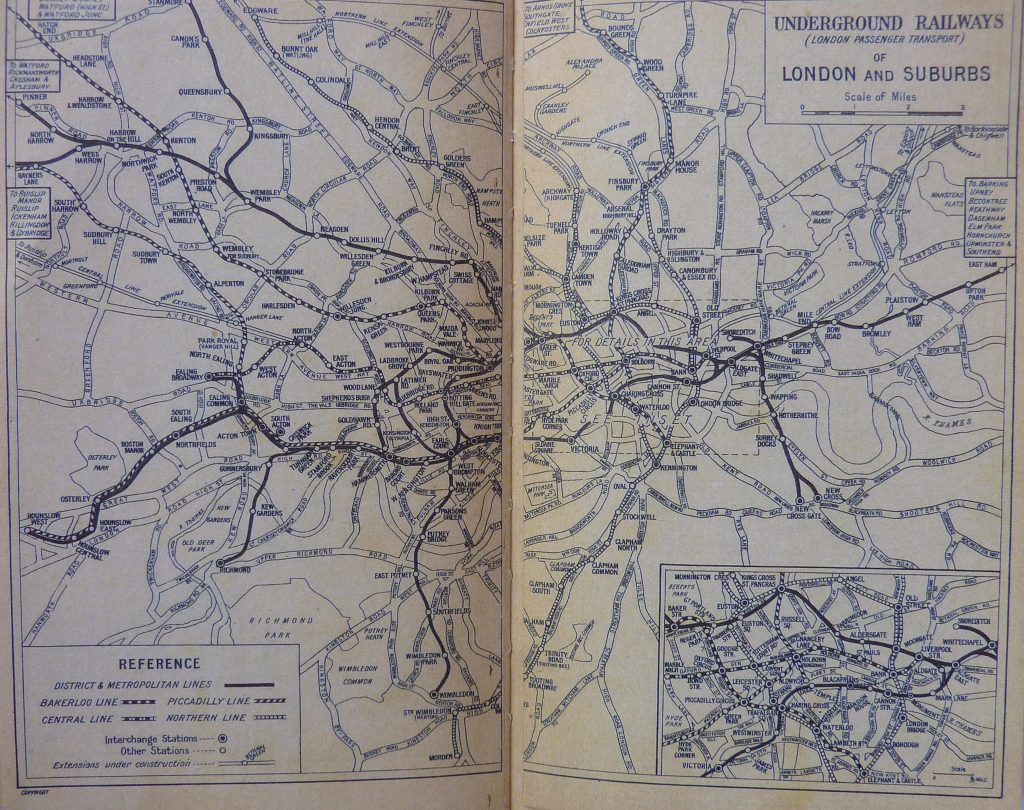 The Maps
And then we get to the A-Z that older Londoners, and visitors, will remember.
I moved a lot when I first came to London (25 times in 5 years) so I really got to know the A-Z. In the days before Google maps and mobile phones, the book was an essential item in any Londoner's bag.
I used to tell people the area I had moved to by which page number it was in the A-Z. And that made sense to many people back then. I chose new places to live by which page it was on in the A-Z key map. That's how much the A-Z was part of our vocabulary for many years.
I said I wouldn't read this cover to cover but it was hard to resist checking lots of map pages. I noticed lots of greyhound tracks and cattle markets that no longer exist.
Canary Wharf, the Docklands and Greenwich have changed a lot.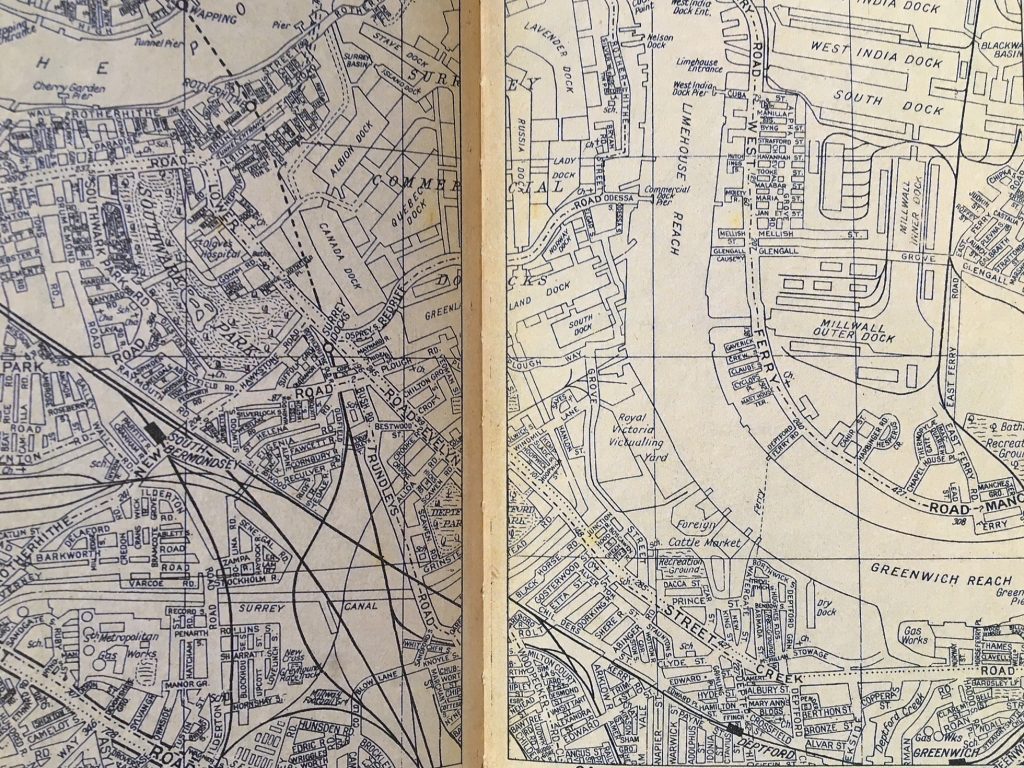 Compared to now:
There's no DLR or The O2. And the Queen Elizabeth Olympic Park has clearly changed beyond recognition.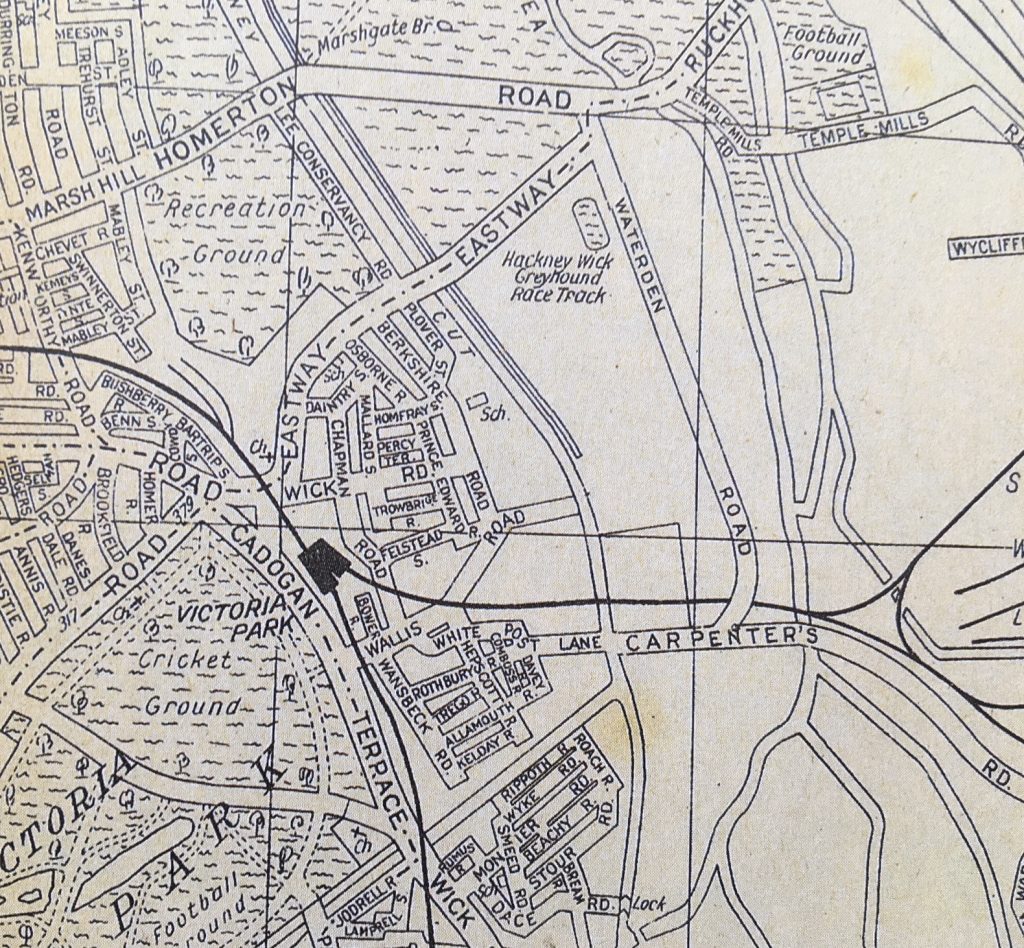 It's irresistible to keep on comparing the historical map pages with today to find the glaring and the small changes that make up the city.
Places of Interest
The street map pages are followed up with a long alphabetical listing of Places of Interest.
I discovered the Agricultural Hall in Islington is now the Business Design Centre. It was used for large cattle, horse and dog shows as well as trade exhibitions.
I was reminded the Queen wasn't the Queen when this book was published. And if you wanted to visit the Royal Stables you had to write for permission. Now, The Royal Mews is open to all.
Bethnal Green Museum is now the V&A Museum of Childhood. And the Home Office Industrial Museum is long gone so you can no longer see "appliances for the promotion of health amongst industrial workers".
The India Museum was a branch of the Victoria and Albert Museum in South Kensington. And the Zoological Gardens (London Zoo) noted that "rides on the elephants and camels are a special attraction for the children".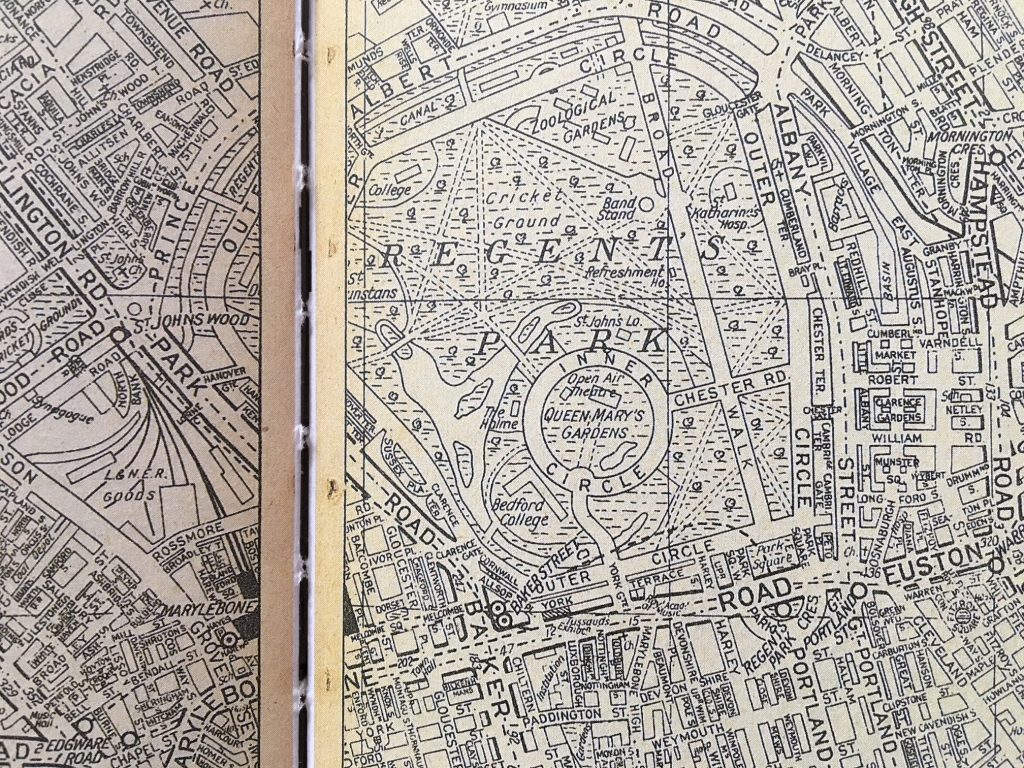 LCC Street Name Changes
A street renaming scheme started in London in the 1850s and reached its conclusion in 1939. So it's no surprise to the find a large section included in the book on the London County Council street name changes.
More Information
The book comes with a thick cardboard sleeve which is helpful as the book's binding doesn't seem to be up to the standard of the trusty A-Zs that I lugged around with me for years. I expect it's a replica of the old stitched binding that was used for the original book so I really shouldn't complain.
The book paper has been coloured to suggest age so it is slightly yellowed on some pages and 'dirty' on the cover.
I expect most Londoners will look up their home area first, or areas they know well, to compare to now. I will simply spend more time checking pages and looking for changes while continuing to be impressed with the evolution of London.
The London A-Z Street Atlas – Historical Edition is available to buy online, from the official A-Z website, for £9.95.
Disclaimer: As is common in the travel industry, the writer was provided with a complimentary book for review purposes. While it has not influenced this review, AboutLondonLaura.com believes in full disclosure of all potential conflicts of interest.