Enigma Quests is another live escape room game in London but they've really thought this one through. It's not lots of keys, locks and padlocks but instead Enigma Quests is about solving puzzles that use different parts of your brain. Which is why working as a team is so important as you all have different skills.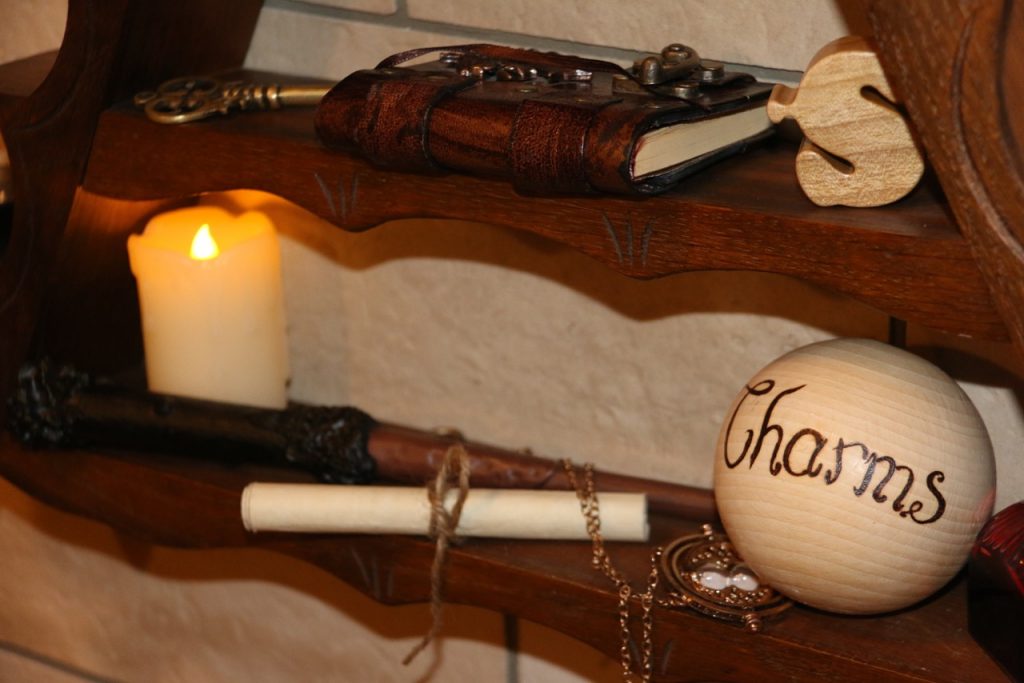 My Team
The recommended team size is 3 to 5 players and the price varies according to the amount of players. This is fun for friends and family to play together. Don't think because there's a 'Harry Potter' type of theme that this is for kids as this is definitely an adult challenge and not for the under 10s as it would simply be too difficult for them.
I tried the first quest from Enigma Quests – School of Witchcraft and Wizardry – with one friend who has tried some of London's escape games before, a couple of friends who have never tried one of these games, plus my (nearly) 10 year old daughter who has tried one game before.
Location
Enigma Quests is close to Liverpool Street station so an easy to reach location. It's under 5 minutes walk from the station and there's a clear sign outside. Ring a bell and then head down to the basement.
Address: 2-12 Wilson Street, London EC2M 7LS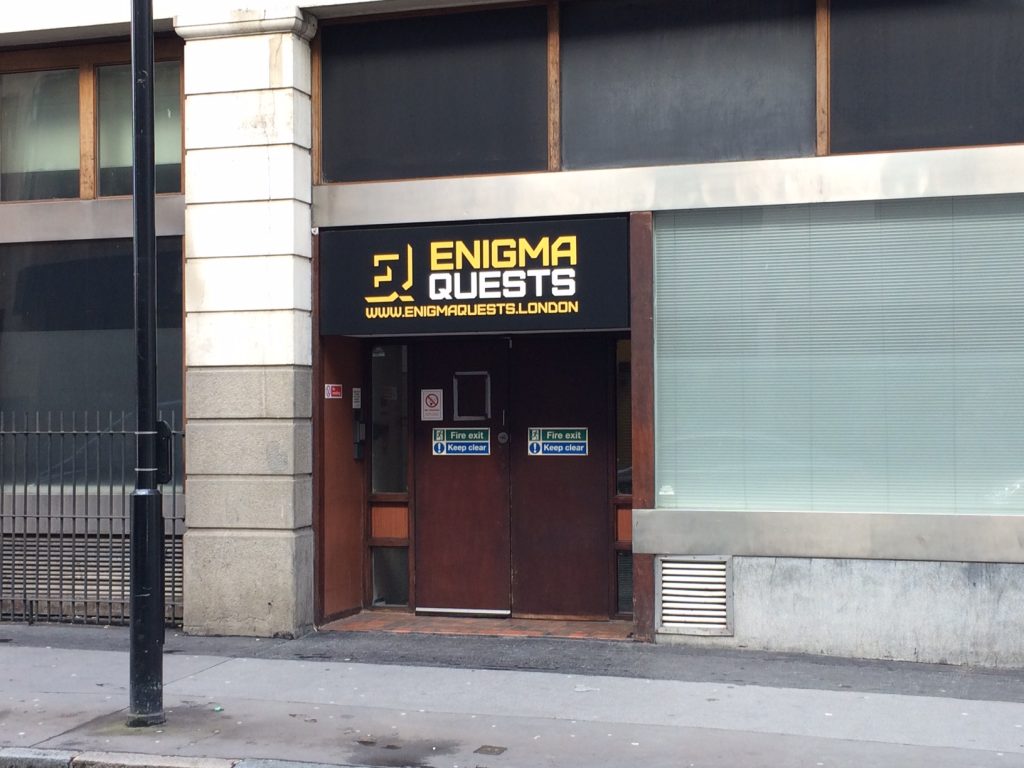 Welcome Lounge
There's a large welcome room available for players before and after quests. It has lots of puzzles and board games to get you thinking more. There's free tea and coffee too.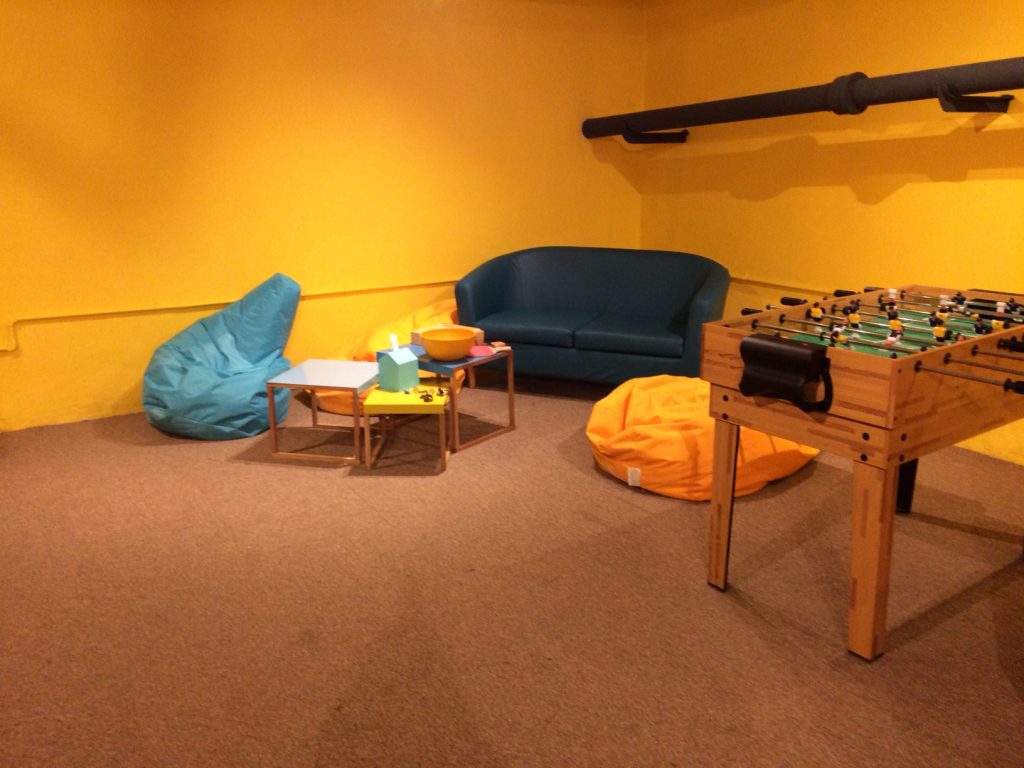 There are lockers here so you can leave your bag and coat. Unusually, you can take your phone into the game but it is a basement so there won't be much of a signal if you're thinking you could 'call a friend'. I'd recommend leaving your phone in the locker, or in your pocket, and just getting immersed in the game. It is only 60 minutes after all.
We were allowed to take drinks into the room but, again, I wouldn't as it's easy to get carried away with the excitement send a coffee cup flying.
We sat on huge beanbags and sofas and played table football before we met our host/Game Master who explained the game.
After our quest, we were able to use this room again and, if you're new to the area, the Game Masters can recommend other places worth visiting.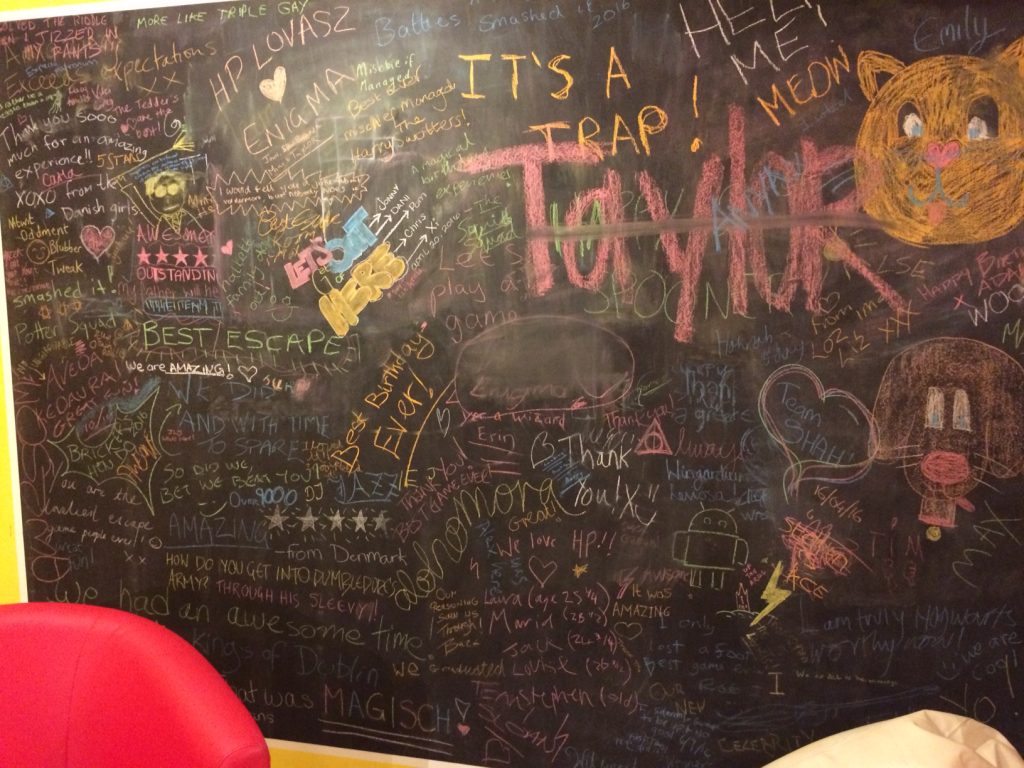 School of Witchcraft and Wizardry
This is the first quest at Enigma Quests and the aim is find six orbs that complete your lessons to reach graduation. Think of it more like a treasure hunt with puzzles to solve rather than keys and locks. Finding something is not the answer though as it needs lots of connected 'finds' to come together.
Your team needs to be focused, work together and there's even some bravery needed too.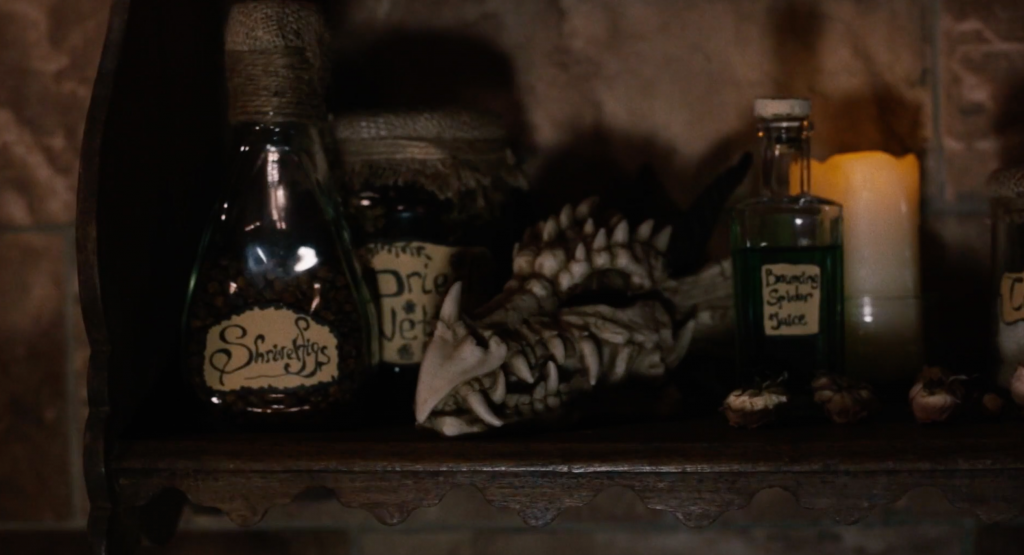 One Hour
As with other live escape room games, you have 60 minutes to play. The timer is a large hourglass which is kept by the door. It gets turned over once you are in the room and ready to start.
In other games we've found a digital countdown clock in the room can be really distracting, although sometimes great for building tension. (We still don't know if we set the wind-up timer correctly for Time Run as we had to do it in the dark so I liked this non-digital way of setting a timer.)
The Quest
Our first impressions were really good as it's a fantastic room. As well as a strong build (no hooks falling off the wall here) it's also an excellent set that helps to make it a believable idea.
Enigma Quests have worked hard to create immersive surroundings and the appropriate atmosphere. There were some soft background atmospheric sounds ("Hubble bubble toil and trouble…") and some really clever 'tricks' that were activated by us getting something right.
I liked the idea that we had a quest, a mission, to achieve and were not just searching for keys to escape from the room.
I won't give anything away as I really did enjoy this game and would like you too as well.
I can say we found challenges in three connected rooms and were pleased the previous rooms didn't lock behind us as needed to go back to complete a puzzle.
There are cameras in each room so you are being watched by your Game Master all the time. They won't offer any assistance but you can ask for a hint. We used this option when we wanted to check if we were looking in the right area of the room or working on the right puzzle to move forward. In other escape games I've tried, the hosts usually offer unsolicited clues but here we were encouraged to work as a team.
There was a maths problem (not big numbers but challenging nevertheless), and red herrings which are there to slow you down.
The final room was a bit of a surprise and we couldn't have completed the last challenge without working together so when we dashed back to put the final orb on its resting place we were all thrilled to have finished with a few minutes to spare.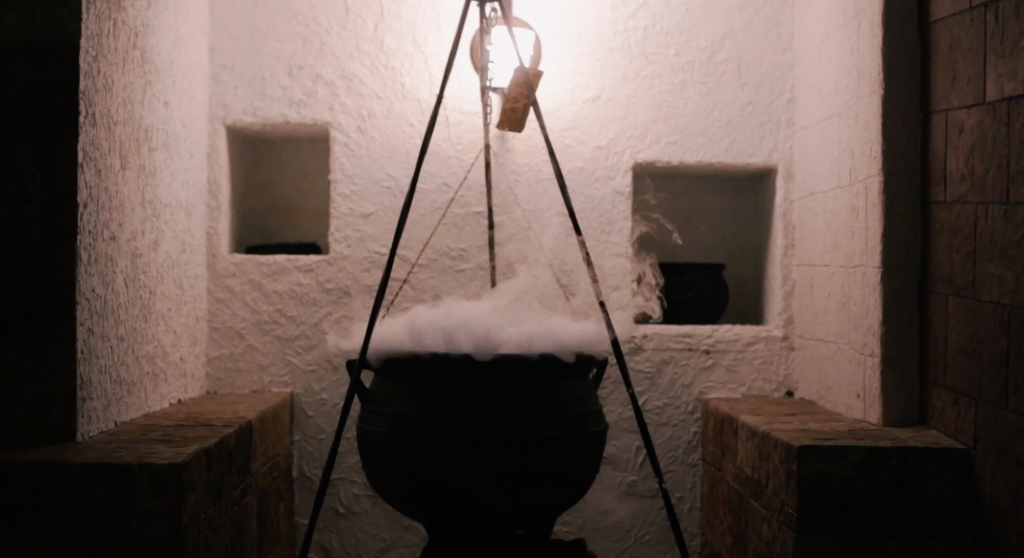 We Graduated!
My team graduated from the School of Witchcraft and Wizardry with Outstanding points! That's top marks, just so you know.
These games are often about the emotions (overcoming fears, etc) but we all felt so happy to complete our quest.
The Games Master joined us in the room and congratulated us on puzzles we did particularly well at. He also explained the ones that took us longer and which were red herrings.
We were able to dress up in Hogwarts cloaks for our graduation photo which gets emailed to the team a few days later.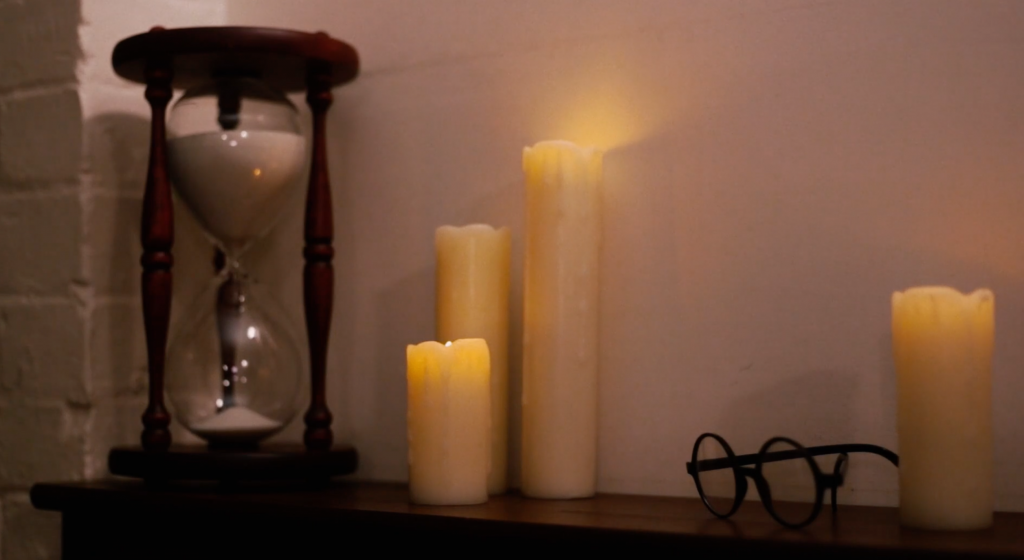 Conclusion
Would I recommend Enigma Quests? Too right I would! I reckon this is the best live escape game I've played in London. (I've played Time Run, clueQuest, Enigma Escape and The Escape Hunt.)
I hope to return for the second quest – The Million Pound Heist – which opens soon. Early Bird tickets are from just £10 so book soon!
Official Website: enigmaquests.london
Disclaimer: As is common in the travel industry, the writer was provided with complimentary services for review purposes. While it has not influenced this review, AboutLondonLaura.com believes in full disclosure of all potential conflicts of interest.