In the continuing adventures of my UK road trip (do read Birmingham & The Midlands and North Yorkshire Moors Railway) I thought I'd touch on how child-friendly the UK actually is.
I hear my North American friends speak of their dread of family road trips but I expect this has more to do with the fact they have to cover much longer distances. I planned the road trip with my young daughter to include places I wanted to see and things she would appreciate too.
As I plotted the route and picked the locations to visit I started to notice a theme. Wherever I found a historic building that I wanted to see I discovered there was a playground nearby. At Chatsworth House I foolishly went to the Farmyard and Adventure Playground before visiting the House and it was hard to drag my daughter away – and I bet you can see why!
Many visit just for this children's section with its farmyard animals, play areas for all ages, as well as cafes and shops so you can understand the appeal. I was there on a gloriously sunny day and the families playing here probably did outnumber those visiting the House. I ended up with less than an hour to see the building made famous in the 2005 film version of Pride and Prejudice (and then we spent most of our time dressing up).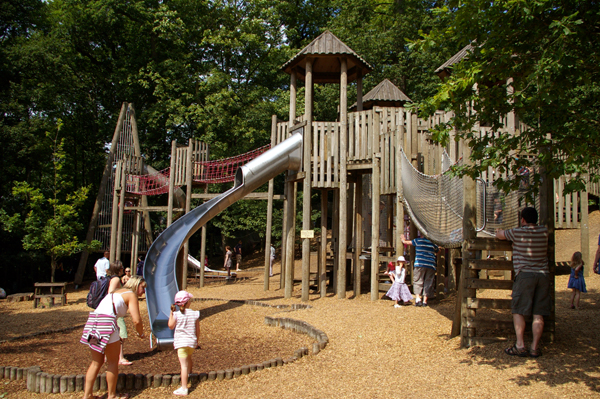 When we visited Saltaire Village and Salts Mill we really enjoyed seeing the converted mill and could have spent the day in the amazing bookshop there but we looked across the canal and saw a playground opposite.
The swings, slides, climbing frames, zip line, sand pit and more were all free and the area was popular with older children too as it included a skate park. Crossing the canal bridge between the serenity of the World Heritage Site village to the children's play area was a great reminder that areas have to be alive for today's residents too.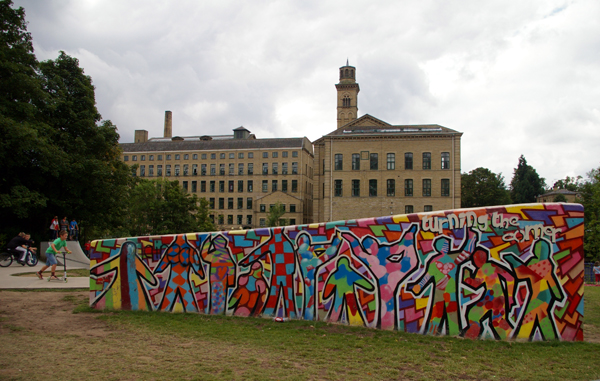 Next to Carlisle Castle we found Bitts Park which even had a water/splash park so we had to stay for a while. This children's free play area also includes classic playground activities as well as a popular sand area.
While the children played the Castle was tantalisingly close but I spent my time having a cuppa from the friendly cafe and chatting to local families. We did make it over to the Castle (eventually) and found out more about this turreted landmark's history on the England/Scotland border.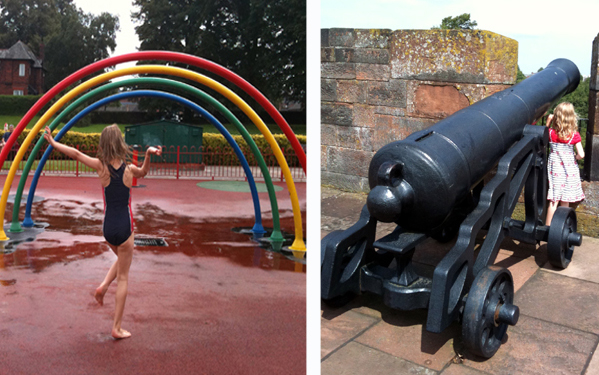 While I may not have intended to go on the 'Great British Playground Tour' finding these wonderful play areas ensured the whole family was happy. Children are a helpful 'ice breaker' so I always got to talk to someone local who gave me further tips on places to see nearby which is the kind of information no guidebook could ever have offered.
While I wasn't expecting so many historic buildings to have children's play areas I was impressed they did and immensely grateful. Knowing we could spend some of our day exploring together and also ensuring my daughter had time to be a child every day and let off steam was a great balance for a family holiday.
This post first appeared on the VisitBritain Super Blog in 2011.