The ground floor exhibition space at the Museum of London Docklands gets transformed for each new exhibition. But the design of Fashion City is brilliant. It seems like a completely new gallery with excellent room sets of shops and more.
About Fashion City
The exhibition looks at how Jewish Londoners shaped global style. The museum has an extensive Fashion & Textile Collection and Fashion City has allowed many pieces to come out of storage and go on display for the first time in two decades.
In the 20th century, London was a global centre for the production of clothing and the creation of fashion trends. It was renowned for its tailoring, luxury couture and street style. Jewish people have long been associated with the clothing trade. Of the around 100,000 Jewish migrants who came to London between 1881 and 1914, an estimated 60% found employment in the clothing or accessories trades. But earlier than that, through the 1600s and 1700s, while Jews in Britain were banned from certain professions including medicine and law, many Jewish people worked in the commerce, banking and garment trades – often working as second-hand clothes dealers.
As well as glorious clothing to admire here, there are oral histories, objects, ephemera and photography. Fashion City uses the places and spaces of London to weave together individual stories with a broader social history. In the early twentieth century, many Jewish people fled persecution in Eastern Europe and settled in London's East End. They brought with them their skills and knowledge of the fashion industry and helped to establish London's ready-to-wear industry.
In the West End in the 1960s, Jewish designers and retailers played a key role in the development of Carnaby Street, London's iconic fashion hub. Carnaby Street was known for its trendy boutiques and vibrant youth culture. Jewish designers such as Mary Quant and John Stephen were at the forefront of the Swinging Sixties fashion scene.
Visiting Fashion City
The exhibition is designed geographically. You start in the East End and move through to the West End. There is no set route so you can dip in and out of areas as you please. There are soundscapes to help you feel more immersed.
It starts with a brief film that explains the long history of London's Jewish population. We should remember that those who arrived here in the 1930s from across Europe were not welcomed with open arms. Anti-German sentiment meant many faced discrimination. In 1939, all German and Austrian nations were classified by the British government as 'enemy aliens' with many sent to 'internment camps' where they were treated like prisoners of war.
This 1847 catalogue page was a good reminder that Jewish Londoners made their mark in the industry before the 20th century. (E. Moses & Son's showroom in Aldgate was the biggest clothing shop in England in 1846.)
Moss Bros is featured more than once because of the impact it has had on the city and the industry. Moses Moss (c.1830–1894) started his secondhand clothes business in 1860 near King's Cross. By 1881 he opened his first shop in Covent Garden. When his sons, Alfred and George, took over the business in 1899 it was renamed Moss Bros. After the wars, Moss Bross evolved into a place where an entire gentleman's wardrobe could be purchased or hired.
There's a look at the Jews' Free School, a tailor's workshop and lots of shop fronts. But this isn't just an 'objects' exhibition as it's about the people. There's a feature on Sophie Rabin – a dressmaker who came from Poland in 1914.
Who doesn't like dressing up at an exhibition and there's an opportunity here in the Photographer's Studio. By the early 1900s, there were at least 50 portrait photographers with studios in the East End. Many of the sitters were Londoners who worked in the fashion trade so do stop to see some of the photos on display.
When you've seen this side it's time to hop on the Central Line to head to the West End. There's a clever curved connected path to take you to Oxford Circus.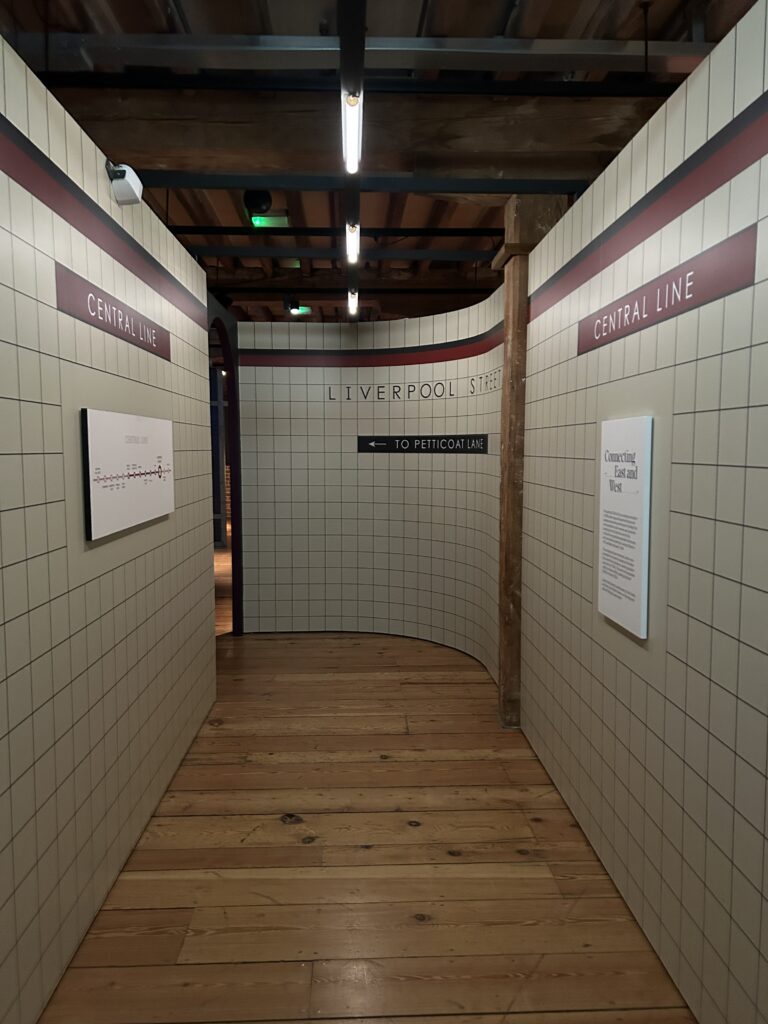 Oxford Street and Regent Street's evolution into high-street shopping destinations started in the 1920s. Jewish entrepreneurs were behind some of the earliest chain stores including Marks & Spencer. The West End soon became home to many flagship branches.
There's a dressmaker's workshop which features Peggy Lewis who made bespoke women's gowns. I liked that it included items that aren't finished so you can see the work in progress.
The central island covered in photos and videos represents Piccadilly Circus and gives cultural context. There's Charles and Diana, the Beatles and even Dot Cotton from Eastenders as her Alexon coat is on display nearby.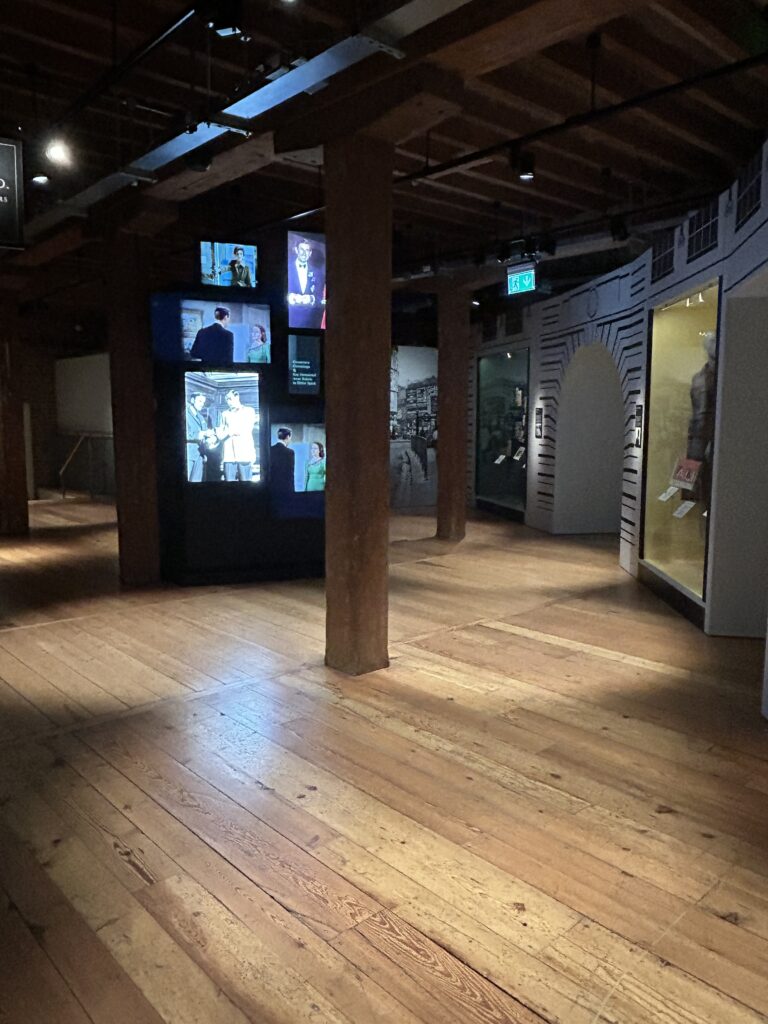 The 'oh wow' moment is the Couture Salon as it's a carpeted area which makes you feel as if you are at the V&A. London's couture industry established itself in 1930s Mayfair.
The Menswear Boutique is the Carnaby Street homage. Michael Fish of Mr Fish created the 'kipper tie' when he was working at Turnball & Asser. Playful shirts and ties became the foundation of his business but he also believed men were not built for trousers so designed robes that were appreciated by many including David Bowie who wore one on the cover of The Man Who Sold The World.
Do look up above the glass cabinets as there are hats and boxes there just adding that little extra to the set design.
There was a tradition for fashion shows, especially Jewish shows, to end with a wedding dress so the exhibition does the same. This dress was worn by Sara Raiher for her 1972 wedding. It was designed by Netty Spiegel (1923–2005) who arrived in London in 1939 by Kindertransport. Her parents were killed in Auschwitz.
Conclusion
If you have been to other exhibitions here you truly may not recognise the gallery as it is transformed. It's about the people and their stories – something that is missed from fashion displays at the V&A and the Design Museum. I was really impressed by the design of this exhibition. It's well worth a visit and good value too.
Visitor Information
Title: Fashion City
Venue: Museum of London Docklands, No1 Warehouse, West India Quay, London E14 4AL
Dates: 13 October 2023 – 14 April 2024
Admission: Adult entry from £12 (Concessions available)
Official Website: www.museumoflondon.org.uk/museum-london-docklands/whats-on/exhibitions/fashion-city