Knole is a magnificent country house and former Archbishop's palace located in Sevenoaks, Kent. It is one of the largest houses in England and is home to a collection of art, furniture, and other treasures. It sits within Kent's last medieval deer park so you could visit and never go inside. (Many dogwalkers do just that!)
Knole
Knole House was built in 1456 and originally belonged to the Archbishop of Canterbury at the time, Thomas Bourchier. The vast estate passed through royal hands to the Sackville family. While the National Trust manage Knole as a visitor attraction, members of the Sackville family do still live here. You'll find this powerful English family crop up in many places including Copped Hall in Epping Forest.
It was the wild deer park that attracted Henry VIII as he loved to hunt. But the impressive house has inspired famous works of literature. Virginia Woolf described Knole as "more like a town than a house" so I hope that gives you an idea of the size of this place.
Knole was the much-loved ancestral home of Virginia Woolf's close friend and lover, Vita Sackville-West. It is the main setting for Woolf's Orlando, a novel that Vita's son, Nigel Nicolson, famously described as a 'love letter' to his mother.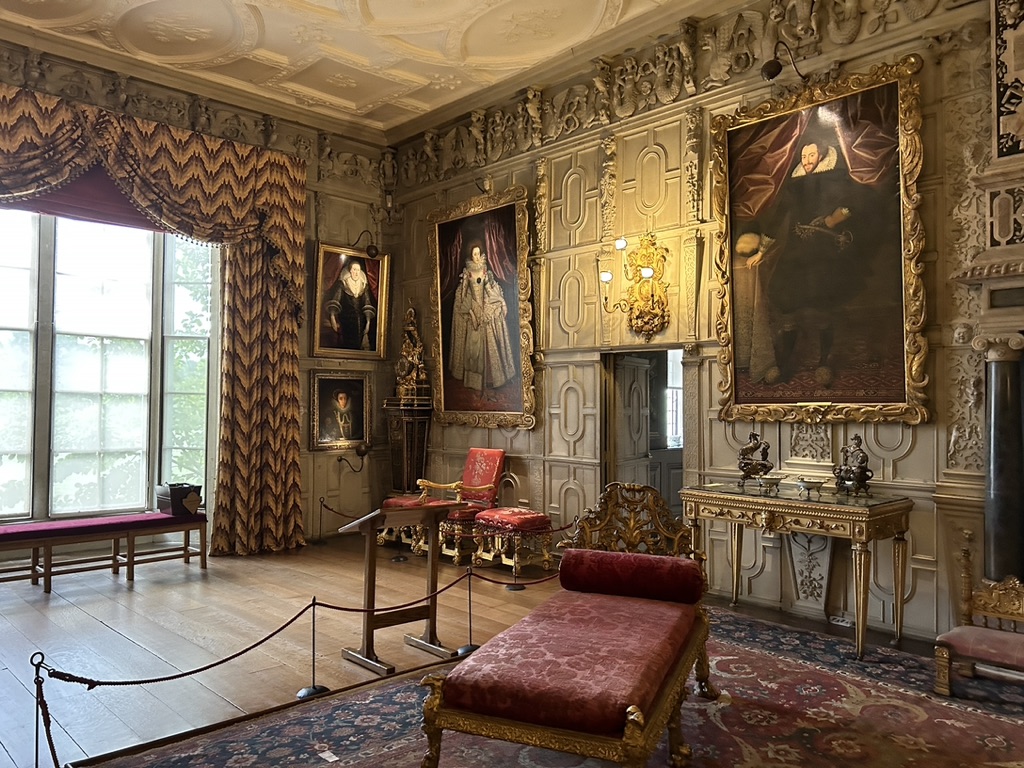 Showrooms
Heading inside, the Great Hall reminded me of Audley End House in Essex. Plus, there were these imposing royal portraits.
Before heading upstairs, there were this trick-of-the-eye trompe l'oeil wall paintings to admire.
The Brown Gallery has a real who's who in English history. It is one of the oldest surviving showrooms in Knole. It was constructed when Knole was an Archbishops' Palace between 1456 and 1538.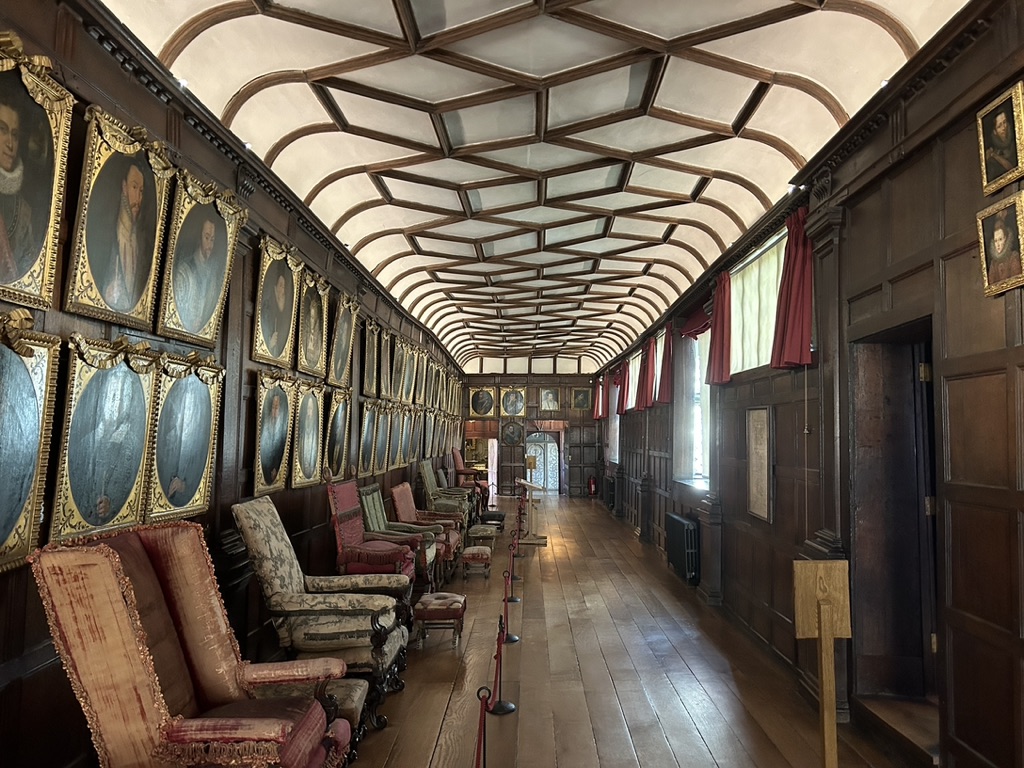 Take your time to inspect the gold-framed portraits.
Below is the James II state bed. It was made for James II in 1688 and is one of the earliest surviving royal beds in the world.
Why is it here? Well, it was ordered for the king's apartments at Whitehall Palace in London. But three months later he was exiled to France. Charles Sackville, 6th Earl of Dorset (1643–1706) became Lord Chamberlain and acquired the bed as a perk of the job.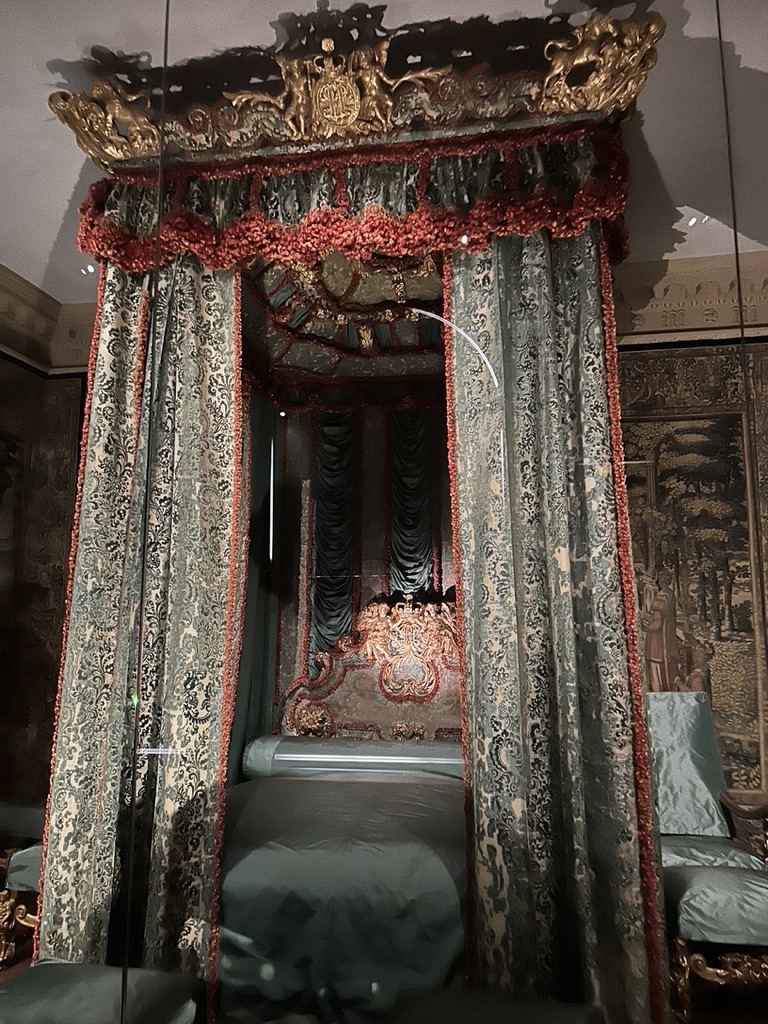 Next, I saw this enormous billiard table! It dates back to 1670. I had no idea that billiards was a popular sport from the early 1500s. The 'cues' look different as the ball was pushed at this time rather than being struck.
It is always worth talking to the volunteers working as Room Attendants in National Trust properties. Without a quick chat, I would never have known that this was a portrait of the chap who wrote 'Old MacDonald Had A Farm' (Thomas d'Urfey),
In the Reynolds Room – a room dedicated to the 18th-century painter Joshua Reynolds – there's more to see than paintings. This fireplace impressed me as I noticed the head immediately. But it was only when I sat down to take in the room that I spotted the feet.
Conservation Studio
A wonderful bonus to the day trip was seeing the Royal Oak Foundation Conservation Studio. This is where the National Trust treasures are sent for some TLC. I saw a statue from Scotney Castle being repaired and conserved. And a Joshua Reynolds painting receiving attention too.
The Conservation Studio isn't just looking at people working on valuable objects (Wednesday to Saturday). There are lots of drawers to open to see the tools of the trade and to discover more about a Conservator's role.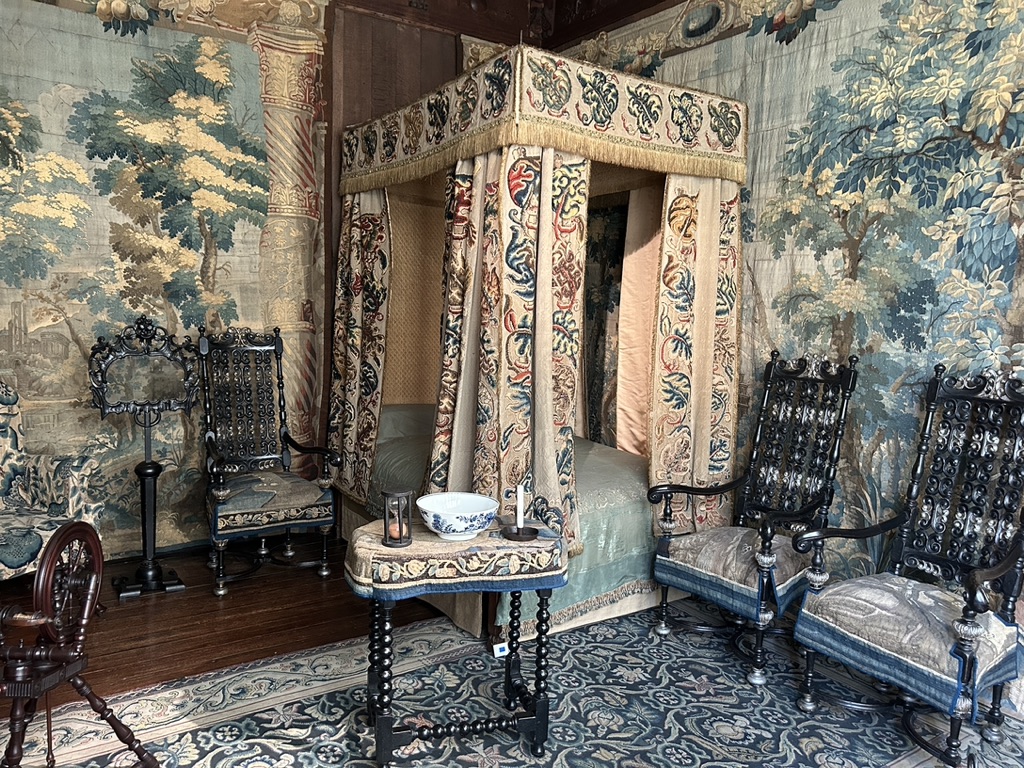 Location
The Knole estate is in Sevenoaks in Kent.
As with many National Trust properties outside of London, it's easier to visit by car. It took me about 1.5 hours from northeast London.
If you are taking a train, the nearest train station is Sevenoaks. It takes about 1 hour from London. But be aware there's then a 30-minute, uphill, walk to reach the entrance. (The walk from the Knole estate entrance to Knole House is at least 15 minutes so don't think you're there when you see the gates.)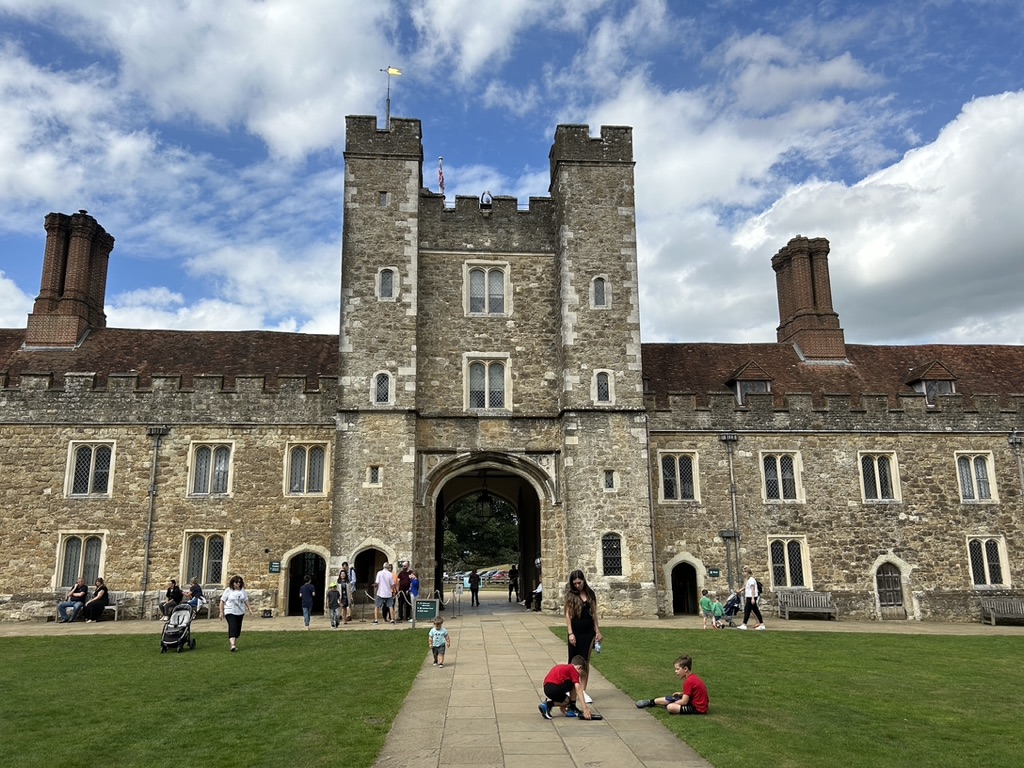 Plan Your Day
Knole is huge! I've been to many National Trust locations, and other stately homes, and this is probably the largest I've seen. Don't think you'll be popping inside for a few minutes followed by a quick stroll as that's not going to be enough time.
I've seen it suggested that you could visit another National Trust location in Kent on the same day, such as Ightham Mote or Scotney Castle. I think you would need to have the energy of Superman so it's a big no from me. Each location can easily fill a full day and simply because they are in the same part of the country is no reason to believe you can see more than one in a day.
At Knole there are two buildings that you pay to visit: The Gatehouse and the Showrooms in the main house.
The Gatehouse has two rooms to see and amazing views of the Park in all directions from the top. The 72 steps put me off but my friend went up and thought it was well worth the climb.
The grand showrooms were incredible to see. It was only when we got to the end that I realised we had spent well over an hour looking at rooms on only one floor of the property (the showrooms are on the first floor).
I would suggest starting with the indoor stuff and then going for lunch at the Brewhouse Cafe. Or bring a picnic as there are outdoor tables available. Then, follow one of the Knole Park walks as there are three colour-coded trails to choose from. Each takes around an hour. Remember, dogs must be on a lead and keep your distance from the deer.
Official Website: www.nationaltrust.org.uk/visit/kent/knole