It cost £3 million to complete the refurbishment but, 300 years after Handel moved in, Handel Hendrix House has reopened. A baroque composer and a rock legend make for an interesting juxtaposition to have these two special locations combined into one museum.
Coincidence
London's layered history often throws up wonderful coincidences. But to find the legacies of two iconic figures in musical history who lived in neighbouring Mayfair buildings is a good one. Separated by a wall and 200 years are the homes of two musicians who chose London and changed music.
George Frideric Handel lived at 25 Brook Street from 1723 until his death in 1759. It was here that Handel wrote and rehearsed his greatest works, including Messiah. In 1968, Jimi Hendrix moved into a third-floor flat next door at number 23.
Both Handel and Hendrix came to London to become a star so it's fitting that a museum dedicated to these two musical legends is in London. This is the only Hendrix home in the world that is open to the public.
Museum History
The Handel House Trust acquired the building in 2000 and Handel Hendrix House first opened to the public in 2001. It had major renovations in 2016 when Jimi Hendrix's flat was recreated and it became Handel & Hendrix in London. (Previously, Jimi's bedroom had been used by the staff as an office.)
The footprint of the building was extended, a performance space (The Studio) was built and a lift/elevator was installed.
Here's what it looked like back in 2016.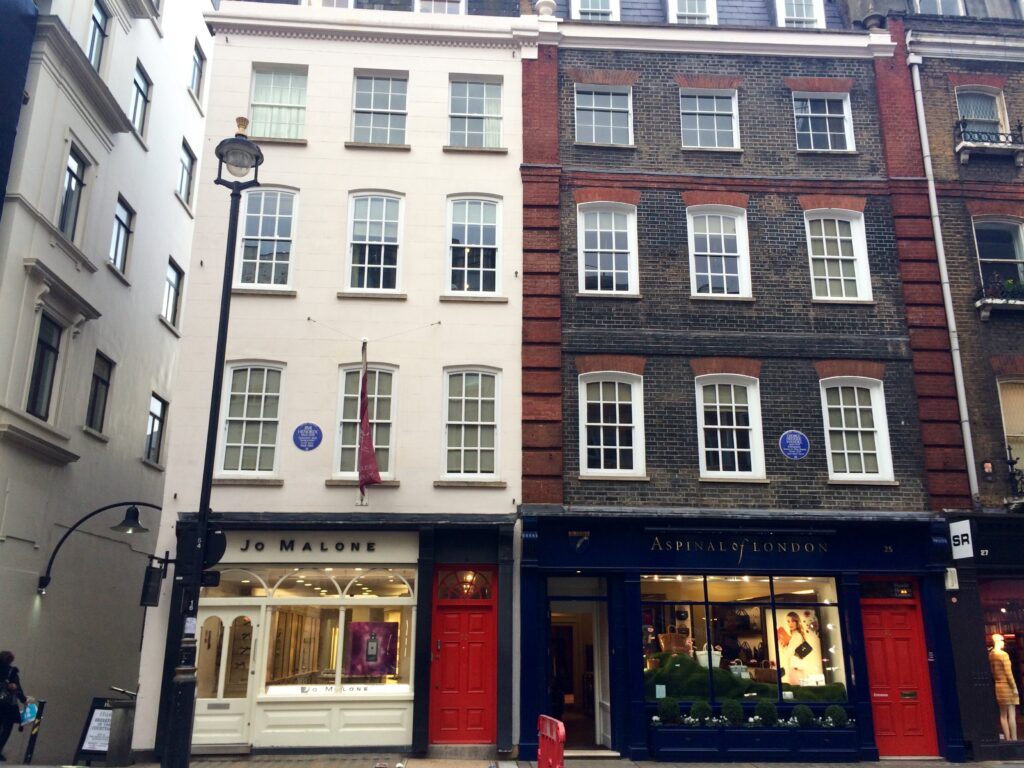 And here is what it looks like today.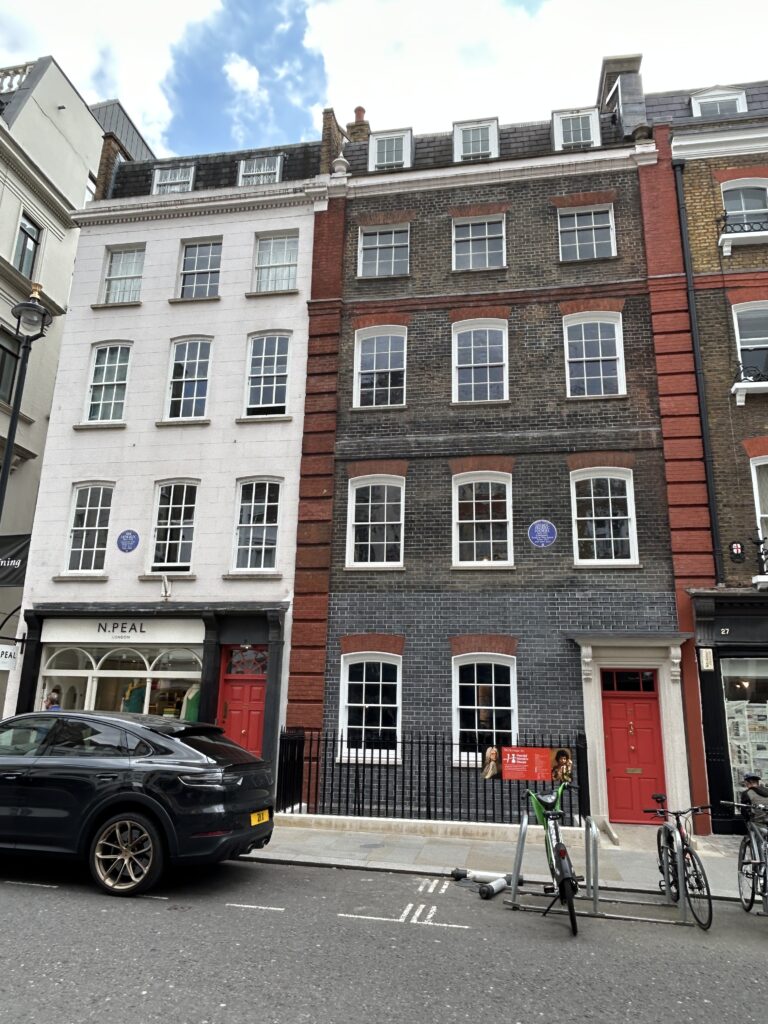 Handel – 25 Brook Street
This elegant Georgian townhouse was where baroque composer George Frideric Handel lived and worked from 1723 for 36 years. He was the building's first resident and he wrote many of his greatest works here including Messiah. He died in his second-floor bedroom in 1759.
Handel wrote four anthems in the drawing room of the house at 25 Brook Street for the Coronation of George II in October 1727. These four anthems came at different points during the coronation service. Zadok the Priest; Let Thy Hand Be Strengthened; The King Shall Rejoice and My Heart is Inditing. Zadok the Priest has been used for every coronation since.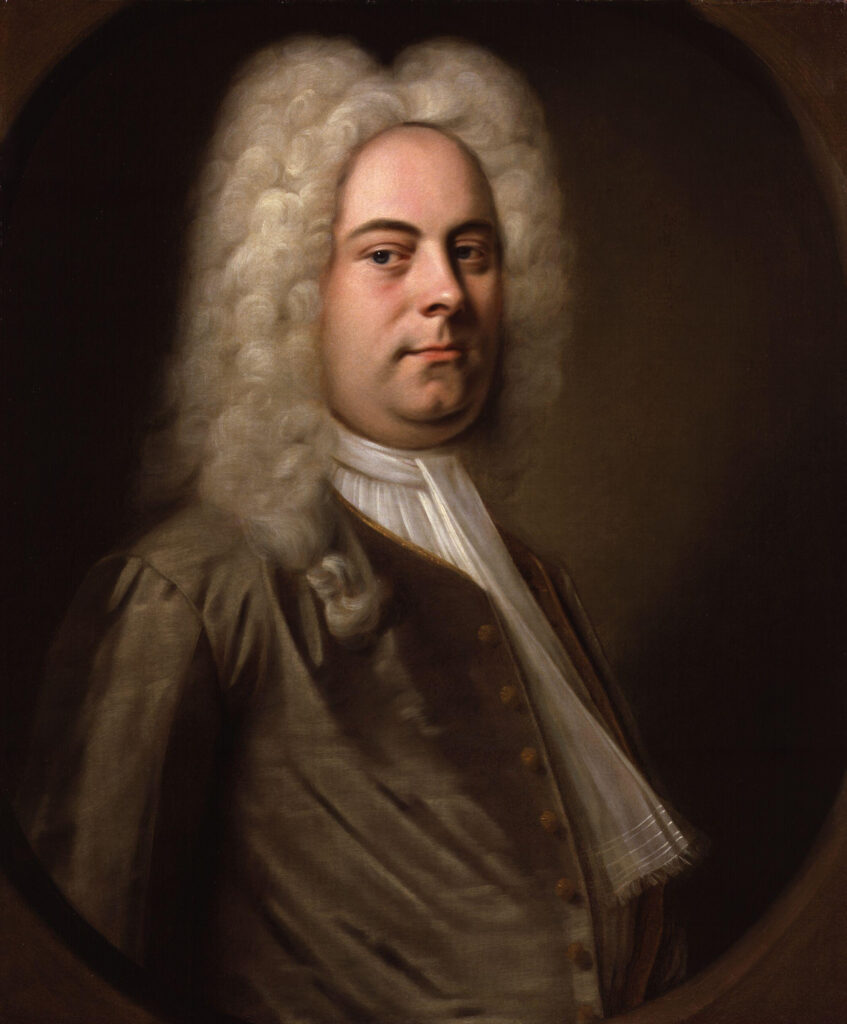 Hendrix – 23 Brook Street
Jimi Hendrix moved into a small third-floor flat at 23 Brook Street on 4 July 1968 with his girlfriend Kathy Etchingham. It was shortly before the release of the Electric Ladyland LP. The flat was a 5-minute walk to Carnaby Street and they stayed for a year.
Jimi and Kathy chose curtains and carpets in John Lewis on Oxford Street and bought LPs at One-Stop Records on South Molton Street. While they enjoyed having people back to the flat after nights out, both were quite houseproud. Jimi had been trained well in the army so the bed was always made, and Kathy would tidy up his scribbled notes and put them in the cupboard under the stairs. I remember Kathy telling us back in 2016 how the couple enjoyed drinking tea and watching Coronation Street.
And can you see the two telephones? This was because Hendrix kept giving out their phone number so Kathy had another telephone line added.
Jimi Hendrix knew about his home's connection with Handel. He bought Messiah performed by the English Chamber Orchestra on record at HMV on Oxford Street and played it often. When classical music students would ask to see the flat, Hendrix always obliged. (At the time, it was thought he was living in Handel's house but that was next door.)
From my last visit, I remembered the Epiphone FT79 acoustic guitar on display – the guitar he used at home to compose. And the small room set up to look at his record collection.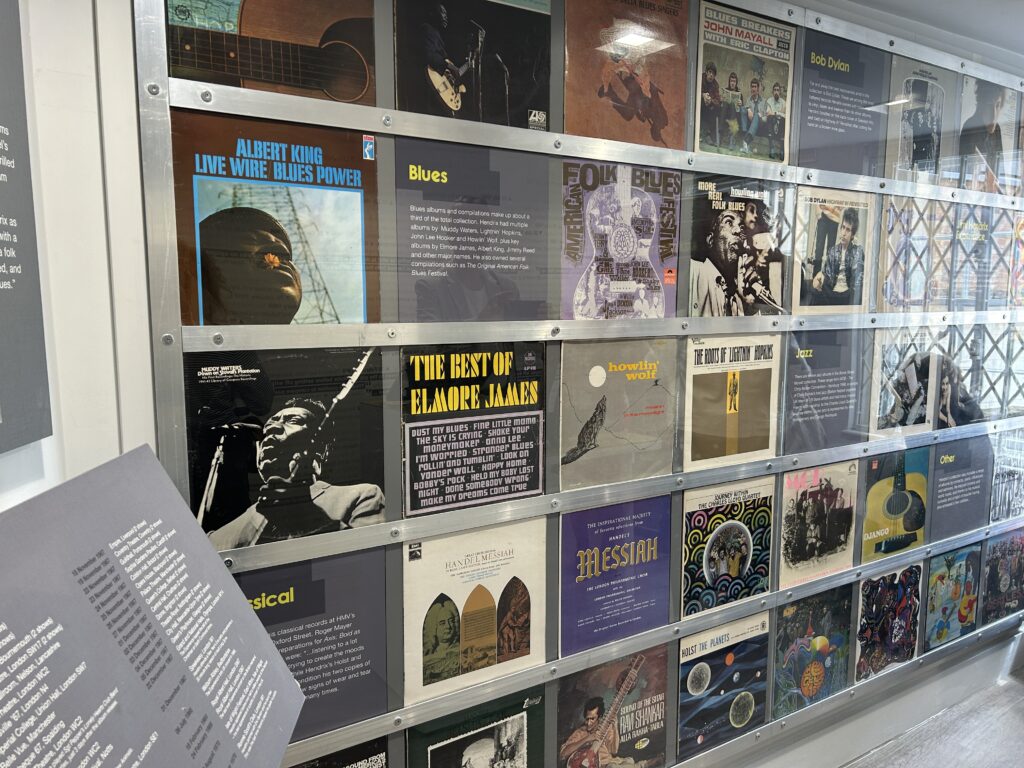 Barrie Wentzell was a freelance photographer for many music papers from 1965 to 1975. He took some of the most iconic photos of Hendrix right here.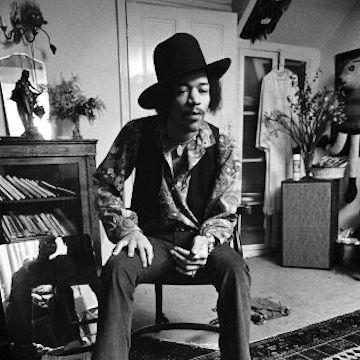 Hallelujah Project
Handel & Hendrix in London closed for the works to start in September 2021 when they took possession of the empty ground-floor luxury goods shop.
The front façade of 25 Brook Street has been restored so that visitors can finally enter Handel's home through his front door. (Previously we had to go around the back of the building).
The route is up the Handel side (no.25) and down the Hendrix side (no.23).
Ground Floor
We can now explore the ground-floor parlours in which Handel would receive his guests and aristocratic patrons and in which his assistant, J.C. Smith, would sell tickets and subscriptions to new works. These historic rooms are presented as they might have been in the 1740s. The museum has also recently acquired works of art, creating a collection representative of the more than 100 works of art Handel owned at Brook Street. And while the organ is not original, it was made for this space.
The front parlour is now open plan with the back parlour, where there is Handel's bookcase. The books inside are first editions of the books he would have owned although these are not his actual copies.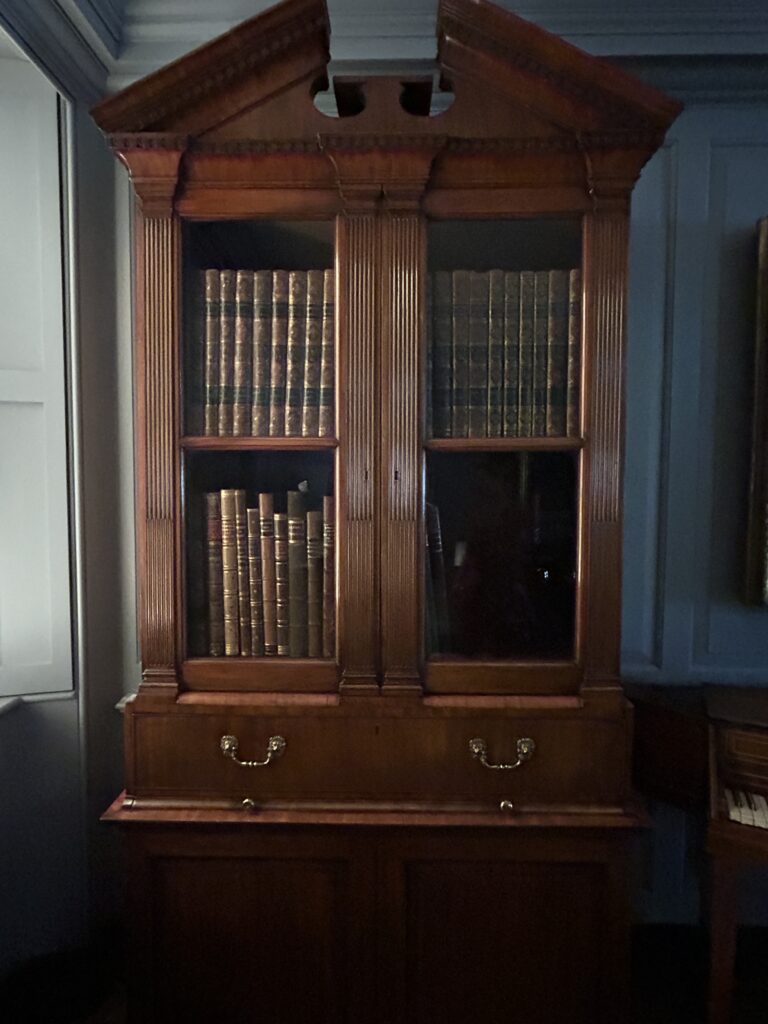 Beyond the parlours on the ground floor is the shop. The change in floorboard width as because this is in the 19th-century extension of the building. Do look for the window between the back parlour and the gift shop as this is the only original window left.
The shop has some really cool gift ideas.
Basement
Down in the basement, we can see a recreation of Handel's kitchen with all its fixtures and fittings, carefully detailed on an inventory made shortly after the composer's death. The lead water tank is a reproduction of the one that was outside and it does have Handel's initial (GFH). The 18th-century flagstone floor was recovered from Leicester Cathedral.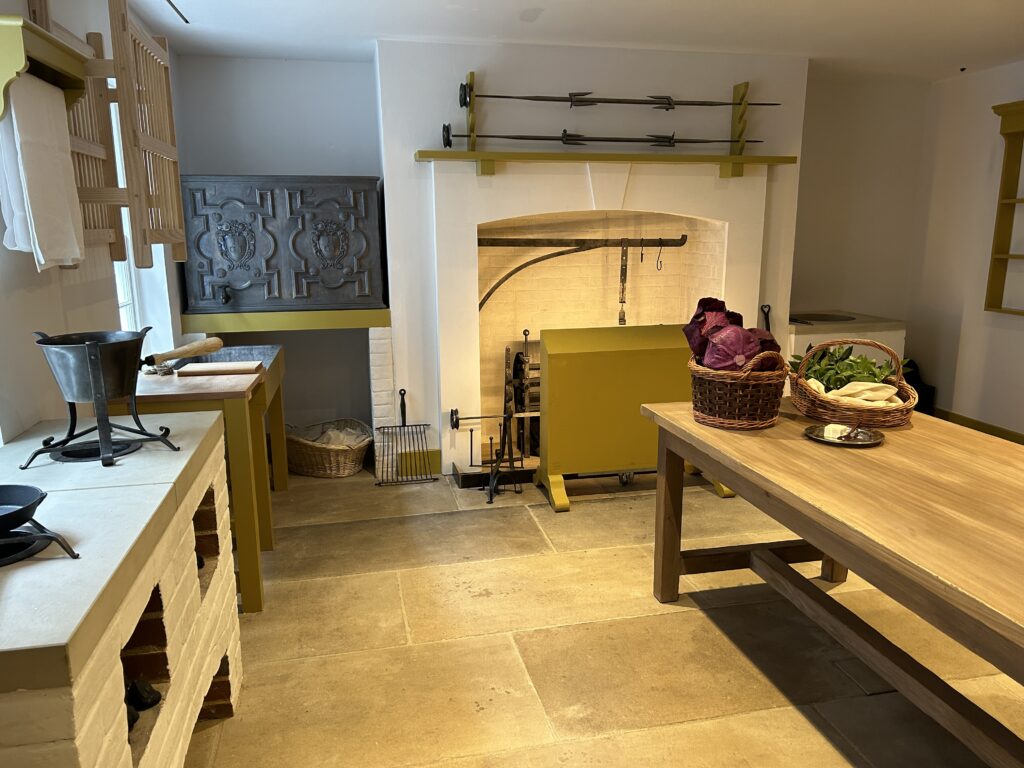 First Floor
Head up two flights of stairs and you'll reach the Drawing Room. There's an audio-visual display here about the writing of Messiah in the very room in which it was composed in 1741.
Behind this is the 19th-century extension and the performing space, The Studio. And at the front of the house is the Dining Room (see below). Above the fireplace is a Canaletto that is on loan to the museum as Handel did own a painting by the Italian artist.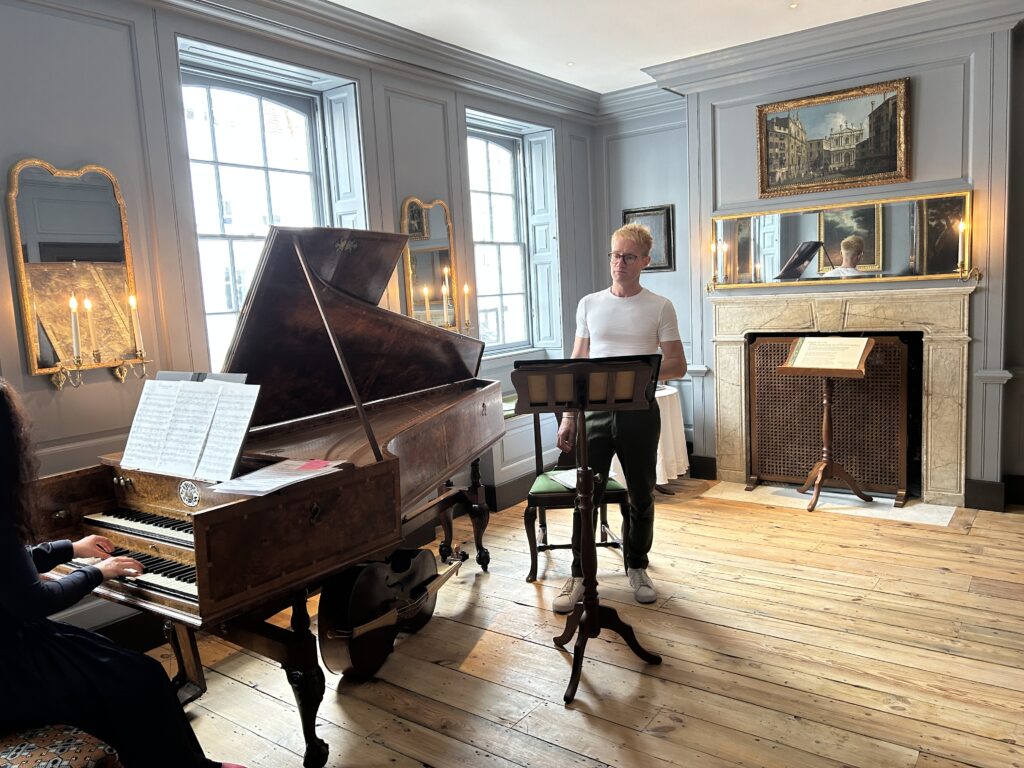 A grey-colour paint has been used throughout the Handel rooms as it is a match for a colour found during paint analysis. Head up the stairs…
Second Floor
You can visit Handel's bedroom and there's a Dressing Room too. In the extension area, there is a listening room where you can select different pieces of music composed by Handel to listen to and enjoy.
Third Floor
Contrasting and complimentary, it's not just the Handel side of things that have improved.
The first area you reach would have been Handel's attic and it now has Hendrix displays. But walk through to no.23 and you can see Hendrix's bedroom and a side room dedicated to his record collection. Apparently, there's some of Hendrix's blood on one of the record sleeves but I didn't see it. Nothing wild, he just nicked his finger and then picked up a record.
In the bedroom, the only original item that was here during Hendrix's time is the oval mirror.
The large knitted toy called Dog Bear is a copy of one that a fan made for Hendrix. There was a great picture taken of Hendrix asleep with his Dog Bear (you can see it here).
Hendrix also had the floor above but that's used by museum staff as offices so there is no public access.
As an aside, before he lived here, Hendrix, along with Kathy Etchingham, lived in Ringo Starr's basement flat on Montagu Square. There are some photos here before he trashed it with white paint.
Visitors can go down the stairs where George Harrison apparently had to step over one of Jimi's other visitors who had passed out on their way out.
On the second floor of no.23, there is an Experience Room where you can sit down and listen to people discuss the impact of Hendrix on their lives.
What I didn't get to see, but is coming soon, is a new exhibition that looks at London's vibrant cultural scene in the 18th century and 1960s, exploring why the capital was a magnet for both Handel and Hendrix and how they shaped and changed the city they made their home.
Contact Information
Address: Handel Hendrix House, 25 Brook Street, Mayfair, London W1K 4HB
Opening: Monday to Wednesday
Admission: Adult £14; Student: £10; Children under 16: Free
A media guide is included.
Official Website: handelhendrix.org
There will be a pubic programme of events. Curator tours on Wednesdays, Thursdays is Handel rehearsals, Friday is Hendrix rehearsals and weekend family days.