Horizon 22 is London's highest free viewing platform. That's quite a bold statement but it's true. To compare, Horizon 22 is 254 metres above ground and, across the water, View From The Shard is 244 metres above ground level. So Horizon 22 wins on highest and cost as it's completely free to visit. Right now, Horizon 22 is the highest free viewing platform in Europe.
Upon Arrival
If you are walking down Bishopsgate from Liverpool Street station, you'll see a big "22" on a building. Yes, it's enticing and you'll think you're at the right place but you're not. Keep walking to the other end of the building (the south end) and you'll reach the Horizon 22 entrance.
Here, you show your pre-booked ticket and then you head up a flight of stairs to the security checks. (There is a lift available too as this attraction is fully accessible.)
Once you and your bag have been scanned, you head around the corner to the lifts and go up to level 58. Apparently, the lift /elevator can fit 30 people but I reckon that would be a squeeze. It travels fast – yes, your ears may pop – and then you arrive at the upper mezzanine level viewing platform.
Viewing Platform
From here, you look out over The City of London. Don't rush down to the main viewing platform. Stay here for a few minutes to get your bearings.
TOP TIP:
Open Google Maps on your phone.
Tap the Layers/Map Type icon and choose 'Satellite'
as it makes it much easier to identify landmarks.
Turn the map so the River Thames is in the right place
(on your left when you enter)
and then you can zoom in to discover what you are seeing.
When ready, walk down the stairs to the main viewing area. There aren't 360-degree views, as the northeast corner houses the building's utilities. But it's about 300-degree views which is still impressive.
Horizon 22 staff walk around and have iPads to share information. When I visited, on a Tuesday morning, the chaps seemed more interested in chatting to pretty girls. [insert eye roll from an old lady here]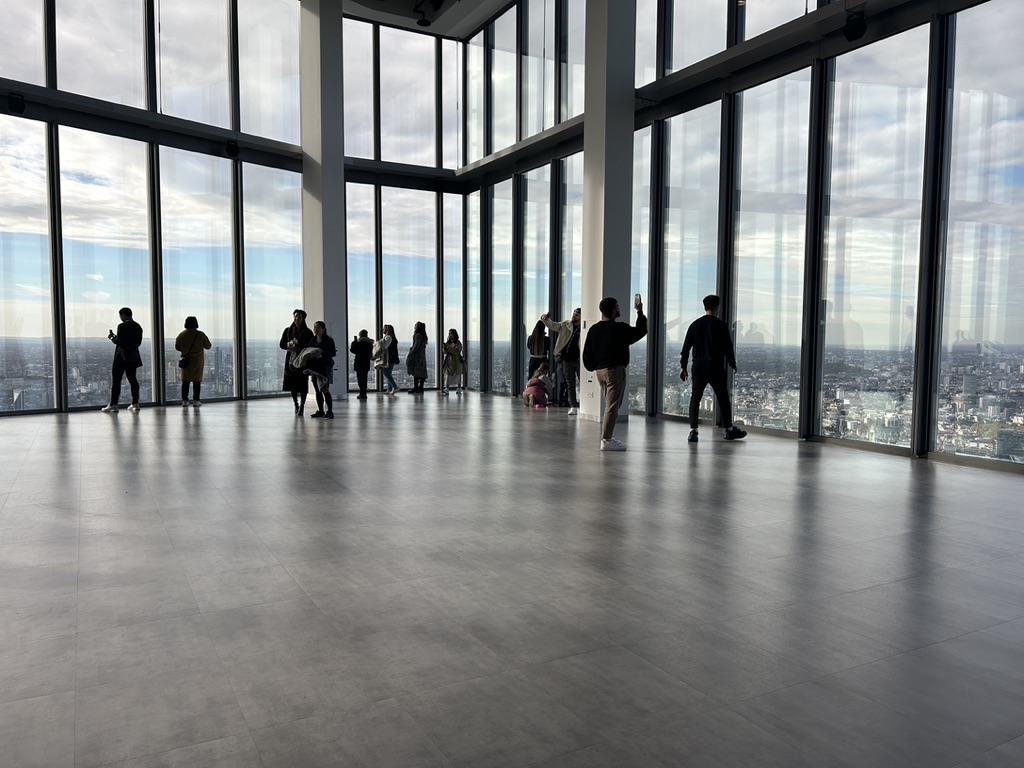 What You Can See
I've included a few phone snaps here just to give you an idea of the views. Katie from Look Up London has put together a handy guide on what you can see in each direction.
If you walk down and go to the right, you have views over The City. Stay longer and adjust your focus and you can see King's Cross and Alexandra Palace in the distance. Then start looking to the left and you'll find St Paul's Cathedral. Once you notice BT Tower, look beyond and see if you can spot the arch of Wembley Stadium.
Looking out over The Thames is the most popular area and it is a great view. You can look up the river towards Westminster and see The London Eye and Buckingham Palace. Look across and you've got The Shard with the 'Walkie Talkie' building in front. (That's where the Sky Garden is on levels 35, 36 and 37.) And then carry on round to the left to see the Tower of London and Tower Bridge. The view ends near The Gherkin with Canary Wharf at the bend in the river.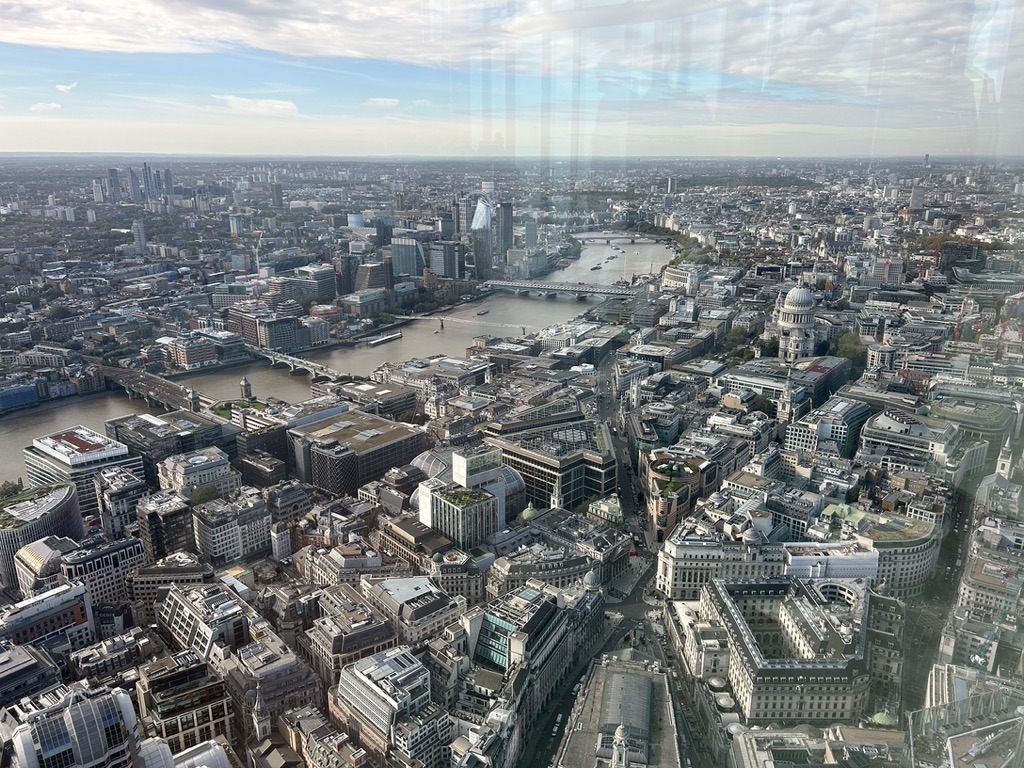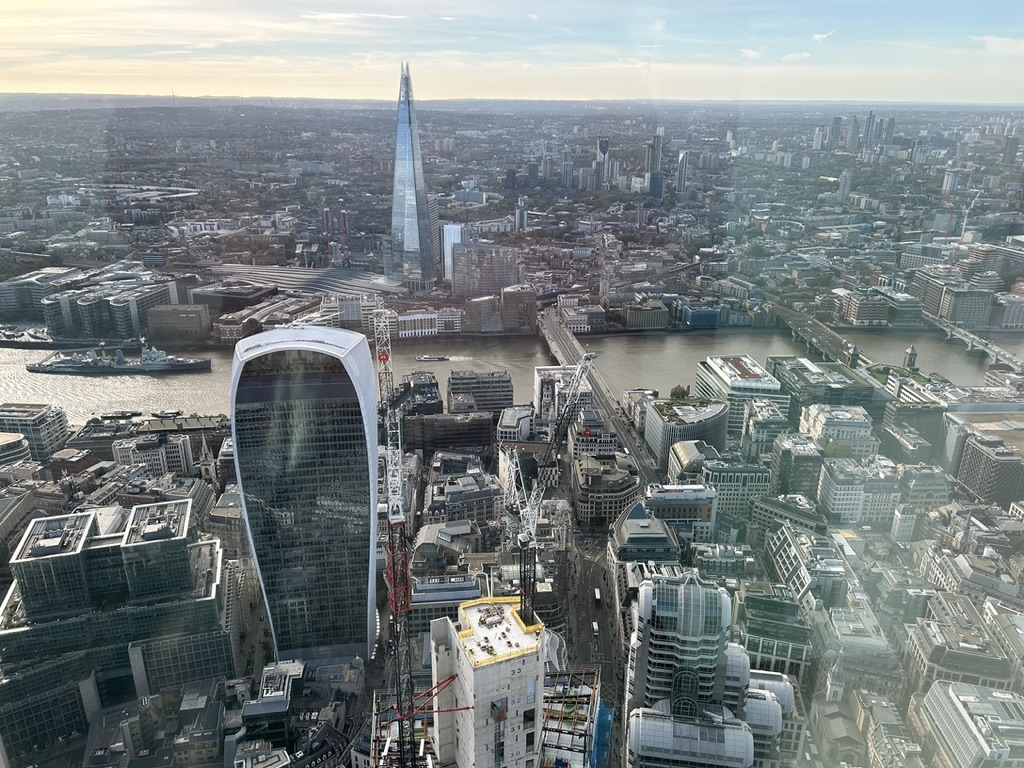 No Time Limit
While you do have to choose an arrival time slot, once you are here, there is no time limit on your stay.
There is a cafe and drinks are the usual London prices (£3-4 for a hot drink). The cafe has a couple of tables and chairs so you could stay longer after seeing the views. You will probably need less than an hour for your visit, even if you do stay for a coffee.
When You Leave
To leave the viewing platform, you have to go up a flight of stairs to reach the lifts. There is an extra little mezzanine level at the top of the stairs so you may well take a few more photos.
From leaving the lift, you then have another flight of stairs to go down to reach the exit. This brings you to the back of the building. While there is a member of staff posted here, they did nothing to advise the confused customers leaving the building. Maybe a simple sign will be added in the future.
If you want to go back to Liverpool Street station, go down the steps and turn left and left again as that will bring you around to the front of the building on Bishopsgate. But while you are in The City, it could be a good time to explore.
Opening Hours
Horizon 22 is open seven days a week.
Weekdays: 10.00 – 18.00
Saturday: 10.00 – 17.00
Sunday: 10.00 – 16.00
I enjoyed my October morning visit. I think it would be good to return for sunset which is early in the winter months.
Tickets
Tickets are free and you need to book online. You will see many dates are sold out when you try to book. Do check back regularly as more tickets are released daily at 10am, 60 days ahead. The daily 10am release can also include earlier dates if they have had returns.
There can be walk-in tickets available too but that is, obviously, not guaranteed.
Official Website
Other Free Viewing Platforms
The City of London has more free viewing platforms including the Sky Garden and the Garden at 120. There's also The Lookout at 8 Bishopsgate which I've not yet seen.