The Garden at 120 is the City of London's largest public rooftop space. It's located atop the Fen Court building at 120 Fenchurch Street. At 15 storeys up, the viewing platform offers exceptional 360-degree views of the City and Greater London. And it is free to visit, with no booking required.
Planting
Open since 15 February 2019, the garden was designed by German landscape architect Latz + Partner. It features a variety of plants and trees, including 85 Italian wisteria trees, over 30 fruit trees, and a 200-foot-long flowing water feature.
While there is beautiful planting here, most look outwards as there are London landmarks from every direction.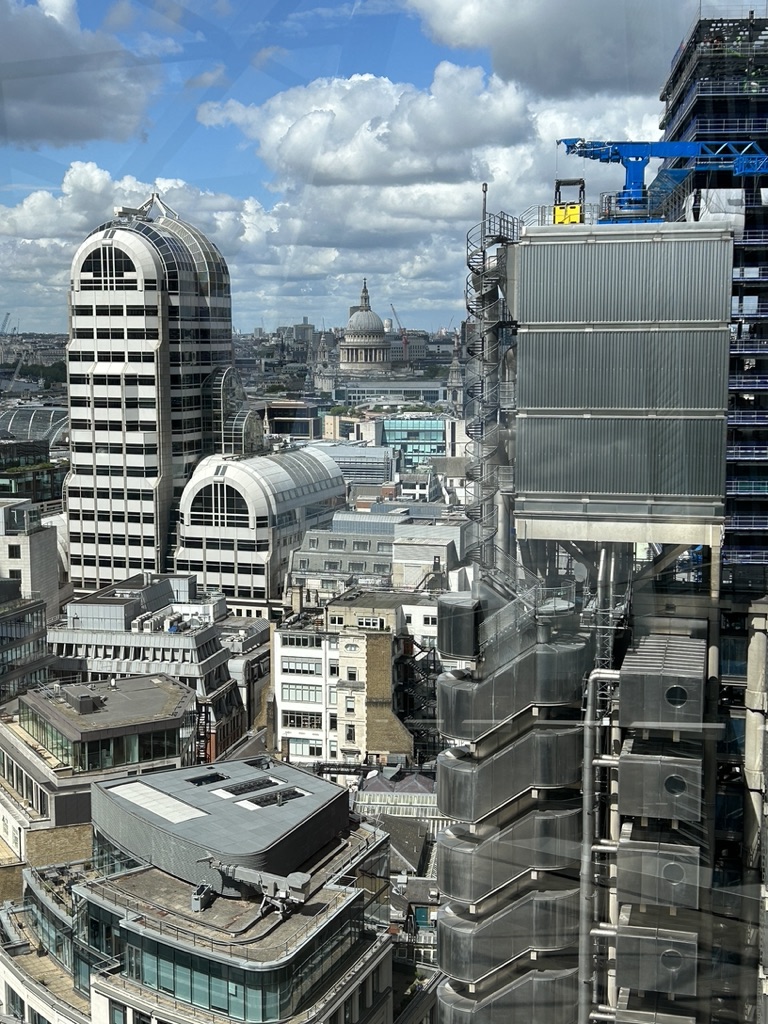 Food and Drink
It's fine to bring a drink and a sandwich but this is not the type of place you can spread a picnic blanket. Note, alcohol is not allowed.
There is a kiosk on the level below selling tea, coffee and snacks. Unfortunately, this was closed when I visited on a summer weekday.
There is also the 14 Hills restaurant on the 14th floor with City prices.
Tips
The entrance can be found off Fenchurch Street. Look for the NatWest and enter the courtyard at the side.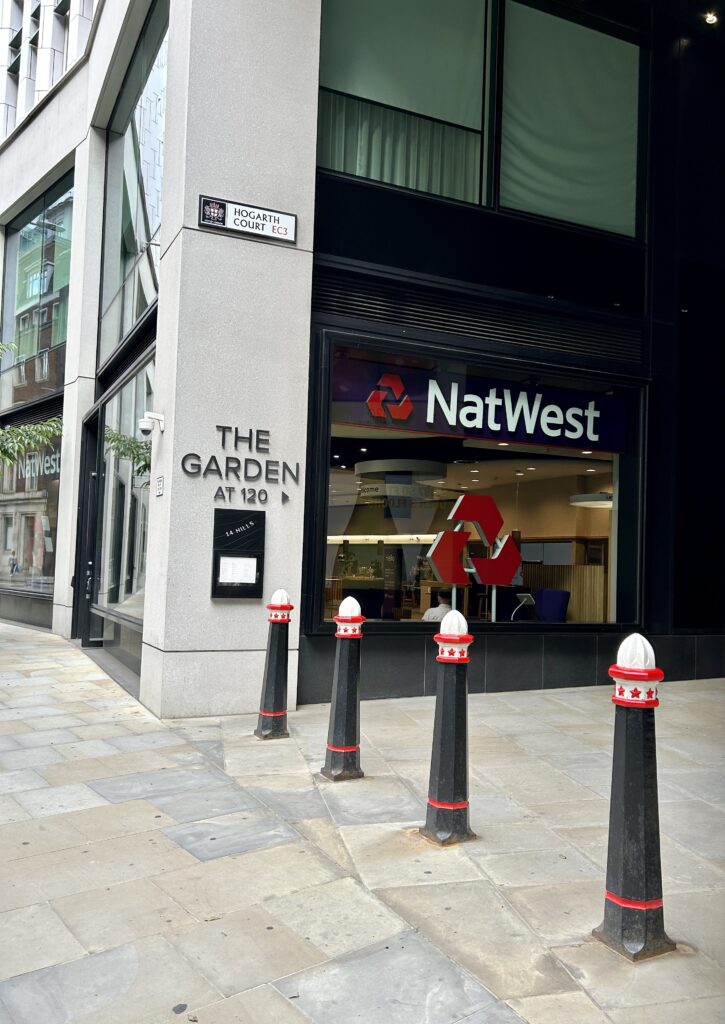 All visitors pass through airport-style security so be prepared to have bags scanned, etc.
The 207-capacity Garden at 120 can be busier at weekends and on weekday mornings.
There is limited seating available. Many choose to sit on the ground around the water feature.
Even though The Garden at 120 is less than half the height of the Sky Garden, it still feels high enough for great views.
Nearby
You could consider a visit to the Sky Garden, although that usually involves more forward planning. The City Wall Vine Street Museum is free and only a few minutes walk away. And St Dunstan in the East is also nearby.
Visitor Information
Address: 120 Fenchurch St, London EC3M 5BA
Summer Opening Hours: Between 1 April – 30 September (Monday to Friday 10am – 9pm, Saturday & Sunday 10am – 5pm). Closed on Bank Holidays.
Winter Opening Hours: Between 1 October – 31 March (Monday to Friday 10am – 6.30pm, Saturday & Sunday 10am – 5pm). Closed on Bank Holidays.
Admission: Free.
Official Website: www.thegardenat120.com