This article was first published on the VisitBritain Super Blog in 2011 so the prices will have changed but the advice is still valid.
In the April school holidays, I set myself the challenge to get the best value I could from a one day London Pass which covers admission to over 50 attractions. As I'm based in London I added the criteria to try and include places I had never been to before or that I hadn't visited recently.
I could see how you can get good value from a three day pass (I tried this myself years ago) but one day would mean visiting a lot of places and I was concerned how much I would actually see.
With the London Pass you receive a guidebook listing all the attractions you can get into for free and where you can gain discounts so I spent many nights choosing places and checking their admission charges online (this information is not included in the book) to make sure I would beat the one day pass rate of £43 (2011 rate). I also looked at locations to plan a route for the day.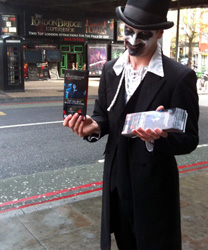 I started my day at the London Bridge Experience & London Tombs as I'd not been before and it has a high admission rate (£23). At 10am a small group of us entered together and were guided around by actors who told us the scary tales of the local area.
The venue is really two attractions in one and the London Tombs was incredibly scary and I wouldn't recommend it for children. We had to walk in single file with hands on the shoulders of the person in front. Mostly it was pitch black and we could feel actors so close they were breathing on us but we could see nothing. And when the chainsaw arrived…well, you get the idea. It's proper frightening in there.
Running total: £23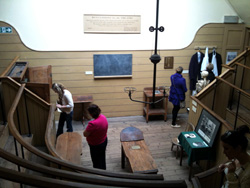 I'd often wanted to visit the Old Operating Theatre Museum but the admission charge had put me off (£5.90). It probably wasn't my best 'stomach settling' idea after the London Tombs as there are medical instruments and preserved body parts on display but it is a fascinating place and is the oldest surviving operating theatre in Britain. It's also set in the roof of a church so it's an unusual historic interior.
Running total: £28.90
After lunch at Borough Market I visited Southwark Cathedral which has no admission charge but London Pass holders can claim a free guidebook in the shop (worth £3.50).
Running total: £32.40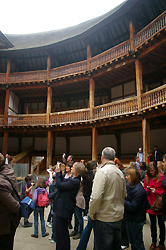 A stroll along the South Bank and I arrived at Shakespeare's Globe half an hour before the next tour (£11.50) which gave me enough time to see the exhibition. The tour took us around the theatre and we got to sit in seats on different levels which was a nice opportunity and certainly encouraged many to book for a summer performance.
Running total: £43.90
At this point I had broken even with the cost of the London Pass so anything more was 'free'. I decided to try and catch a Thames river cruise with City Cruises.
I got a bus over to the London Eye Pier and waited 20 minutes before a member of staff appeared and told me I should have collected a ticket from the Ticket Desk at the entrance to the Pier so I couldn't get on that boat. He also told me boats were running every 10 minutes and not to the online timetable that I'd checked as it was the school holidays. I fumed inside, got a ticket and waited again.
The next boat came and I then discovered it was only going to Tower Pier almost opposite where I had come from! I wanted a cruise to Greenwich and back to relax but I chose to get on the boat just to change locations and reassess what else to see.
There was no relaxing to be had as a 'tour guide' talked over the loud speakers telling us 'facts' and how he wasn't paid to be a guide but staff seemed happy to wave a bucket at us for tips as we disembarked. I had got a 'rover ticket' (£13.50) which meant I could go on more boats throughout the day but I decided not to endure that again.
Running total: £57.40
I walked over Tower Bridge to the Design Museum which used to inspire me but sadly only held my interest for 15 minutes during this visit which was a shame considering the £11.50 admission charge.
Running total: £68.90
I decided it was time to head into town so I got the tube to Westminster to see Banqueting House. Even though I got there in time I couldn't visit as they were having a private event. If there is somewhere you really want to see it's probably best to check in advance for any planned closures.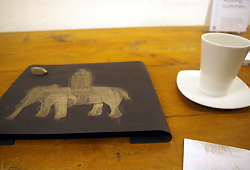 It was definitely time for tea so I walked up to Trafalgar Square to St Martin's in the Field Crypt Cafe which always manages to refresh me on busy days in town. Even luckier for me, the London Brass Rubbing Centre is also there and I could try rubbing a £4.50 brass for free.
As I sat trying my first ever brass rubbing a few people came over to watch and I encouraged them to join in. There were young children, senior citizens and all in-between giving it a go so it really is not just for the kids. Of my whole day, I was surprised how much I enjoyed this. If you want to display your artwork at home then do ask for the free picture hangers.
Running total: £73.40
The National Portrait Gallery is free to visit but there are charges for some of the special exhibitions. As it was a late night opening I crossed the road to the gallery and heard live music, saw wine glasses and lots of relaxed visitors. I asked for advice at the ticket desk and staff told me about the wonderful Hoppé Portraits exhibition (£11) which I enjoyed.
Running total: £84.40
From here I walked over to the Piccadilly branch of Crest of London who offers London Pass holders £5 of souvenirs with no minimum purchase. I chose a snow globe and Union flag piggy bank but my London Pass wouldn't work in their machine and I didn't get my goodies. The manager came over to help and was very polite so I reckon it was just my card that was a problem.
From here I remembered I could go to the cinema with the Pass so I asked at Curzon Soho for advice. The Box Office staff were fantastic and were able to tell me about each film showing that night as they'd seen them all. Luckily for me a comedy (£12.50 ticket) was about to start so I had time to buy popcorn and a drink and settled down for a few hours of laughter.
Grand total: £96.90 Total savings after cost of Pass (£43): £53.90!
Conclusion
I thought I'd be exhausted – often one attraction takes all day for me – but it wasn't too bad. I could have managed another day like it the following day as I had so much fun. I possibly spent too long planning my day but that's me. Others who only loosely aimed to visit one or two attractions and were spontaneous with the rest of their choices still had a great day.
It would be handy if the London Pass guidebook included a street map to locate all of the attractions and if the website had a facility for planning itineraries.
The London Pass includes some very popular high admission rate venues such as Westminster Abbey, the Tower of London and Kensington Palace but not the Merlin Entertainments attractions such as the London Eye, London Dungeon and Madame Tussauds.