Have you ever tried mindful painting? When MasterPeace asked me I had to say 'No' but I liked the idea. When you live in a city and everything is about multitasking it's a real treat to stop and live in the moment.
MasterPeace
London's first dedicated mindful art studio, MasterPeace is a luxury drop-in art experience for adults. (There is a mini-MasterPeace session for kids but this is mostly for the grown-ups.)
Being mindful means being aware of the present and using your senses. The studio smells amazing (a candle was burning at the end of the table). I was offered a drink and sat down to enjoy a mint tea while taking in the calm atmosphere. It's a peaceful and relaxing setting that seems ideal to inspire creativity.
Founded by Zena El Farra, a former banker, MasterPeace is strongly rooted in the therapeutic benefits of art. Zena and her team of professional artist tutors provide friendly and supportive artistic guidance to escape the stresses of life through painting.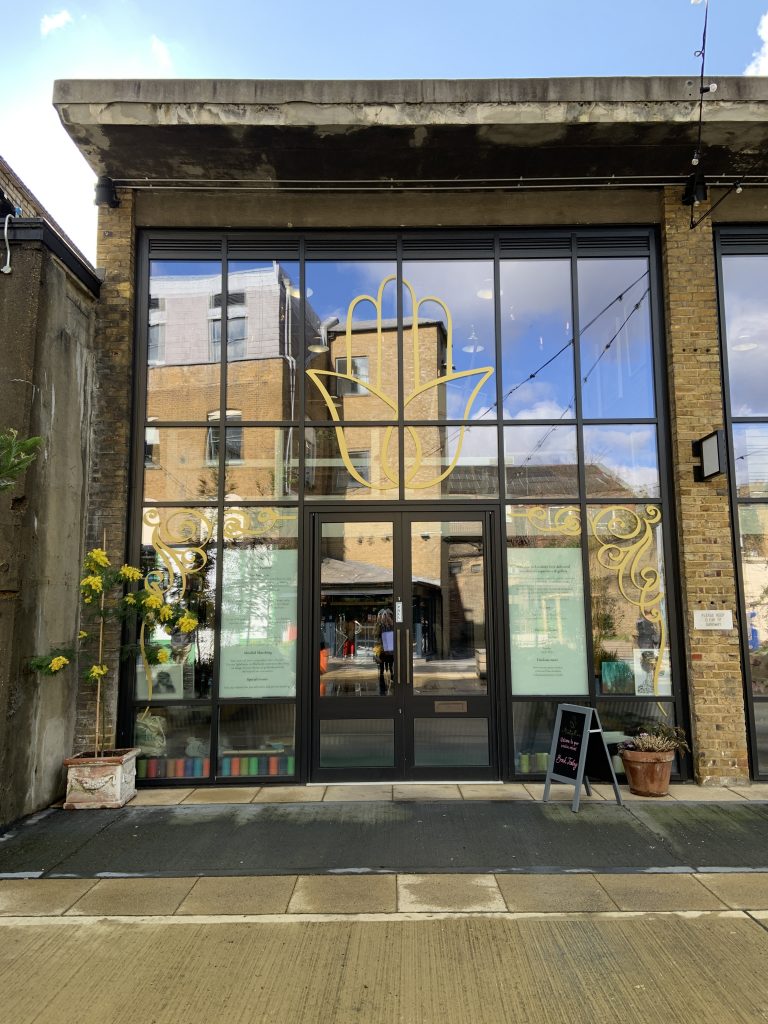 Location
MasterPeace is in a quiet courtyard location near Victoria station. Eccleston Yards creative hub is quite new but it's a hidden spot that's worth knowing about. I remember when this was the car park for the offices next door where I worked in the 1990s. Now it's got outdoor seating and is surrounded by restaurants, shops and wellbeing outlets.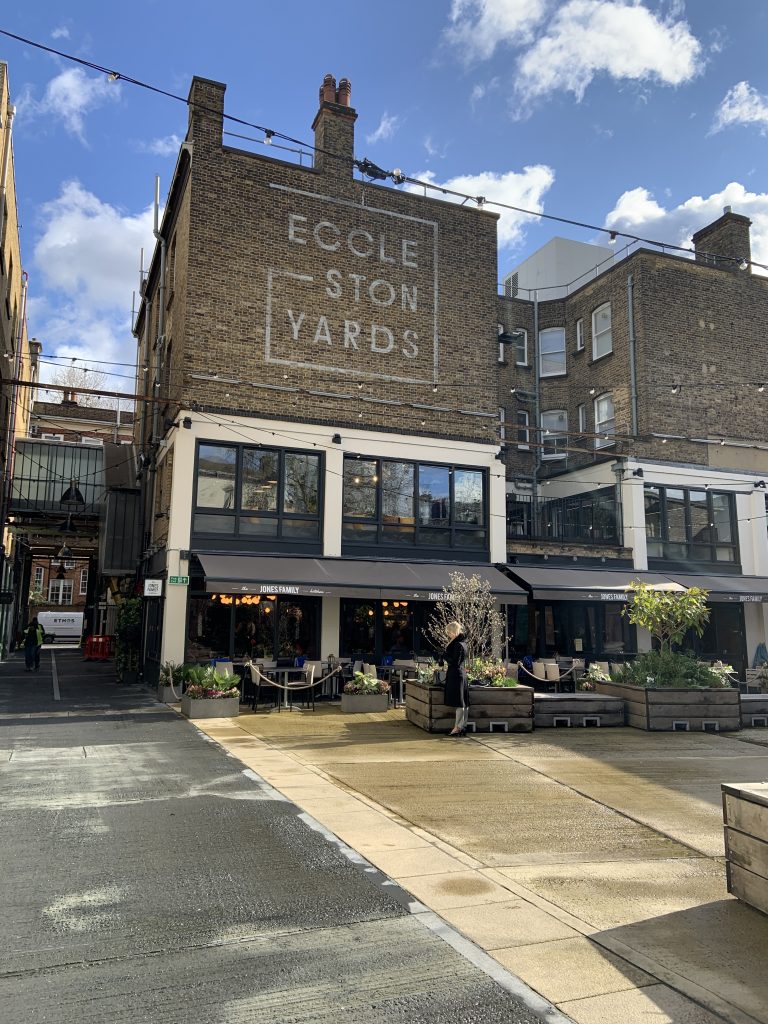 Who Is It For?
Taking time out of your life to be creative is never a bad thing. On the day I visited there were all age groups and all levels of ability. There are around 100 painting and sketching classes available each month. The sessions are 60 to 90 minutes – not so long that we can't all find the time. Many people book multiple-session packages so you don't have to rush to finish.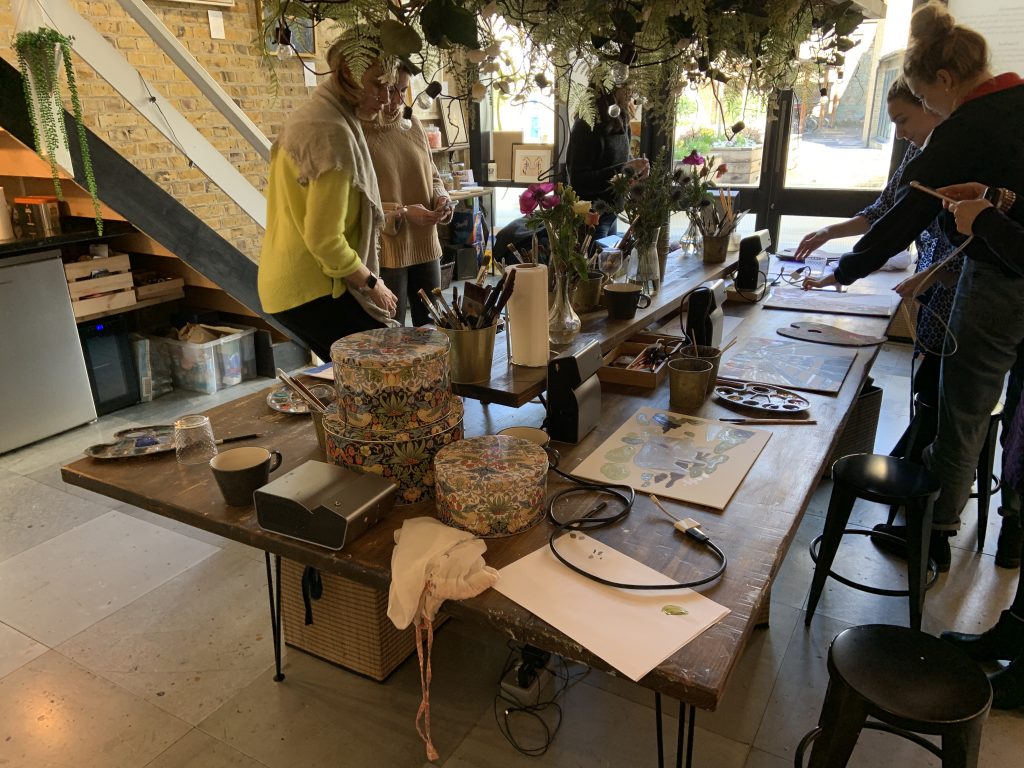 Fundamentals or Coached
Fundamentals is the more basic level class that covers sketching, mixing paint, selecting brushes, experimenting with textures and discovering the joy of letting go.
The Coached class allows you to create a painting from a photo. You connect your phone into MasterPeace's unique Lightbox and the image is projected directly onto the canvas making it easier to start your painting.
Coached Review
While I'm no artist, I enjoy being creative. I chose the Coached class so I could try producing a painting of a photo. Choosing a photo was harder than you might think and most of us in the class had a selection to consider on the day. Fortunately, our tutor was able to help us make a decision and we soon all had our phones connected to the individual lightboxes.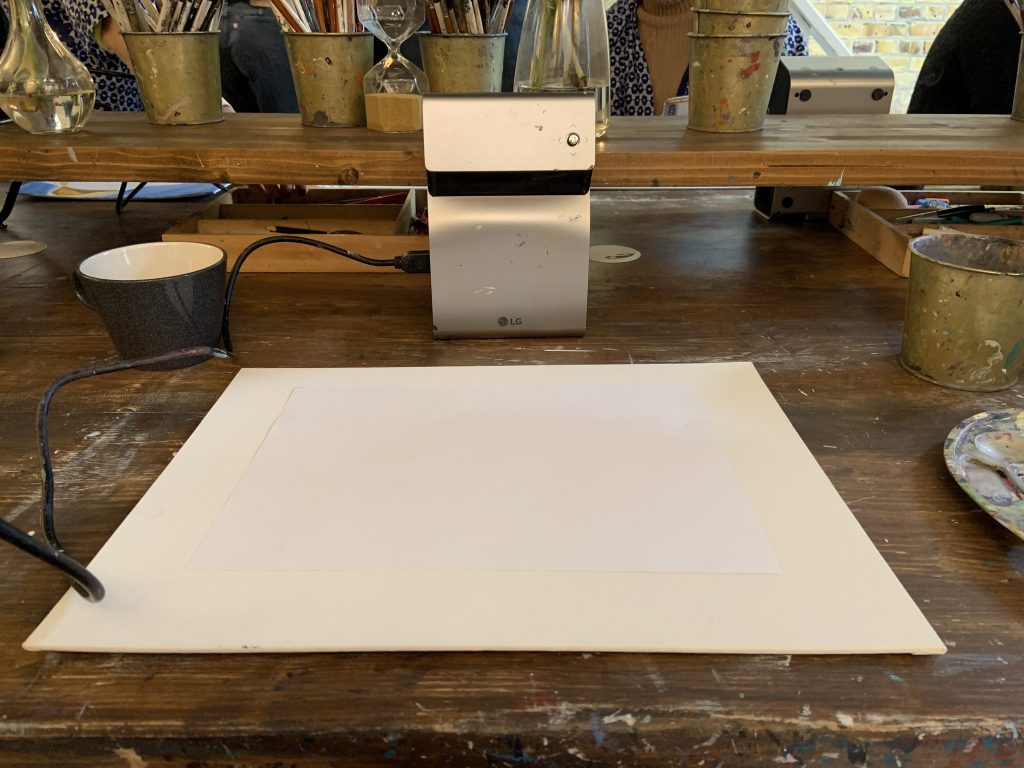 Everyone gets a basket under the table for your coat and bag. Then you put on your kimono robe apron and feel transformed and ready to be creative. Actually, that is a clever point as by wearing something else, it's another way to break the connection with the stressed person you may have been when you arrived.
We started with a few warm-up exercises – sketching quickly with pastels, continuous line drawing, using the 'wrong' hand', etc. And then we moved our paper to one side, turned on the lightboxes and saw our photo projected onto the flat canvas board.
Some were working on portraits, others chose holiday snaps and I chose a very 'London' view.
We used a pencil to trace some guidelines onto the canvas and then we were free to take our palette and choose paint colours. There is a wall with shelves full of acrylic paints in pump bottles and we were free to choose what we needed.
This wasn't a beginner session so we didn't talk about how to mix colours. Our tutor gave us some group and individual tips and direction and we just went for it. They remained on hand throughout to offer advice.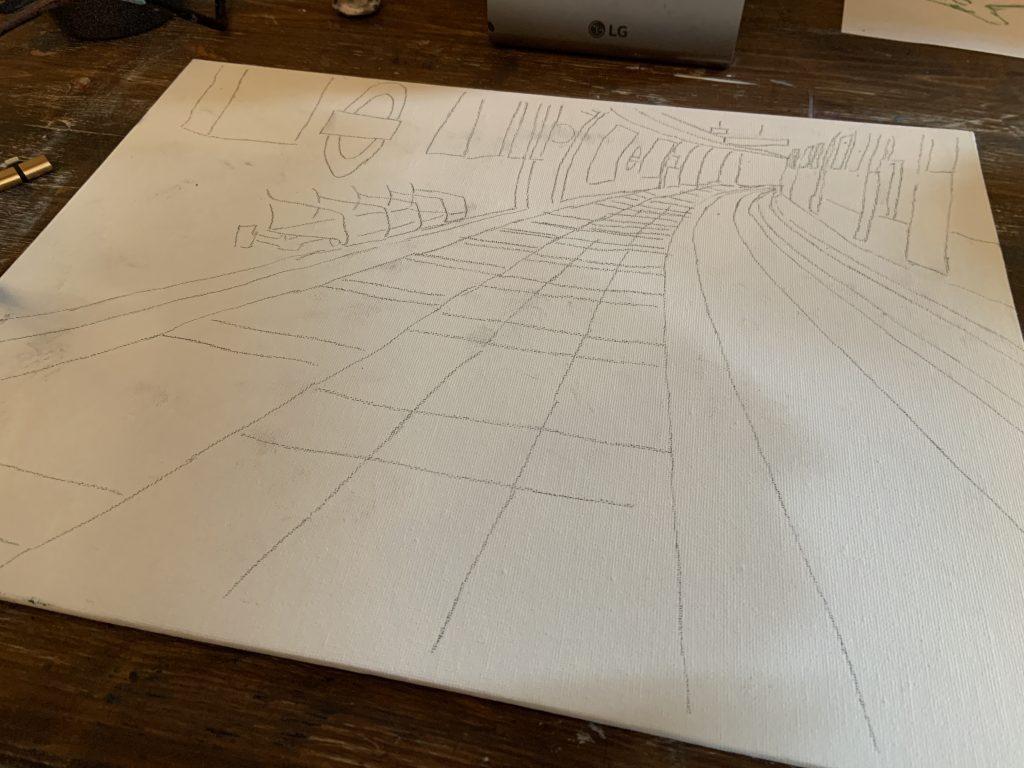 There are lots of paintbrushes so you can use a different one for different colour tones. I went with small brushes so I had more control.
Once we started painting, curtains were drawn so we weren't distracted by the courtyard outside. Looking back, that was another subtle but clever idea as we all focused on our artwork and didn't talk about the weather, etc. We could have been anywhere as we could no longer see signs of a busy city. Background music was used too.
Times Goes Quickly
I had only just started painting when we were told there were just 40 minutes left of the 90-minute session. That could have caused stress but instead it galvanised me to complete my painting. I was advised to do the darker blocks first and to adjust the tone for the dark areas in the distance.
At the end of the session, there are frames available to buy and paper bags to carry your artwork home.
Acrylics dry quickly but there are also hairdryers available so you can give it a blast to be sure before leaving.
Refreshments
During the morning session, tea and coffee were offered while we worked away. And there was a table of healthy snacks, including grapes and gluten-free cookies (which I can recommend) we could go to at any time. I understand Prosecco is the drink of choice for the evening sessions.
My Tips
If you choose a country scene with lots of greenery, consider doing a wash colour over the canvas first so you aren't left with a lot of white space.
We were reminded we were not creating a photo so we could interpret the original guidelines in any way we liked. Mindful painting isn't necessarily about completing an artwork but more about the process.
I went with a friend but we didn't spend much time talking as we were both engrossed. We could look across and comment on how we were doing but mostly we just got on with our paintings. It was a real treat to spend time getting lost in your own thoughts in a calm environment. I commented a few times while I was there on simply how much I was enjoying it.
Conclusion
I really enjoyed this session and I did find it a rewarding experience. It felt calm and creative. (You really wouldn't know you were close to a major transport hub.) I came away with a piece of art which I was quite proud of. While my 'classmates' were complimentary about my painting, I do feel they were being kind as I had chosen an image we are all familiar with.
I framed it when I got home and put it on the wall. My daughter asked me where I bought it so she too was surprised it was by me. She said, "I thought you had paid like £30 for it" which made me smile as she may need to be advised how much original art actually costs to buy.
I did find the mindful awareness stayed with me for the rest of the day. After leaving you notice all the tones and shades around you for a while. And that's what being mindful is all about. Being more aware of your surroundings, looking in detail, feeling connected to the now.
And, of course, while your phone is plugged in you are not checking emails and social media notifications. And that makes a huge difference to being mindful.
The photo I used was of Waterloo tube station, Bakerloo line, Southbound platform. I've always liked the 'piano keys' floor tiles. My daughter does too.
Address: 12 Eccleston Yards, Belgravia, London SW1W 9NF
Nearest Station: Victoria
Official Website: masterpeace.studio
Disclosure: As is common in the travel industry, the writer was provided with a complimentary class for review purposes. While it has not influenced this review, AboutLondonLaura.com believes in full disclosure of all potential conflicts of interest.