Namaaste Kitchen in Camden is the younger sibling of Salaam Namaste in Bloomsbury, both run by chef Sabbir Karim. The West End branch opened in 2005 (named after a famous Bollywood movie) and this Camden branch opened in 2010.
It's a Modern Indian restaurant and the dishes are often inspired by Chef Sabbir Karim's international travel as a purser with British Airways' cabin crew for 20 years, and he has won numerous awards including Best Innovative Chef 2013 at the Asian and Oriental Chef of the Year Awards 2013.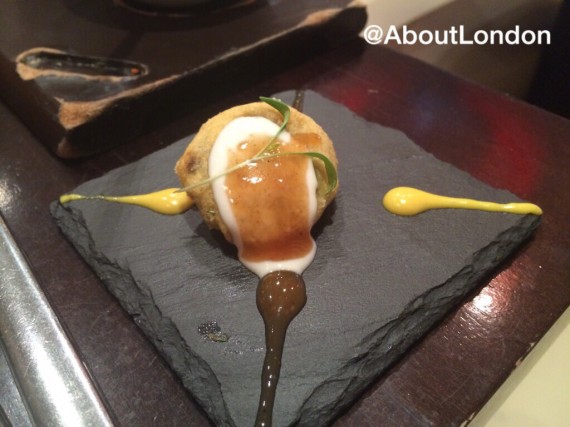 Modern Indian includes more healthy cooking styles including the large grill area which is an open kitchen within the restaurant for diners to see. Two chef's tables can seat eight each to watch it all happening. Sadly, I visited at a quiet time when it wasn't in use. The grill has a tandoor (traditional clay oven) and meats are cooked on the sigri (over a coal flame) and on the tawa (a hot iron griddle).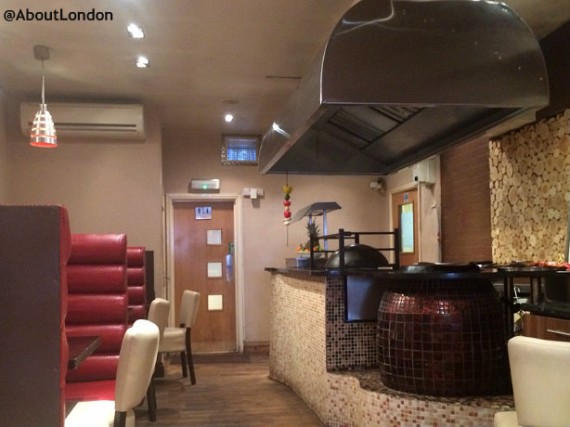 The Restaurant
This is a contemporary dining space in a long thin room that has exposed brickwork and cream walls. There are cream leather chairs and a long bench seat along one side. There's a bar at the front and seating for up to 90 in the main restaurant with an extra 16 at the chef's tables by the grill at the rear of the restaurant. Indian music plays in the background.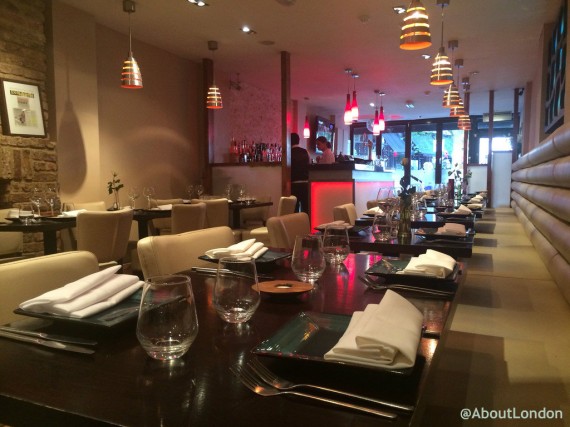 The tables are mostly for two people and are quite small (more on that later). They are ready with blue square plates and cutlery plus a flower vase.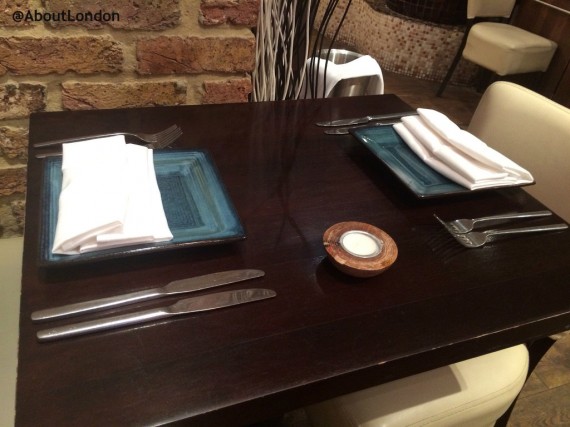 Staff are friendly, polite and smartly dressed. Attention to detail is important as I noticed waiting staff cleaned the table between courses.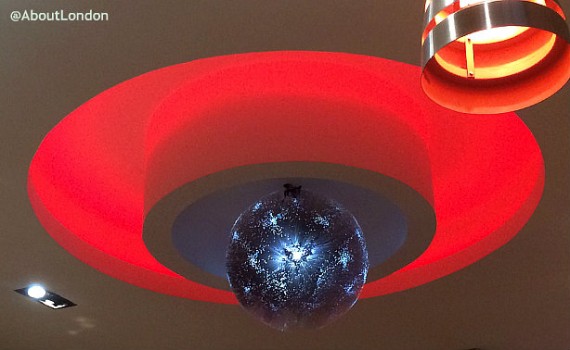 Menu
There are lots of dishes on this menu you won't find elsewhere as Sabbir Karim is always experimenting. Some traditional curries stay on the menu though and there is a range of gluten-free, vegan and halal options.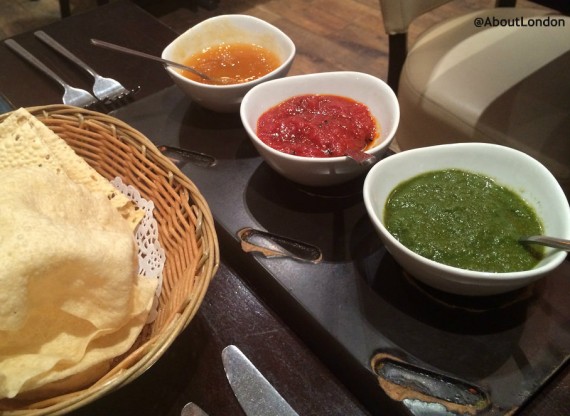 Starters
We choose the Tandoori Portobello Mushroom, as it's one of the signature dishes, and the Veg Punjabi Samosas.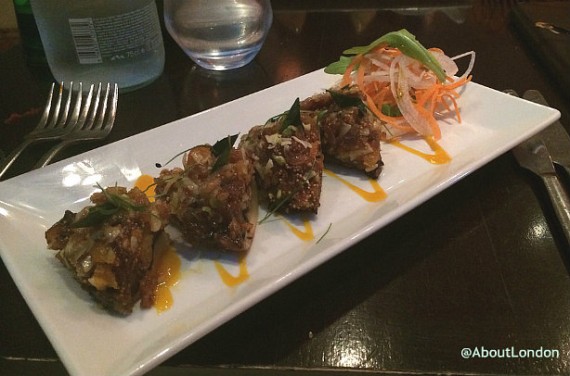 "Very exciting flavours!" was the reaction from my friend when we tried the combination of hot fig and mushroom. Figs are an acquired taste but this dish was definitely worth trying.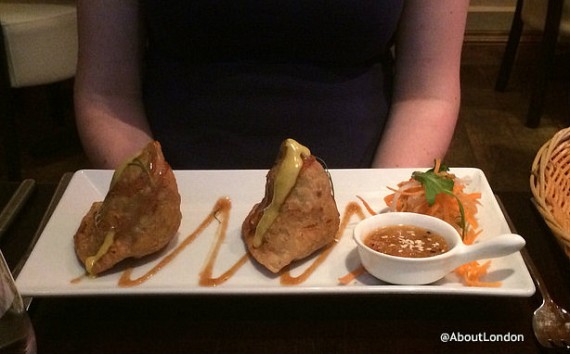 The samosas were little domes rather than triangles and were harder than expected but still tasty.
Mains
My Tandoori Sabzi was served on a piece of black slate which was superb for presentation but didn't work when I wanted to eat some rice so I 'borrowed' a plate from the empty table beside us.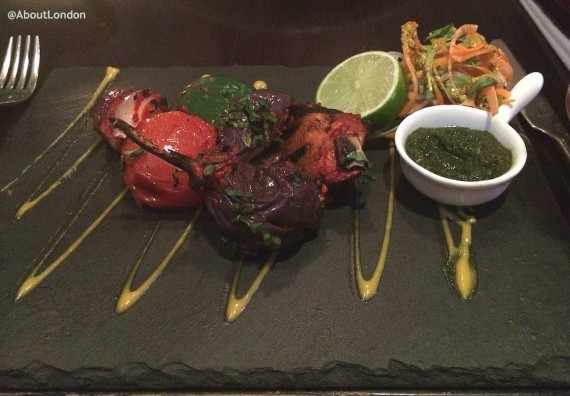 As the table was prepared for our main meal to arrive I became aware it was too small. As I tried to eat and worried about knocking a drink off the table I knew more space would have been preferred.
I noticed as the restaurant got busier later in the evening everyone was packed in pretty tightly.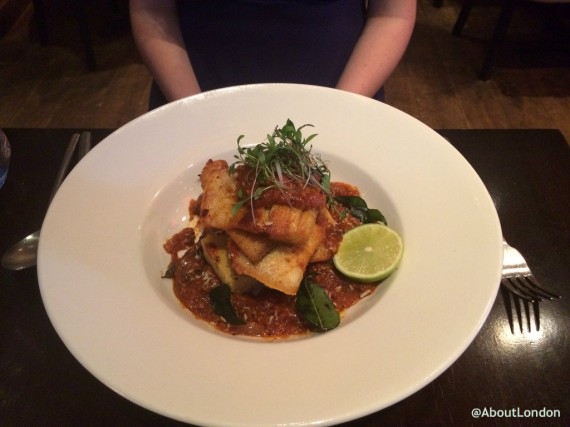 My friend ordered the Goan Sea bass and it was presented in a pile with a cocktail stick holding it all in place. She felt this may have left the fish tasting slightly too dry and she would have preferred it to be in the sauce.
Sides
My friend ordered Dhall Makhani as it's one of her favourites and she could then use it as a marker for the standard of the other dishes that were new to us. She declared it good and took the rest home for lunch the following day.
We ordered chapati to eat with the dhal and the restaurant also recommended the Date and Ginger Nan which I enjoyed.
Dessert
We ate too much so I couldn't manage a dessert but my companion gallantly ordered a Mango Kulfi. There was some type of noodle underneath, which was a surprise, but the creamy kulfi was lovely and tasted rather like my Mango Lassi.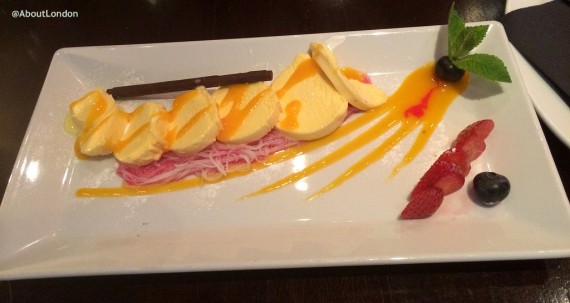 Conclusion
It's good to see a more interesting variety of Indian dishes on offer and the presentation is exceedingly good. I had read on Cook Sister about the black slates and the 'sauce squiggles' which, I agree, could be considered 'trying too hard'. But it's a good location – just a minute from Camden Town station – and the staff are great. We asked lots of questions about the menu and they knew the dishes well and could make recommendations.
Contact Information
Address: Namaaste Kitchen, 64 Parkway, Camden, London NW17AH
Tel: 020 7485 5977
Official Website: www.namaastekitchen.co.uk
Disclaimer: As is common in the travel industry, the writer was provided with complimentary services for review purposes. While it has not influenced this review, I believe in full disclosure of all potential conflicts of interest.