Sightseeing With Kids
Visiting attractions with the family can be a challenge. You want them to experience the best locations but their boredom threshold is high and little legs can get tired before you even get into town.
But I've never held back on including my daughter when visiting the landmarks of London (or elsewhere  – see the Great British Playground Tour). Yes, there has been some whinging along the way but we've always made the most of any visit. I think it takes more planning to have a great family visit but going informed also makes it all worthwhile.
St Paul's Cathedral
So, back to this major London landmark. St Paul's Cathedral is over 300 years old and an iconic feature of London's skyline. It's still a working church but also a popular tourist attraction, and that's a hard balance.
The official website has lots of resources. (I always check under the educational resources as I used to be a teacher and these sections often include self-guided tour notes to download so are great for all families.)
A quick Google search can also offer lots of amazing facts that make the location more appealing for kids.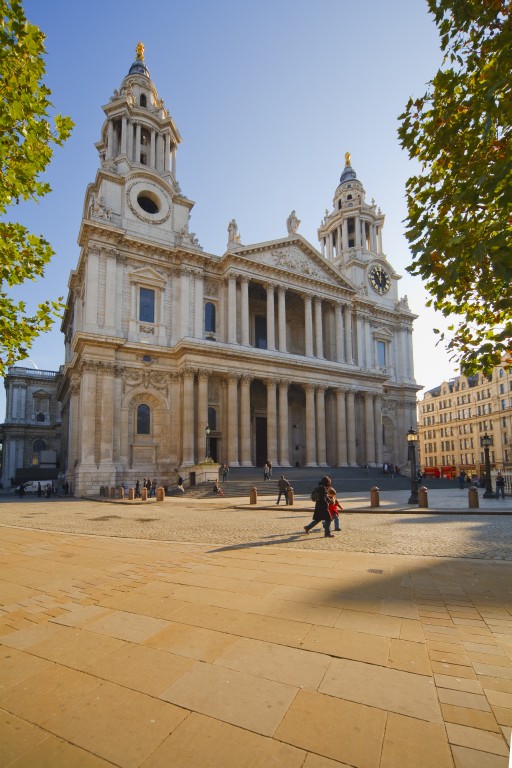 Sure, there's a 'wow factor' when you first arrive on the Cathedral Floor as the building is stunning. But to get more out of a visit you need to know what you're looking at so there are guided tours and multimedia tours included in the admission price. The tours are entertaining and are offered to enable visitors to learn about the purpose, daily life and history of St Paul's.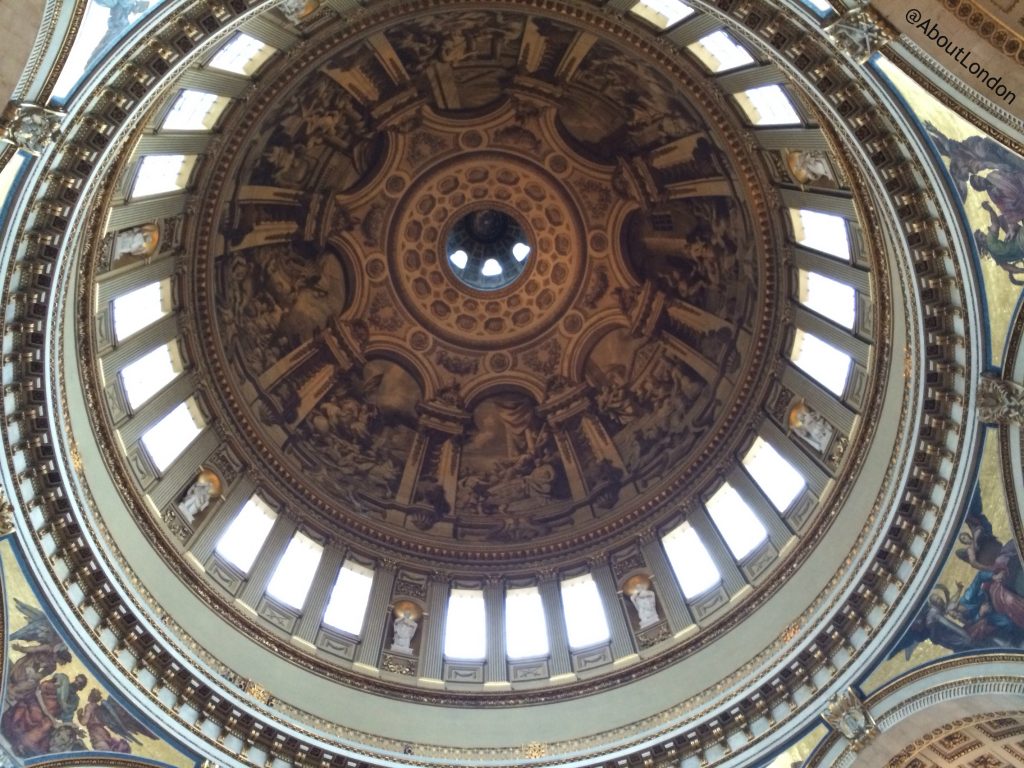 Guided tours work best with older children as they need to be able to concentrate for at least an hour and not whinge so loudly about being tired or hungry or bored to annoy the others on the tour.
We tried the family multimedia tour as we wanted to explore independently.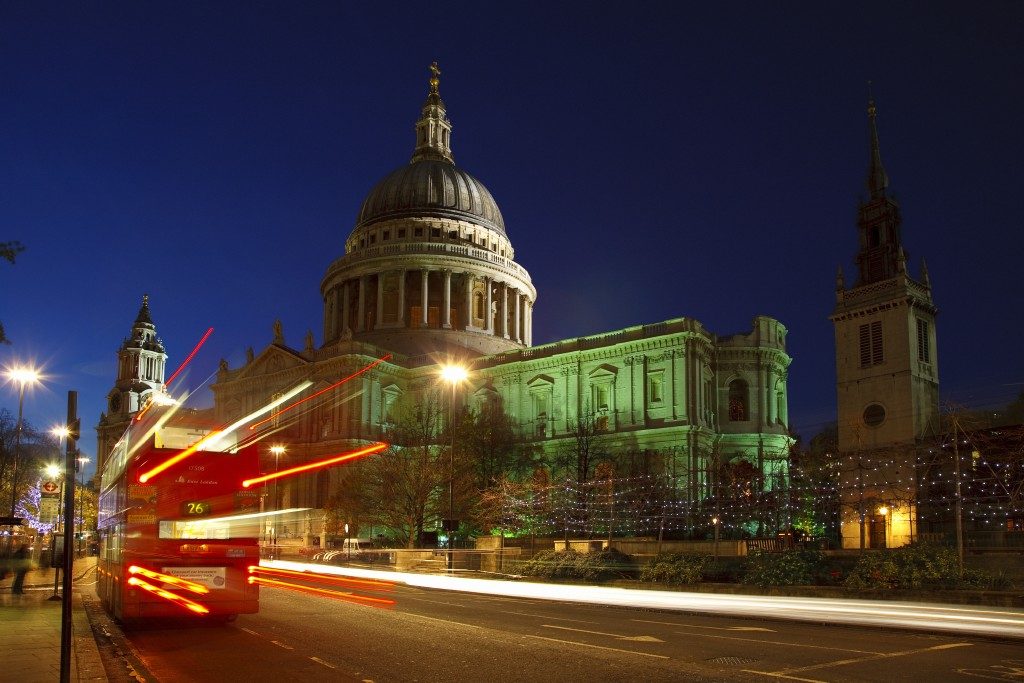 Out of The Fire! Activity Trail
Before I tell you more about the family multimedia tour, I wanted to get a special mention for the Great Fire of London tours and activity trail available until April 2017.
As 2016 is the 350th anniversary since the Great Fire of London, there are guided 'Fire Tours' available at 12.30pm Monday to Friday and 2pm on Saturdays. You don't need to book; just reserve a place at the guiding desk. These tours are suitable for grown-ups and kids.
Or download the activity trail and guide yourself to discover fire facts and to encourage you to stop and look more closely. We tried the activity trail and really enjoyed it. Bring a pen so your child can fill in the answers and do the word search to give you longer to see the beautiful building. Bring colouring pens/pencils and then you have the excuse to stop for tea in the cafe so they can finish their picture.
Kids get a free sticker in the shop when they finish the trail and there's a competition to win a trip to St Paul's for their class or family too.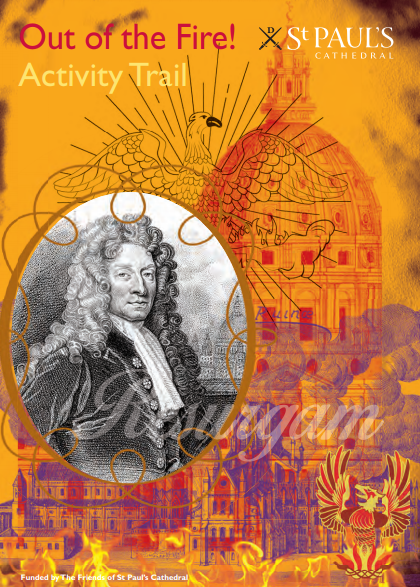 When you're finished inside, the trail continues outside in the south churchyard where you can see the floor plan of the pre-fire Cathedral and the present-day St Paul's.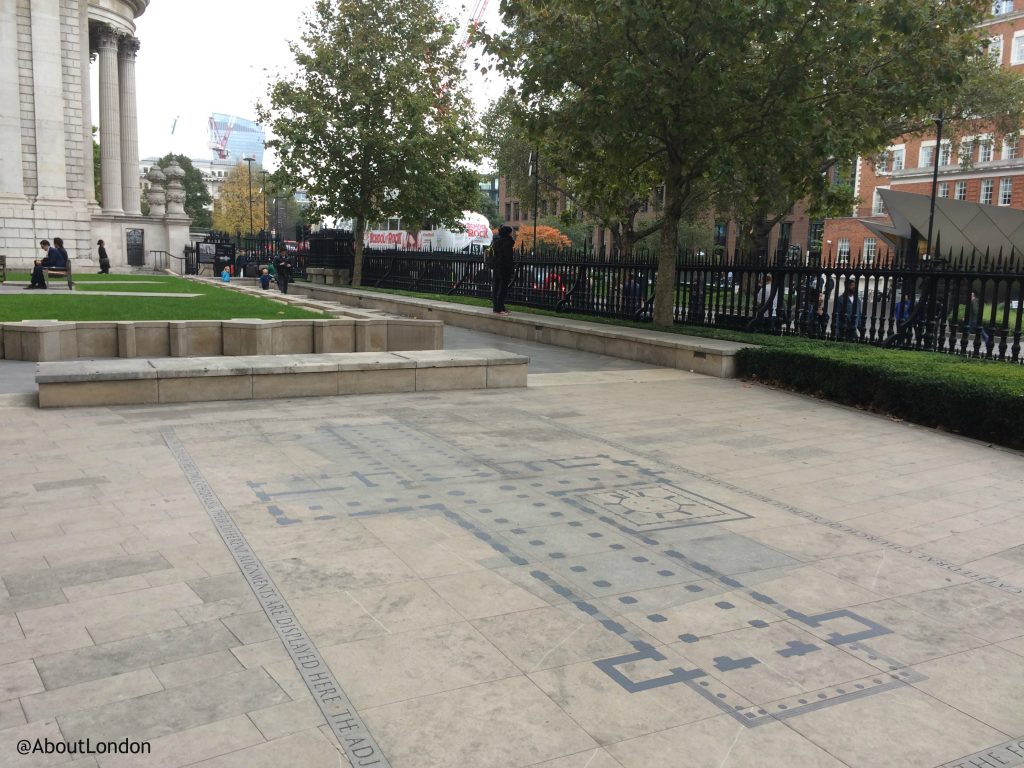 Family Multimedia Tour
Show your ticket at the guiding desk inside and you can collect the family multimedia tour. You get a lanyard to wear the phone-sized device around your neck plus headphones so you can enjoy the films without disturbing others.
The tour is divided into sections for each area of the Cathedral with an introduction film, features, activities and things to find in each area.
A phoenix is the guide that explains what to look out for, etc.
Unlike other London attractions, there are actually lots of places to sit in St Paul's Cathedral so you can find a space to watch the films as well as to sit and look around.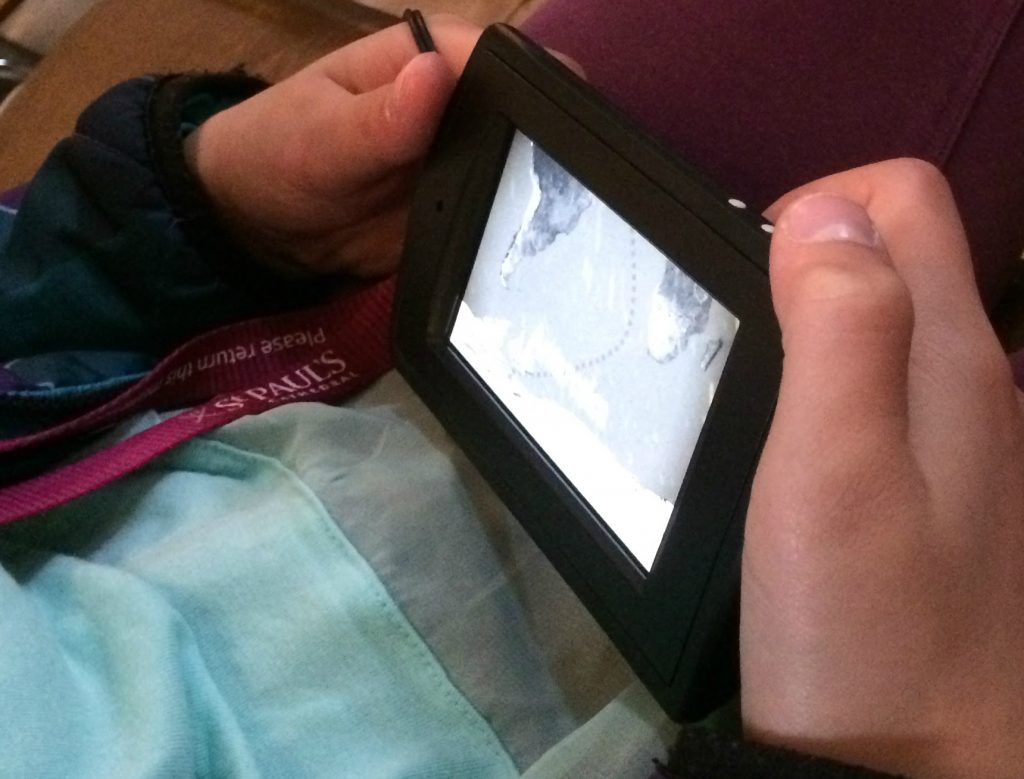 "I didn't know St Paul's was built in a cross!"
Now, for the grown-ups it may seem quite obvious that a church is built in the shape of the cross but my daughter was amazed by this fact. And she learned a new word and enjoyed explaining to me that the 'transepts' are the arms of the cross.
As you are in a church there are Christian references discussed in the tour but this is information and not preaching.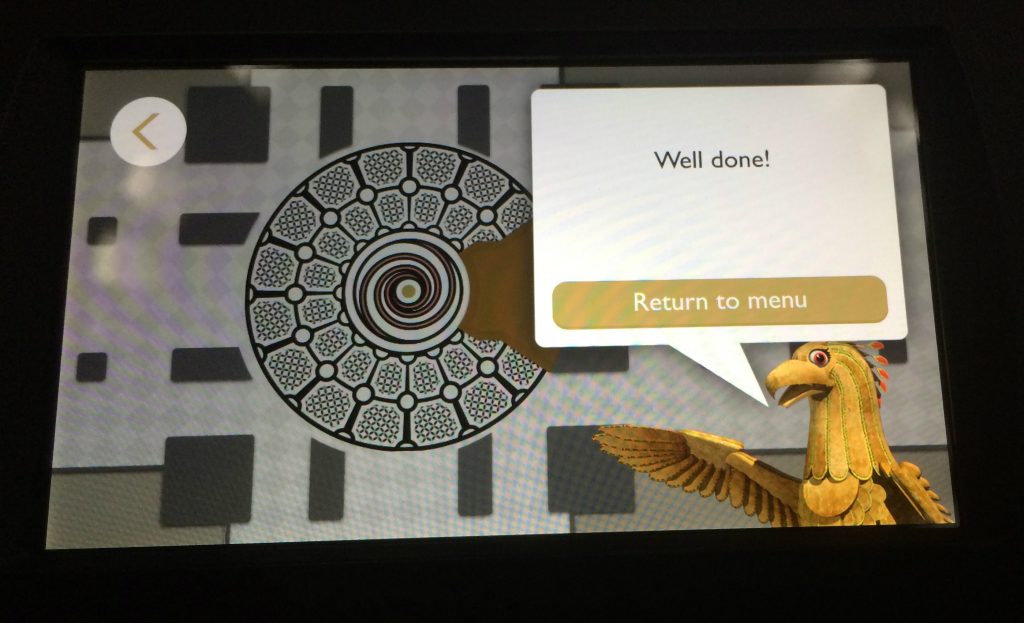 We found out the Great Tom bell weighs over 5 tonnes, and down in the Crypt there are 'meet the people' video interviews with historical characters buried there.
I asked my daughter if she wanted to climb up to see the Galleries but she was far too interested in the Cathedral Floor and the multimedia tour so instead we sat down and watched the Galleries virtual tour and discussed the views.
By taking the family multimedia tour I was able to spend longer enjoying the building and my daughter came away enthused with lots of facts she wanted to tell her friends.
There's a family ticket available and I'd recommend allowing at least 2 hours for your visit, including visiting the cafe and shop.
Official Website: www.stpauls.co.uk
Disclaimer: As is common in the travel industry, the writer was provided with complimentary tickets for review purposes. While it has not influenced this review, AboutLondonLaura.com believes in full disclosure of all potential conflicts of interest.