Ever wanted to zoom along The Thames in a speedboat, with the wind in your hair and music blaring out? Then stop thinking that's a dream and book a trip with Thames Rockets!
And if you are wondering if it's suitable for kids, it is! I took the 11 year old on the Thames Rockets Captain Kidd's Canary Wharf Voyage, which is aimed at families and first-timers, and we both had a blast!
And if you're wondering if they adult-only trips, they do! I tried Thames Lates and loved it.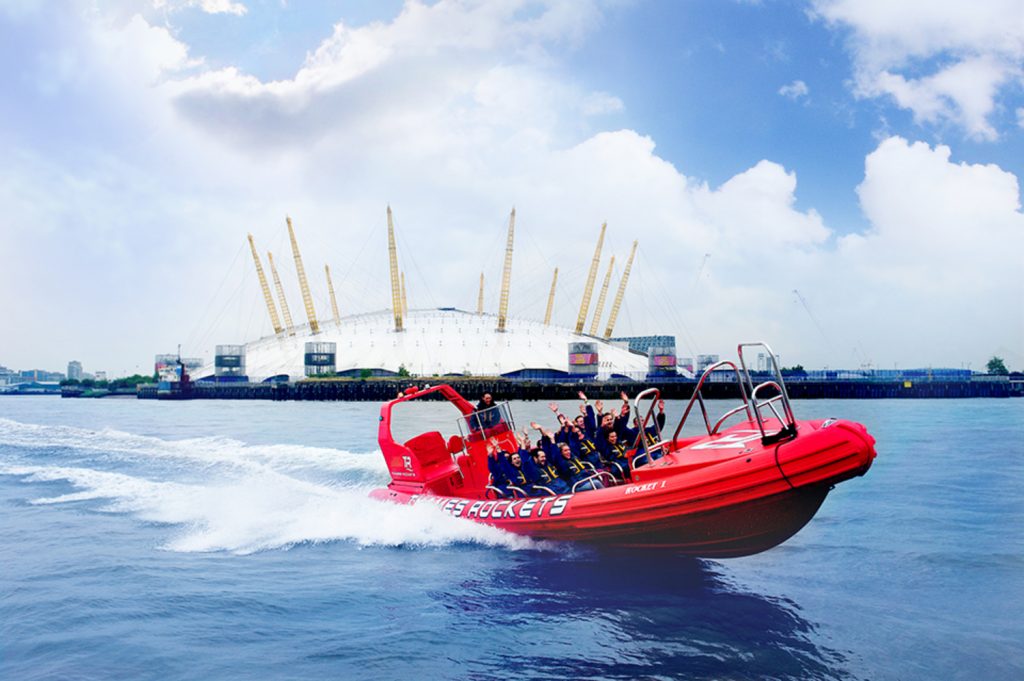 Originally called London RIB Voyages, Thames Rockets were the first ever speedboat tour operator in London. The company started in 2006 and they don't need to advertise as once you see one of these lightweight, high performance red RIBs speeding along the river you'll go out of your way to find out how to book.
And it's not just a thrill ride as the trip is sightseeing in the central London section of The Thames, as there are speed restrictions, and then a let rip blast once you're past Tower Bridge where you'll reach speeds up to 35mph.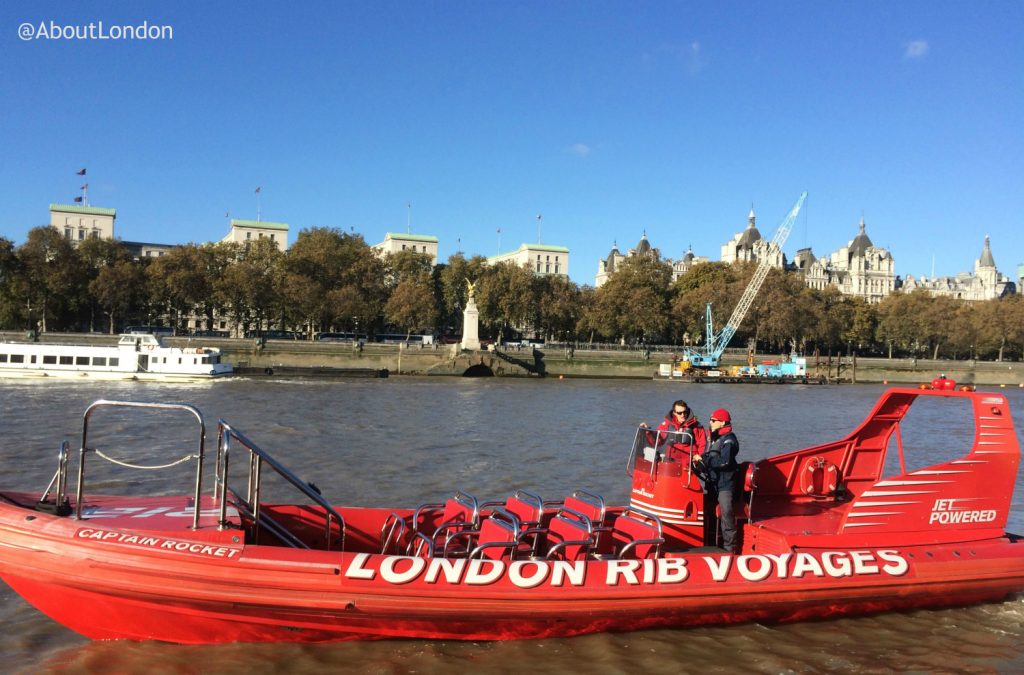 Sightseeing
As I think my City Cruises review has proven, some sightseeing cruises are better than others. On Thames Rockets the guides have good London knowledge and like to perform so they can make it silly if there are kids on board, and can share the dates and facts with the adults.
On the trip I tried the guide was Tim from Australia who made us laugh but also impressed us with the choice of facts he shared with passengers.
The guide stands at the front of the boat to point out the sights and moves to the back for the high speed sections of the trip.
Having an on board guide means you can ask questions and we found Tim was more than capable of helping explain what's along the river.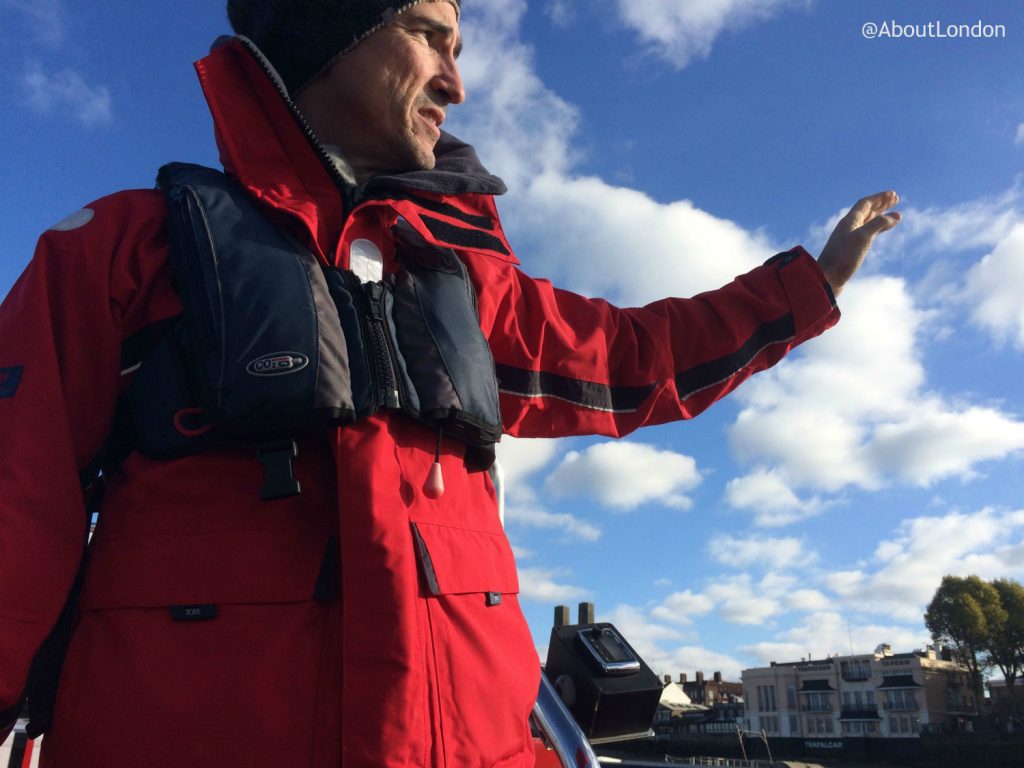 Family Fun
I've tried a different RIB (rigid inflatable boat) company on The Thames before and while I had fun I wouldn't want to take children as it didn't feel safe for little people. I was surprised how, even before we were halfway through the trip on Thames Rockets, I was already thinking about how much my 10 year old daughter would love this and also how I felt it was safe enough to suggest the idea to her.
There are children's life jackets available and children can sit on a seat and even on your lap. There are life jackets suitable for toddlers and they can supply a baby cradle too that you have on your lap.
Buggies can be carried (when folded) or left at the Boarding Gate with staff.
Please note, you can't go on a Thames Rockets trip if you are pregnant.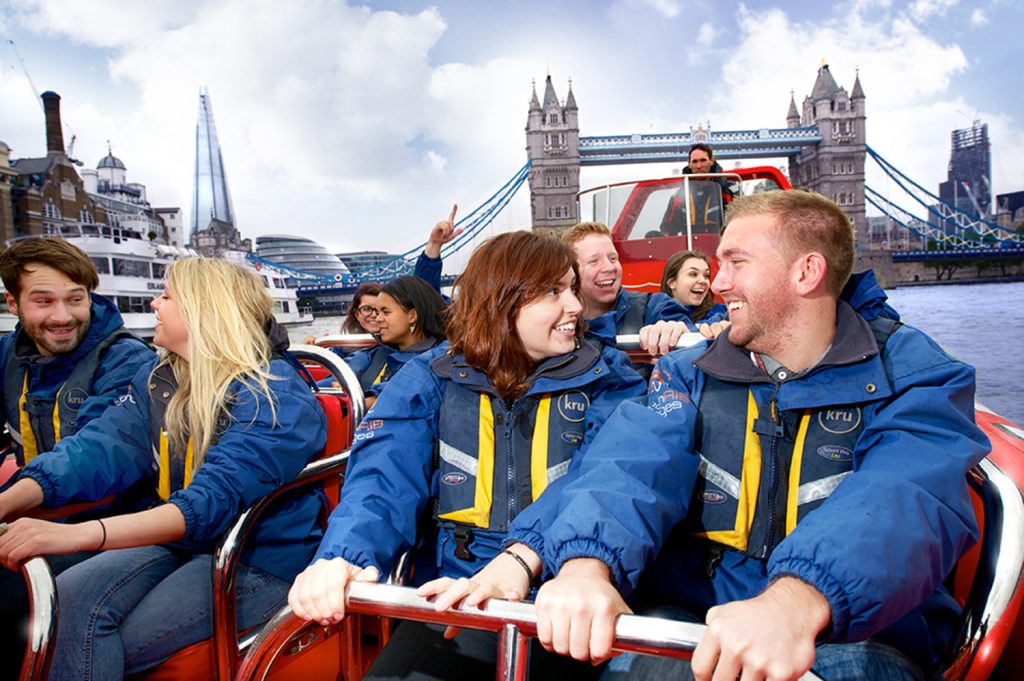 Safety
I could quote the safety rules Thames Rockets follow but I think the key thing to know is that everyone is trained and qualified in industry standards. They are licensed by the Maritime Coastguard Agency (MGA) and are regulated by the Port of London Authority.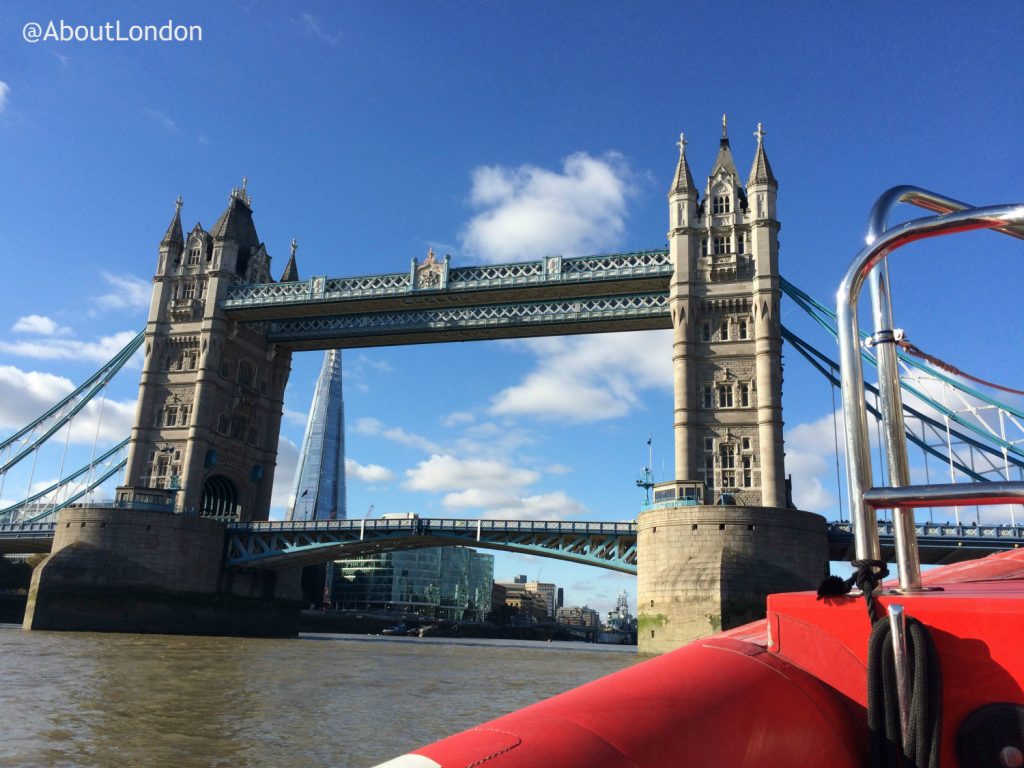 Clothing
Everyone is provided with a life jacket, whatever the weather, and even in the summer it can be chilly when you're going at high speeds on the water. Thames Rockets provide large, warm, waterproof and fleece-lined sailing jackets that fit over your normal coat.
You are unlikely to actually get wet on these trips but there is some spray from the river, at times, and, of course, this is London so it could rain at any time.
If it's raining when you are boarding there are sailing trousers available too.
And it's really bucketing down when it's time for your trip – yes, they do run in all weathers! – there are goggles available to protect your eyes and ensure you still see the sights.
I would recommend wearing sunglasses as it can be bright away from the shade of buildings, plus a good hat that won't fly off at high speed for both warmth and to control long hair.
On Board
There is a platform at the front of the boat so getting on and off is the same level as the pier.
The seats are hard plastic with room for two people on each side. Each double seat has a fixed metal handrail to hold for safety. I was surprised that I didn't feel I needed to grip this as if my life depended on it throughout the trip. I was able to sit back and enjoy the views and even take some photos along the way.
There are no seat belts (that's industry standard as you don't want to be attached to the boat in an accident).
You keep your bag on the floor, between your feet.
Choice of Trips
There are boarding locations at the London Eye Pier and in St Katharine's Docks, near Tower Bridge, depending on the trip your choose.
There are always seasonal trips available such as spooky fun at Halloween and the 'Jungle Bells Blast' at Christmas. This is a good time to point out Thames Rockets run all year. The only weather that stops play is fog so rain and snow won't stop the fun.
There's a trip aimed at families (although families are welcome on all) plus a sightseeing with a short high speed section for those wanting to ease themselves into the experience.
For those who want all out fun I recommend the Thames Barrier Explorer's Voyage which is the journey I tried and I loved it! You get the central London sightseeing and then blast your way down to Greenwich for a bit more sightseeing info, and then a further whoosh to the Thames Barrier. It's an incredible structure so to see it from the river is a rare treat.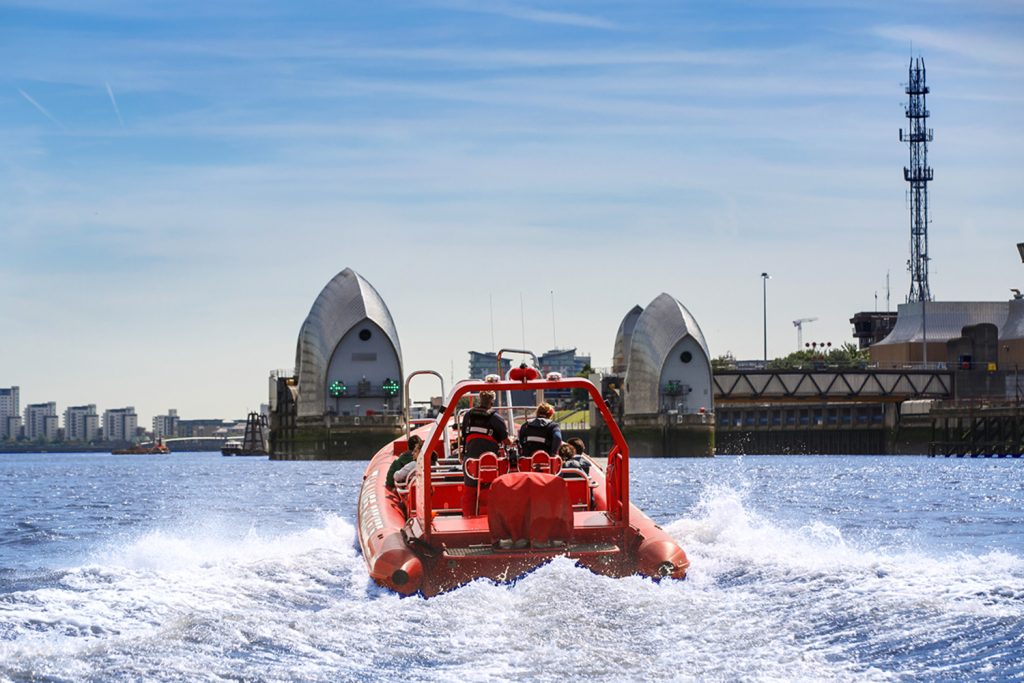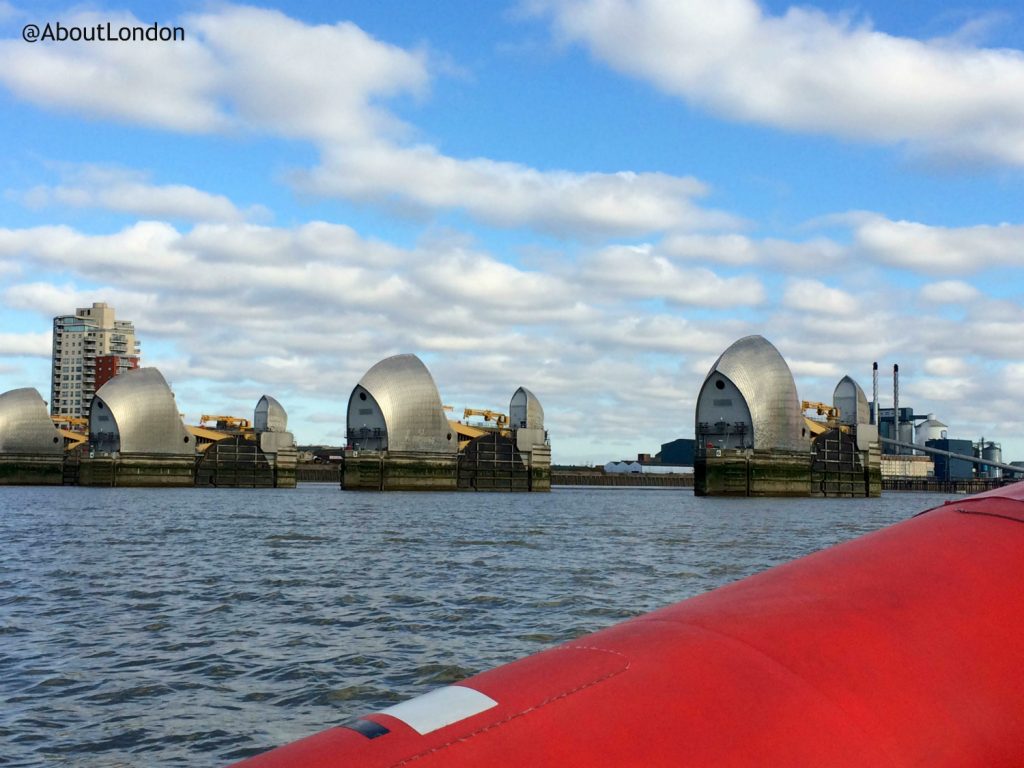 Having a Good Time, Having a Good Time!
When the guide is at the back and the speed increases dramatically, the music starts. Yes, you're going to hear Queen's Don't Stop Me Now and yes, you will be having a good time so are likely to sing along.
There are some pop songs and soft rock, and all are sing-a-long tunes, so give in to it and sing your heart out.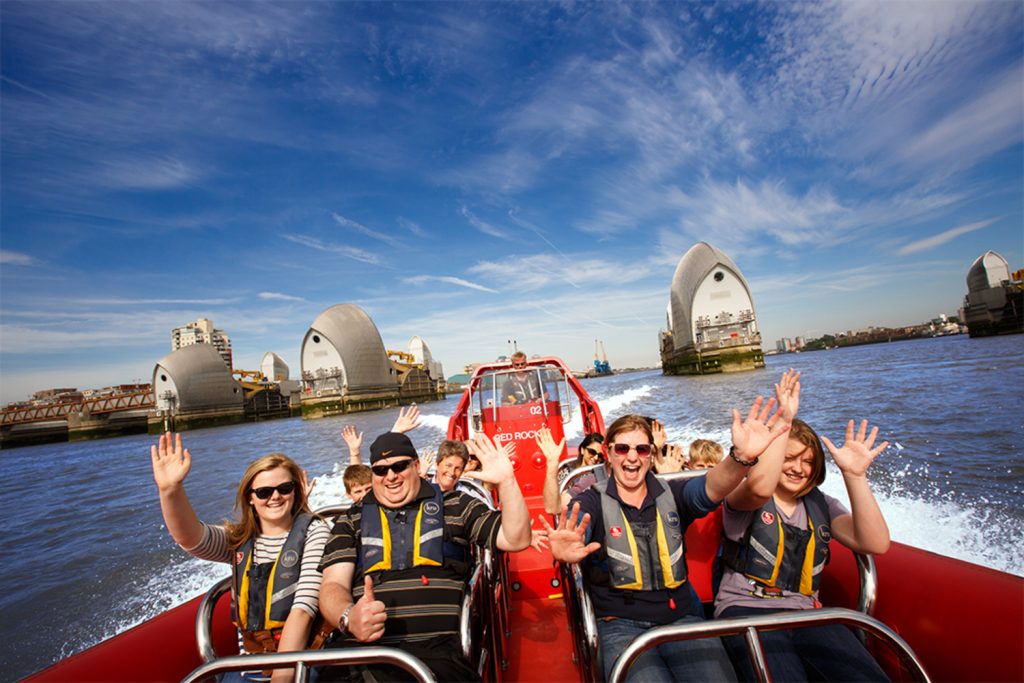 My Review
I tried Thames Rockets on a cold day in November (one day I'll remember to book these things in the summer months). I can confirm the sailing jackets provided do keep you warm but there was an Arctic wind so I'd recommend wearing a polo neck or scarf to pull up on your face if such weathers are predicted.
I felt safe from the start and Tim, our guide, put us all at ease by even making the safety announcements entertaining.
I was impressed by the sightseeing section of the journey and thrilled by the high speed sections as it really is a blast. I'm not an adrenaline junkie but loved the Thames Rockets trip as it's both fun and safe.
But you don't have to just believe me. Thames Rockets is consistently ranked number 1 of Outdoor Attractions in London on TripAdvisor.
And just remember, unlike City Cruises, no-one asks for tips from tourists on these river tours.
Official Website: www.thamesrockets.com
Disclaimer: As is common in the travel industry, the writer was provided with complimentary tickets for review purposes. While it has not influenced this review, AboutLondonLaura.com believes in full disclosure of all potential conflicts of interest.