I really like travelling by boat on The Thames and I really like afternoon tea so this seemed like an obvious choice for me. I've tried the Bateaux London Afternoon Tea Cruise and it was lovely so I was expecting something just as nice.
I tend to think of Thames Clippers as the commuter service on the river. Their river buses are part of Transport for London and you can use a Pay As You Go Oyster card to pay for your journey on those services.
But Thames Clippers wants to be an option for visitors to London too which seems reasonable as they still pass the landmarks along the river. And that's how I heard about the Thames Clippers Cream Tea.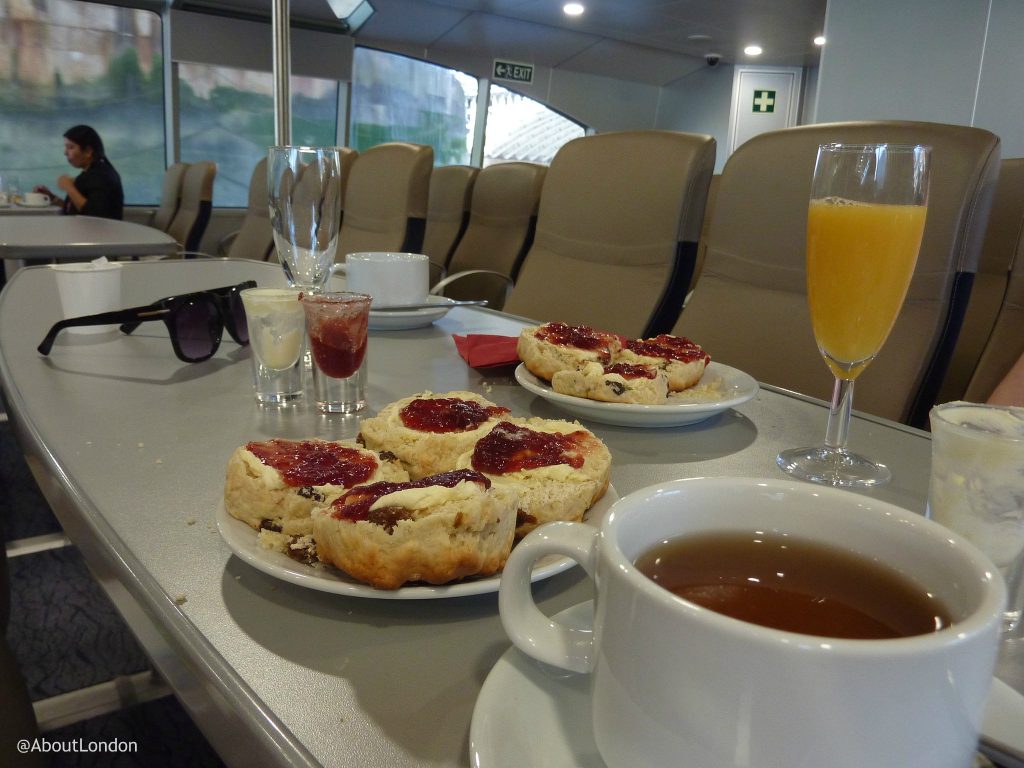 Thames Clippers Cream Tea
A Cream Tea isn't quite the same as an afternoon tea. It essentially means tea and scones with cream and jam. The Thames Clippers Cream Tea has three options:
Standard: Unlimited tea or coffee with fresh scones served with clotted cream and strawberry jam (£16.90)
Orange Juice: A glass of orange juice, plus the tea and scones (£18.50)
Champagne: A glass of Champagne, plus the tea and scones (£21.55)
And you're not sitting on a commuter service boat. No, this is a daily chartered boat that leaves London Bridge Pier at 3.30pm for a 1 hour cruise that passes many iconic sights including the Houses of Parliament, London Eye, Shakespeare's Globe, St Paul's Cathedral and the Tower of London. And there's an on-board Guide who gives a commentary along the route too.
It all sounded good so I was thrilled to be invited along to try the cream tea cruise.
My Review
We arrived at London Bridge Pier 15 minutes before the 3.30pm departure time. There were lots of boats arriving and departing but there is a Welcome Desk so we were able to ask for help and wait for the cream tea cruise in the waiting room.
At 3.30pm, the time of departure, we were added to the end of a line of passengers (I hadn't seen them arriving) and we all boarded. No-one asked to see our tickets but I confirmed with a chap watching us all boarding if this was the cream tea cruise and was told it was indeed.
Within seconds of the boat departing, a Guide started continuing a commentary. But as we'd only just boarded – and it had looked like everyone else had only just boarded – I didn't understand how he could be 'continuing' a commentary.
We almost sat at the front of the boat, as most passengers were grabbing seats there, but I couldn't see how I could eat a cream tea at the front as there were no tables. So we continued through to the back of the boat where we found a few tables laid with scones and tea cups. OK, I thought, this is the right area but I saw other passengers grabbing the scones and moving to the front of the boat. Not knowing what was going on we sat down when we found a table with scones for two and as no-one tried to take them away from us I guessed we were doing the right thing.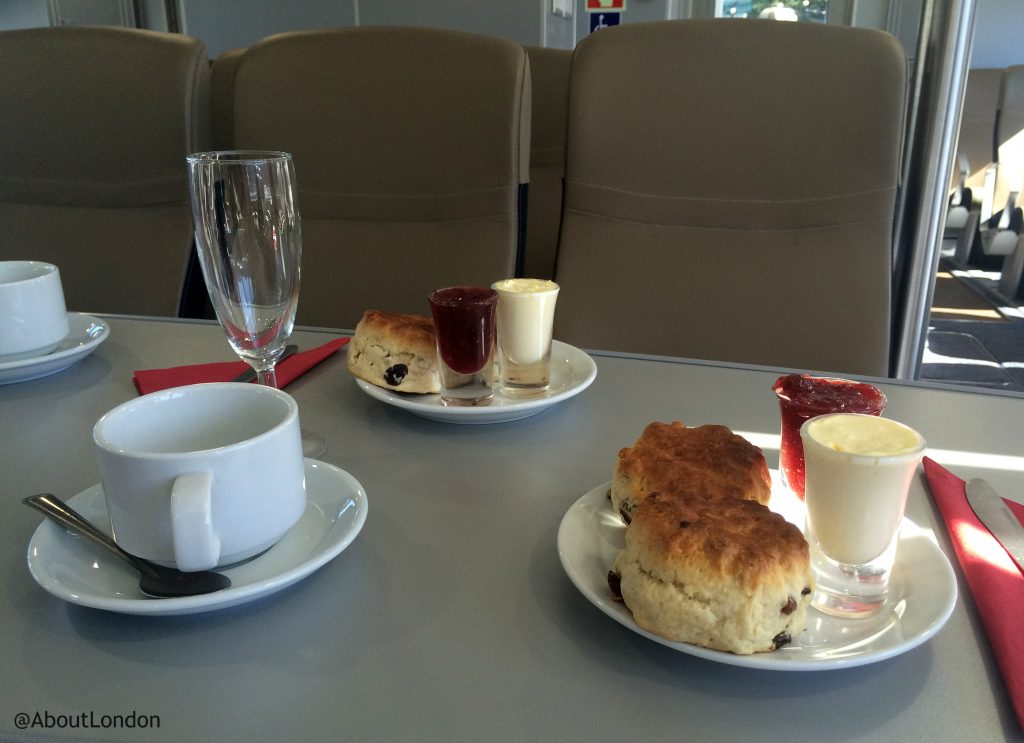 No-one checked our ticket to see what type of cream tea we had ordered (Standard, Orange Juice or Champagne) and no-one brought any drinks so we decided to add the cream and jam to our scones until we could work out what was going on.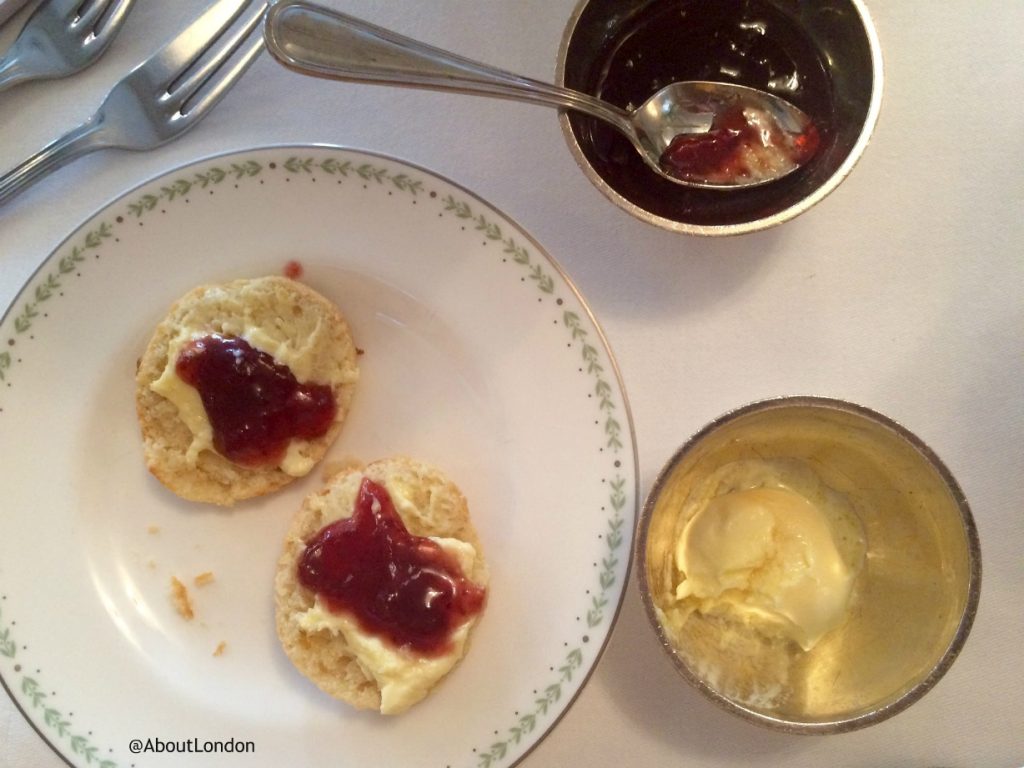 When a chap from the on-board cafe did come over he seemed so flummoxed by my request for any type of tea without caffeine that he told me I would have to pay for the tea. I questioned this immediately. I have a cream tea ticket and I'll have to pay for tea?!
This seemed to be the right time to show him our tickets but the text was so small (I printed at standard size, not reduced) I still had to point out we had an Orange Juice cream tea ticket and a Champagne cream tea ticket.
So I had eaten one of the two scones before I got a peppermint tea and my daughter got her orange juice.
Noting we had set off at 3.35pm, I was surprised to see our plates and cups were cleared at 3.55pm. I was still thirsty (a tea cup is not very big) so I checked online to confirm the cream tea should come with unlimited refills of tea.
I went to the cafe and asked for another cup of tea and the chap reached for a paper cup. Maybe you have to know me at this point to know how much I despise tea in paper cups. But as I knew there were proper cups available I asked for one of those. I was told, 'But I'll have to wash one up' and I smiled back to let him know that is what he would have to do.
A few minutes later, a cup of peppermint tea was brought to my table in a tea cup with no saucer. I can only imagine how much longer it would take to ask for a saucer so I didn't.
OK, so back to the commentary. It turns out everyone else on the boat was on a Premium Tours bus tour of London and the Guide was with them all day (which explains the 'continued' commentary). He gave the commentary for the first half of the cruise (down to Battersea Power Station) and then sat at the back of the boat for the second half so there was no more commentary.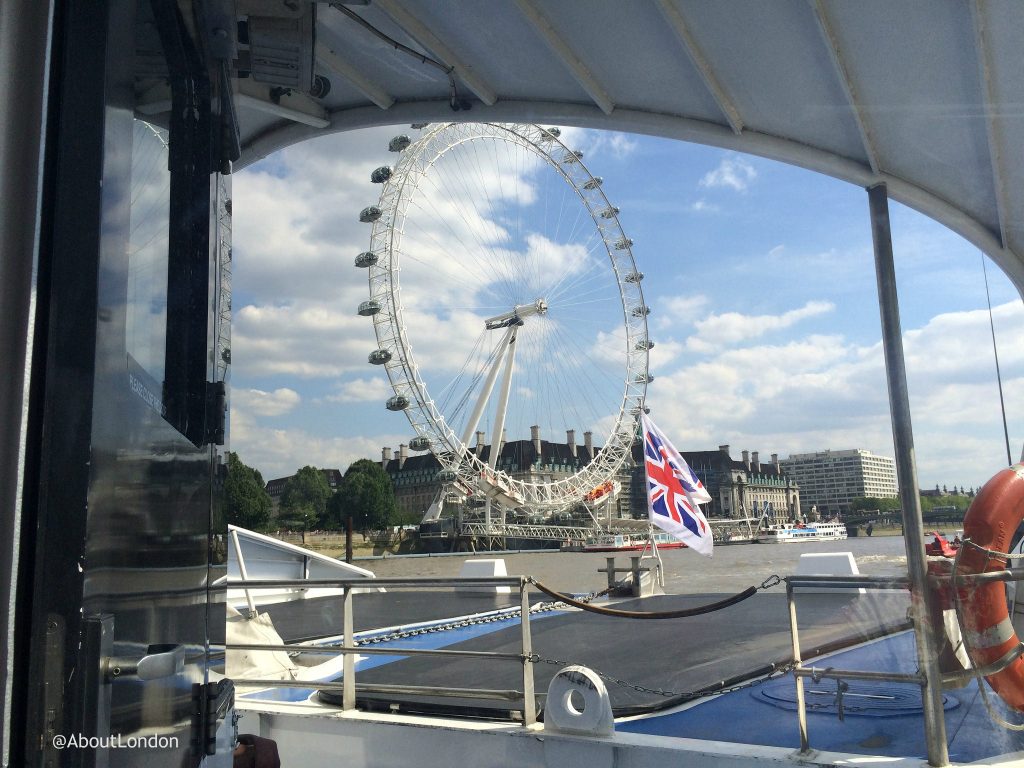 We decided to make the most of the nice day and sat outside at the back of the boat. At 4.30pm we approached London Bridge Pier (it is a 1 hour circular cruise) and then carried on passed it.
Feeling unsure again if I was on the right boat I went to look for the Guide and asked what was going on but it turned out he had promised his tour group that they would go under Tower Bridge so that was what we were doing and then we would head back to London Bridge Pier.
Conclusion
I don't know. I was hot and tired when we did this cruise. The air-conditioning was welcome but the feeling of being an outsider and being tagged on to make up numbers for spare seats didn't feel right. (We were the only two passengers not in the Premium Tours group.)
Afternoon tea is a time when you not only get to have tea and scones but should feel like you're having a treat. This felt frustrating and confusing so I wasn't really able to enjoy the nice scones – and they were very nice – and I didn't take in the views while I was trying to work out what was going on.
I'll still recommend Thames Clippers for normal trips on The Thames as they are 100 times better than City Cruises.
Disclaimer: As is common in the travel industry, the writer was provided with a complimentary cream tea for review purposes. While it has not influenced this review, AboutLondonLaura.com believes in full disclosure of all potential conflicts of interest.