Thames Lates is an adults-only evening speedboat trip in central London from Thames Rockets. It runs on Thursday, Friday and Saturday evenings at 7pm and 8pm meaning you can be out on the water and watch the sun set.
It's a 50-minute trip with sightseeing, crazy high-speed fun and cocktails on the way back.
Thames Rockets
This was not my first time with Thames Rockets as I've tried a trip out to the Thames Barrier and the Captain Kidd's Canary Wharf Voyage aimed at families.
The company have been operating on the Thames for over 10 years and offer the enjoyable combination of river view sightseeing on one side of Tower Bridge and a 35mph thrill ride on the other side.
An onboard Guide points out the sights from the front of the 12-seater boat then moves to the back for the high-speed fun. The vessels are called RIBs (Rigid Inflatable Boats) meaning they are stable but light so very nippy.
In general, London weather can't stop the fun. Waterproof jackets and trousers are available and everyone gets fitted with a lifejacket too.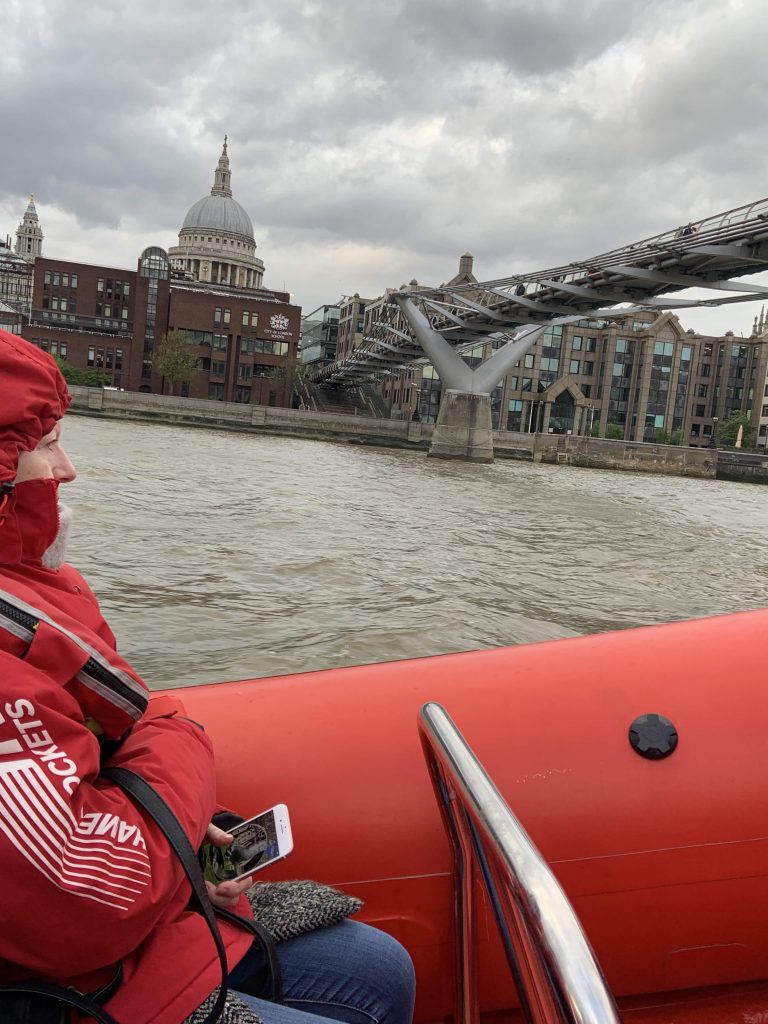 Thames Lates
If you're looking for a romantic way to have some fun while watching the sun set, this could be the answer. It's also fab for friends to have a laugh at the end of a day out in London, or to start an evening out in town.
The 50-minute journey starts with summer tunes blasting out while you admire London landmarks in the dusk sunlight on the way to Tower Bridge. There's a speed restriction on this section of the river so you'll move along at a calm pace and the boat is stable enough for you to take photos. Then once you're beyond the famous bridge (and past the Thames River Police Station in Wapping) the speed experience begins with another excellent soundtrack.
The boat twists and turns down to Canary Wharf where the river widens and you will be grinning like a mad fool as it's unadulterated exhilarating fun.
Before you know it, you're heading back to Tower Bridge at sunset and then the London Cocktail Club cocktails are served while your Guide points out the sights on the return journey.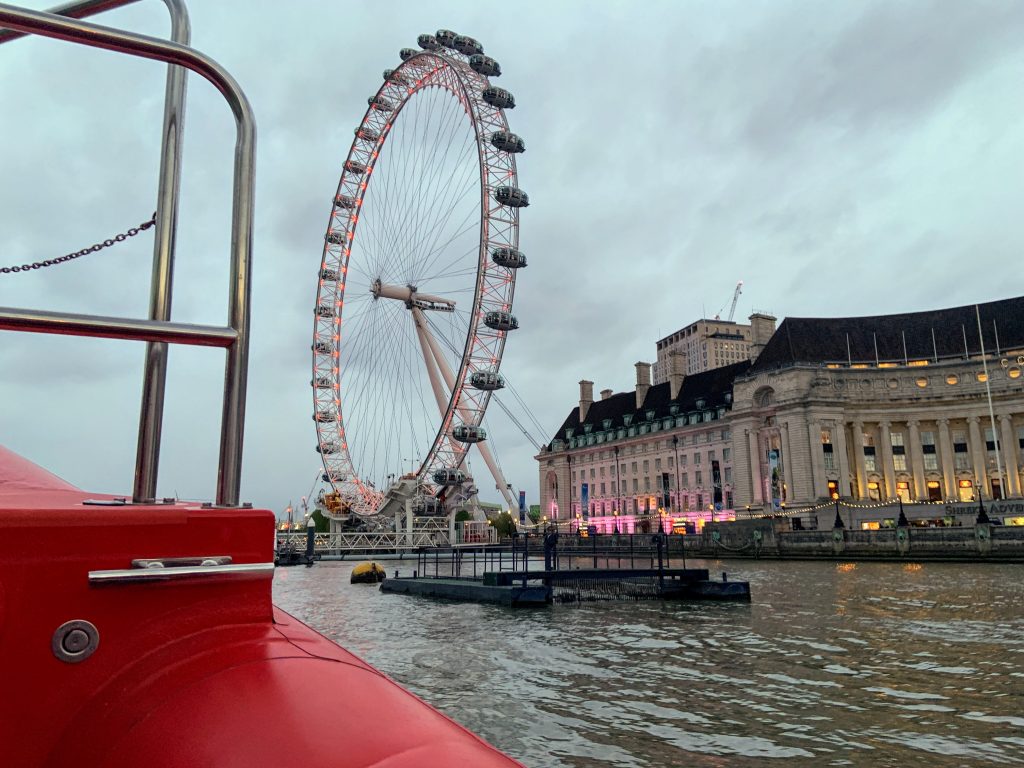 My Review
Our Guide, Matt, greeted us at London Eye Pier. He ensured we all had the bright red and very warm Thames Rockets jackets and lifejackets on before boarding.
Then we settled in to enjoy the summer vibes on the way to Tower Bridge.
As we picked up speed, I was grateful the issued jackets had hoods as it wasn't the warmest of evenings. I'm renowned for feeling the cold but I can promise you I wasn't cold at all on this trip as the jackets are great. And I didn't get wet at all either.
As a hit from The Greatest Showman kicked in so did the speed! We skidded across the water and 35mph felt a lot faster. Thankfully, the obligatory "Don't Stop Me Now" was still included in the medley of fun songs. And the wind means you can sing at the top of your voice and no-one knows it's you that's out of tune.
After 10 minutes of whooshing across the water, things slow down again as you head back towards Tower Bridge.
Matt came back to the front of the boat with ready-mixed cocktails to share out. It was at this moment we found out the cups had been forgotten but we were a small group and all laughed about it. One cup was found for me as I had an awful cold an didn't want to pass on my germs to the others. And everyone else managed fine. Quite frankly, we were so happy at that point we would have accepted the alcohol in any container!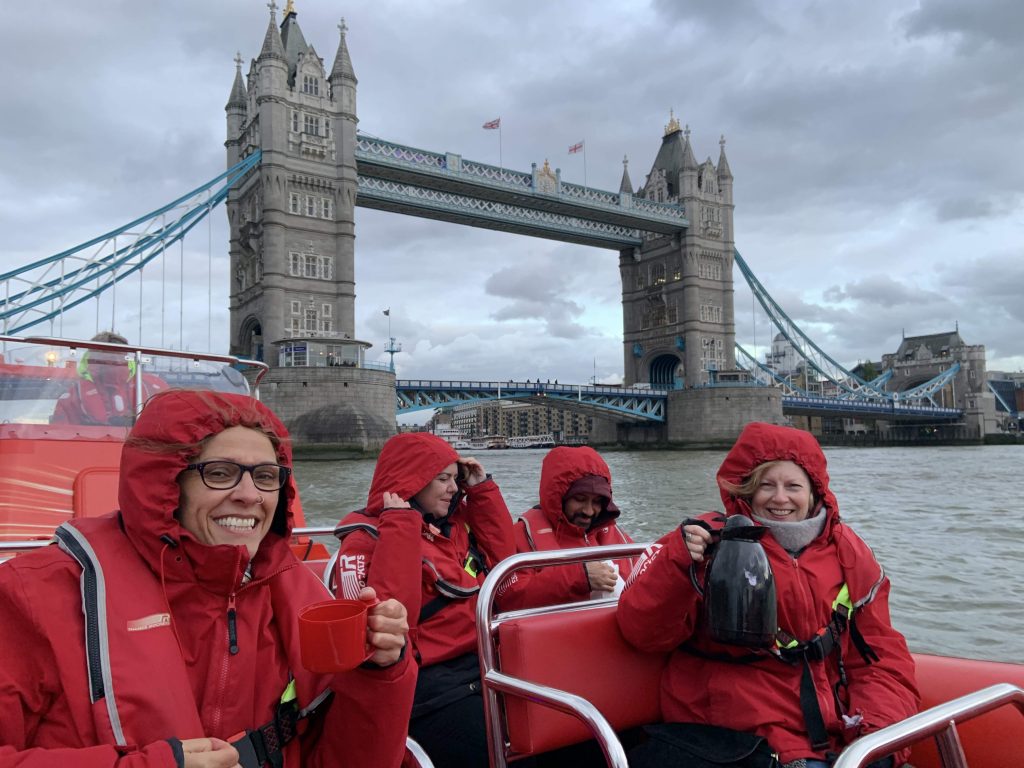 As we drank our Pimm's (the choice of cocktail can vary so we just struck gold on our trip), Matt started pointing out sights and had some really good knowledge to share.
The Thames Rockets Guides' sightseeing tips are always informative and entertaining. City Cruises could learn a lot from Thames Rockets on how to offer a quality commentary and treat guests with respect.
We got to ask questions and Matt knew lots of great London facts.
Any Improvements?
As the speedboat trip is so much fun already I wondered if the cocktail was even needed. But it was appreciated so I'm not complaining.
It was a bit challenging drinking the cocktail on the boat so maybe a cup with a lid, like a travel mug, might be easier, or a cup with a lid and straw. Or even a voucher for a cocktail at a nearby bar could work too.
Book Your Trip
Thames Lates was a heck of a lot of fun. I'd had an almighty tough day when I did this and Thames Rockets allowed me to forget the troubles and just have a blast.
It's not just me who sings the praises of Thames Rockets as they are consistently ranked number 1 of Outdoor Attractions in London on TripAdvisor.
Official Website: www.thamesrockets.com
Disclaimer: As is common in the travel industry, the writer was provided with complimentary tickets for review purposes. While it has not influenced this review, AboutLondonLaura.com believes in full disclosure of all potential conflicts of interest.