Yes, that title got my attention too!
It's an immersive experimental theatre experience by Shunt – a collective of artists creating and curating live performance in unusual locations within London.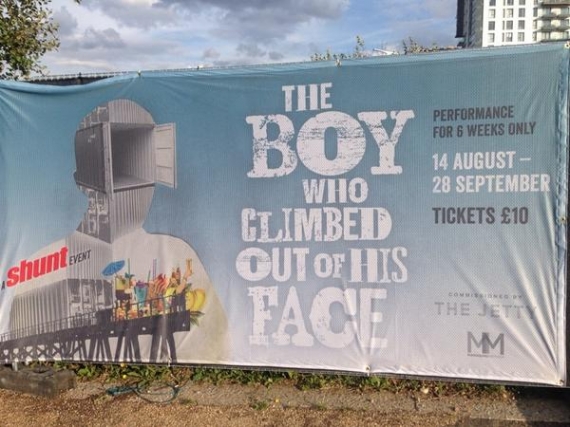 This new project has been commissioned by The Jetty – a former coaling jetty on The Thames at Greenwich Peninsula. It's actually really easy to find and is only a 10 minute walk from The O2 and North Greenwich tube station.
The Boy Who Climbed Out of His Face is performed in a temporary space made out of shipping containers. Up to 30 people enter together and progress through the containers to different surreal scenarios.
Everyone has to take off their shoes and socks and go barefoot which only adds to the weirdness. You also have to carry your footwear with you in a white shoebox.
As the door shuts behind you, each room reveals a performer who does their best to make you feel somewhat squirmy and awkward. I'm not normally good with this kind of close arty theatre but I totally gave in to it as it is over far too soon. Be prepared for latex masks and an outdoor finale that surprised me again.
It's bonkers but recommended and costs only £10 for 45 minutes of hypnagogic entertainment.
Do plan to stay longer at The Jetty as there's excellent street food (I had the Mac 'n' Cheese and Dirty Beans) and the bar has some warm cocktails as it can get a bit chilly later in the evening. There are blankets available and heaters so don't be put off. We met lots of nice people who also had a great evening.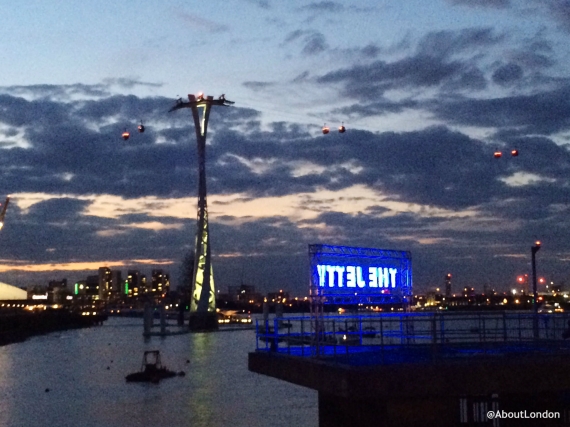 The Boy Who Climbed Out of His Face is only on for six weeks (14 August to 28 September 2014) but The Jetty will stay and host all sorts of unusual and fascinating arts events.
Do note, The Boy Who Climbed Out of His Face is only suitable for people aged over 16.