Lately I've been trying to be more inventive with takeaway lunch options than just another cheese sandwich. As a vegetarian, that was the default choice for a long time but now there's a lot more variety on offer.
I've been trying to find alternatives to sandwiches and have a bit of a thing for the chop'd tofu salad so was pleased when pod got in touch and asked if I had tried their salad boxes. I hadn't but now have and can tell you they are just as delicious.
My daughter and I decided to share a Mango, Noodle & Cashew Salad (£4.99), a Purple Grape Juice Yogurt Pot (£2.60) and a Caribbean Blitz smoothie (£3.50). The salad and yogurt pots are ready to take away in the chilled cabinet and the smoothie ingredients are in a cup but you take it to the counter to be blended. It's a good way to know exactly what's inside your drink.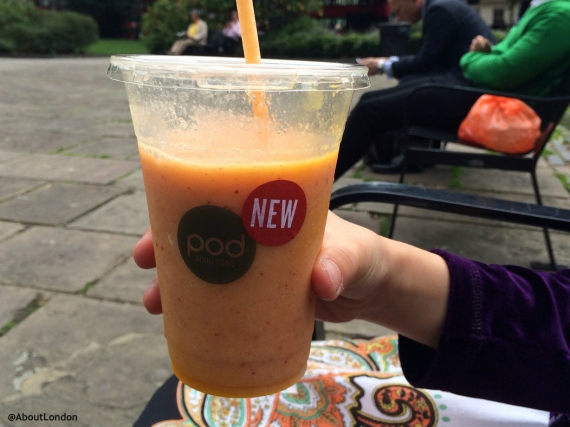 pod has 23 locations across London and their freshly-prepared range changes every few months according to what's in season. (I chose from the summer menu.)
During breakfast they serve scrambled eggs, porridge and energy-boosting smoothie blends. The lunch menu includes innovative salads, a variety of hot dishes, whole-grain baguettes as well as specialised lunches such as the detox, protein and gym boxes.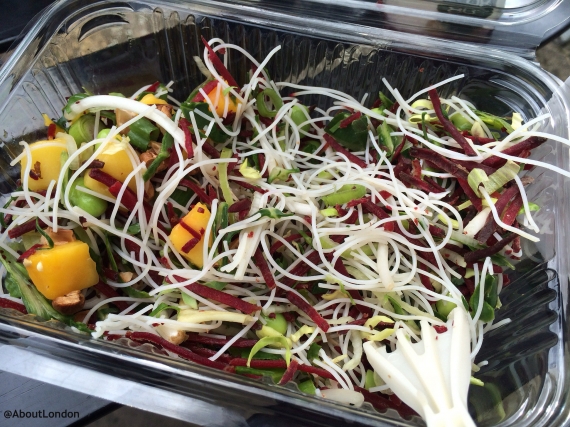 pod is a great place to know if you need a gluten-free, wheat-free or dairy-free option or just a healthy and nutritious meal.
We both enjoyed our takeaway lunch although I'll make sure I've got dental floss with me next time as I had lots of bits stuck in my teeth. But that point aside, I want to go back and try the hot meal options soon.
Official Website: www.podfood.co.uk