If you would like to know more about the tea choices that go best with the three tiers of an afternoon tea stand, the Plate Afternoon Tea Academy is for you.
The idea has been created by Plate restaurant owner (and award-winning ex-Pierre Koffmann and Gordon Ramsay chef) Arnaud Stevens in collaboration with P.M.David Silva & Sons, one of the UK's best Sri Lankan handpicked tea suppliers.
I tried this in July 2019 when they were launching a summer Afternoon Tea Academy series. You get to try three quite different single estate teas with an expert to guide you through flavour notes while dining on a modern afternoon tea.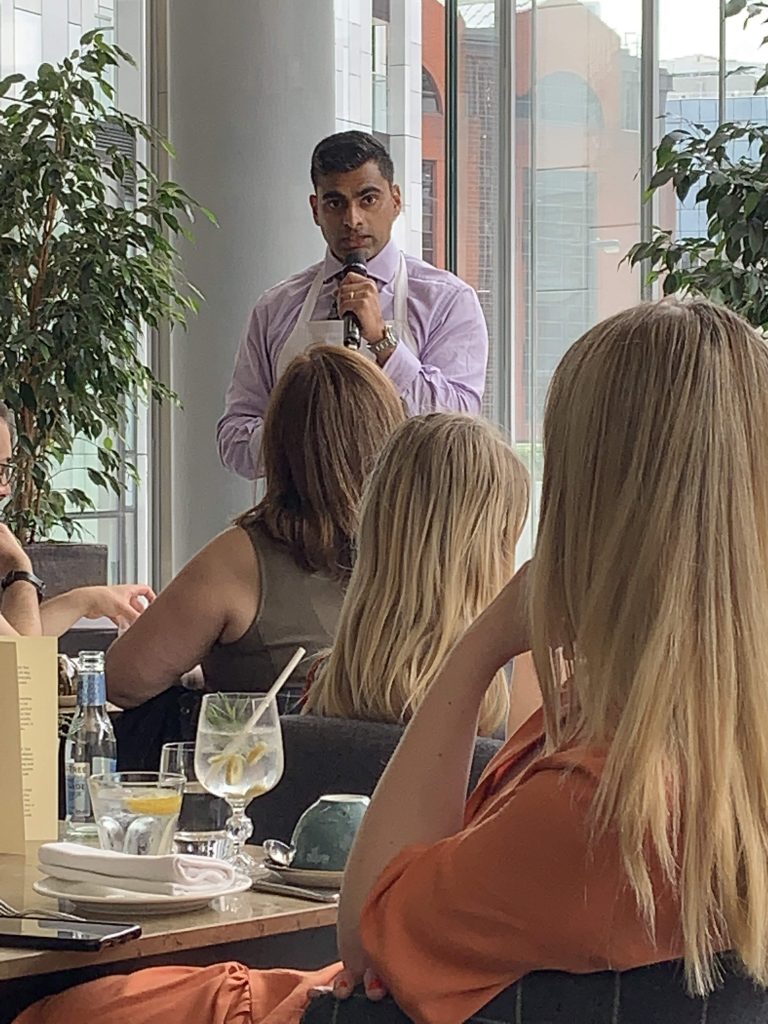 P.M.David Silva & Sons have been working with tea plantations in Sri Lanka (Ceylon) since the days of the British Raj. Each tea on the pairing menu is hand-picked, ethically sourced and expertly chosen for Plate Restaurant.
Afternoon Tea Academy
Dananjaya Silva from P.M.David Silva & Sons gave us some background to the company and about how tea grows. The event was showcasing single estate teas so we could learn where each tea was from, the elevation of the plantation and what grows nearby as that affects the taste.
We then tried New Vithanakande tea with the savoury plate. This tea grows at 2,000 feet above sea level next to a virgin rain forest which gives it a unique taste. While we were told it should have a sweetness, I found it quite bitter. It's definitely a robust tea and that's because it was paired with the strong flavours of smoked salmon and smoked feta (both smoked in-house here at Plate).
The 'sandwiches' were made of a croissant-hybrid bread that's rich in butter. I thought the cream cheese and pickled cucumber 'crobun' was particularly good and it went well with the tea once I added milk.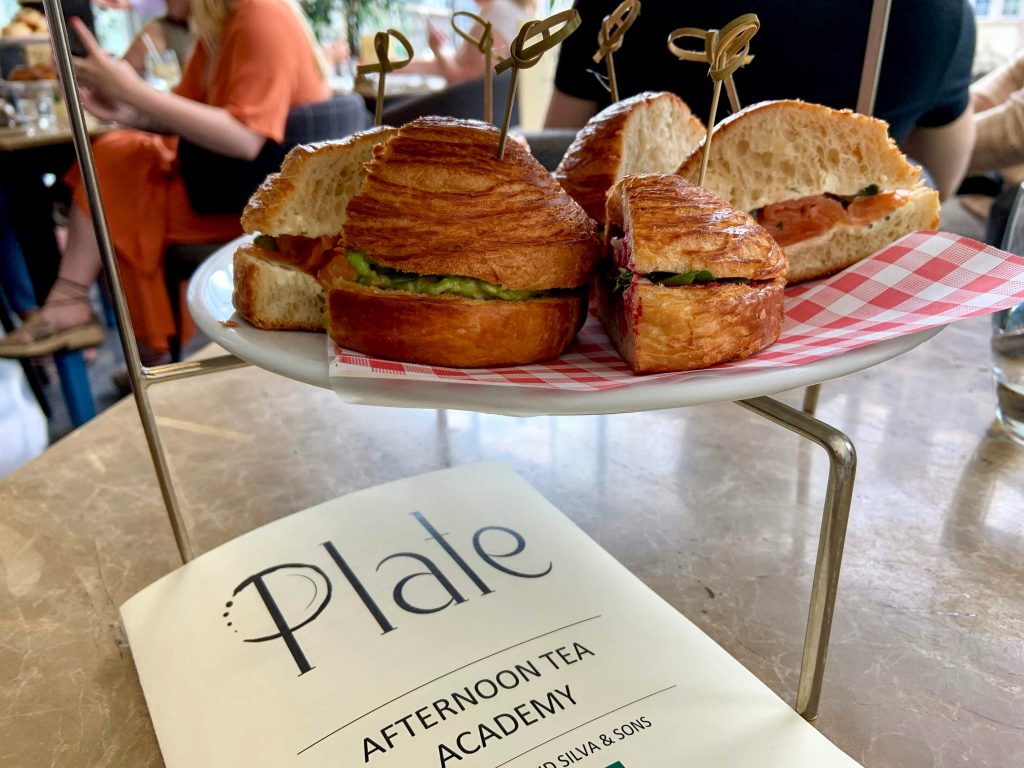 Scones
The tea to drink with the scones was from the Inverness Estate in Sri Lanka founded by Scottish pioneer planters during the tea boom in the 1880s. This one was from an elevation of 5,000 feet above sea level. It was definitely lighter than the first tea and was a much more golden colour. It carries a rosy note and lemony citrus finish so you don't want milk with this one.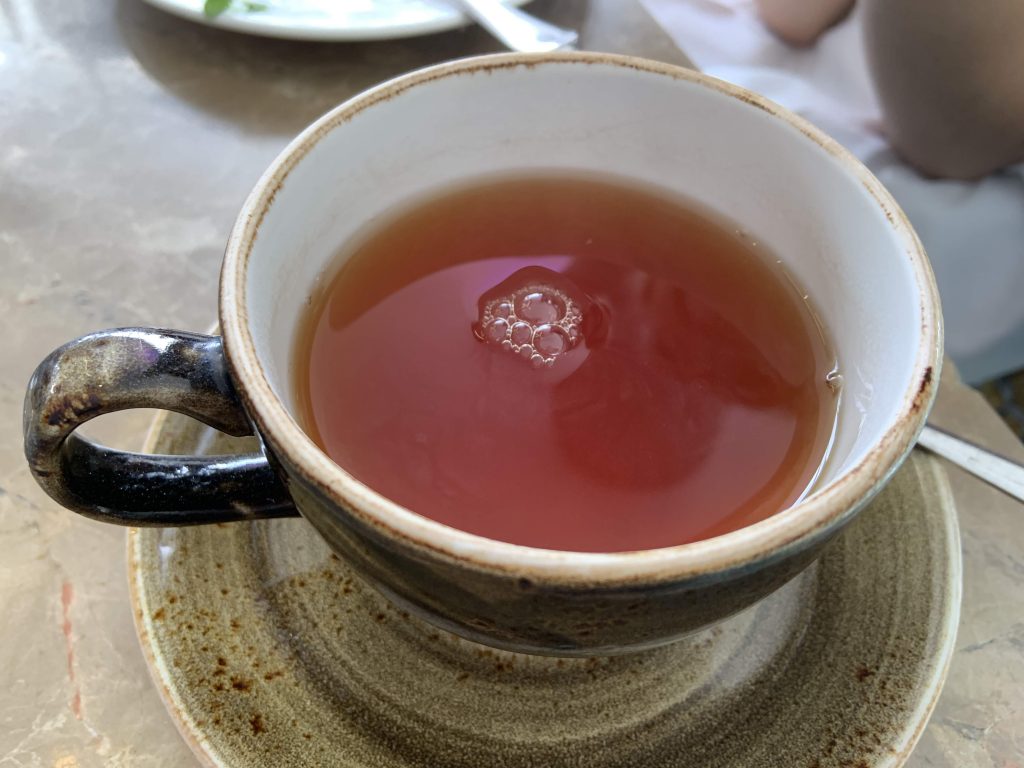 Plain and raisin buttermilk scones were served with plenty of rich clotted cream and homemade strawberry preserve.
The scones sliced easily although there was no baked line to separate the halves. This meant the halves were denser but still good.

Top Layer of the Cake Stand
The third tea was the lightest so as not to overpower the sweet treats. Lover's Leap is named after a legendary tragedy that befell two lovers who leapt to their death amid the backdrop of an exquisite waterfall. Cultivated in the 'Champagne' district at 6,000 feet above sea level, this tea was a little more astringent and with a mentholated essence and aroma.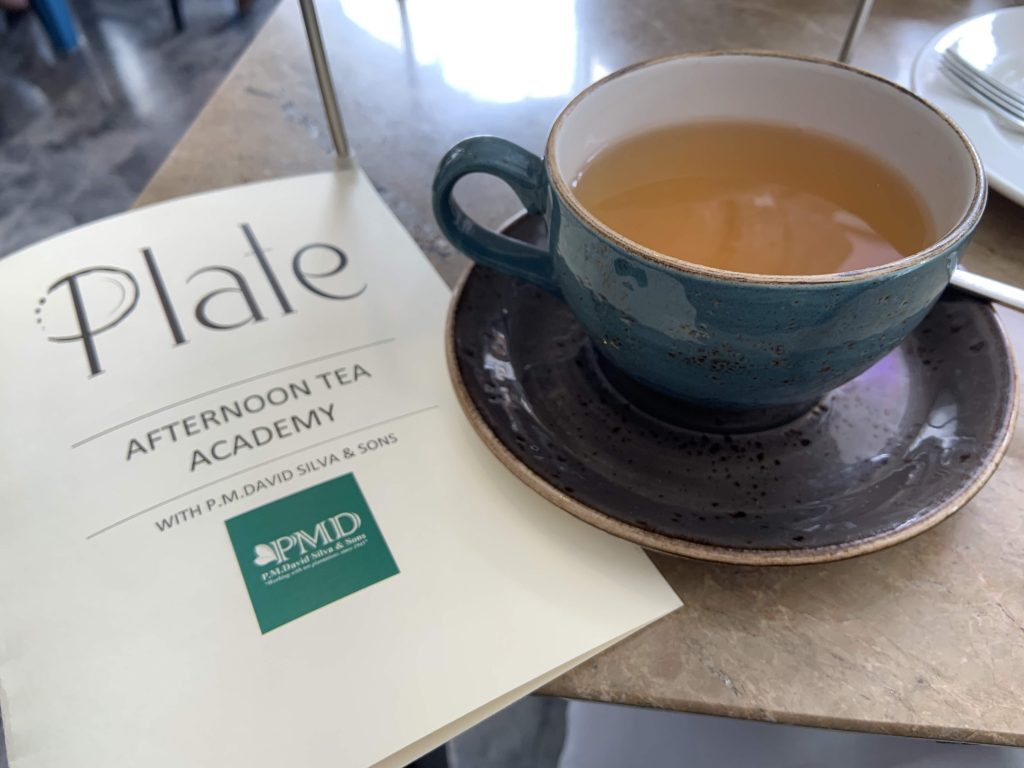 The pastries and sweet treats included a delicious strawberry with Szechuan pepper and basil custard tart, a lemon and elderflower cake and a white chocolate and olive oil macaron.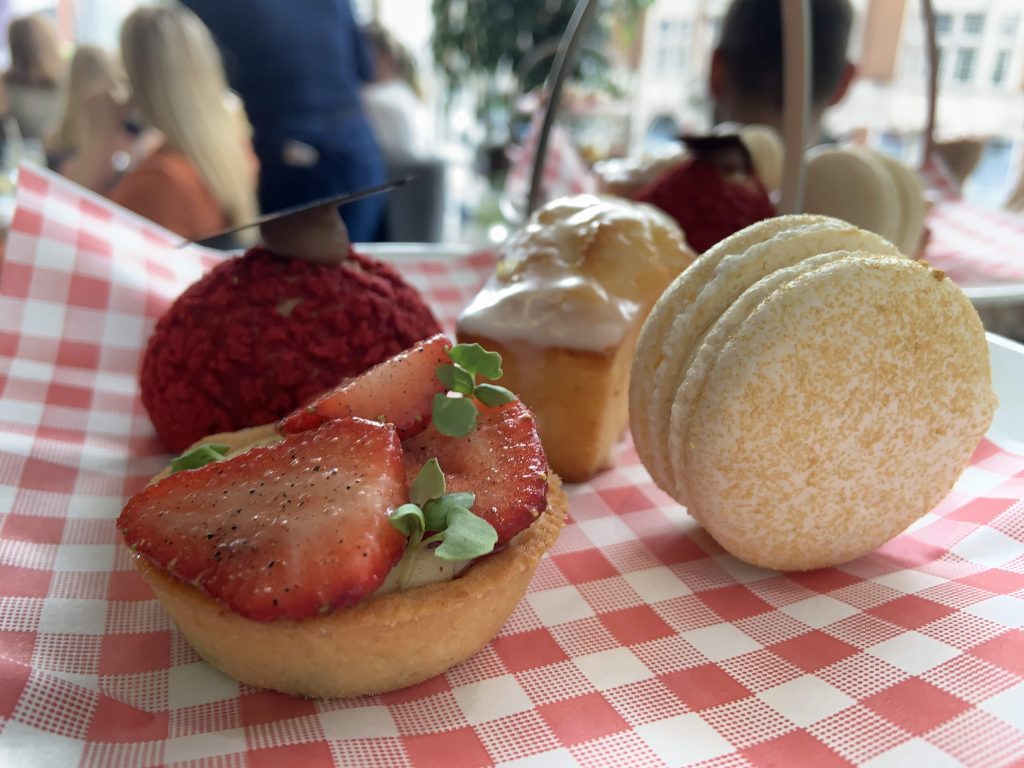 The Venue
Plate is the first floor restaurant at M by Montcalm hotel. It's near to Old Street on City Road.
The day I attended there were extra tables fitted in which was challenging for the waiting staff but everyone managed.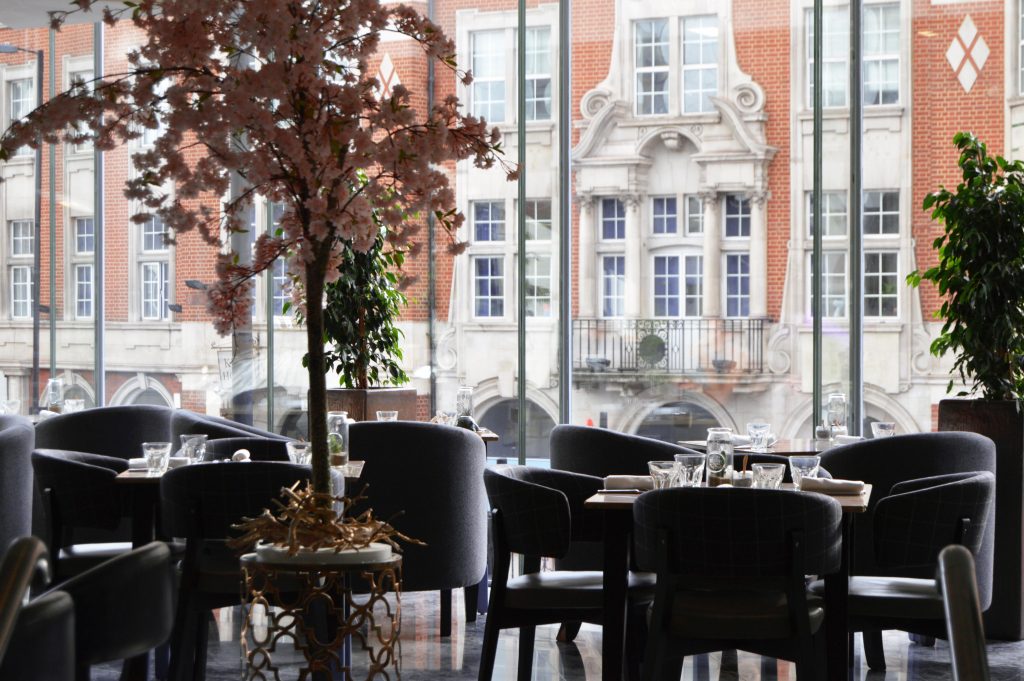 Two Hours
While you get to enjoy a three-tier afternoon tea cake stand and three outstanding teas, this is an Afternoon Tea Academy so you are here to learn as well. Dan Silva needed to speak over a microphone to address the room but it was hard not to be distracted when the cake stands were brought to the tables and tea was being poured.
The event did start late which meant it was an hour in when we got to the scones, and we only reached the final tea and the top tier of the cake stand after 2 hours had already gone by. But no-one would leave before the cakes so all was well.
While you are learning, this is a very relaxed school. Plate's chef and Dan the tea expert came to all of the tables to explain the pairings and to get feedback. This was a wonderful bonus to the meal as we could ask questions and better understand the choices.
Any Tea Tips?
We discovered the appropriate choice of tea for each course will be affected by the weather and the season when you are drinking it. If you liked a strong lapsang souchong at a December afternoon tea, while seated next to a roaring fire in a country house hotel, that doesn't mean it's the best choice for a summer afternoon tea on an outdoor terrace.
Booking Information
Cost: The pairing of these two British classics (tea drinking and the best meal of the day) is priced at £49 per person.
Address: Plate Restaurant & Bar, M by Montcalm Hotel, 151-157 City Road, London EC1V 1JH
Website: www.platelondon.com
Disclaimer: As is common in the travel industry, the writer was provided with a complimentary meal for review purposes. While it has not influenced this review, AboutLondonLaura.com believes in full disclosure of all potential conflicts of interest.