Did you know there is a south London bingo hall that is considered so architecturally significant it has been Grade I listed since 2000? That puts it in the same category as Buckingham Palace, Westminster Abbey and the Tower of London as Historic England states that "Grade I buildings are of exceptional interest".
The Historic England listing describes it as a "world class cinema – without doubt the most lavishly decorated interior of any cinema in Britain and among the most lavish in Europe; the finest evocation of the sumptuous movie palaces of the 1920s and 1930s, the flagship of the Granada circuit."
Also that, "It is the masterpiece of its creators."
Now run by Buzz Bingo, I've seen this 1930s treasure described as a "beautiful bingo hall disguised as a Russian Orthodox church" and a "Cathedral to Bingo". It started life as a cinema, hosted concerts by huge names including The Beatles and Frank Sinatra and is still in use for playing bingo. But until you go inside you won't know what all the fuss is about.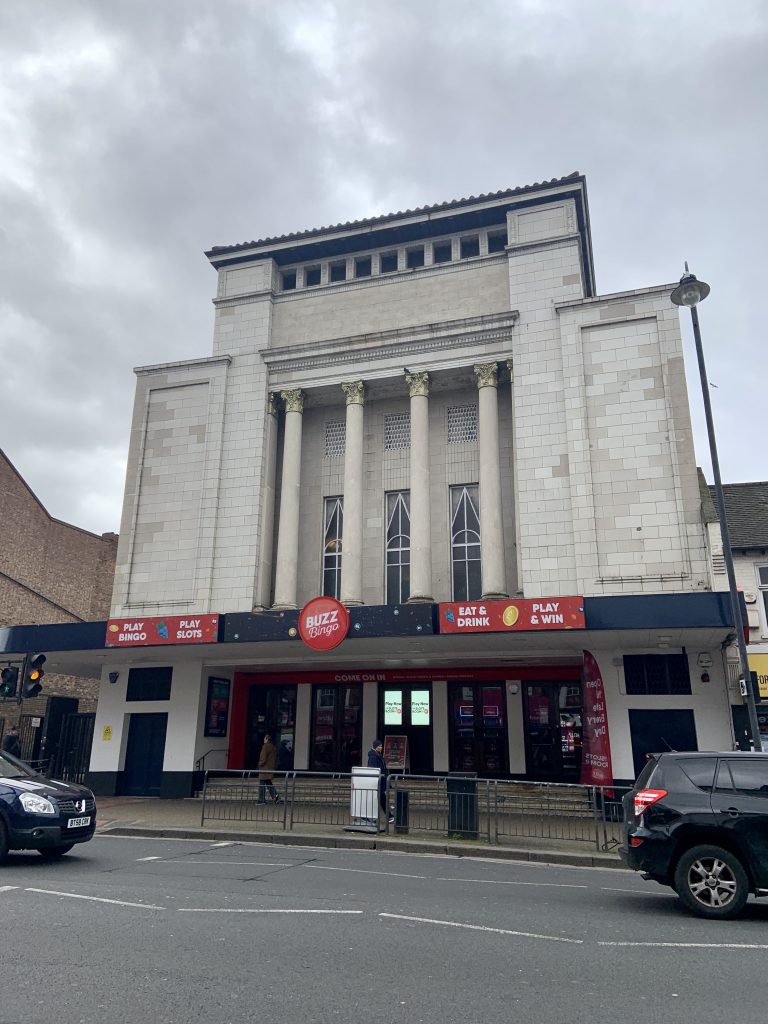 Granada
Essex-born businessman, Sidney Bernstein (1899–1993) and his younger brother Cecil (1904–1981) established the Granada cinema chain in 1930. It was named after Granada in Spain as Sidney had been there on holiday. Television broadcasting didn't start in the UK until 1936 so cinemas were a popular form of entertainment along with theatres and music halls.
After their eldest brother Selim was killed during World War I in 1915, as next in line Sidney inherited the family business following the death of his property tycoon father Alexander (1870–1922). The business included several music halls and the Empire group of 'Kinemas' in Ilford, Plumstead, East Ham, West Ham and Willesden.
While other cinemas were modest in size, Bernstein's Granada Tooting cinema was larger than all the locals combined. He thought of his businesses as temples of entertainment so wanted them to be luxurious with statement buildings as appealing as the films playing each week.
His first purpose-built cinema was the Granada Dover, which opened in January 1930 (it was demolished in 2014), and then the Granada Walthamstow in 1930 (a Grade II* building owned by Waltham Forest Council since 2019.) In addition, architect Cecil A. Masey (1880–1960) was appointed to design the Granada Tooting as the flagship of the Granada chain. Masey was also responsible for the New Wimbledon Theatre – Grade II* listed (1910), the Phoenix Theatre in the West End – along with Giles Gilbert Scott* and Bertie Crewe (1930), Odeon Ealing (1932), Granada Woolwich – Grade II* listed (1937) and the Granada Clapham Junction (1937).
By the mid-1950s, the Bernstein brothers owned over 60 branches. Alongside the cinema chain, Sidney recognised the rising popularity of televisions and launched his Granada Television company in May 1956, which is now part of ITV. The growth in TV audiences (spurred on by the Granada company themselves) led to a decline in cinema visits.
* Giles Gilbert Scott also designed the Tate Modern building, Battersea Power Station, the Albert Memorial and the red telephone box.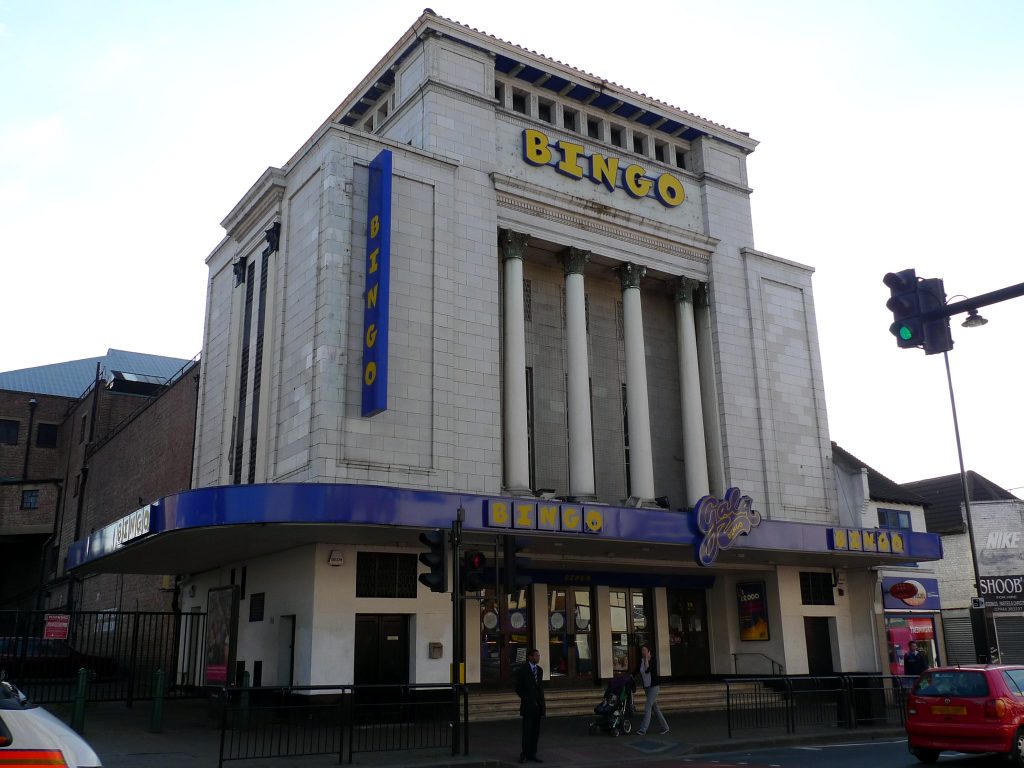 Exterior
Granada's competitors were ABC, Gaumont and Odeon. Oscar Deutsch (1893–1941), who founded the Odeon chain, was building Art Deco cinemas around the same time. However, while Sidney did use an Art Deco style on the exterior of his cinemas, the interiors tended to be Neo-Renaissance/quasi-medieval/Neo-Gothic.
Standing across the road today, you can really survey the building's grand façade. It was designed by cinema and theatre architect Cecil A. Masey and there are four Corinthian style pillars standing over the entrance canopy in a Moderne Italian Renaissance style.
Mr Masey had trained with Bertie Crewe who was the architect for a number of London theatres and who in turn had trained with Frank Matcham, perhaps the most famous of all British theatre architects and designers.
According to this site, the Tooting location was ideal as it was just to the north of Surrey to avoid their trading restrictions but close enough to the West End. Tooting Broadway station on the Northern Line opened in 1926 meaning the Granada could trade on Sundays when the West End was closed. This was still the era when the tube promoted late night 'theatre trains' to carry the middle classes home after a play.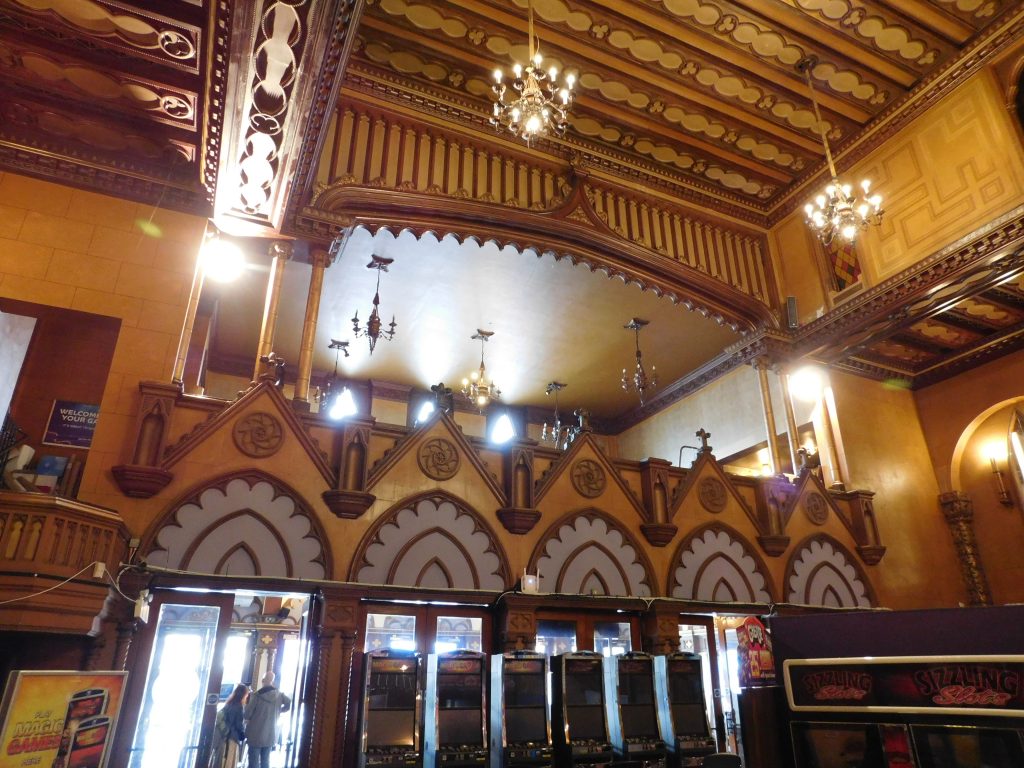 Theodore Komisarjevsky
The entire interior decoration of the theatre was designed by famed Russian stage set designer Theodore Komisarjevsky (1882–1954). Born in Venice, he was brought up in the theatre of Moscow by his father, an opera singer, and his mother, an actress. (Komisarjevsky's father had taught the later highly influential Konstantin Stanislavski.)
Although interested in architecture, he began to direct plays and eventually formed an acting school where he was free to practice his own theories on acting. In 1917, he became the director of the Bolshoi Ballet but as Lenin was not inclined towards theatre Komisarjevsky moved to London in 1919 where his influence was soon felt on most aspects of the industry. Here he continued to advocate his avant-garde approach to acting and quickly scandalised society with his productions of Shakespeare plays where, for example, he staged Macbeth with the principals adorned with saucepan lids for crowns.
On a less controversial note, he was responsible for introducing the plays of Chekhov to the British public. He also lectured at the Royal Academy of Dramatic Art where he exerted a strong influence on acting students who later were to receive worldwide acclaim and in 1932 he published a defining book on The Costume of the Theatre. Komisarjevsky had a short-lived marriage to actress Dame Peggy Ashcroft from 1934 until 1936.
Sidney Bernstein commissioned this Russian expatriate theatrical impresario to design the inside of a new palace of the booming business. He had overseen the interior design of the purpose-built Granada cinemas in Dover and Walthamstow featuring Moorish-influenced design but chose to showcase a quasi-Medieval style for Tooting.
Komisarjevsky's inspiration and imagination created grand Gothic interiors because the owners wanted a trip to 'the flicks' to be on par with a "religious experience" which would explain the cathedral and church comparisons. As he was a theatre set designer, it is said you shouldn't look too closely at some of the painted decoration as it was designed for impact and not scrutiny.
The masterful ornamental plasterwork was by Clark and Fenn. Joseph Bernard Clark was an ornamental plasterer who with Harry Fenn, a surveyor, specialised in ornamental fibrous and Plaster of Paris plasterwork. Much of their work was prefabricated in their factory in nearby Clapham. This allowed them to transport mouldings in a ready-made state and for installation. Their work may also be seen at the church of St. Clement Danes in The Strand, the Theatre Royal Drury Lane and the London Palladium.
On the side walls at balcony level are a series of panels with painted murals of medieval figures painted by Alex Johnstone from small originals by Lucien Le Blanc (possibly alias Leslie le Blond).
When did it Open?
Construction began on Granada Tooting in May 1930 and was completed in September 1931 at a cost of around £145,000 (around £7 million in today's money).
Granada Tooting opened on 7 September 1931 with screenings of Jack Buchanan and Jeanette MacDonald in 'Monte Carlo' supported by the short film 'Two Crowded Hours' – a 43-minute short drama film starring John Longdon and directed by Michael Powell. (Double-features like this one were the main component of the Granada's programming.)  Completing the film presentations were 'Oh! Oh! Cleopatra' a short film from Masquer Club productions and a surprise showing of the 1907 version of 'Ben Hur' with William S. Hart which had a 15-minute running time and was shown to let the audience see how motion pictures had improved. A special edition of the Paramount Granada Newsreel was also screened.
The opening night was incredibly popular and, even though the cinema had more than 3,000 seats, over 2,000 people were turned away. Jack Buchanan was unable to attend but he sent a special screened message. There was a performance by trumpeters from The Life Guards and Alex Taylor on the cinema's Wurlitzer organ.
The Cinema Organ
Before and between the films, a cinema organ would be played to entertain the audience. Here, the fourteen-rank Wurlitzer organ survives under the stage, as does the four-manual organ console in the orchestra pit, together with the rail and its arcaded front, although it is currently out of action following water damage from a flood in 2007.
According to the Cinema Treasures website, "The stage is 58ft wide and 30ft deep and has a fully equipped fly-tower. It has a Wurlitzer theatre organ with a piano attachment on the stage. Originally a 4 Manual/12 Ranks instrument which was opened by organist Alex Taylor. The instrument was originally installed in 1926 in the Majestic (later Mission) Theatre, Sacramento, California, USA as a 3 Manual/10 Rank instrument. In 1932-33, the instrument was enlarged to be a 4Manual/14Ranks specification, which remains today."
Elephants
In the 1930s the theatre was regularly home to Christmas pantomimes and variety shows to supplement the screening schedule. From January 1934, and at this time of year for the following four years, it was even used to stage circus shows with real elephants.
Concerts
During the 1940s and 1950s, the Granada also became a popular venue for concerts with Betty Hutton and Carmen Miranda from America, and Max Bygraves and Dickie Valentine from the UK performing. Frank Sinatra did two shows here on 14 June 1953 which were his first UK performances.
By the late 1950s/early 1960s there were concerts by pop singers such as Frankie Laine, Pat Boone, Dusty Springfield, Marty Wilde, Jerry Lee Lewis and The Rolling Stones. Little Richard performed here on 1 June 1963, and The Beatles supported by Roy Orbison performed two sold-out sets on 1 June 1965. The Beatles were due to be the support act but they hit the big time the week before the show.
In 1958, as television began eclipsing cinema, Sidney Bernstein jumped ship to launch his Granada Television Company. Granada Tooting was equipped to screen closed-circuit television and in August 1966, a live relay of the Mohammed Ali v Brian London fight from Earls Court, west London was screened. Occasionally live wrestling was staged.
The last big name concert on stage at the Granada Tooting was The Bee Gees on 28 April 1968.

When did it Close as a Cinema?
With the huge success of TV, cinema attendance across Britain declined dramatically in the 1960s. The balcony café overlooking the grand foyer had closed in 1954 and by 1971 there was an average audience of just 600 patrons a week.
The Bernsteins approved the plan to demolish the building to make way for an office block as it was no longer profitable but, fortunately, the local council were able to see the architectural value of the building so did not give permission. Instead, councillors served a local preservation notice which led in June 1972 to a Grade II* listing being placed on the building by English Heritage.
It was due to close at the end of the following year but first, a heavy storm in July 1973 flooded the front stalls seating area and damaged the Wurlitzer organ which has its organ chambers under the stage. And then when Sidney Bernstein visited on 10 November 1973 he saw so many empty seats that he ordered the theatre to close that night. The last night screening was Richard Crenna and Stephen Boyd in 'A Man Called Noon' (aka Un hombre llamado Noon) and Ursula Andress and Stanley Baker in 'Perfect Friday'. The following weeks' advertised film was Clint Eastwood in 'The Good, The Bad and The Ugly' but patrons turned up to find notices in the display frames stating 'Due to a lack of public support this cinema is now CLOSED'.
When Did it Become a Bingo Club?
The building remained closed and unused for almost three years. It re-opened as a Granada Bingo Club on 14 October 1976. The Granada company was still in the hands of the Bernstein family at the time. It ran the bingo hall until May 1991 when it was taken over by Gala Bingo as Granada Theatres Ltd was sold to Bass.
On 28 September 2000, the listed status of the Granada Theatre was upgraded to Grade I by English Heritage. This is the highest Grade listing that any building in the UK can receive. It is the only purpose-built UK cinema building to have Grade I listed status, and the only Grade I listed building in Tooting.
The prestigious listing status gave the owner (Gala Bingo) the opportunity to apply for public funding to maintain the building. Work was completed to 'open up' the orchestra pit again (long covered over by the bingo callers' podium) which blocked the sound of the organ which has its chambers under the stage.
Restoration work on the Wurlitzer organ was completed in spring 2007 and the first public concert since the early 1970s was held on 22 April 2007. Sadly, the organ chambers were flooded in July 2007, when heavy storms hit London.
Following a year-long campaign by resident Dan Watkins in December 2015 the bingo hall was listed as an asset of community value. And in autumn 2018, the Gala Bingo chain was rebranded Buzz Bingo.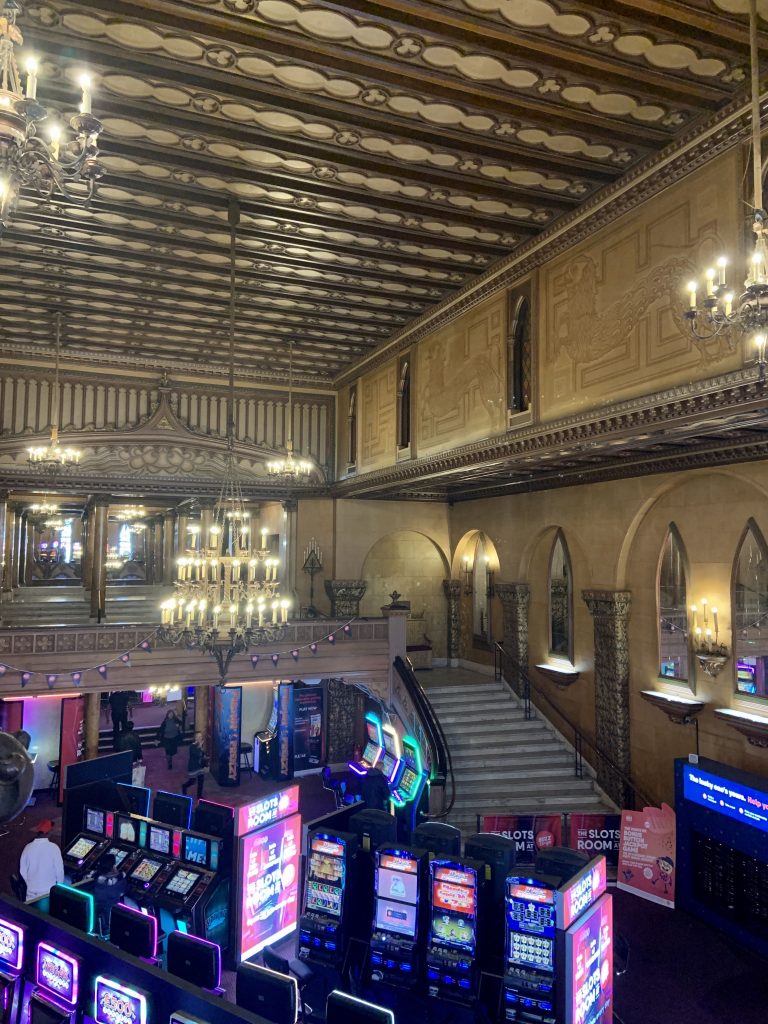 Describe the Interior
The entrance foyer features grand marble staircases, Gothic windows and mirrors and chandeliers. And that's all impressive enough before you reach the double-height auditorium with its grand Gothic arches either side of the stage. The side gables feature those Medieval-style paintings by Alex Johnson, taken from smaller originals by Lucien Le Blanc. The arches are filled with more painted decoration: troubadour with lute, male and female figures holding musical instruments and robed male on the left; while on the right, another wimpled maiden, male and female figures in flowing robes and an African boy drummer. And all that is 'protected' with finials of rampant lions holding shields and a heraldic lion holding a coat of arms with what would appear to be the glass face of a clock, but with no hands.
Above the stage is an elaborate wooden proscenium arch setting the ecclesiastical scene. But the callers' podium on the stage should remind you that this isn't a cathedral.
I didn't go upstairs but on the first floor, there is a 'Hall of Mirrors' corridor to reach the balcony. This upper seating is still in the forward-facing cinema layout whereas downstairs is all fixed tables and booths for playing bingo.
There is lots more description on the Stories of London website, and I loved this description on IanVisits as it is so true: "The result though is a very odd mix of Gothic, Art Deco, and 1980s motorway service station, which seems oddly appropriate in a space that was already so eclectic".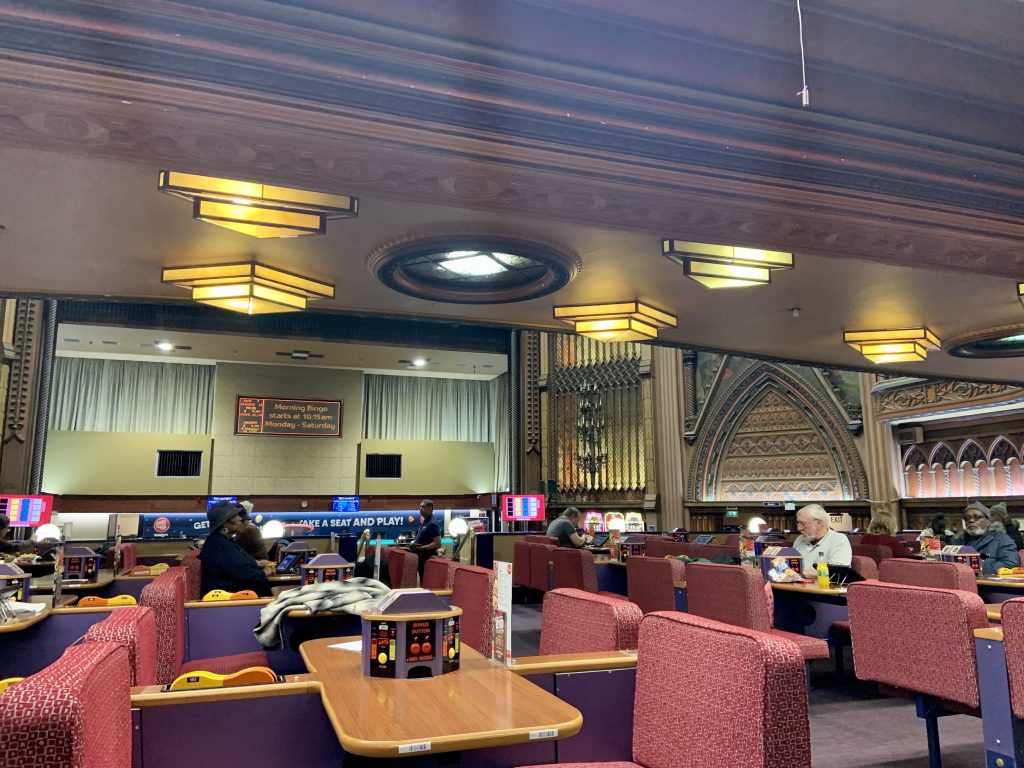 What's It Like Playing Bingo There?
I thought you'd never ask. Of course, I didn't just visit to look around; I wanted to enjoy the building's entertainment. Of all the other articles I've read about the building online and in print, no-one else appeared to visit to enjoy a game of bingo. Well, I bucked that trend and had a lot of fun.
When you arrive, you can sign up for free membership at the terminals. We asked a member of staff to explain it all for newbies and they were fantastic at welcoming us.
Once you have your membership card, you need to buy the game sheets. There's usually a deal for a pack (The Big Book) so we got that so we could play for the whole session. You also get issued with a bingo pen (fat felt-tip) and you're ready to enter the auditorium.
When you enter, do stay quiet as the players take their bingo seriously. Literally no-one speaks while the numbers are being called. And quite rightly as there is money to be won.
We arrived a bit early so we could get a feel for how it works. The first thing we noticed is how quickly the numbers are called. You really do need to concentrate! Fortunately, there are screens displaying the called numbers around the auditorium but you do have to be quick to look up and then mark your bingo cards.
In the old days the bingo caller used lots of catchphrases ('all the twos, twenty-two', 'key of the door, twenty-one' or 'two fat ladies, eighty-eight') but there's none of that any more. Each game does start with "Eyes down" and then the silence descends.
There are lots of regulars and it's not all women. When I looked confused, regulars did their best to keep me on the right page of the book.
For most games, you can win with the first complete line, then the first to get two lines and then the first to get all the numbers. To show you've won you have to call out loudly as if the first syllable of the next number has been called, you are too late to claim your prize. When someone calls, everything stops and a member of staff goes over to check their game card. Also when someone calls a win – you can shout 'Bingo!', 'House', 'Here', Yes' or anything to say you want to claim a win – there is an audible groan from around the room as this is a competition and everyone wants to win.
I went for the lunchtime session and there is a cafe here so we ordered a meal. The food is good and well priced. You can't pay with a credit card but can use a debit card. I'm ordering the scone and jam next time with a cuppa.
So, you'll want to know if I won anything. Well, yes, I did. I won the National Bingo game and came out with an envelope stuffed with cash. I was shocked when I saw I only need one more number and then I was so embarrassed that I had to call out loudly I was almost too quiet. The Manager came to check my card and reminded me to call more loudly next time as I almost missed out. When he went to sort out my winnings, the lovely ladies around me all congratulated me and there was no animosity about beginner's luck.
I thought it was fun, in a slightly frantic way at the speed of the games, in an amazing building. And I would love to go back soon.
The writer of this article has shared some wonderful memories and photos from their visit.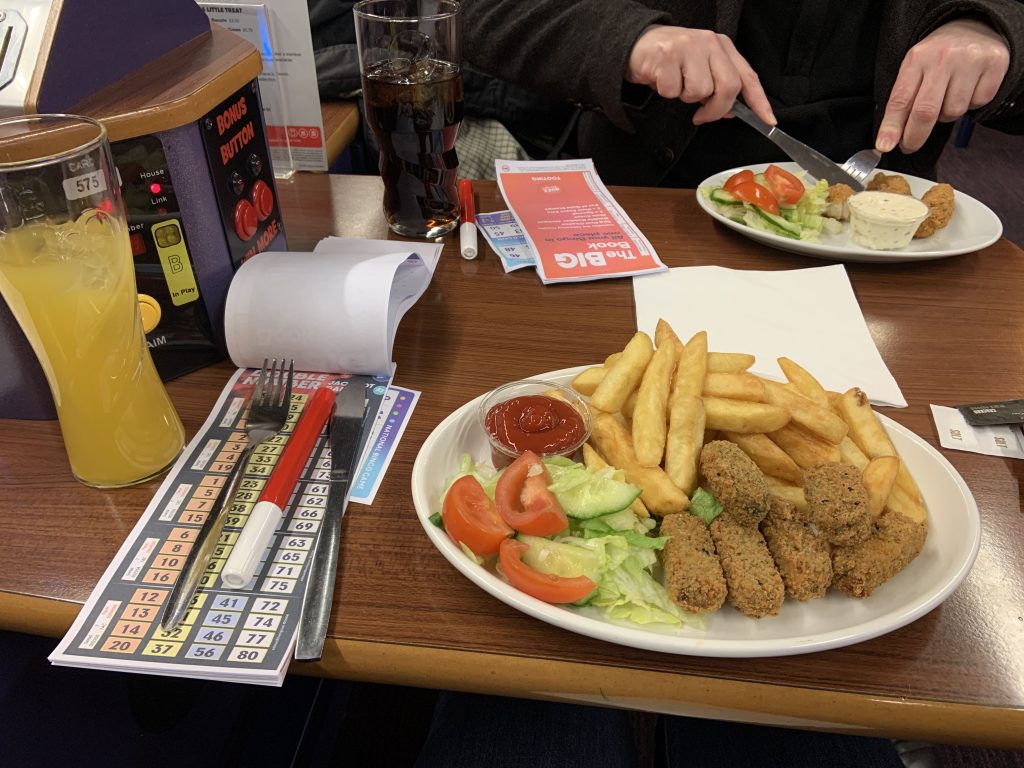 Buzz Bingo Tooting
Address: 50-60 Mitcham Road, Tooting, London SW17 9NA
Nearest station: Tooting Broadway