Stompie is the name given to a tank. On a quiet residential street. In south London. Yes, you read that correctly. At the end of a row of houses in Southwark, there is a decommissioned Soviet-built T-34 tank.
Where Is It?
The 32-ton tank is in the now-named Stompie Gardens on the corner of Page's Walk and Mandela Way, SE1.
What Is It?
This is not a model. Oh no, it is a real T-34 tank built in 1953 and used by the Czech army. It is said to have taken part in the suppression of the Prague Spring uprising in 1968.
Why Is It Here?
This war relic was brought to Britain from Czechoslovakia in the early 1990s as part of a batch decommissioned by the Russian military. While it wasn't needed here for military conflict, it has played a part in a battle between a local resident and the local authority.
'Stompie' was used as a movie prop in the 1995 award-winning film Richard III, starring Ian McKellan and a younger Robert Downey Jr. Two months after it was used for filming battle scenes at Battersea Power Station, local resident and military enthusiast Russell Gray bought the tank for £7,000 as a present for his (then) seven-year-old son Rhys. It was acquired from a military salvage dealer in Kent.
Mr Gray, the owner of this triangle of wasteland, wanted to build on it but was repeatedly refused permission by the local council planning department. It is said that in frustration, he put in a planning application to install a 'tank' which the council, not unreasonably, thought would be a septic tank/water tank/oil tank, etc. As there were no restrictions on having vehicles on the plot of land, within weeks of permission being granted he moved the deactivated military tank onto the site.
It is said the tank's gun turret is pointing at the Southwark council offices although it can move.
Why Is It Called Stompie?
The tank is named after Stompie Moeketsi Sepei – the teenager murdered by Winnie Mandela's 'bodyguards' in 1989. Apparently, the reason being that even simple political gestures, like a local council naming a street for an anti-apartheid modern legend (this is on Mandela Way), can have muddied resonances.
Stompie Gardens
The area is now open as a communal space. There is no gate so you can enter at any time.
While the garden is mostly scrubland and weeds, there is a picnic table so you can stay for a while and admire the tank.
A small team of volunteers maintain the tank and, I've heard, there are sometimes special days when you actually go inside. I'm hoping the best way to hear about these will be by following the official Twitter account: @stompiegarden.
What started out as an angry response to not getting your own way, became a huge toy for a child and now a well-loved local oddity.
It would be useful if an information board could be added but, I guess, there's something even more 'British' about having something so bizarre on a residential street with no explanation and no one finding it odd anymore.
Repainting
As Stompie the tank has been here for 25 years, you won't be surprised to discover it has looked different over that time. The tank has been regularly repainted by local artists – it was gold when I visited in 2020.
I wish I'd seen it when it was bright pink in 2002. But it's also had animal prints and street graffiti too.
Here's a look at some of the other paint jobs Stompie has had over the years.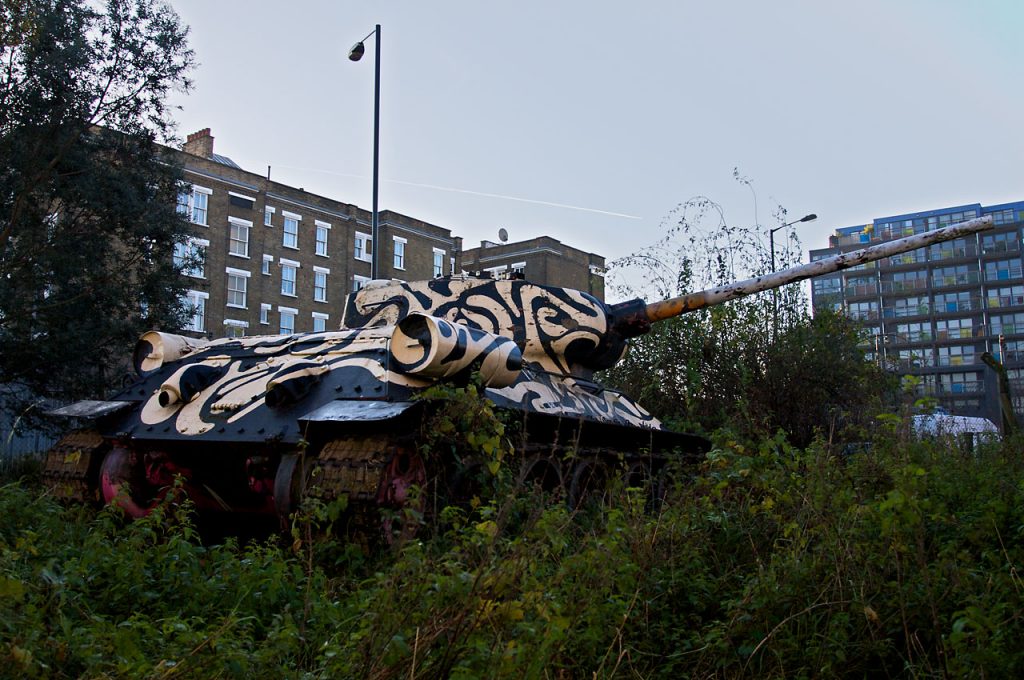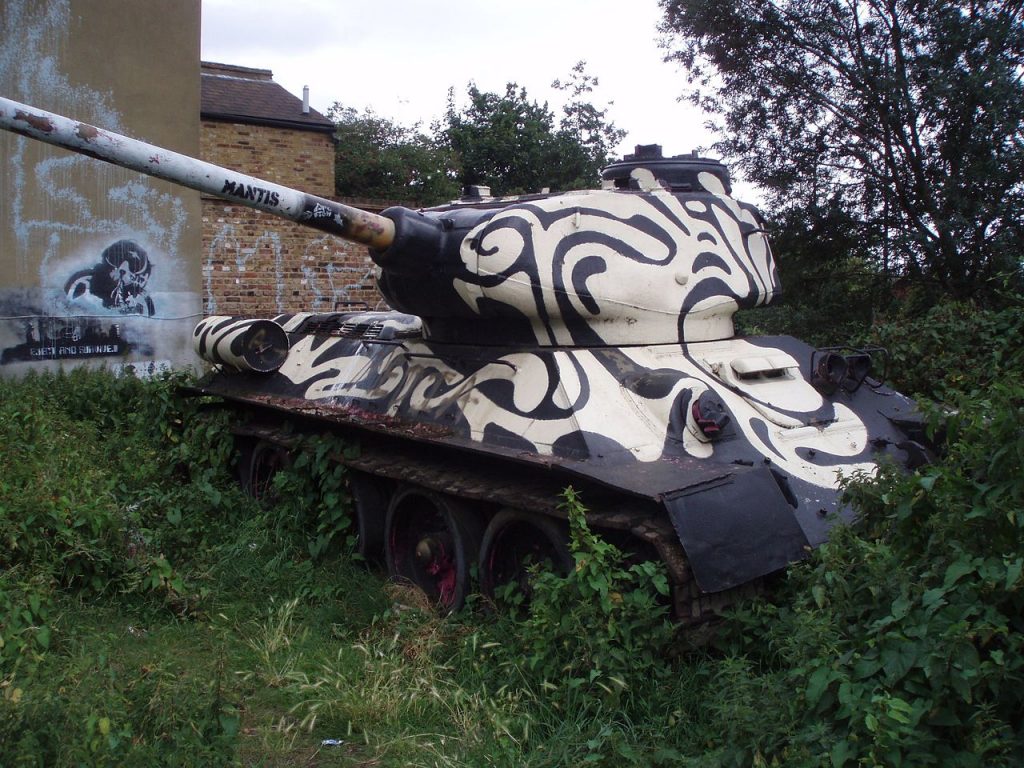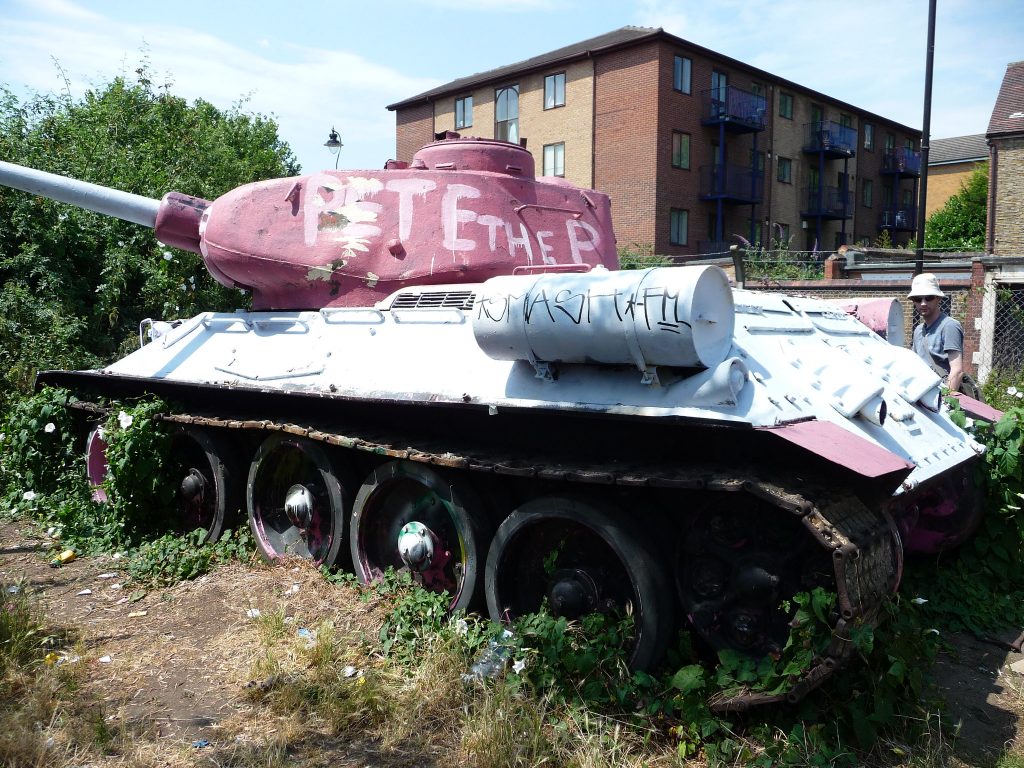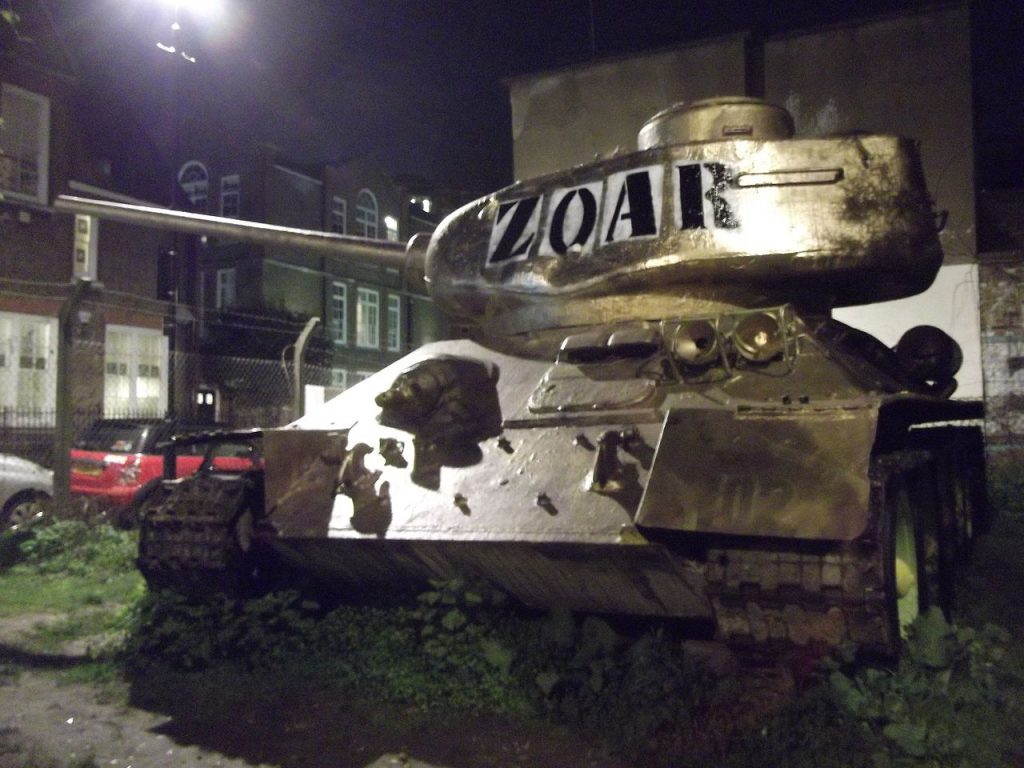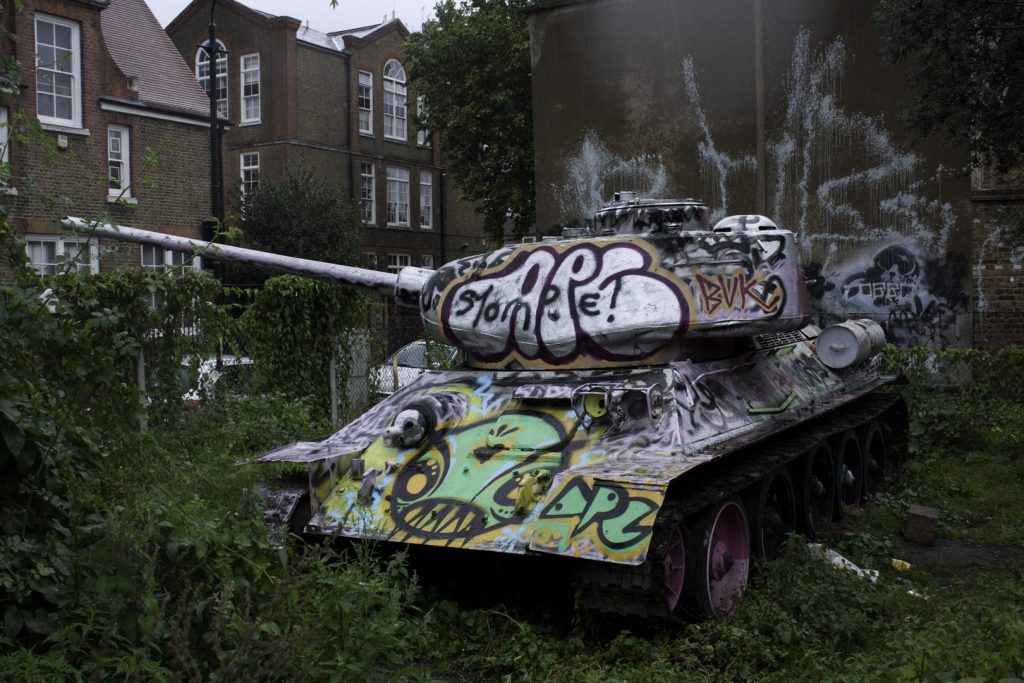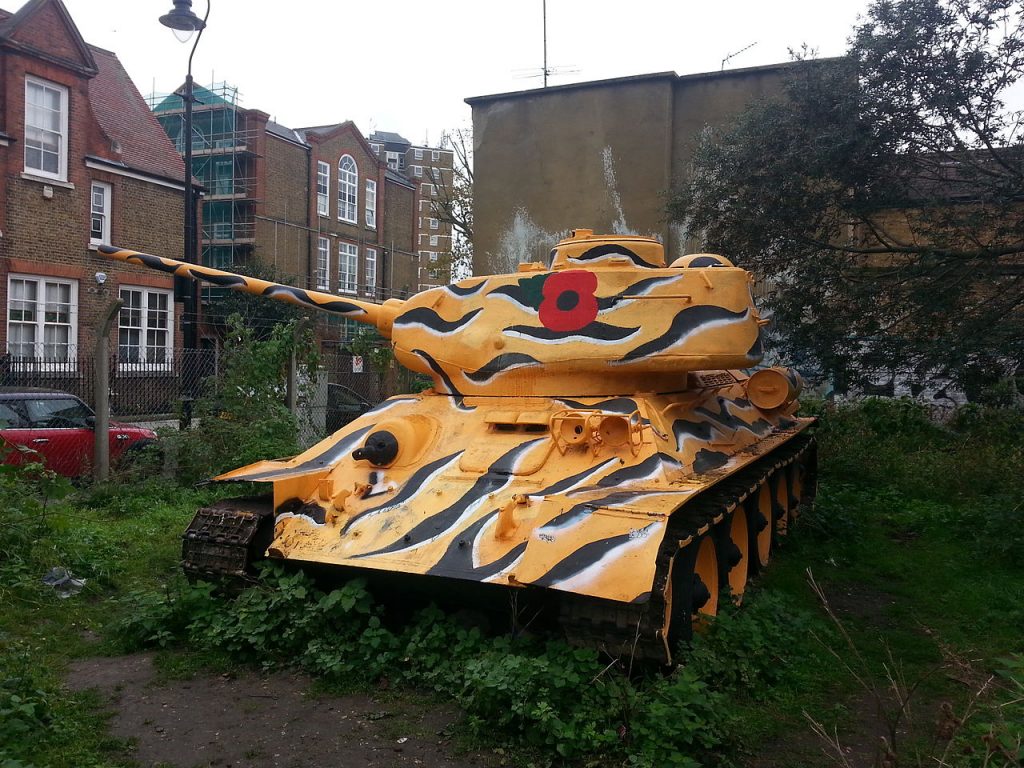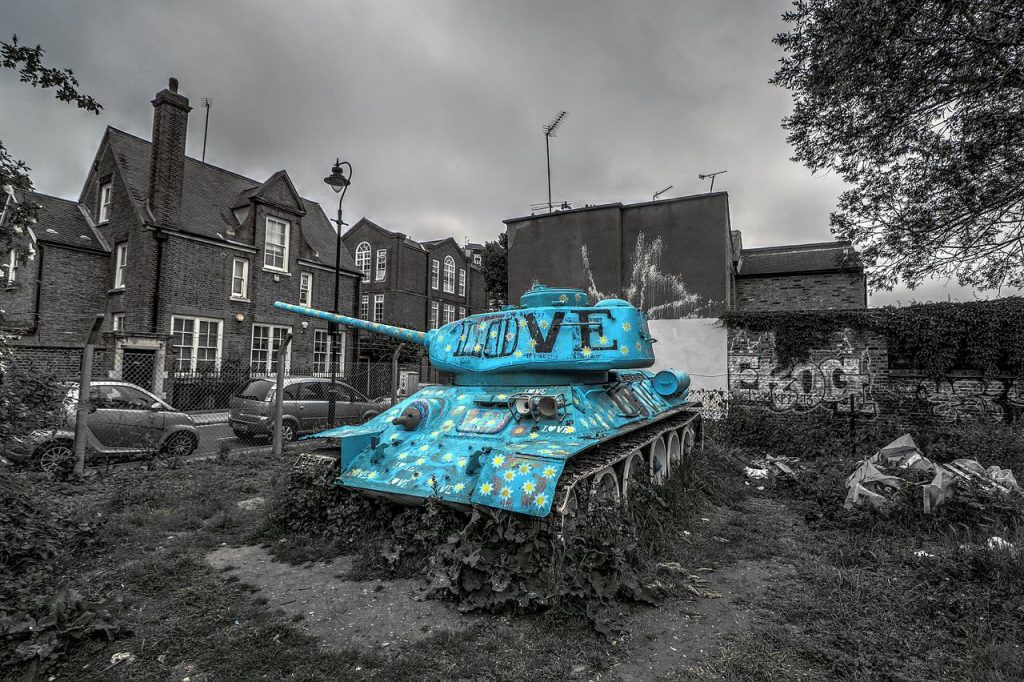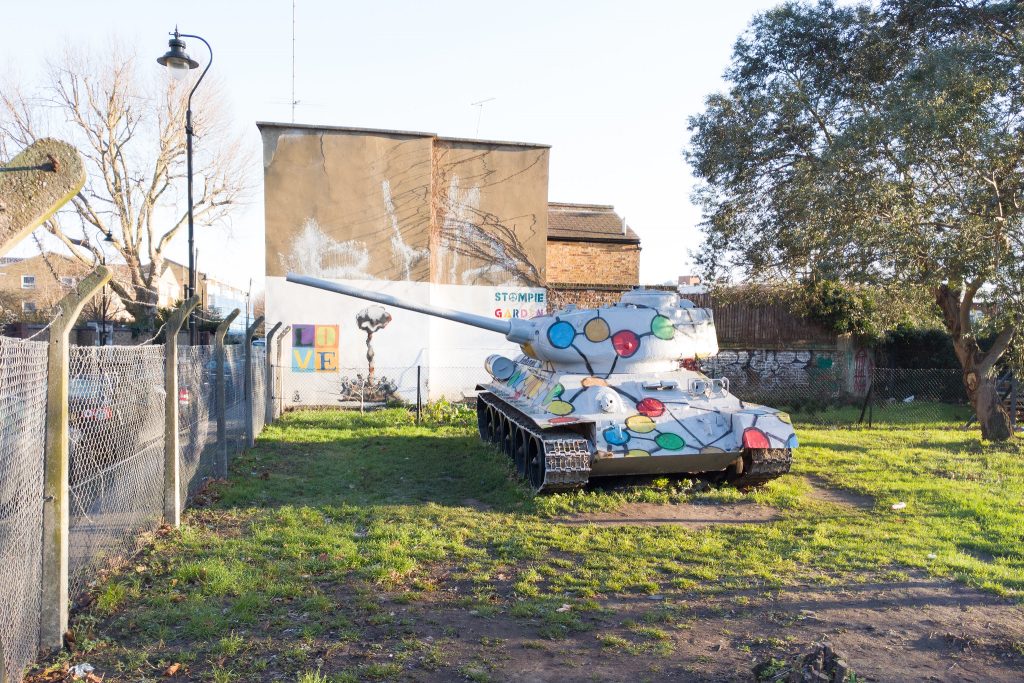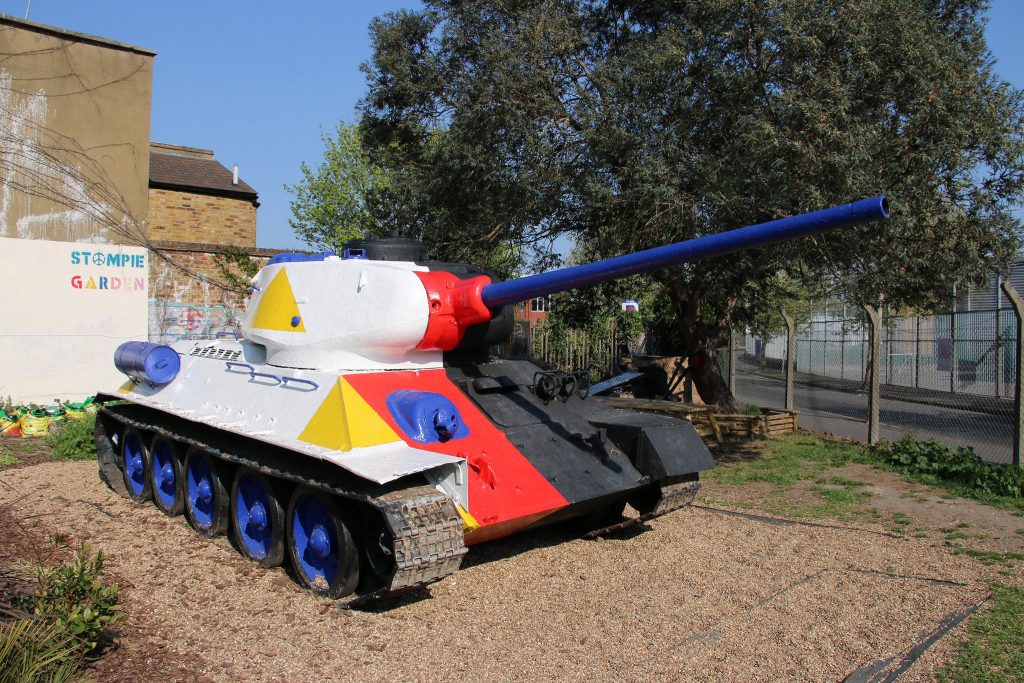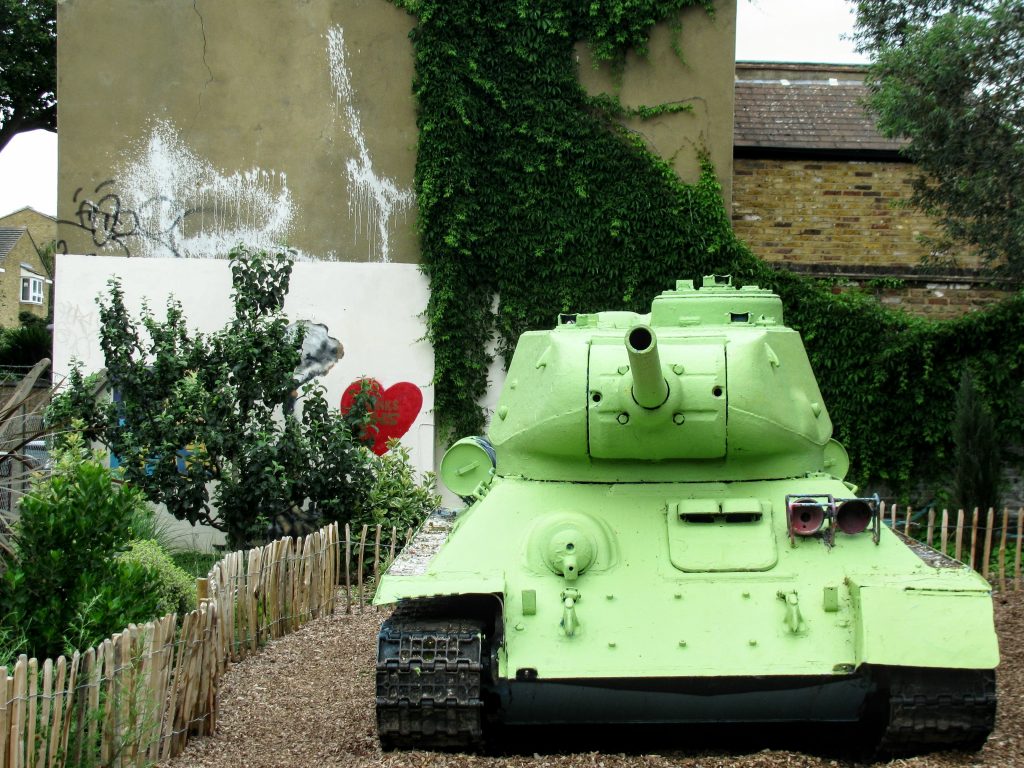 How To Find Stompie
The tank is so well known you can just put 'Stompie Garden' into Google Maps for directions. (The CityMapper app knows it too.) Its address is shown as Page's Walk, SE1. Stompie is at the junction with Mandela Way. It's close to the busy Old Kent Road A2 dual carriageway. The neighbourhood is Bermondsey/Walworth and it's in the London Borough of Southwark.
You could easily combine seeing Stompie the tank with a visit to the Imperial War Museum as it's about 30 minutes walk away (or 20 minutes if you get a bus).
Free Things Challenge
I went to see Stompie after so many years as part of my London Free Things Challenge where I'm making sure I do at least one free thing in London every week. There are lots more ideas so do use the challenge for inspiration.