I've written about free things to do in London for many years and I have a few London for free ideas on this site. (When I wrote the About.com London Travel site, my free things list was at the top of Google search for years.) To ensure I don't sit in front of the laptop every day, I've set myself the London Free Things Challenge.
The Challenge is simply to enjoy one free thing in London each week. It can be an annual event such as the Canary Wharf Winter Lights Festival, a one-off temporary/pop-up event, somewhere I've never been or somewhere I haven't been to for ages and have been meaning to return to.
So far, I've been to an auction preview display at Phillips auction house on Berkeley Square. It's worth visiting the auction houses as, even if you can't afford to buy the artworks, everyone can see them before the sale. I saw artworks by Picasso, Miró, Matisse, Andy Warhol, Keith Haring, Damien Hirst, Henry Moore and lots more. It's worth checking the auction schedule at Sotheby's too.
While seasonal free things will occur, I've put together a list so I have lots of options to choose from. The idea is to select something near to where I have to go anyway. I've put the ideas into basic groupings and friends have already been claiming the ones they want to do with me.
(Scroll to the bottom to see my record of what I get up to each week.)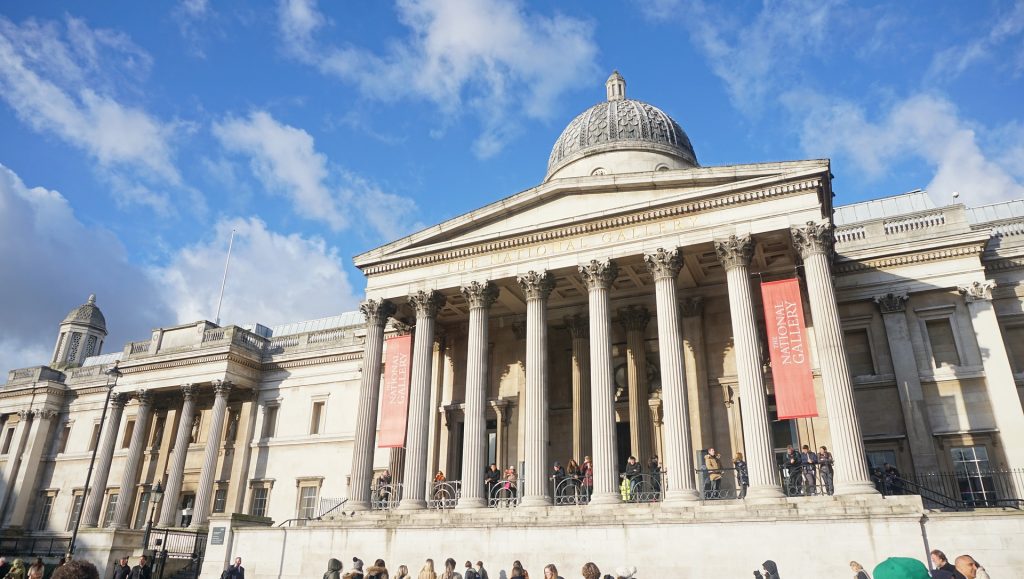 Museums
I've not yet seen the London Calling Clash exhibition at the Museum of London. It's just a small display in the entrance foyer and is on until 19 April 2020.
I haven't been to the Guildhall Art Gallery for some time. A new exhibition – The Enchanted Interior – opens in March 2020. And I haven't been to the Museum of Freemasonry for a long time either.
The Bank of England Museum is celebrating the bank's history with the 325 years, 325 objects exhibition on until 29 May 2020.
Medicine: The Wellcome Galleries at the Science Museum are getting rave reviews so I want to go there soon. Science Gallery London in London Bridge is on the list too. And there are more science ideas at the Crick Institute in King's Cross.
Two Temple Place is a lovely venue so is always worth a visit. Unbound: Visionary Women Collecting Textiles is on from 25 January to 19 April 2020. (DONE)
I'd like to go to the National Gallery to see the 'Monty Python foot'. And then go across the road to St Martin in the Fields for a lunchtime concert. Or I could stay for the Friday lunchtime Talk and Draw where you get a short talk from an artist about a particular painting and then respond with an artist-led drawing session. Another reason to visit the National Gallery is to go to Gallery A which is now open every day (it used to be only on Wednesdays). (DONE)
If I can get a free evening, a Museum Lates would be good. And I haven't been to the National Army Museum since it reopened.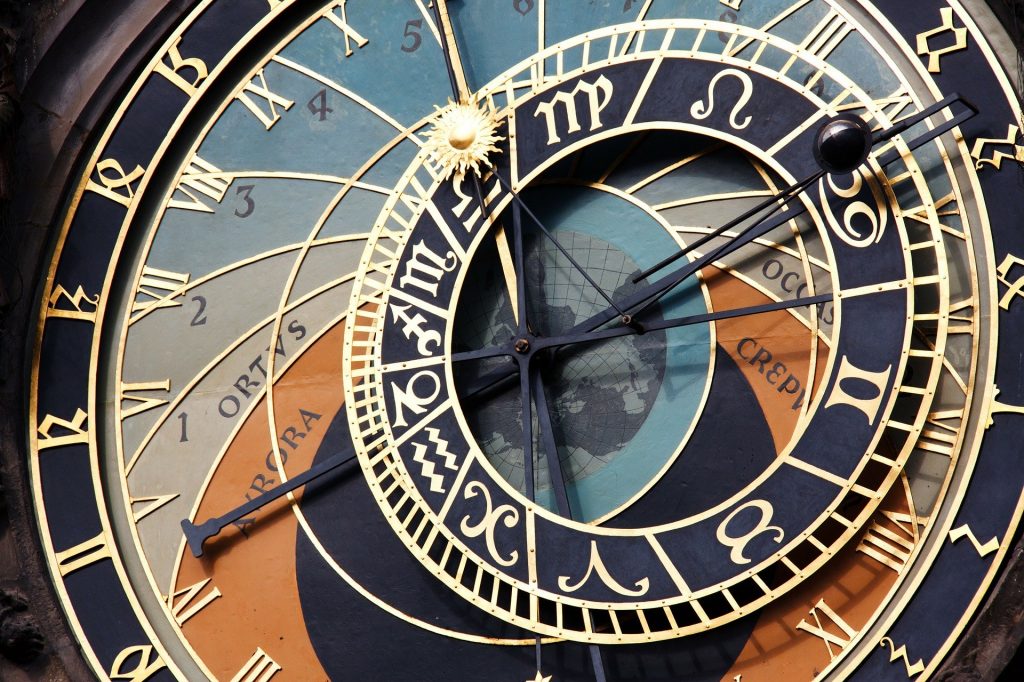 Evening
The Photographer's Gallery is free after 5pm so that's a good reason to get off Oxford Street.
The London Library offers occasional free evening tours.
Drink Shop Do has some free and cheap evening events.
And Baker Street Astronomers has monthly stargazing meetings at The Hub in Regent's Park.
Learning
I've never been to a Gresham College lecture. And the Forum for Philosophy at LSE looks interesting.
The City Business Library near the Guildhall has free and cheap seminars and workshops.
Every Apple store offers free workshops from discovering more about your iPhone to photography and video skills.
The Idea Stores (libraries) in the East End can have some interesting free exhibitions and events, as does the Barbican Library.
It might be interesting to be in the public gallery at the Old Bailey although the 'no mobile phones' rule is what has always put me off. Apparently a nearby travel agent will look after your property for a small fee.
I've also always meant to attend a debate at the House of Parliament. You can check the Parliamentary calendar in advance to see what's is being discussed.
The Sohemian Society hold talks at The Wheatsheaf in Fitzrovia.
This idea came recommended by a friend and I'll admit, I hadn't heard of it. The Aga Khan Centre is in King's Cross. It is a place for education, knowledge, cultural exchange and insight into Muslim civilisations. There are regular tours but you do need to register in advance.
The events at Bishopsgate Institute often look good and anyone can visit the library for free. There are also monthly 'Library Late: Off the Shelf Comedy' events in the library (not free but still cheap).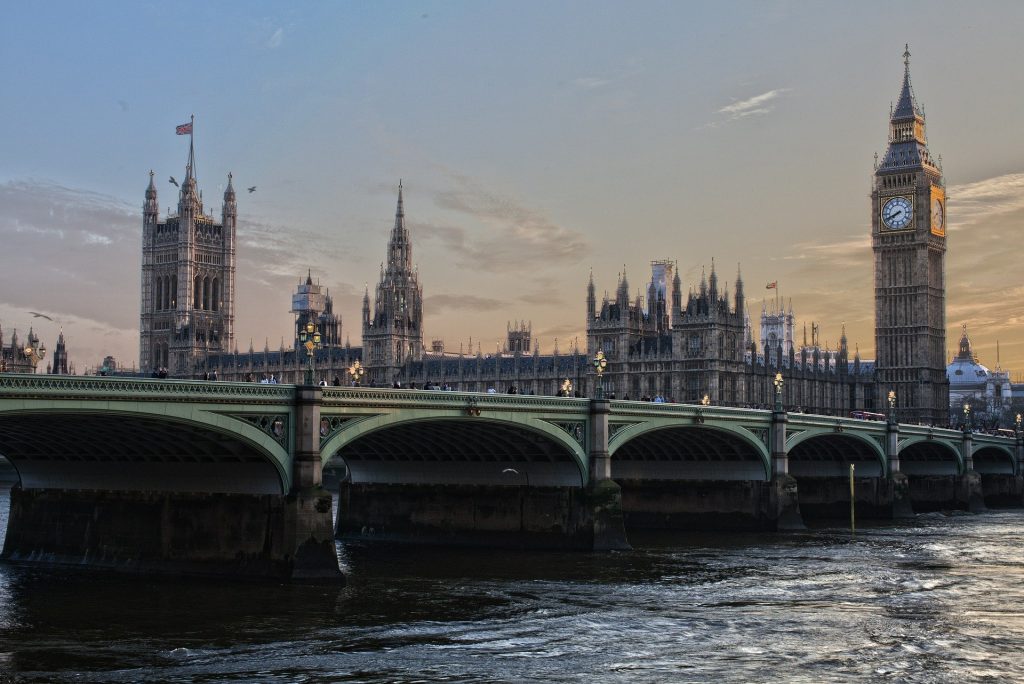 Outdoor
As the weather improves throughout the year it could be good to have more reasons to be outside.
I've never been to Vauxhall City Farm and could combine it was a trip to Tea House Theatre where there's nice loose leaf tea and homemade cakes plus lots of events such as the Words Away monthly writing workshop on Wednesday evenings.
I haven't seen the rolling bridge and fan bridge at Paddington for ages. They both do their thing on Wednesdays and Fridays at midday although I've been told it's not always working. (Update: I visited on 31 January and saw the rolling bridge. And I went back in February to see the Fan Bridge.)
You can see the pelicans in St James Park being fed between 2.30 pm and 3 pm each day.
Check the lift times in advance and see Tower Bridge lift.
I've still not been to Crossrail Place Roof Garden. And I could see the traffic light tree at the same time.
Greenwich Ecology Park comes recommended and Walthamstow Wetlands is near to home.
And I must get to see that tank in south London one day. (DONE)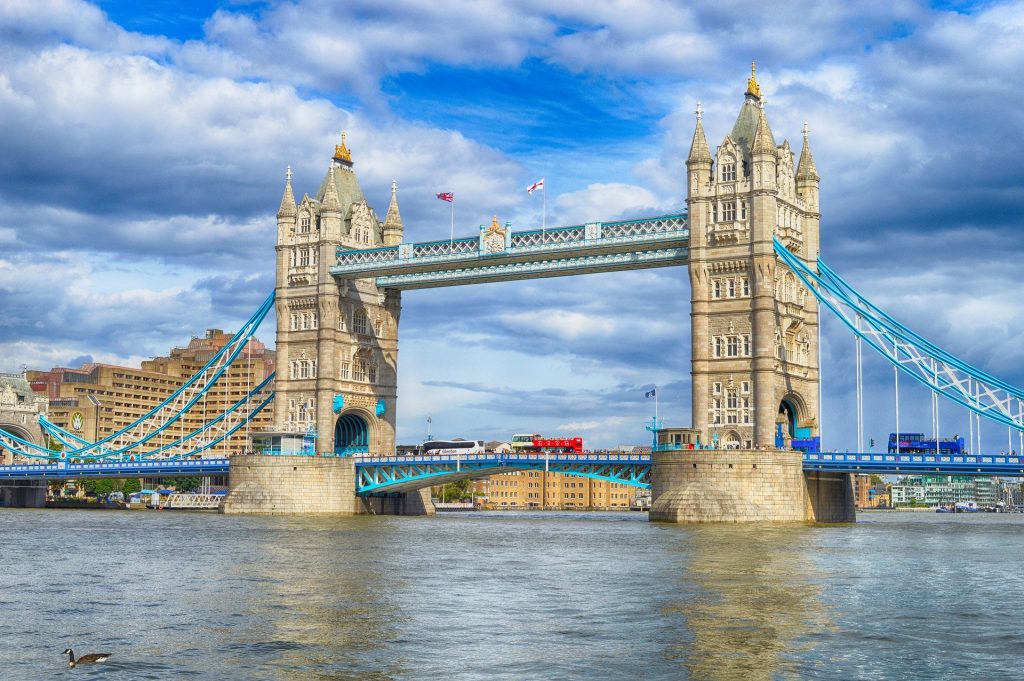 Other
These ideas don't really have a category so 'other' is what I'm calling it.
You don't need a ticket to visit the Sky Garden before 8am. It's open from 7am and I'd love to go to see the sunrise. Once back at ground level, St Dunstan in the East is just a few minutes away. It's a lovely city garden in a bombed out church, partially built by Sir Christopher Wren. (DONE)
Neasden Temple has been on my 'must visit' list for years.
There used to be a Swiss Centre in Leicester Square (where the M&M store is now) and all that is left is the Swiss Glockenspiel. I've not seen it ring so I need to time a visit as bells chime at 12 pm, 5 pm, 6 pm, 7 pm and 8 pm on Monday to Friday, and 12 pm, 2 pm, 3 pm, 4 pm, 5 pm, 6 pm, 7 pm and 8 pm on weekends. (DONE)
And nearby, there's the Fortnum and Mason clock to see too on the front of the building on Piccadilly. Bells ring out every fifteen minutes but on the hour neat models of Mr Fortnum and Mr Mason appear to check that standards are being kept.
When I'm next on the South Bank I'll go to the National Theatre Sherling High Level Walkway to see behind the scenes. And the BFI Mediatheque is nearby.
I haven't been to the London Silver Vaults for years. And as long as I don't buy anything, it's free to explore Spitalfields Antiques Market on Thursdays.
The Buzz Bingo venue in Tooting looks amazing. (DONE) And Daylight Music at Union Chapel on Saturdays has appealed for a long time.
Fitzrovia Chapel can be visited on Wednesdays. (DONE)
There are regular organ concerts in Mayfair. And there are lunchtime recitals at St James Piccadilly on Mondays, Wednesdays and Fridays. Oh, and Live at Lunch are free lunchtime performances at the Royal Opera House. And there are lunchtime concerts at St Saviour's in Pimlico on Fridays.
And I've heard great things about Missing Maps – an open, collaborative project in which you can help to map areas where humanitarian organisations are trying to meet the needs of vulnerable people. Check the events to see when this is happening in London.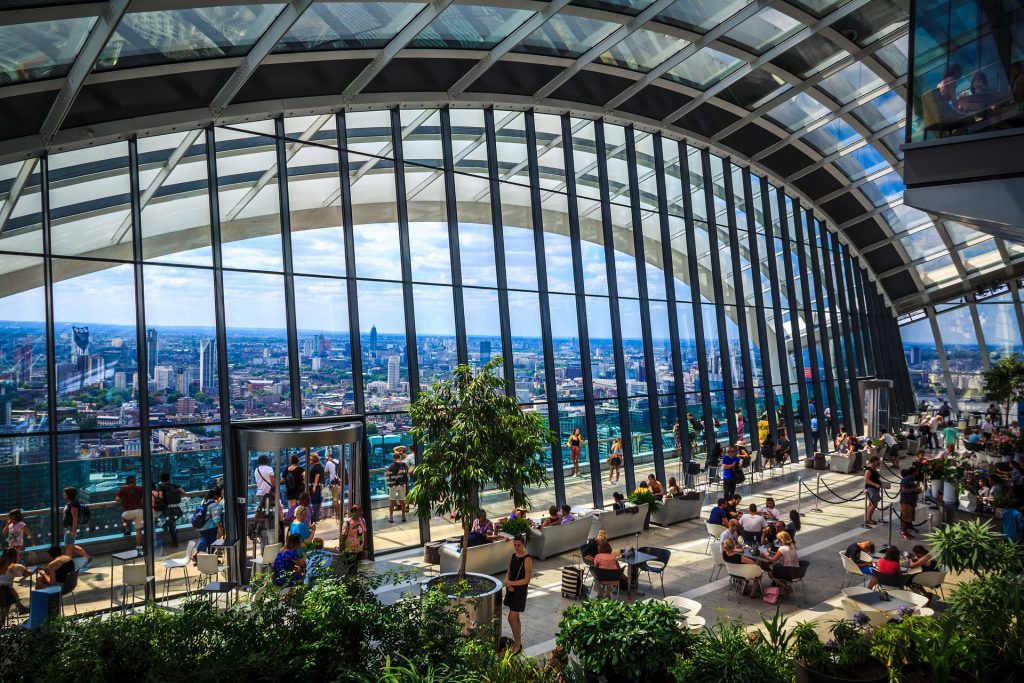 What Have I Done in 2020 From The London Free Things Challenge?
w/c 6 January 2020 I went to God's Own Junkyard in Walthamstow. It's completely free to visit and take photos. As the homemade cake is always amazing, I chose to stay for tea and cake.
w/c 13 January 2020 I met friends at Mercato Metropolitano in Mayfair which is a fancy food place in a converted church. It's free to go in and have a look around but I did stay for tea (and whinged about the lack of decaf tea.) And I then went to see an auction preview display ay Phillips on Berkeley Square.
w/c 20 January 2020 I saw a press preview of Picasso and Paper. (OK, that's not free for everyone but I made the decision to attend as it was free for me.) And I went to the last night of Canary Wharf Winter Lights.
w/c 27 January 2020 This one involved getting up early but it was worth it. I went to see the sunrise at the Sky Garden. I was there as the doors opened at 7 am and could go up for free – and without any queues. Public ticketing time starts from 10 am but you can get in before so this is a great tip. The cafe is open and there is a deal for a hot drink and a pastry for under £5 so this can be breakfast time and a lovely start to the day.
As it's only a few minutes away, I popped to St Dunstan in the East afterwards to impress a friend who had never been there. It's a bombed-out church which, rather than being flattened and used for building another office block, has been saved as a city garden. There's greenery winding its way through the old arched windows and it's a lovely peaceful location. It's only minutes away from the Tower of London so it's always surprising how you get some quiet time so close to a major attraction but London is a lovely balance if you know where to look.
I also went to visit Fitzrovia Chapel but it reopens next week so I'll have to return. A nice member of staff did let me have a quick look but from next week they are set up for Wednesday visitors. I then went to see the pelicans being fed in St James's Park. I missed the official feeding but did see some unofficial pelican feeding which is strictly not allowed.  I'll need to go back another time and I'll look forward to meeting Wildlife Officer Hugh who can answer questions about the birds.
On Friday, I saw the rolling bridge doing this its thing at Paddington. The Fan Bridge wasn't operating but I went back a few weeks later (see below).
On Saturday I saw Stompie the Tank.
And on Sunday I returned to God's Own Junkyard as it really is wonderful.
w/c 3 February 2020 I went to Two Temple Place to see the extraordinary building although there is a free exhibition on at the mo. While I enjoyed admiring the textiles, I did find the building itself more interesting.
As I found myself on the edge of the City, I went to St Clement Danes church to hear Oranges and Lemons but it won't be ringing the nursery rhyme again until later this year. I then went to the Twining Tea Shop at 216 Strand where there's a small 'museum' at the back. (It's just a few glass cabinets of items from the company's long history.) They do offer free tea tasting. I discovered you can ask to try any tea that they sell there, not just the few already brewed and ready. Do note, this Twinings flagship store will be closed for refurbishment from 19 February to 16 April 2020. I hear it's going to look quite different when it reopens but should be a lot more functional for the staff that work there.
w/c 10 February The Queen's House in Greenwich has two free ideas opening this week: Faces of a Queen (the chance to see the three surviving Armada Portraits of Queen Elizabeth I) and Woburn Treasures (20 artworks from Woburn Abbey displayed here while the historic house is being refurbished). Here's my report for Londontopia. The building itself is lovely and I was pleased to see the Tulip Stairs. I stayed to see the time ball drop at Flamsteed House but it didn't happen as it was too windy. 🙁
On Friday I returned to Paddington to see the Fan Bridge in operation, and on Saturday I was back at God's Own Junkyard.
w/c 17 February I went to the National Gallery to see the Monty Python foot but Room 8 was closed. No idea why. But I did get to visit Gallery A which is a lovely treat. And I went to Leicester Square and saw the Swiss Glockenspiel chiming (but as there was a digger right next to it, I'll have to return to hear it better another day.)
w/c 24 February I saw the David Beckham sleeping art installation on loan from the National Portrait Gallery on display at Whipps Cross Hospital.
w/c 2 March I went to Buzz Bingo in Tooting to see the amazing building. You can sign up for free membership when you arrive and then you can see inside. I decided you can't come this far and not join in so we stayed for the 'Main Event' (1.5 hours of bingo) and I won the National Bingo game! There was an outlay to play bingo (we paid £10 but you can choose which games you want to stay for and pay for each individually).
w/c 9 March I went to the preview of the Andy Warhol exhibition at Tate Modern so took the time to have a walk around the free galleries. I also got to visit Emery Walker's House to write a magazine feature. Obviously, that's not free for everyone but it did allow me to have a lovely free walk by the river in Hammersmith.
w/c 16 March We are living in difficult times so staying home is the best advice. Enjoy videos and films about and set in London (Londonist has this round-up of their YouTube videos and you can get a free 14-day trial subscription to watch BFI movies) but now is not the time to go travelling. Stay home and stay safe. x