Not just an address, this is the name of a new cafe which opened in London in August 2014.
They also seem reluctant to conform to other eatery 'rules' such as letting potential customers know about what they serve instead choosing to simply say there is a "seasonal all day menu". And that menu can't be listed on their website as it changes daily. 106 Baker Street chooses to be represented instead by a series of bespoke illustrations allowing the food to speak for itself, I'm told.
Let me interpret some of that for you as how do you know if the cafe has something that appeals to you? The focus here is on healthy dishes and there is a choice of salads each day. Expect to see quinoa, pearl barley and kale. Quiches, sandwiches and baked goods.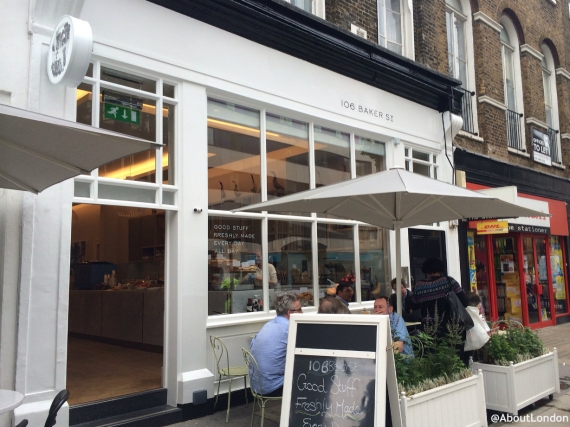 The cafe is located next to the Park Plaza Sherlock Holmes Hotel on Baker Street but there is little else of note on this stretch of the street. Of course, Madame Tussauds is on Marylebone Road around the corner. It's within the Baker Street Quarter Business Improvement District which hopes to raise the awareness of the area.
Italian chef Daniele Pampagnin is behind 106 Baker Street and he already has TOZI Restaurant & Bar in London and 5&33 in Amsterdam so I have to presume he knows what he is doing. There's certainly a mediterranean influence to the dishes on offer.
For a London cafe the space is surprisingly large with a wide aisle well-suited to the yummy mummy customers and their Bugaboo buggies. There's room for 20 to eat in which includes a couple of great tables in a small secluded courtyard at the back (although next to the 'sauna chalet' toilet) plus further outdoor seating at the front for the smokers.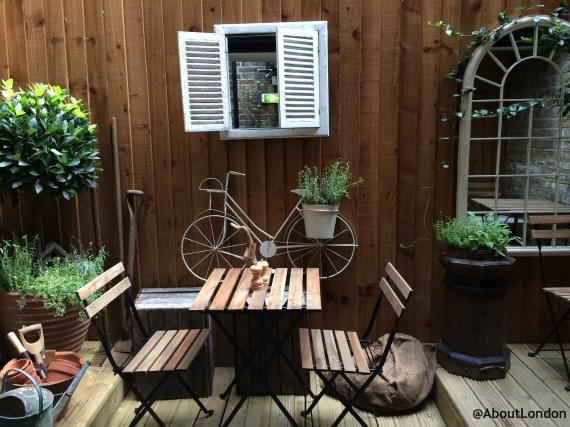 When I visited at 10am on a weekday there seemed to be a mix of business meetings and mother's meetings inside.
10am was probably a bad time to visit but for a cafe promoting an all-day menu I didn't think that would be a problem. Yet all that was on offer was baked goods: a variety of croissants, muffins and cakes.
Gradually more plates started arriving from next door as the 106 Baker Street kitchen is actually based at the hotel next door as it is part of the same company. I have been informed though that the brand is independent and the food is prepped in the morning every day. Still messes with my head on the "freshly made" claim that was bandied around so much.
But before anything else arrived we had to place an order so I went for gluten-free carrot cake, a Sicilian watermelon juice and a tea. My friend chose a blueberry muffin, the pink grapefruit juice, and a cappuccino, and then a sausage sandwich/muffin appeared so she added that too.
You place your order at the counter and then take a seat and it's brought to your table.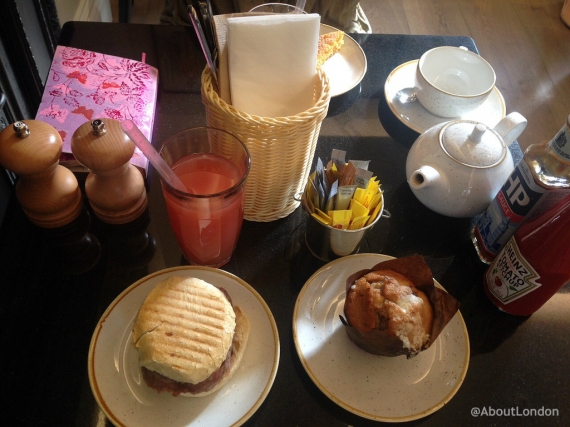 As there is no actual menu with prices – no, not even when you're there – I'm trying to remember some prices for you. Tea was Harney & Sons teabags and £2 for a pot, the cappuccino was £2.20 and the watermelon juice was £3.75. There was "cantalup melon juice" on offer too but I pointed out twice this was spelt incorrectly and couldn't bring myself to try it after that (spelling nazi that I am).
So what was the food like? The gluten-free carrot cake had an unappealing flatness which is not something I'd encountered before in my recent venture into gf cakes. But taste-wise? Nah, sadly it was too dry and too sweet. Maybe it just wasn't what I wanted at 10am.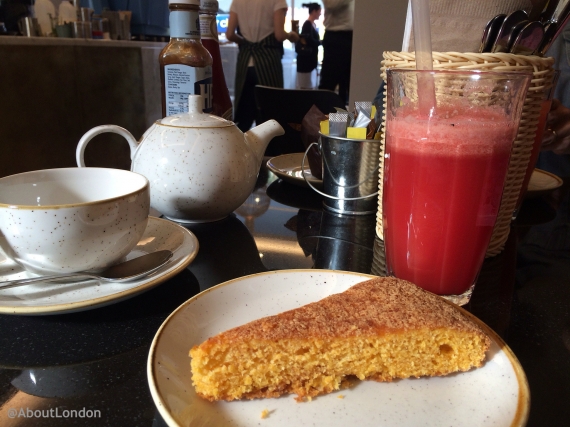 The blueberry muffin fared better and was tasty with some sort of gooey centre. The sausage sandwich had been popped in the sandwich toaster so was warm on the outside but still cold inside.
When it was time to leave there was a much better array of food on the counter so maybe the time of my visit wasn't the best. I saw two sizes of box for takeaway salad (£4.50 and £7) so the prices were fine.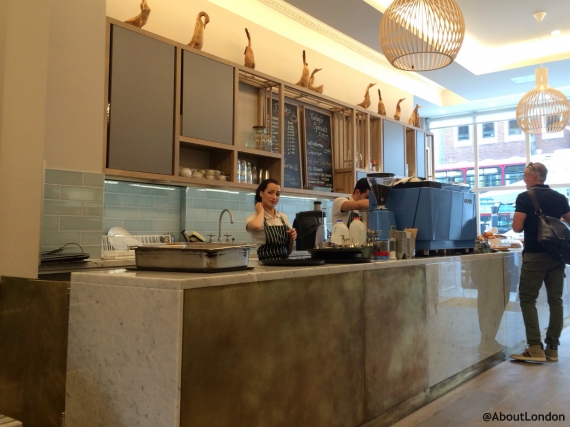 We decided to get another pink grapefruit juice to take away – yes, that really was a hit – and I was persuaded to take the bottle of green liquid as I had pulled a funny face when I spotted it in the chilled cabinet. OK, I can tell you it was celery, cucumber, spinach and lime and while I generally take the healthy option and I don't like food waste I had to throw this away.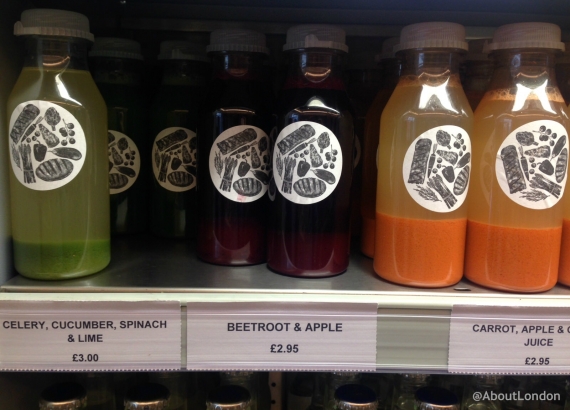 I've seen other reviewers truly raving about this place (see this one, and this and here's another) and, I guess, lunch seems to be where they excel. But I will stand by my point that an eaterie website which chooses black and white illustrations over a real menu or actual images of the food they serve is selling themselves short.
I'll leave you with the window slogan:
Good stuff
Freshly made
Every day
All day
And here are the opening hours:
7.30am-7pm, Monday – Saturday
Website: www.106bakerst.co.uk
Twitter: @106BakerSt
Facebook: https://www.facebook.com/106BakerSt
Instagram: http://instagram.com/106bakerst
Address: 106 Baker Street, London W1U 6TW