The first ever escape game room I tried was at clueQuest back in 2014 and companies running these lock-in entertainment games have flourished in London. (I've also played Time Run, Enigma Quests, Enigma Escape and The Escape Hunt.)
I returned to clueQuest in 2016 to try Revenge of the Sheep so it was fun to go back for the latest game: cQ ORIGENES.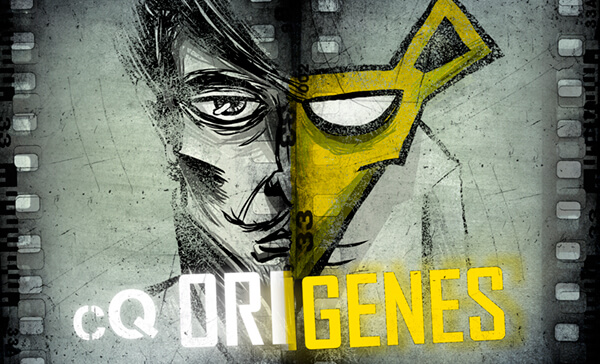 cQ: ORIGENES
For this game, you can have up to 6 players in your team and there are two game rooms so you can play against another team to see who escapes first. That's a great idea for friends or parties who like being competitive.
Each game comes with a backstory and for this one it's about stopping Professor Blacksheep from spreading a computer virus.
Briefing
A clueQuest Games Master/Host (we had Andy assisting us) welcomes your team and gives you the story on what you have to achieve to escape. Team roles are allocated and it's important you remember them as they are needed inside the room.
One of our team with put in charge of making notes and another was given a walkie talkie so they could speak directly to Andy. This also meant he could send messages for the team.
With most escape games there are lots of padlocks but when we asked about them we were advised that this game does not use combination or key padlocks and there are other ways to unlock each task.
At this stage we were warned that ORIGENES is one of the hardest games clueQuest has to offer and as we had some team members who had never tried an escape room game before we could consider a different game. (This was unusual but as a prop had been broken the night before and was still being repaired they wanted to give us the opportunity to swap.) But we decided to stick with the one we had booked and the team of two adults and three young teens were ready to play.
Playing the Game
Andy led us to the room, set the 60-minute timer and then left us to work things out.
As the door closed we started frantically checking everywhere for clues. We soon discovered that we had to work as a team as there were some tasks that needed us to be in different areas of the room, and it was clear you couldn't achieve the challenges on your own. I was very impressed by how quickly the young teens in our group understood the tasks and were able to work together. (I'll admit, there were a few tasks I never fully understand but the teens worked them out!)
It's not a large space but it was enough to play the game. I'm not going to spoil the game for you but can let you know we got into two different rooms and made our way back out.
There was one part where we needed to listen carefully to something and only then did I realise there had been a background music/sound on all the time. It would have been nice to shut that off while listening to the task but we managed.
Throughout the 60 minutes, Andy could send us clues on a screen which were still not obvious but would get us searching the right area of the room. And if we were getting really stuck he could let us know via the walkie talkie to start a task again if we'd missed something important.
After the Game
As we were so close to escaping, we were offered 9 more minutes to complete the final task. I can report we didn't need all of that but the few extra minutes meant we got to the end. Andy then told us only 15-20% of teams make it out of the room within the hour so we felt pretty pleased with ourselves.
Andy joined us in the room to have a few minutes talking about the game and so we could ask questions about the different tasks. We then headed back to the Reception area for a team photo that gets sent to the booking email.
Further Reviews
You can see more reviews of clueQuest's cG ORIGENES on:
Booking
clueQuest is a very professional set up and the hosts do a great job. cQ ORIGENES could be a tough first game but we had fun and we did escape so don't avoid this one.
Address: clueQuest HQ is at 169-171 Caledonian Road, London N1 0SL
Official Website: cluequest.co.uk
Disclaimer: As is common in the travel industry, the writer was provided with complimentary services for review purposes. While it has not influenced this review, AboutLondonLaura.com believes in full disclosure of all potential conflicts of interest.