Breadcrumbs offer treasure hunts around museums in London via text message or Facebook Messenger straight to your mobile phone. Cryptic clues lead visitors around the permanent collections of museums as they hunt for objects to solve riddles.
It is a fun interactive experience which allows you to look at museum collections in a new way.
Breadcrumbs currently have treasure hunts available for the Hunterian Museum, Kew Gardens, Handel & Hendrix, Imperial War Museum, Natural History Museum but I chose to try the one at the V&A.
September 2017 Update: I've also tried the Breadcrumbs Natural History Museum Hunt!
How It Works
Before starting the trail, you sign up on their website and choose between receiving text messages or clues via Facebook Messenger. For international visitors Facebook Messenger may be more cost effective, particularly in the museums that have free wifi. (There is also currently a surcharge for receiving text messages.)
Once registered, you get a confirmation email and can then start when you're ready. I chose to sign up the day before but you can be spontaneous. If you're at the location and want to try immediately it only takes minutes to register, or you can buy the treasure hunts in advance.
Who's It For?
You could try it alone but Breadcrumbs is ideal for couples, families and small groups.
How Long?
It's suggested to allow around 2-3 hours to complete the treasure hunt. It is not timed so you can explore the museum galleries along the way and stop as often as you like.
If you know the museum well you could finish the hunt in less time (or if you have a competitive group!) But I'd recommend enjoying what you find along the way as the route takes you to some really interesting and quiet areas of the museum.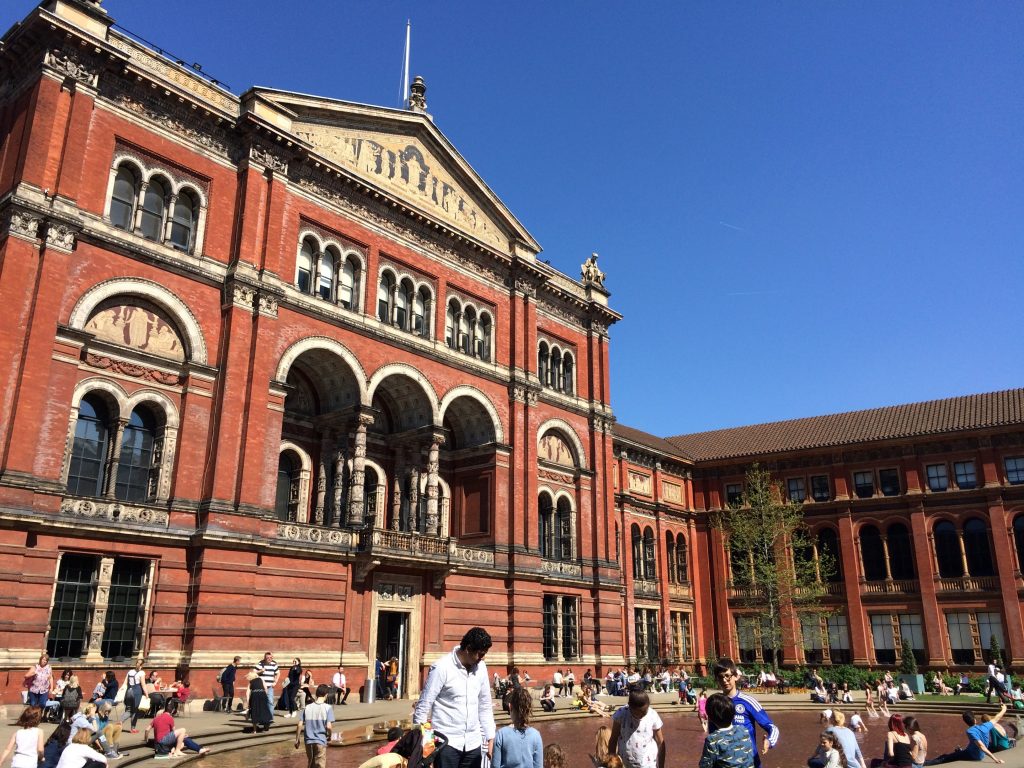 Breadcrumbs V&A Treasure Hunt
The V&A hunt takes you throughout the permanent collection (so there's no need to buy tickets to any of the exhibitions to complete the trail). The hunt is across multiple levels via stairs or lifts.
You get sent the starting point and then there are 20 clues to solve before you can move on. If you really can't find the answer you can message back for hints. "Where" (for the room number), "What" for the exact exhibit you should be looking at or "Solve" to get the answer and move on.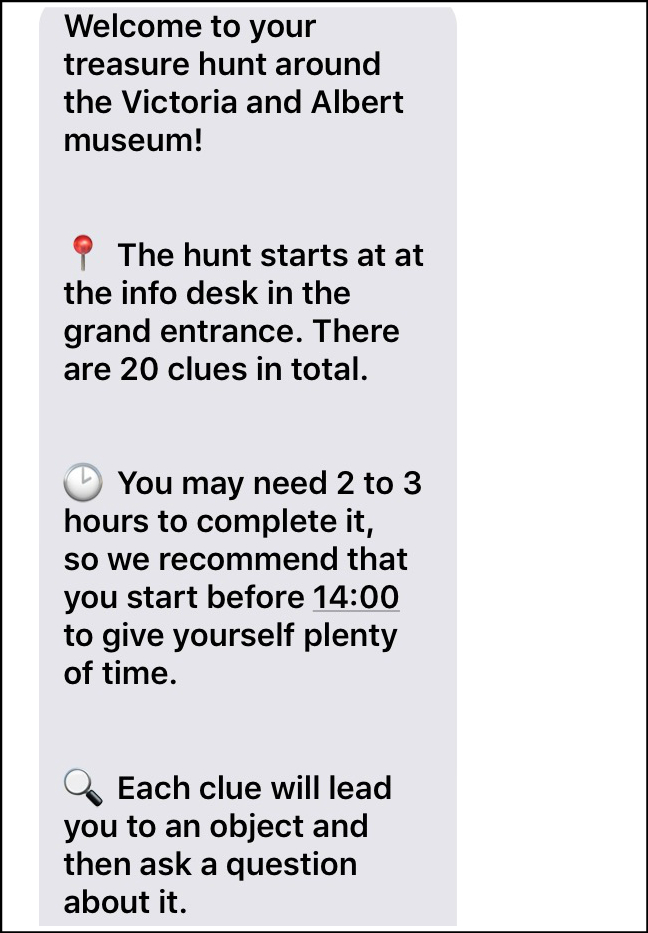 I tried the treasure hunt with a friend and we immediately became competitive about trying to complete the clues and move on quickly so for the first few locations we hardly looked around. As we're both Londoners, and know the ground floor of the V&A well, that isn't so bad but I will say again there's no rush.
The clue messages don't have numbers so after a while we weren't sure how many we had completed and how many we had left. That was actually helpful as it encouraged us to slow down.
The hunt soon gets off the ground floor and we found ourselves commenting on either having not seen the galleries we were being led to for a long time or probably never before. This point would make the Breadcrumbs V&A Treasure Hunt a really good way for a first-time visitor to properly explore a large museum independently without fear of getting lost.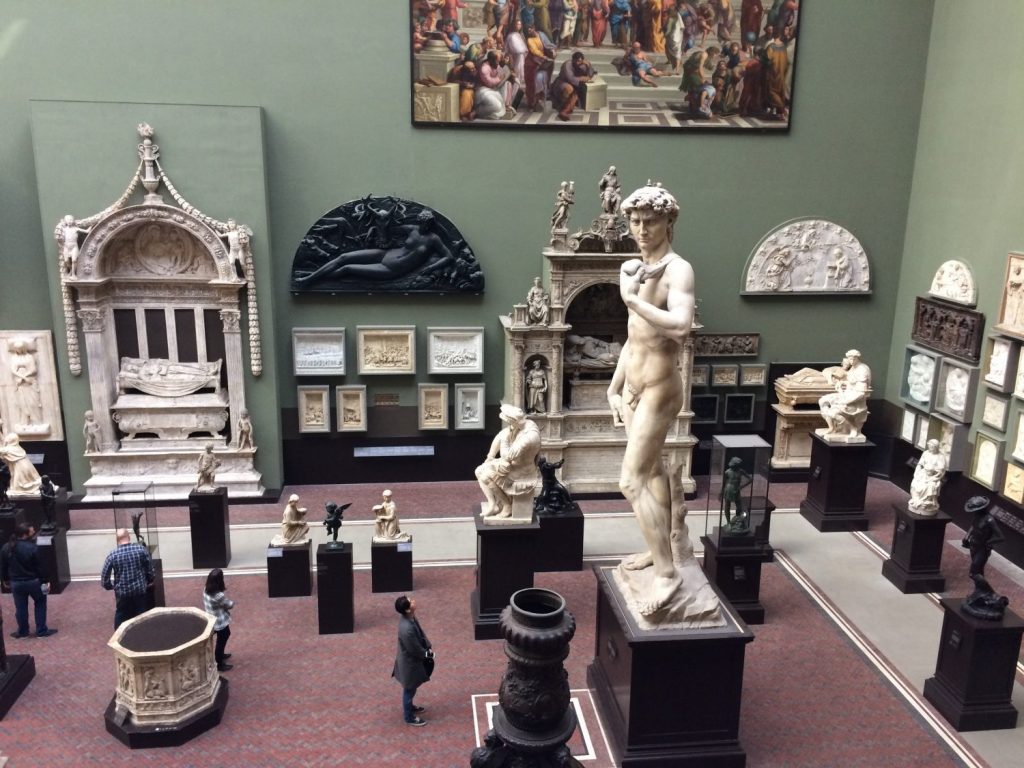 We thought it might be nice if the messages had pointed out some of the amazing exhibits along the way but, I guess, that's not its focus. So you really do need to remember to look up from your phone and take in your surroundings.
Maybe in the future they could add an interesting fact about the exhibit after you solve the clue just to stop you rushing off and not looking properly.
Not Easy
Don't think you're going to be completing this super fast as the clues are definitely not easy. They are more along the lines of cryptic crossword clues so read each message carefully. We groaned a few times when we requested the answer and then realised we should have been able to work it out.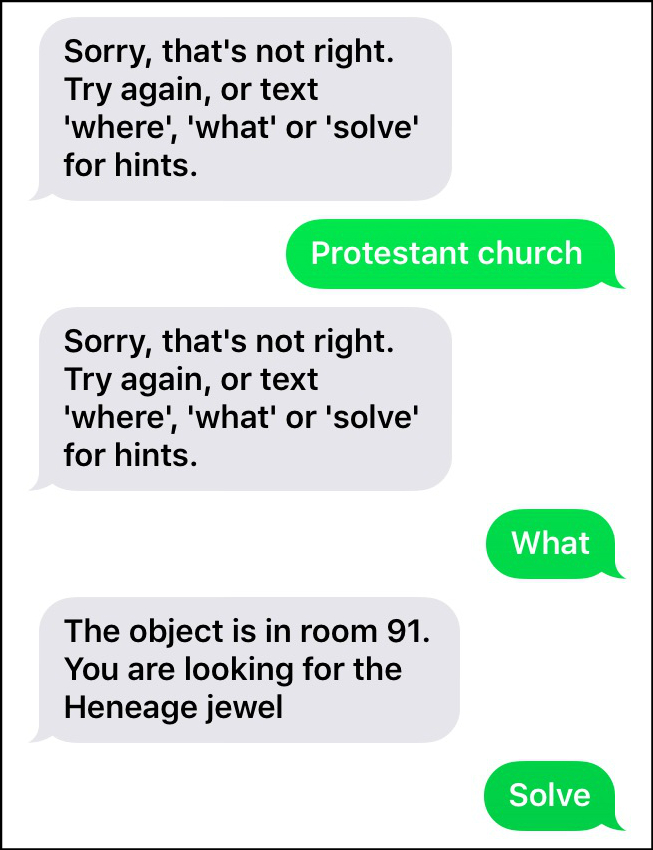 Look Closely
Here's yet another reminder to slow down as you really need to look closely, both in the room and then at the exhibit with the answer. Make sure someone on your team has good eyesight (or strong glasses) as there are a few times when you have to find something tiny in dim light.
But it's all worth it as the trail gives you a reason to look beyond the crowded ground floor – a common problem in many large museums. And I was impressed to find the way galleries I knew connected and how many true treasures you could see in under half a day.
Competitive
No-one said it's a race but it seems that most who try the hunt have a competitive streak. You don't get a 'finish time' (although you could work it out from the time you started getting the messages) and no-one is asking you to compare your results with other teams. There are no points lost for asking for hints and no final score to compare.
In the last message you do get sent the company's Facebook and Twitter links so you could let them know how you got on. And the final museum location is a great place to sit down and discuss the hunt with your team.
Here's another review of the Breadcrumbs V&A Treasure Hunt and here's a review of the Handel & Hendrix Treasure Hunt.
2019 Update: I've also tried the Breadcrumbs Imperial War Museum Treasure Hunt.
Official Website: www.breadcrumbsgame.com
Disclaimer: As is common in the travel industry, the writer was provided with complimentary access to the treasure hunt for review purposes. While it has not influenced this review, AboutLondonLaura.com believes in full disclosure of all potential conflicts of interest.