After staying at Safestay York I had high hopes for Safestay Edinburgh. It's got the same really good prime city centre location so you can walk from the train/bus station (and the airport bus stop is just around the corner too).
The walk from Edinburgh Waverley train station does involve a steep slope up to The Royal Mile and then a slope down the other side on Blackfriars Street but you'll soon get used to Edinburgh's slopes and steps.
Having already enjoyed Two Days in York we were ready to see how much we could pack in to Two Days in Edinburgh. (How about seeing Edinburgh's own Wild West Town?)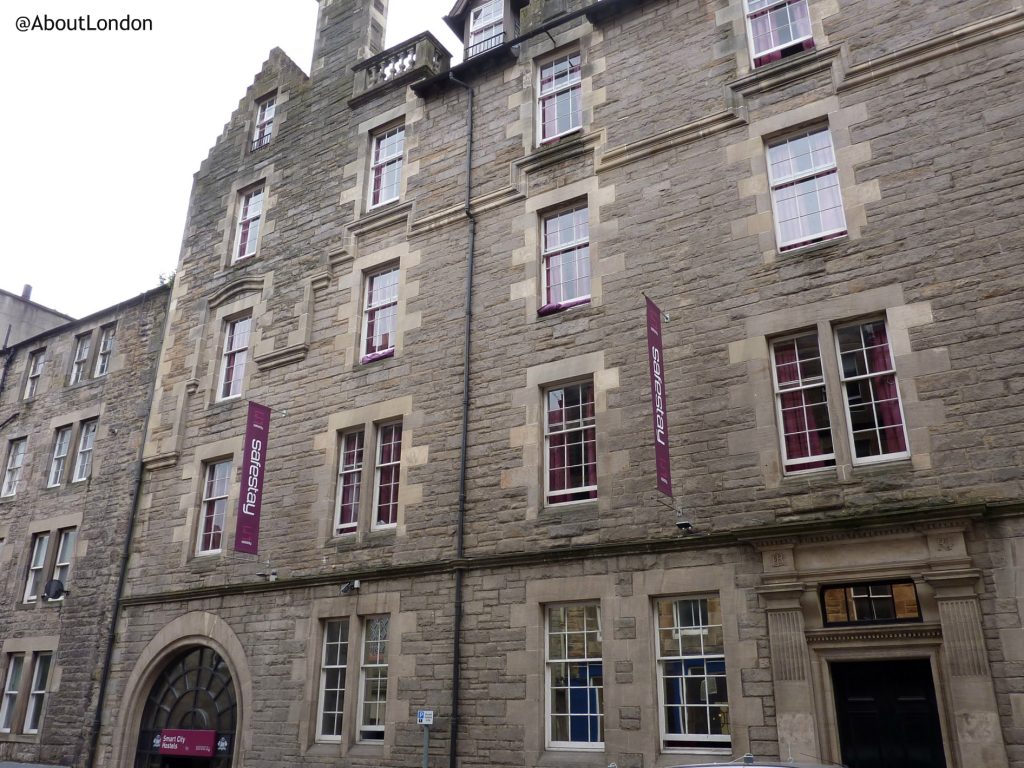 Transition Time
The building was a youth hostel run by Smart City Hostels and Safestay took over in September 2015. The rebranding includes adding the signature purple and hot pink colour scheme and purple branded bed linen. As the hostel is in a great location it's been better not to shut but to continue the transformation over the year and it will be fully 'Safestay' by September 2016.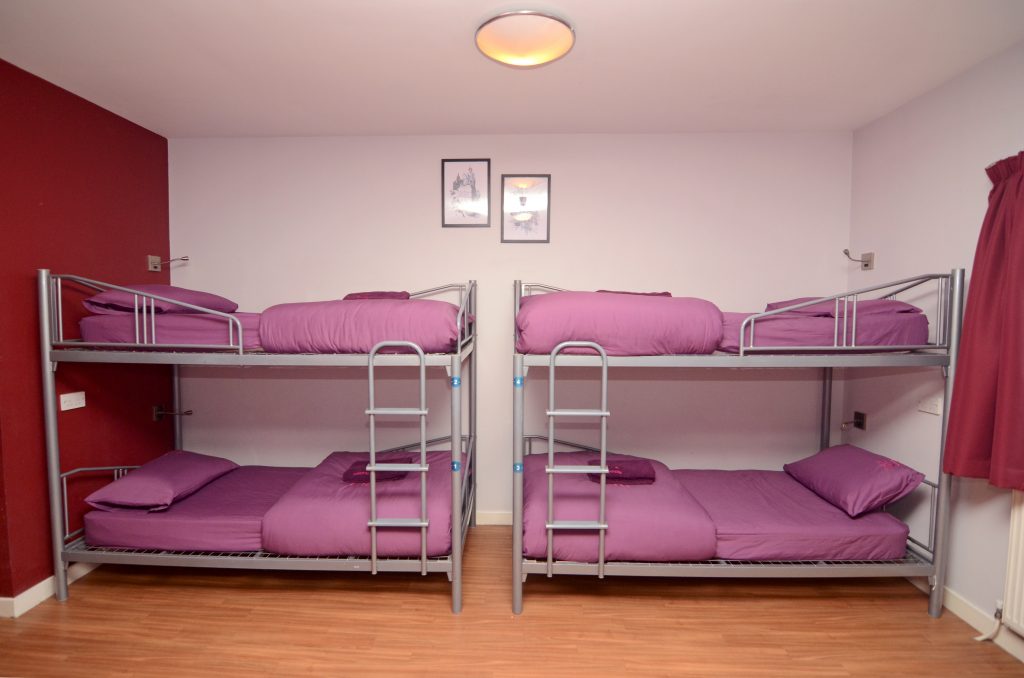 Safestay has specialised in making a hostel stay more in line with the demands of hotel guests so you can expect a heritage building with a modern feel. And there's that trademark colourful Reception with the striped carpet and feature furniture.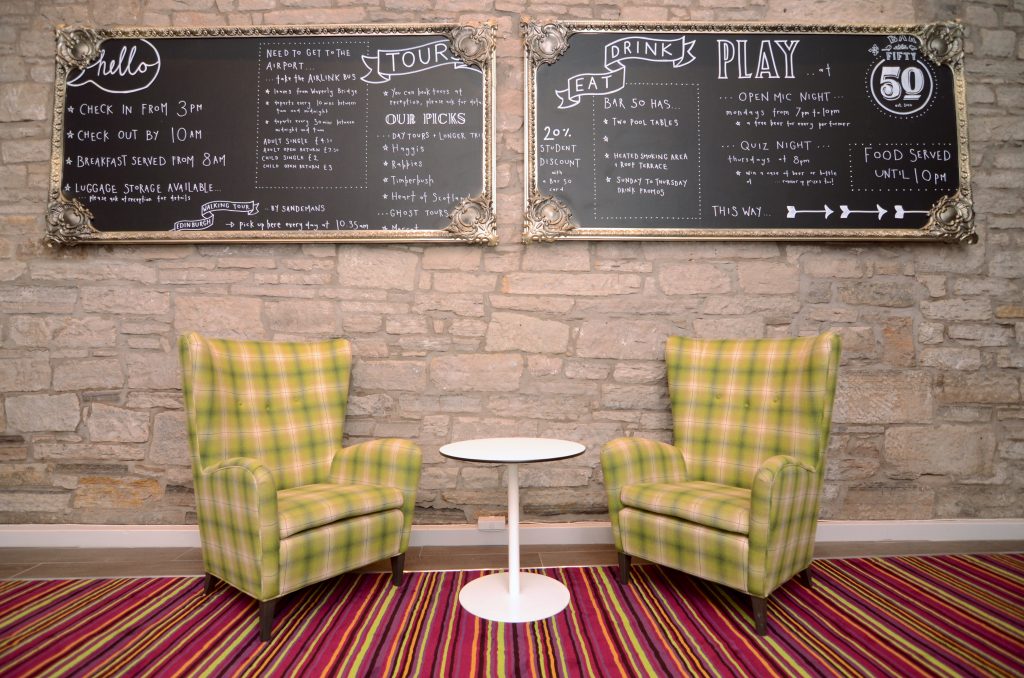 Check-In
We were about to use the free luggage room but found out our room was ready so we could check-in slightly early (before 3pm). This was really welcome as the Reception desk was quiet and we could ask lots of questions about things to see and do nearby.
Staff are a big asset here as everyone we spoke to was polite, professional and friendly. Getting a smile and a wave whenever we passed through made us feel very welcome.
When we returned to drop off some shopping at about 4pm the Reception area was very busy and the crowds didn't seem to reduce for hours. As with most hostels, groups can book here and it may be a plan for the future to have a dedicated group check-in desk.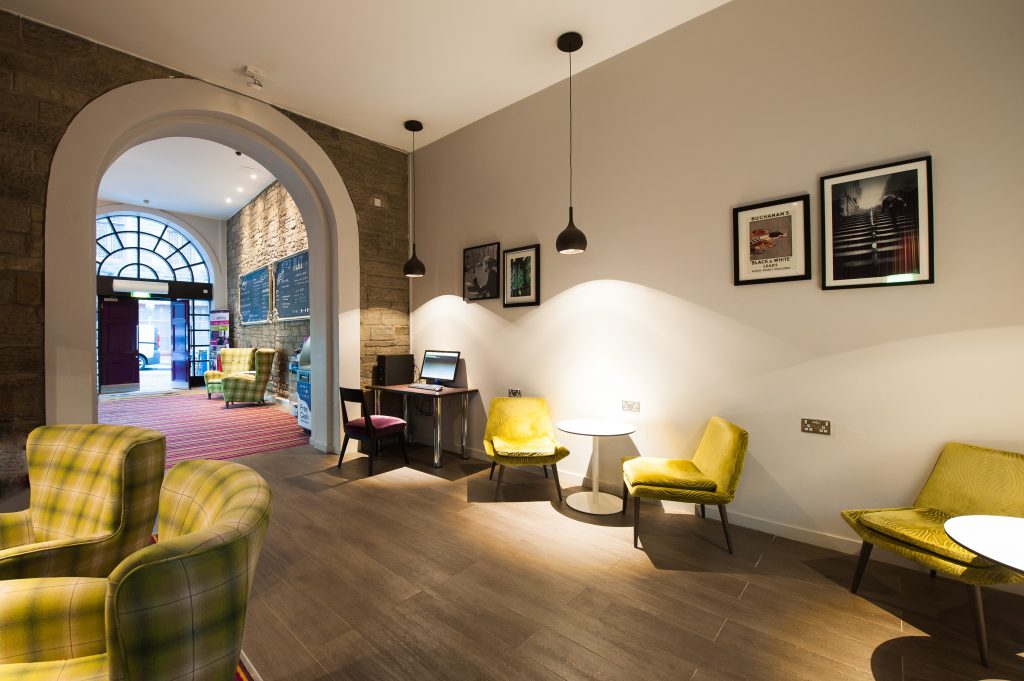 Our Room
When staying with a child (under 16) you need to book all the beds in the room. As I was staying with my 10 year old daughter we had a Twin bunk room (4 beds) to ourselves.
Our room had a private bathroom (separate toilet and shower). Towels are provided for private rooms, and shampoo and shower gel are provided in all bathrooms.
Our room had four cupboards by the door (one for each bed) and there was a hanging rail in two of them. The room also had a small table and chair.
While each of the four beds had a personal reading light only one of the beds had a double socket which was frustrating but must be part of the refurbishment. There was a second double plug socket in the room by the table and chair.
You don't have to collect your bed linen and make your bed as Safestay always has the beds ready made with their purple branded bed linen. While this looked good it was clear the mattresses were still old as we could feel every spring so did some creative extra padding with the duvets from the spare beds. (I've checked and this is part of the refurbishment so is being addressed.)
The bunk beds are higher than a home-bunk bed so you can sit up in the lower bunk and on the top without a problem. I did find it a bit hard to use the steps to climb down so found it easier to jump the last section which could have been noisy for those on the floor below.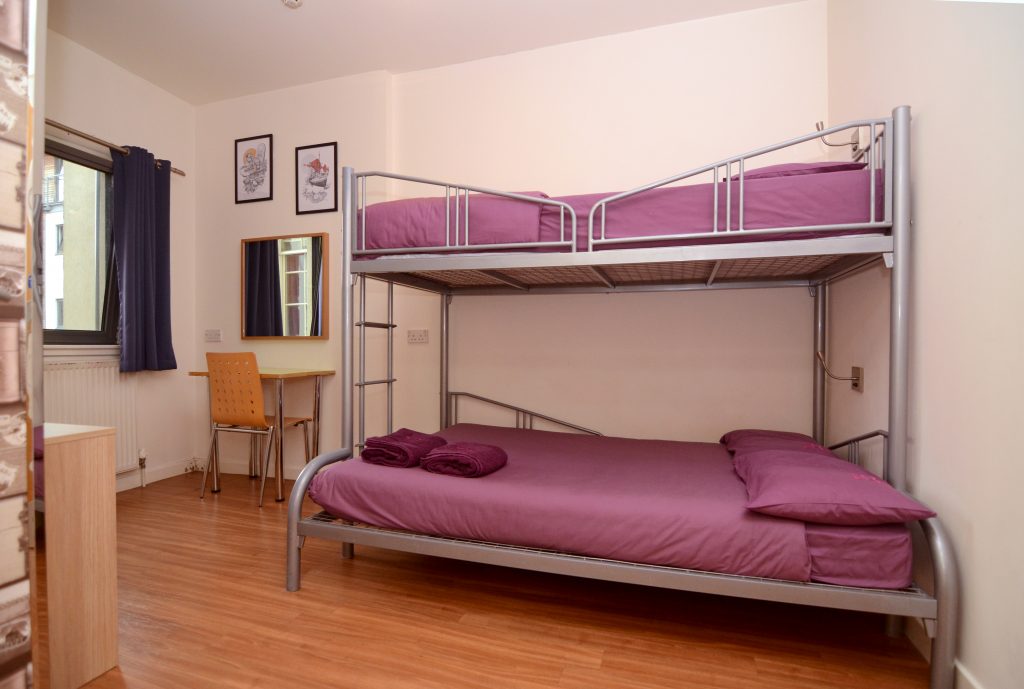 Noises
Safestay Edinburgh is a big hostel (272 beds) and we stayed in the summer just before the Edinburgh Festival when the city population doubles.
Bar 50 is the hostel's large ground floor bar and it's open to non-guests so invite your friends to meet you there. There's a courtyard for outdoor drinkers to make the most of the summer weather (yes, it was actually hot when we were in Scotland!)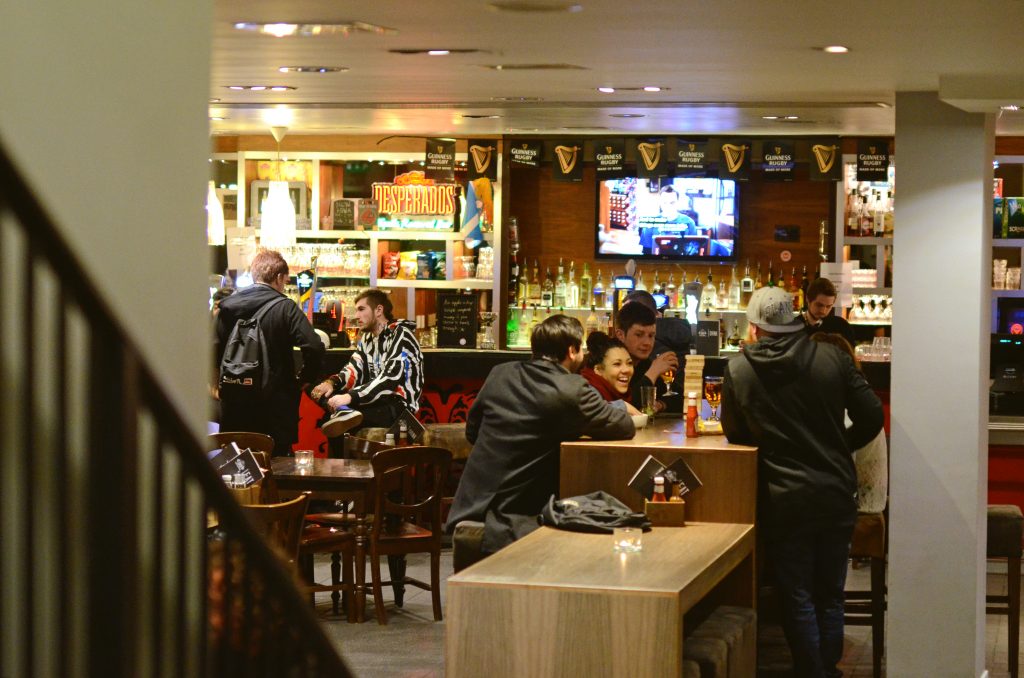 Do take your ear plugs if you need to get to sleep early or just head down and enjoy Bar 50 for the evening.
An unexpected extra noise was the toilet which sounded like a foghorn when flushed so I was grateful it was just the two of us in the room.
Breakfast
You can get a voucher from Reception (if you pay in advance) or you can pay on the day (£4.95) for breakfast in the hostel's Bar 50. It's a large space so room for all.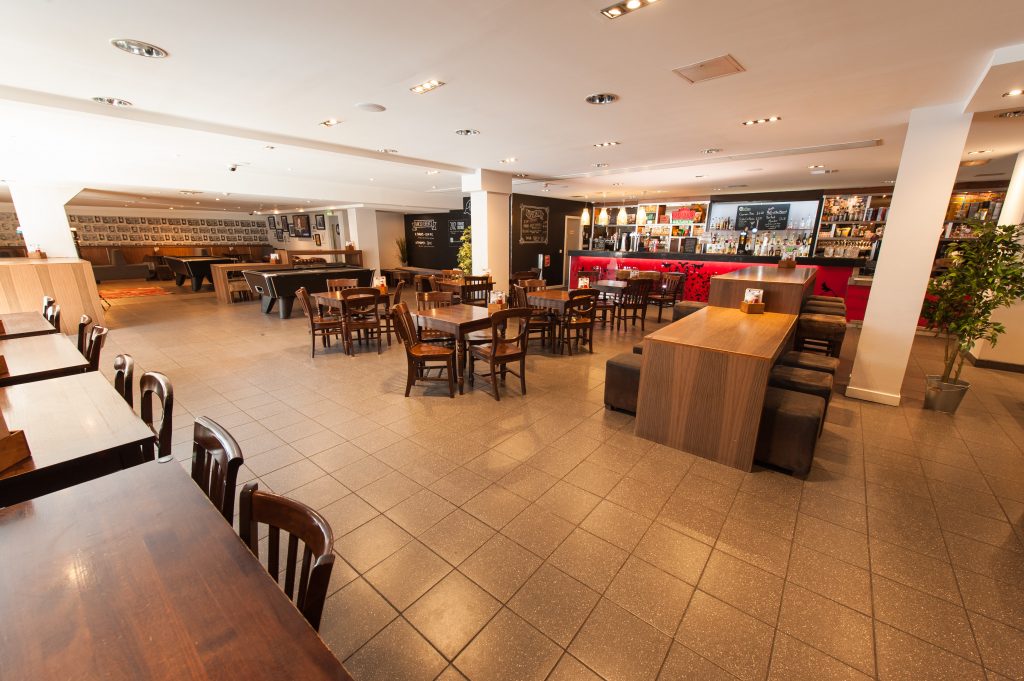 As with most hostels (and hotels) it was a bit confusing to work out but the deal is for 6 items from the cooked breakfast and cereal area plus unlimited tea/coffee and toast. Remember to collect all your crockery and cutlery on one side of the room to save you traipsing back when making toast. (There are trays provided so you'll soon get the hang of things.)
While the tea and coffee in the breakfast deal is ready brewed in urns, all guests can use the guest kitchen so you can make something different, if you like. If you want a completely different breakfast you can rustle something up in the guest kitchen and still sit with your friends having the full Scottish breakfast on offer.
It was a shame there wasn't any juice as it was squash or water instead, but we did see lots of guests enjoying their breakfast. And we also saw plenty of other families so Safestay was living up to its family-friendly reputation.
If I had to find a fault it was having breakfast in a room with a faint waft of beer from the night before. It would be good to have a separate bar/lounge and dining room.
Dinner
We came back to Bar 50 for dinner one evening. The menu is burgers and pizzas but it was tasty and well-presented. It's a big space with some booths, some sofas, some tables and chairs, and that outdoor seating too. There's a nice vibe here with an Open Mic night on Mondays and a Quiz Night on Thursdays.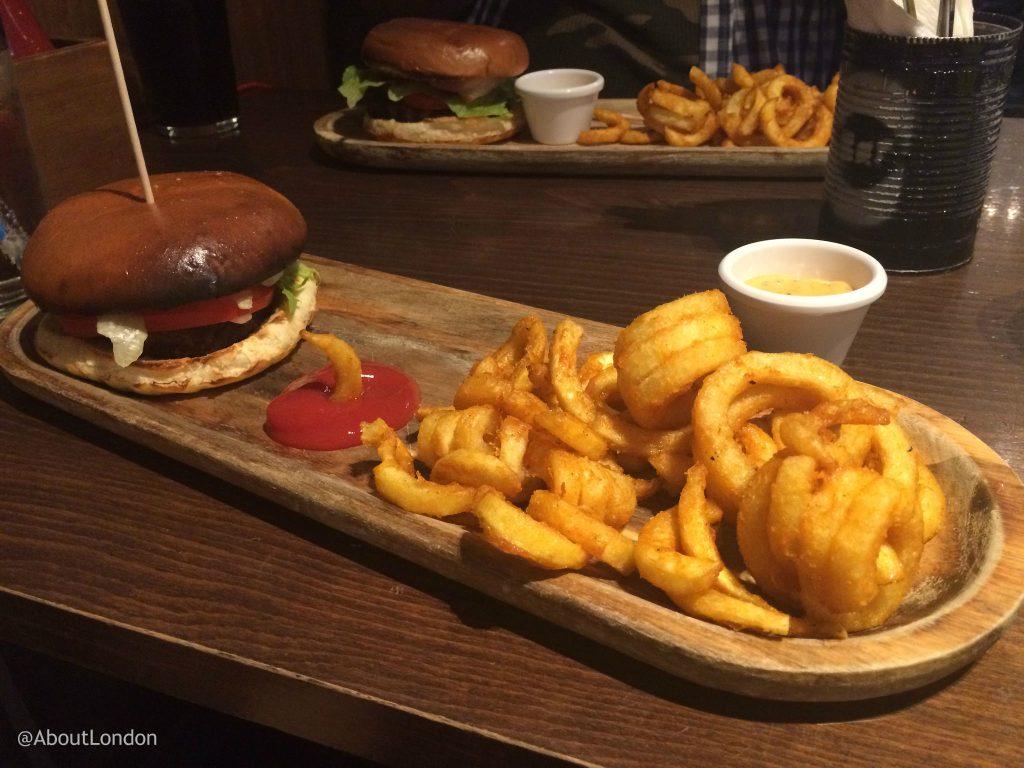 Conclusion
I definitely think we were spoiled by staying in York first as it would be very hard for a hostel almost double the size to have that same boutique hotel feel. And we stayed during one of the busiest times for Edinburgh so, of course, there was some city centre noise.
Even so, Safestay Edinburgh's central location was really appreciated for being able to stop off between attractions. And while I've been critical I would definitely stay here again. I'm quite a fan of the Safestay purple and pink decor (honestly, it makes such a refreshing change from clinical white walls and white bed linen in many hostels), and the staff here made us feel so welcome.
Special thanks to Safestay Hostels, This is Edinburgh and Virgin Trains East Coast.